Hello, friends! Today I'm sharing my Sampler Spree Week 9 Blocks for the Sampler Spree Quilt Along. I know many of you are sewing along with ten blocks a week and might be close to finishing, but I'm sure enjoying my pace of just five blocks a week. I did stop by and see a friend's blocks yesterday who is sewing along with ten per week and felt a slight FOMO about not sewing so many each week. But then I had to remind myself that I really am enjoying this little journey of scrappy blocks!
Sampler Spree Week 9
Week 9 Blocks
I continued along in numerical order this week and made the following blocks (I used Seashore Drive fabrics exclusively except for the final block):
Farm Friendliness, Block 36 – This one was fast and fun with strip-piecing and some left-over half-square triangles.
Sun Rays, Block 37 – The Bloc Loc small Triangle in a Square Ruler made this block so easy. I highly recommend it!
Summer Solstice, Block 38 – I actually had the half-square triangles in my left-overs stash for this block. So it went together quickly with just the added squares and rectangles.
Friendship Quilt, Block 39 – I pieced my half-square triangles slightly oversized, then trimmed them down. And I strip-pieced the striped sections instead of cutting all of those rectangles 🙂
Pear, Block 40 – This one was the only block which uses fabric from an earlier collection. The green daisy from our Summer Sweet collection was perfect for this darling pear. But I did love the dark grey gingham for the stem. And the Mini Simple Folded Corners Ruler is a must for this block!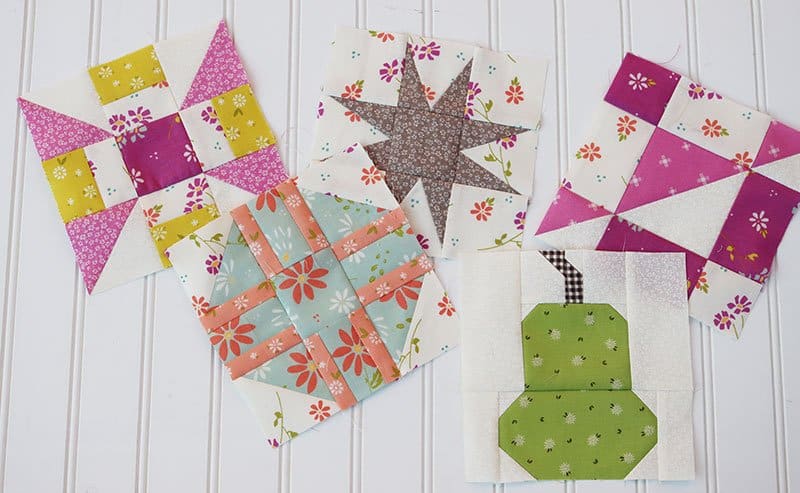 Sampler Spree Quilt Along Links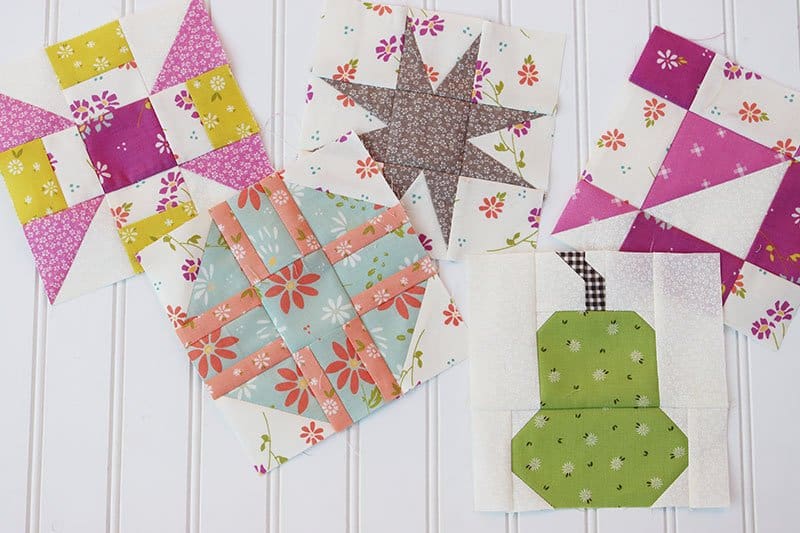 I looked ahead in the book, and the next several blocks involve fairly simple piecing. So I'm thinking I might be able to make a few extras for next week. I'd sure like to be to the half-way point soon. We'll see. Thanks so much for stopping by to read my Sampler Spree Week 9 blocks post. Happy quilting!