Hello, friends, and happy Wednesday! Today I'm sharing my Sampler Spree Week 10 blocks for the Sampler Spree Quilt Along. Those who have been making ten blocks per week are finished or nearly finished with their quilts. And I have sure seen some gorgeous blocks out there. I'm still going at a slower pace, but I now have 45 blocks. And I'm really so happy with my progress. Along with sharing my weekly block progress, I have some extra thoughts and ideas for your today. (So be sure to read to the end).
Sampler Spree Week 10
Week 10 Blocks
All of my blocks this week are pieced using Seashore Drive prints. See below for the specifics on each of this week's blocks:
Big T, Block 41– This block is definitely a favorite! I loved using a dark and light orange along with a low-volume print for background. The Bloc Loc Flying Geese Ruler (check the pattern for finished size to order) is a big help for making the small flying geese units.
Building Blocks, Block 42 – I followed all of the directions exactly for this one–strip sets make this so much easier than it looks. Just be sure to measure and cut carefully along with using an accurate ¼″ seam allowance. I used just two prints for this–the daisy print on blue along with the low-volume background print.
Dots and Dashes, Block 43 – Another strip-set pieced block with even tinier strips! I love it! Also, if your block ends up a bit too large, it can be easily trimmed to size (I might know that from personal experience). I used light and dark grey prints to put this together.
Winter Panes, Block 44 – Simple rectangles and squares make this block a dream to put together. I used the gingham in yellow for this one.
Courthouse Steps, Block 45 – And while I used just one background print for this block, it was fun using three different prints in orchid for this easy-peasy block. I used the darkest print for the center to make it stand out a little more.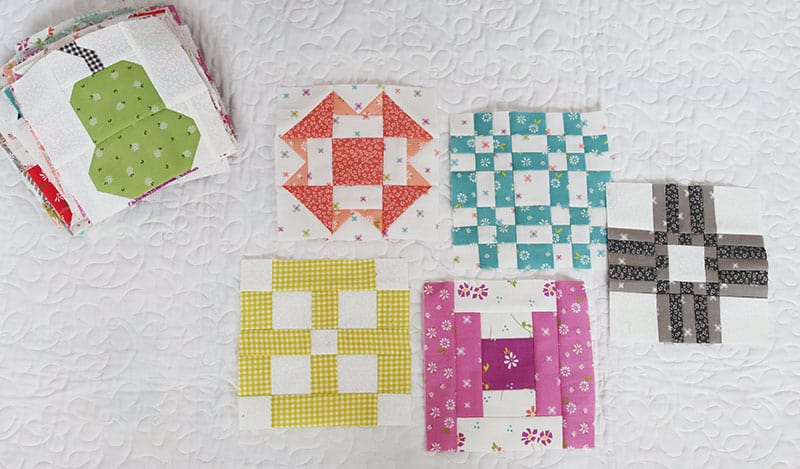 Sampler Spree Quilt Along Links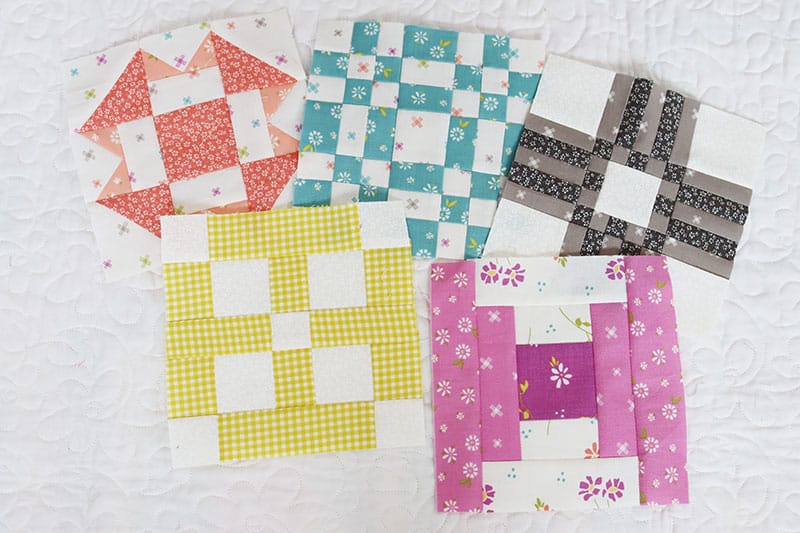 More Tips + Thoughts for Quilt Along Sewing
As I was sewing this week it occurred to me that I've been using primarily Seashore Drive fabrics for my blocks for the past month or so. So I decided to do a "color count" to be sure that I'll have a good mix when I get to the end. Since I'm almost at the half-way point this seemed like a good time to take that little inventory. My colors were balanced better than I thought, but I'll definitely be adding in more navy, dark grey, orange, yellow, and red in the coming weeks.
Also, it seems like there is a quilt along around every corner…I have a couple more I'll be introducing soon and have seen even more on social media. So here are a few posts that might be of help as you navigate your own sew along projects this summer and fall.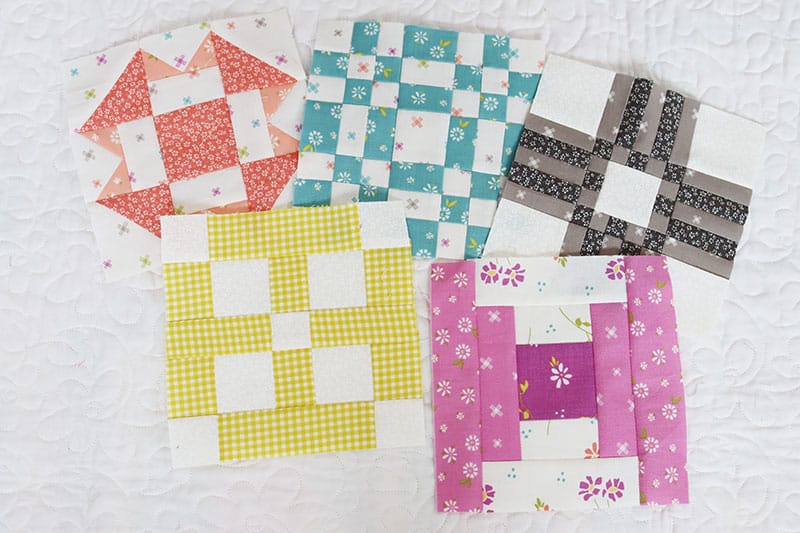 Happy quilting, and thanks so much for stopping by!