Hello, and happy Wednesday. Today I'm sharing my Sampler Spree Quilt February Update along with the Quilting Life free February 2022 calendar PDF. Just the other day I finished up five more blocks (I had already cut them out). With just 20 blocks to finish, I'm hopeful I can do at least five each week and have them completed by the end of the month. I'm also working on quilts with our next fabric collection, so it might be tempting to sneak in a few of the new fabrics. We'll see! Keep reading for block details along with this month's calendar PDF.
Sampler Spree Quilt February Update
Sampler Spree Quilt Links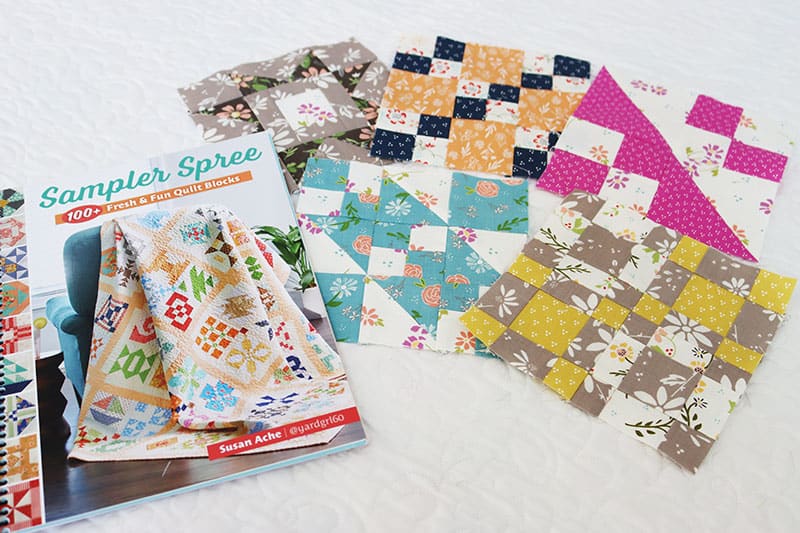 Blocks 76 – 80
Here are details on blocks 76 through 80:
Premium Prize, Block 76 – This was such a fun block to make using Seashore Drive and Summer Sweet fabrics. I also used the Bloc Loc Flying Geese Square Up Ruler.
Thrifty, Block 77 – I loved Susan's orange and navy combination and combined my Summer Sweet Orange, Happy Days navy dots and a floral from Harper's Garden for this fun block. I didn't cut small squares but instead strip-pieced the small four-patch units.
The Sickle, Block 78 – I used a Seashore Drive floral along with orchid dots from Sincerely Yours for this cute block.
Double Plain, Block 79 – Seashore Drive and Desert Bloom along with a floral on light from Walkabout makes up this block (I again used Susan's color scheme for inspiration).
Rocky Road to California, Block 80 – This block combines the blue floral from Balboa along with the light floral from Seashore Drive. Once again, I used strip-piecing for the small four-patch units. It's nice not to have to cut the small squares.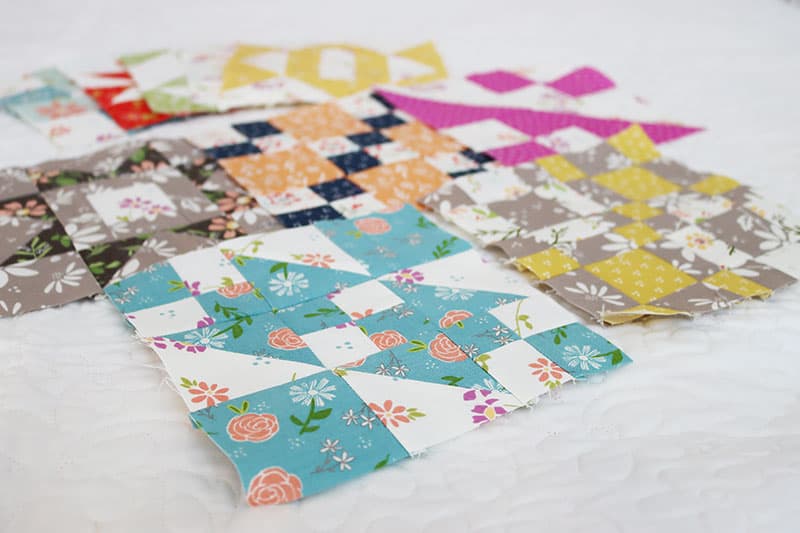 February 2022 Calendar PDF
I meant to post this link on yesterday's post. I'm sharing a free PDF calendar download each month this year. I've added in some of my planned posts and videos and left space for noting your monthly big three along with other to-do's. Get the February 2022 calendar PDF here (or click the button below).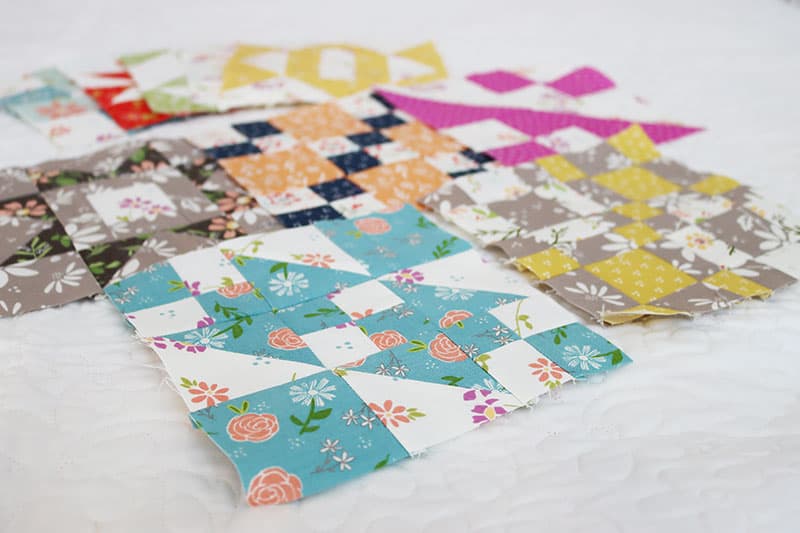 February 2022 Block of the Month
Be sure to stop by tomorrow for the February Block of the month pattern! Happy quilting, and thanks so much for stopping by!