Hello, friends, and happy Wednesday! I'm happy to be sharing the blocks I made this week for the Sampler Spree Quilt Along Week 5. I made five blocks this week and also got a jumpstart on next week's blocks by choosing fabrics and doing some of the cutting. Even though I'm sewing along at a slower pace, my blocks are accumulating quickly. And I'm still loving the slower pace. It's not too overwhelming and has been a fun summer project.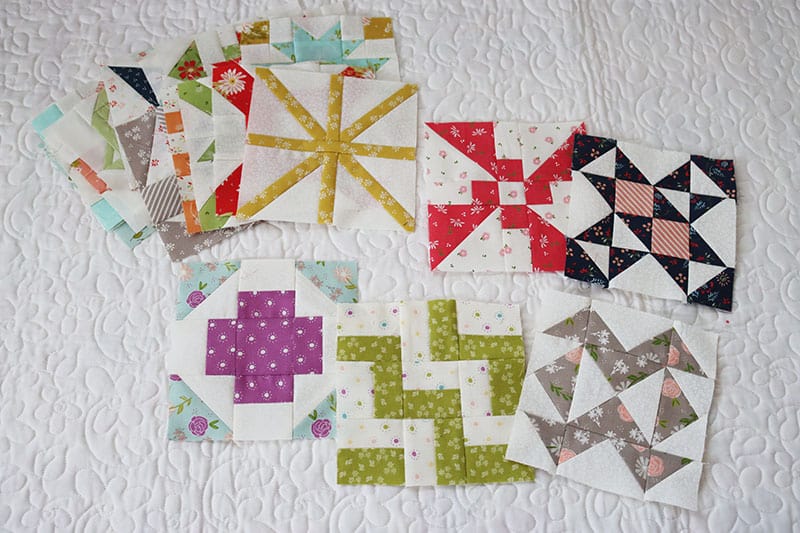 Sampler Spree Quilt Along
Week 5 Blocks
This week's blocks were simple and fast to put together. Here are the fabric and tool details for them:
Block 17, Propeller – I used two different prints from our Sincerely Yours collection for this block. And while I didn't use any special tools, I did make the hst's over-sized and then trim them down.
Block 18, Chisholm Trail – I used a favorite navy floral from Harper's Garden along with the coral stripe from Happy Days. And the background fabric on this one is from our upcoming collection we're sharing Friday. (I did use a Bloc Loc Flying Geese Trim Ruler for the flying geese here).
Block 19, Greek Cross – I pieced this simple block using fabrics from our Balboa collection mixed with the background fabric I used in block 18.
Block 20, London Stairs – Once again I used our Balboa collection for the green and the sun background print. This block was one of the most simple so far!
Block 21, Our Editor – And Balboa mixed with the new collection's tone-one-tone floral here. Once again I used a Bloc Loc Flying Geese Trim ruler.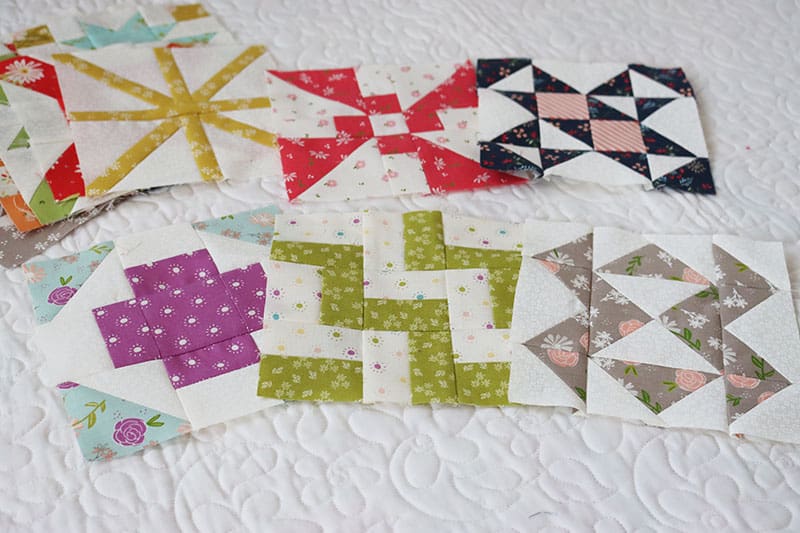 More Sampler Spree Quilt Along Links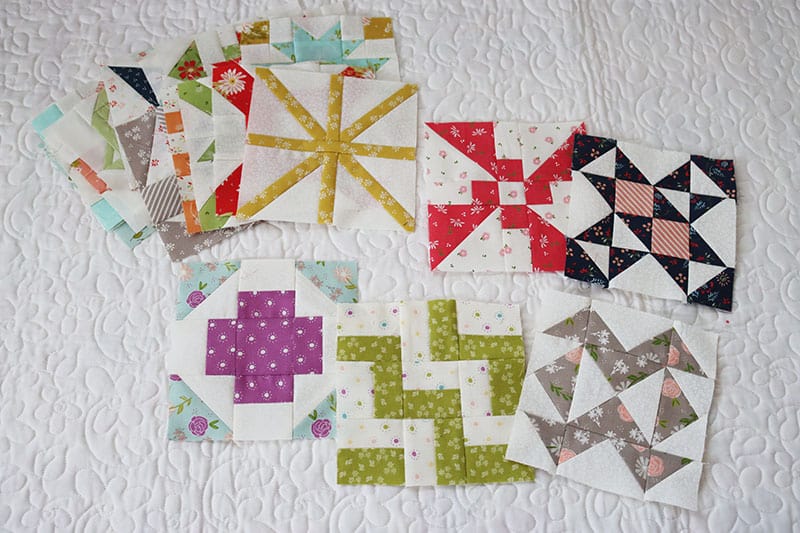 Coming Soon…
Be sure to stop in tomorrow for my July Projects Update and then again on Friday to see a brand new fabric collection we are sharing.
Happy quilting, and thanks so much for stopping by!