Hello, friends! Today I'm sharing the Quilting Life February Challenge. The January challenge was a lot of fun for me not only because of what I was able to finish but also because I saw so many fun projects finished by blog readers and YouTube Channel viewers. I'm actually sharing two ideas this month–one of which is to make a half-square triangle project. (My hst project has a little story to go along with it that I share below). I also have a mini challenge for the month that I'm going to do because the hst project I've chosen will take several months to finish.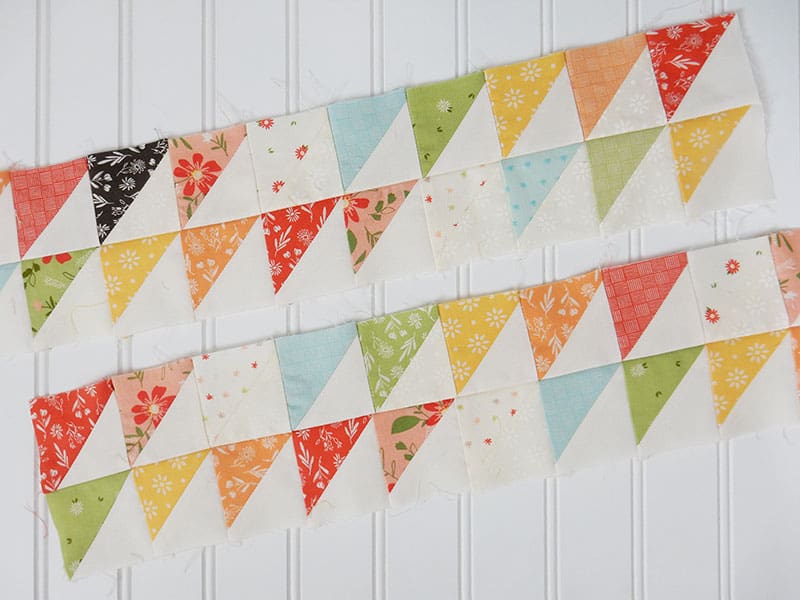 Quilting Life February Challenge: HST's
This month I've decided to start a half-square triangle quilt project that will take me several months to complete. I do hope to have it finished in time to enjoy for Christmas, though! You might remember that my 2019 Block of the Month quilt was a half-square triangle with 25 blocks designed in 25 different standard layouts. (And I made a scrappy version with our fabrics along with a Christmas version that year). However, the quilt I want to make this year will have all of the half-square triangles going in one direction. I'll share more details below, but first want to update you on my January Challenge projects. (Some of which you've seen on the pages of this blog recently).
Quilting Life January Challenge Finishes
My quilting life January Challenge was to use project leftovers to make a new project. Initially I decided on some Snowman Gatherings leftovers from a table topper. I settled on making a lap quilt with the nice assortment of scraps I had left over. I did end up getting that quilt finished, and it's currently at the quilter's. I'll share a finished picture as soon as it arrives home and is bound and photographed.
Along with my quilt project I embarked on a table runner making frenzy. While looking through lots of project left-overs I found more project left-overs and ended up making five table runners! I'm grateful that my friend Gail who lives just a couple of miles away was able to quilt these just about as fast as I was putting them together. You can read the initial January Challenge post here, and find the January Challenge mid-month update here.
February Challenge Video
Watch the February Challenge Video above where I share my January Challenge finishes and talk about the February challenges. Or, go here to watch it on our YouTube channel.
HST Project Inspiration
As I've shared before, I was influenced by my grandmother to begin quilting. One of the projects she made that I remember her talking about the most was her "charm" quilt. I believe she called it a charm quilt because no two fabrics were supposed to be alike. Grandmother's Charm quilt was made up of many, many half-square triangles. The fabrics came from her stash and from fabric swaps she did with friends and members of her quilt guild and sewing circle. She was very, very excited that she had been able to complete the entire quilt without duplicating any fabrics.
Matching Fabrics…
And then one day she called with sad news. One of her piano students, a ten year old neighbor girl, had found two matching fabrics in the quilt. My grandmother used the quilt often on her bed but also frequently displayed it on a quilt rack in her front room near the piano. The neighbor girl was looking at the quilt one day while waiting for her brother to finish his lesson when she noticed the identical prints. And guess what? The matching fabrics were just a couple of rows apart!
My HST Challenge Quilt
Still, the quilt was one of my grandmother's favorites, and I've wanted to make a similar one ever since I became passionate about quilting. I'm actually going to make two–and for one of them I hope to be able to use unique fabrics in every half-square triangle. It will include hst's from a swap I did with friends a few years ago. But that's a someday project.
First, I'm going to make a Christmas Half-Square Triangle quilt. And to make it go together quickly I will definitely be repeating fabrics and using triangle papers for block construction. I'm going to make hst's that finish at 2″ and hope to make at least 5 complete sheets of hst's in the month of February. Hopefully I can make more, but it's going to be a busy sewing month, so I'm setting the bar low 🙂 If you're interested in sewing along with this challenge, you can find Triangles on a Roll paper in a variety of sizes here. And you can find the Primitive Gatherings Triangle Paper in large pages like I'm using here.
Mini Challenge for February
Since I knew my big project this month is one that I won't finish, I've also challenged myself to finish something small. I decided on a small table topper designed by Janet Clare finishing at about 14 ½″ x 16 ½″. The pattern is found in this book. I'm super excited to get this project finished because I have a perfect spot for it!
I feel that sharing my projects last month really made me more accountable and contributed to my "getting things done." So I plan to continue sharing a challenge throughout the year. I would love if you'd join with me in a year of personal challenges. Make the challenges personal to you, and feel free to edit/alter the challenges as necessary. Finally, I shared a simple printable on the challenge video you can use if you need a place to record your challenge projects. Find it here.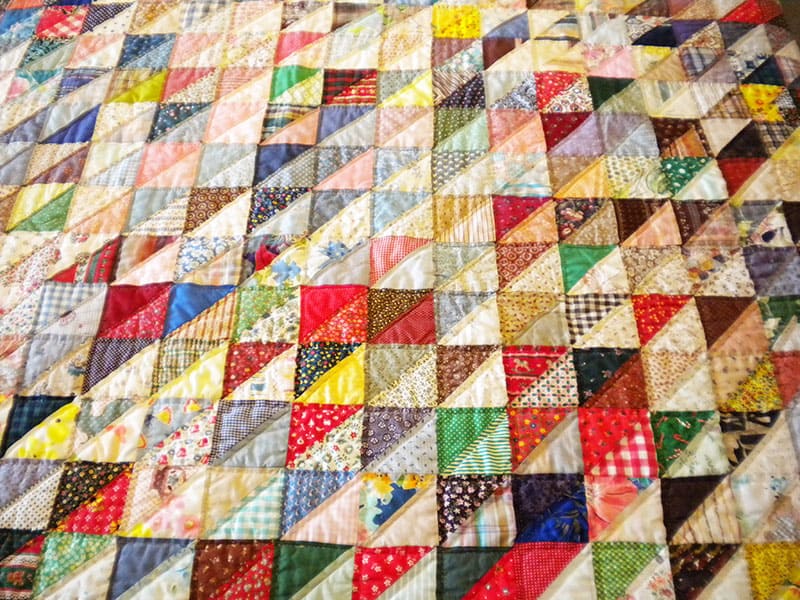 I'll check in with progress in two weeks. Happy quilting, and thanks so much for stopping by!