Hello and happy Monday! I hope you had a wonderful weekend!  Today I'm sharing the Quilting Life Mystery Block of the Month June block!  It's a fun and easy block that goes together quickly and easily.  I've also included the mini version for this block on the pattern as I did last month.  And, I've edited the April pattern to add directions for the mini version of that block.  I'll get the January through March patterns edited with mini instructions over the summer.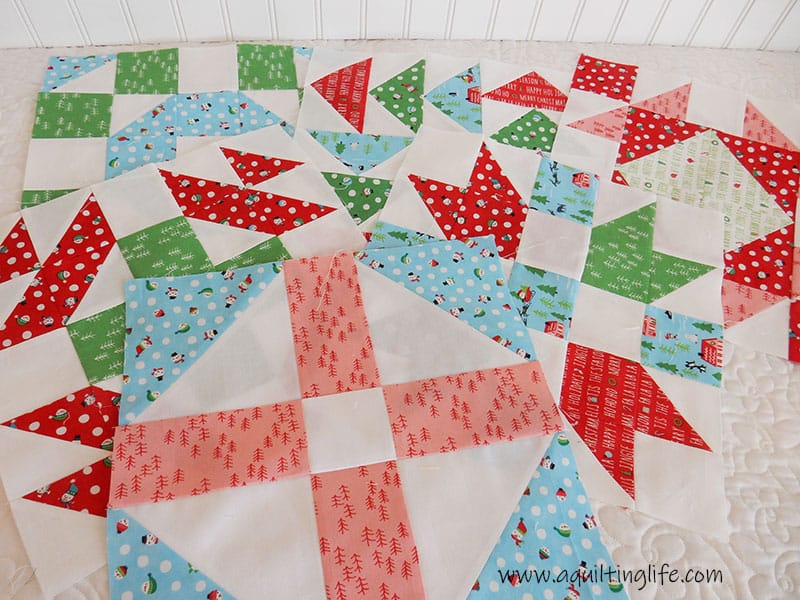 If you've been following along this year, you know I'm now making three sets of these blocks!  I started the Christmas version on month three and am so glad I did!  This month I made sure to use pink again since I hadn't used very much of it.  There weren't many pink prints in the bundle, but the pink does add a fun touch to the collection.  (The new block is front and center).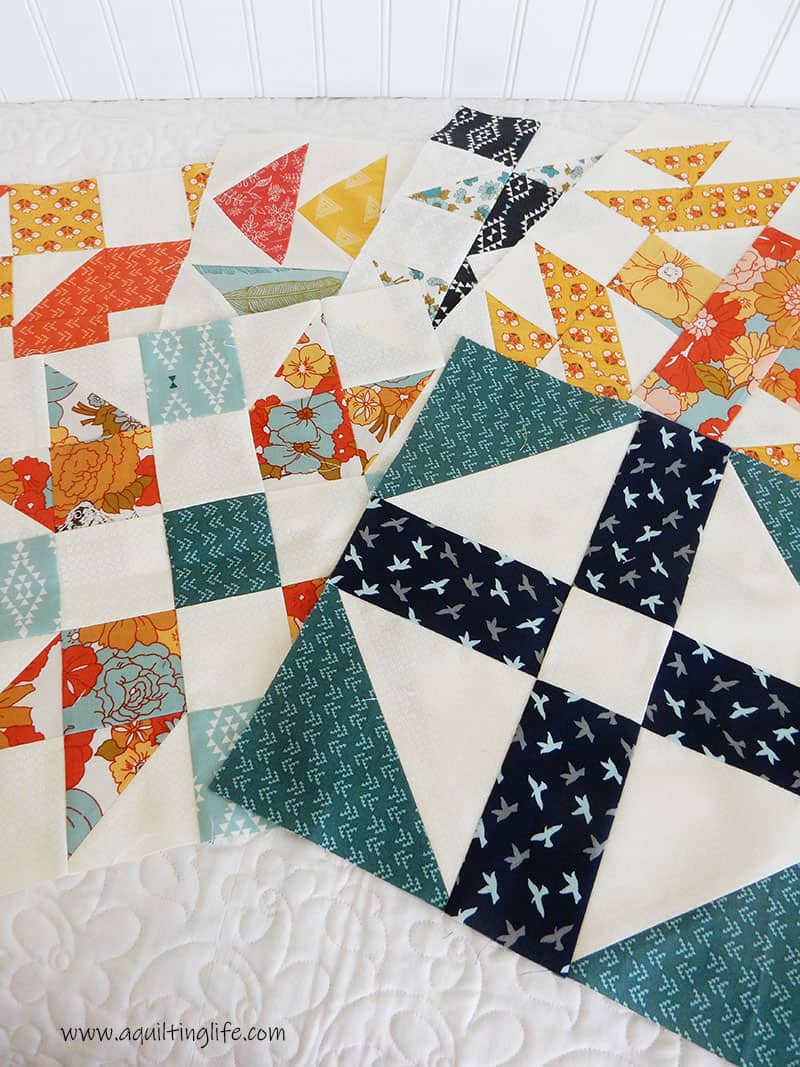 For this set of blocks I needed to add some navy in this time around.  Again, there aren't a lot of navy prints in the collection I'm using, so I added a fun navy from our Creekside collection.  I think it really adds a nice touch.  I'll definitely be adding in more navy prints to these blocks throughout the rest of the year.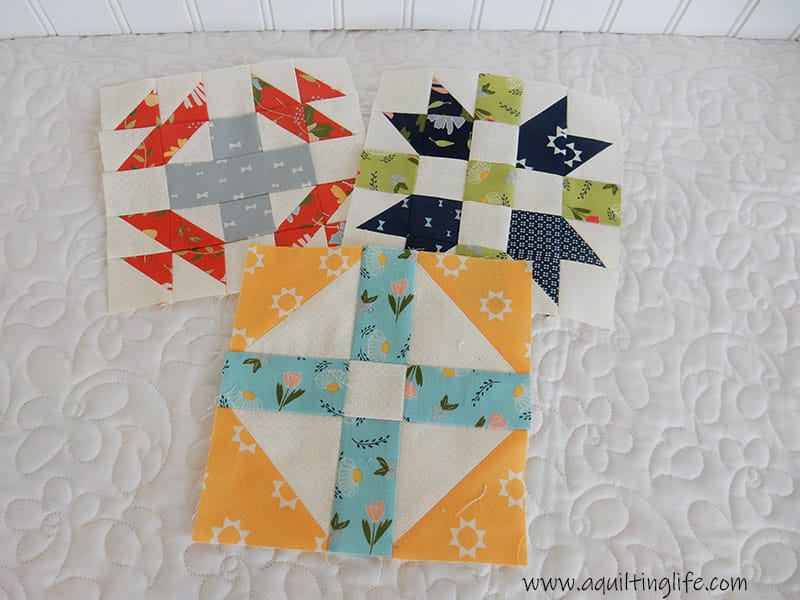 Last month I decided to add a mini version, and I'm so glad I did!  So the plan is to make a mini each month and also make one of the earlier blocks in the mini version as well.  So now, the April, May, and June patterns have been written/edited with both sets of cutting instructions.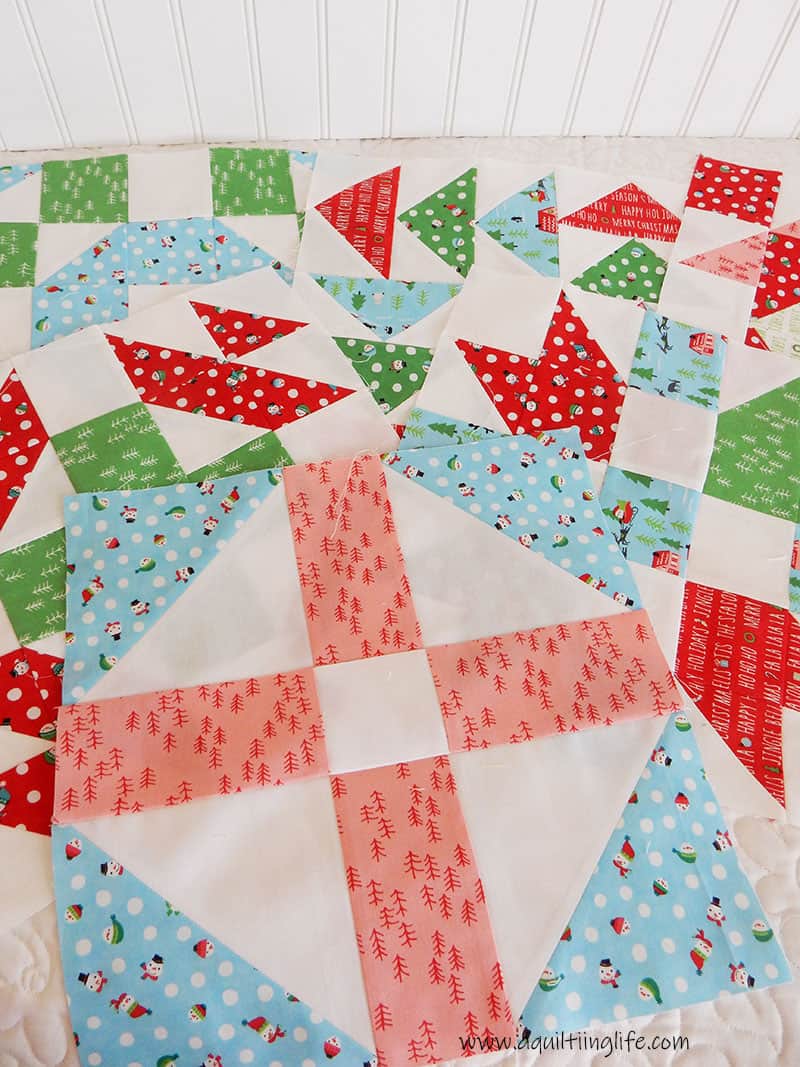 It really hasn't been taking me that much extra time to make the extra blocks–and I'll definitely be glad I made three sets when I have three quilt finishes at the end of the year!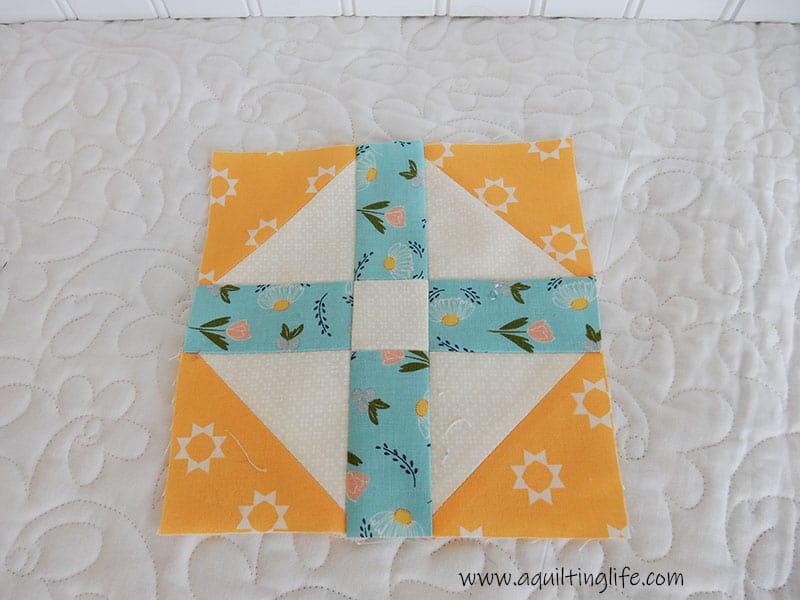 I might be just a bit partial to my Clover Hollow mini blocks!  These blocks are going to make a fun mini sampler!
How to get your block patterns
I'm happy to provide these blocks each month for your personal use–it's something that is really fun for me to do.  Please download your own copy, and please don't download multiple copies for friends (they are all welcome to download their own).  Also, if your group or guild is using these blocks please have each member download their own copy.  I really appreciate the support!  Thank you!
Download this month's block here.
And, you can access the landing page with links to each of the monthly posts here.  (You can also get there from the drop-down menu at the top of my page by clicking "block tutorials" and then "Mystery BOM.")  By going to the link under each block photo you'll be taken to the page where you can download that month's PDF.
Oh, and you can find the updated April pattern with the mini instructions here!
Thanks so very much for supporting my mystery block of the month program!  I love seeing your blocks on Instagram.  If you use the hashtag #aquiltinglife I should see them!  Happy quilting!