Hello and happy Wednesday! Today is the first day of the 2018 Moda Block Heads quilt along!  And I have some pretty exciting news to share, too!  First, I'll explain just a little bit about the Moda Block Heads.  Last year, a wonderful group of Moda designers got together and took turns posting free weekly block patterns throughout the year.  A Facebook group was created, and many, many quilters joined in to quilt along!  I've seen some amazing quilts from the 2017 quilt along and really wish I had joined in last year!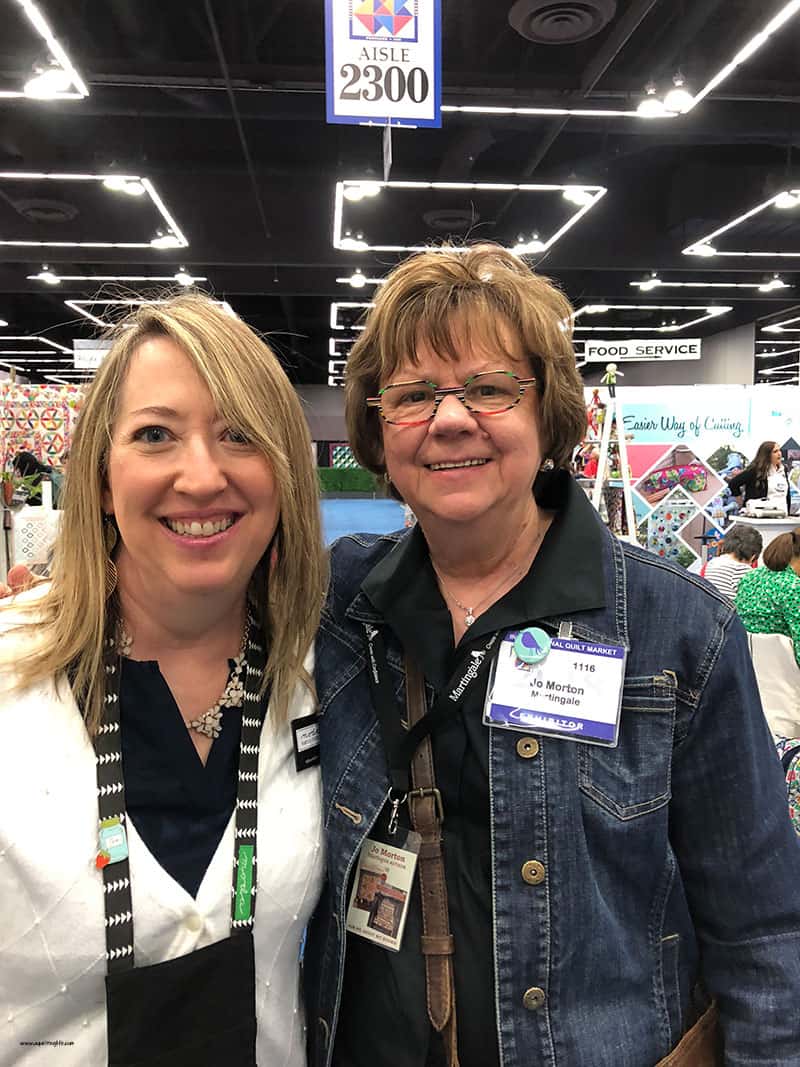 The 2017 Moda Blockhead designers were: Lynne Hagmeier, Carrie Nelson, Betsy Chutchian, Jan Patek, Jo Morton, and Lisa Bongean–a terrific group!  Since last year was so successful, a plan was made to begin Block Heads 2 for 2018. Each of the original Block Head designers invited another Moda designer to join the group.  Earlier this year I was very honored to learn that Jo Morton had invited me to join the Moda Block Heads group. (The photo above is of Jo and I at Quilt Market in Portland this spring)! I can't tell you how excited I am to be able to participate in such a wonderful project!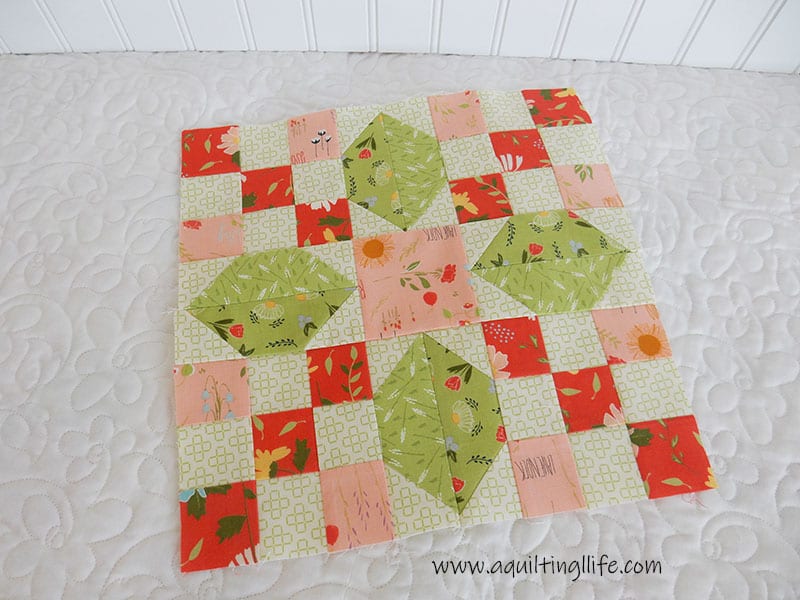 Last year's quilt along included only 6″ blocks; however, this year there are 6″, 12″ and other sizes of blocks. (Information on setting options will be presented later this year). Blocks will post each Wednesday beginning today.  Lynne Hagmeier is starting us out for 2018 with her gorgeous "Stellar Star" block pictured above.  I've pieced mine together using a combination of my Creekside, The Front Porch, and Clover Hollow fabrics in red, coral and green. I'm going to make a really scrappy version of this quilt and will be using the colors from Clover Hollow as the basis for my blocks.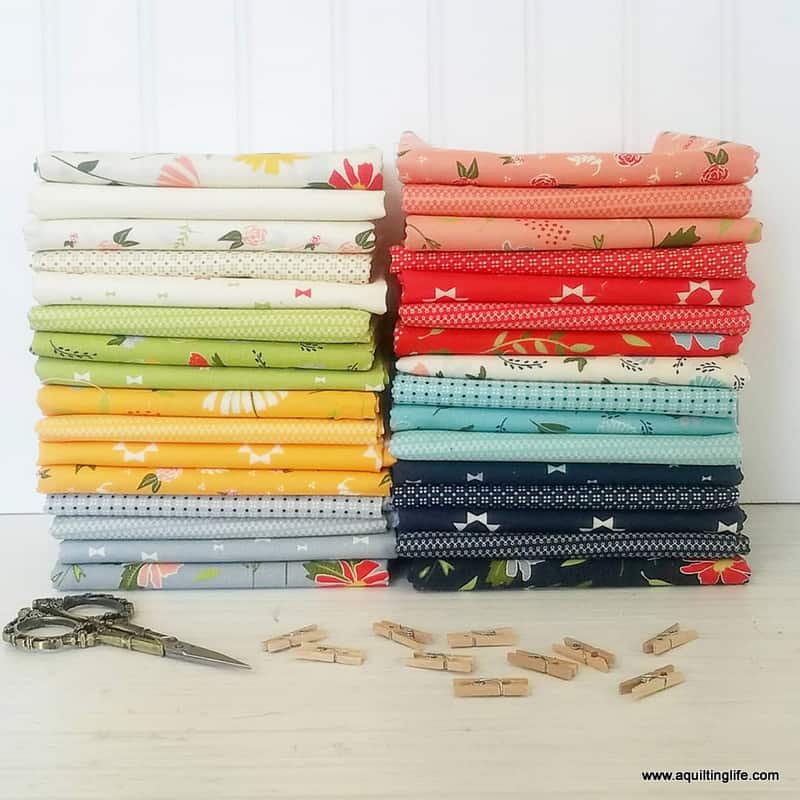 I'll be using a lot of the low-volume prints from our collections as background fabrics mixed in with some solid cream backgrounds.  I've already made a few of the other blocks and can't wait to be able to start sharing them with you in "group photos."  Additionally, it's going to be a lot of fun to see all of the other fabric combinations being used by everyone else who quilts along!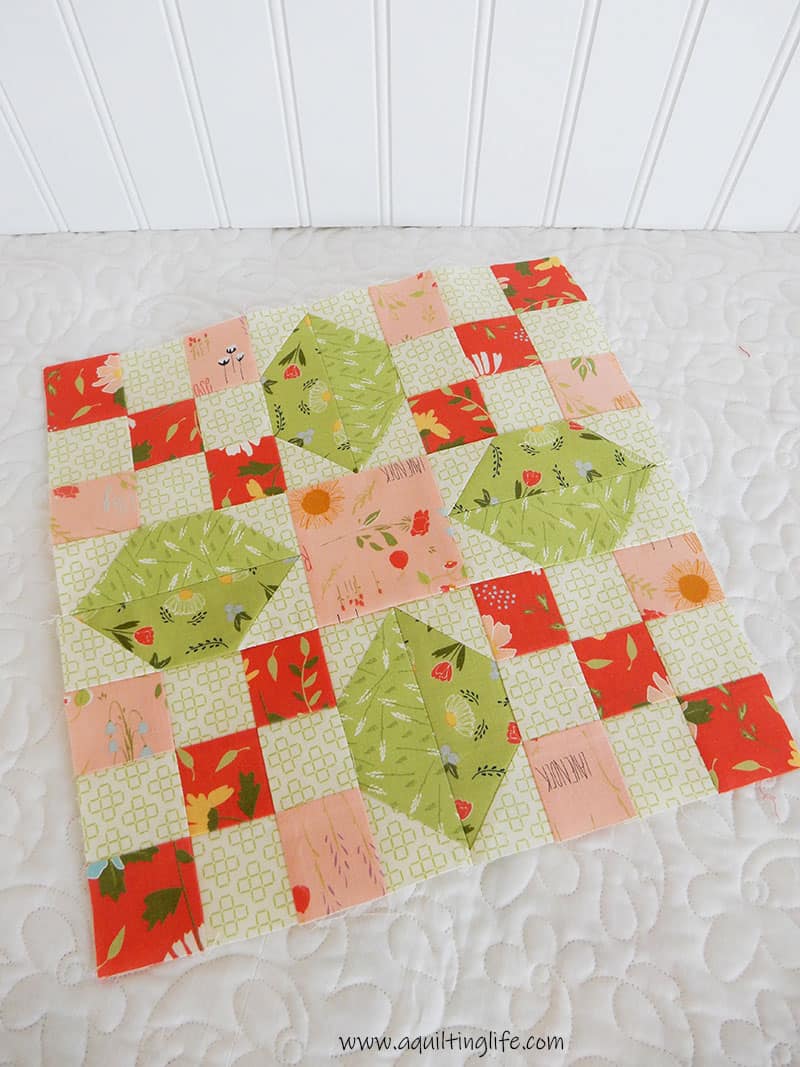 All of the original Block Heads designers will be posting today to share who they invited to join.  (You can find each of their blogs by clicking on their names where I listed them above). There will actually be 13 of us this year, and we will take turns sharing our block designs. To get this week's free block pattern PDF download be sure to visit Lynne Hagmeier's blog!  And you can visit the Moda Cutting Table blog today for even more information about Block Heads 2.
Moda Block Heads 2 Details:
Free PDF patterns post every Wednesday beginning today, June 6, 2018
The Moda Cutting Table blog will direct you to the designer's page who will be sharing that week's block
I'll be posting my version of the week's block each Wednesday.  On the week's when the block is my own design I'll also be sharing tips and tricks for piecing and fabric selection. (The other designers will share those ideas when they post about their block designs).
There is also a Basic Instructions PDF you can download now with instructions for some of the techniques used in this year's blocks.  Find it here.
And…if you are looking for some fabric ideas for your Moda Block Heads quilt, I have some fun bundles in my Etsy shop right now.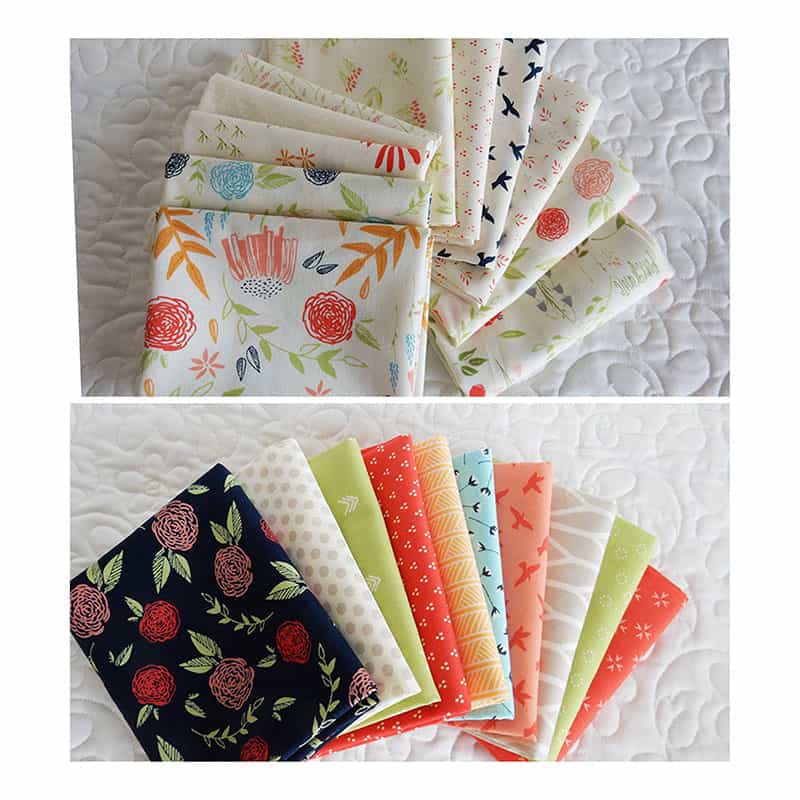 I have a bundle with 11 low-volume fat quarters perfect for backgrounds, and a bundle  of 10  prints available.  Buy either bundle and receive a free scrap bag of Clover Hollow fabrics to add to your mix. (Fabrics are prints and low-volume pieces from the Clover Hollow collection)!  Just be sure to mention "Clover Hollow Scrap Bag" in the comments section when you purchase to receive it.  I'll also be adding additional bundles to the shop throughout the year which will definitely contain some more Clover Hollow and that you can use to add variety to your quilt.  You can find the bundles in the fabric section of my shop here. (If the bundles sell out, and you're interested in one, please email me).
Thanks so much for stopping by!  I hope you'll join in with the Moda Block Heads 2 quilt along this year!