Hello and happy Monday!  Happy July as well!  Today I'm sharing the Quilting Life Mystery Block of the Month July!   I really love how this one turned out.  I did something just a bit different with each of my three versions, so you'll have several options to choose from when you decide on fabric placement!  It's really been fun to see the variety of blocks for each of my three versions.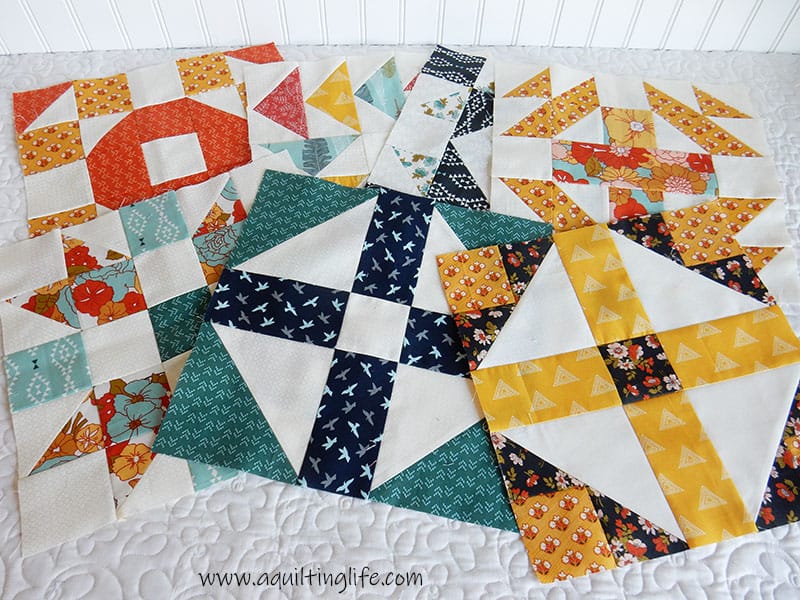 This month's block has a similar layout to last month's block; however, the corner units have a few additional pieces and steps. (This month's block is in the lower right hand corner above).  I do have some tips below for piecing these types of units that should be of help to beginners.  Notice that with this version of the block I used two different yellow prints for the rectangles and the corner squares.  Then I used a bold navy floral in the center and in the outer triangles.  I really love the bold look of this block!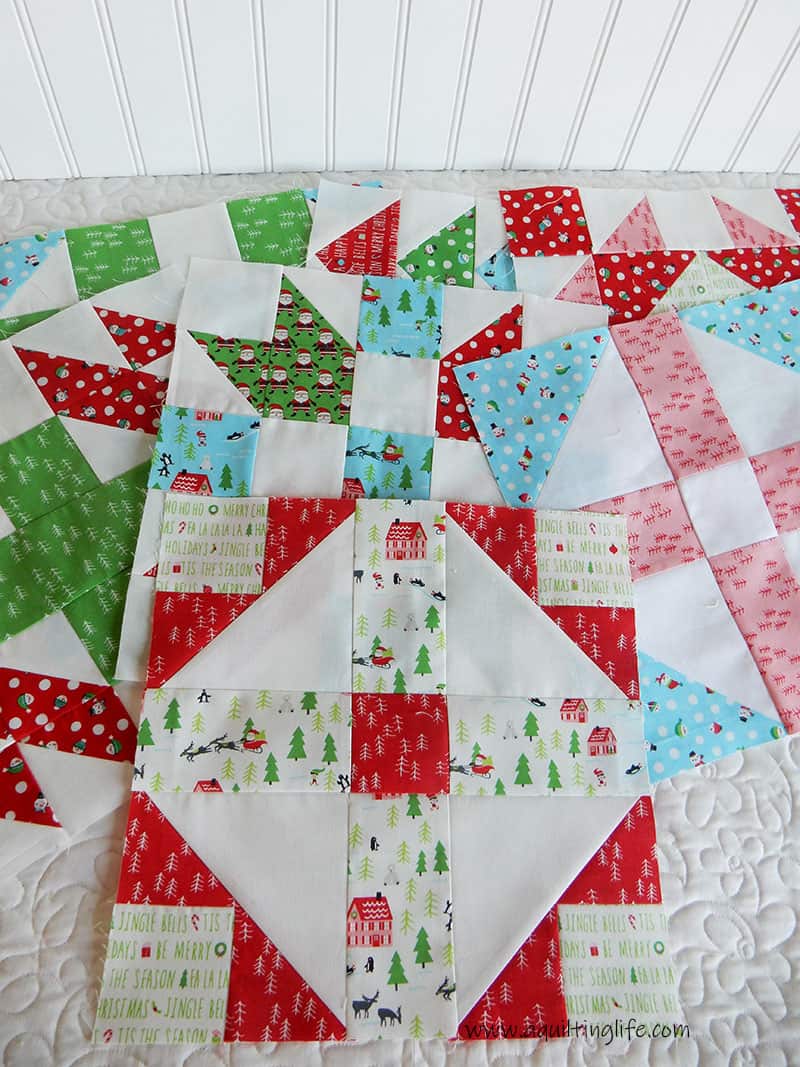 The Christmas group of blocks is sure looking festive!  I did something just a little different with the Christmas block.  Rather than use a medium/dark fabric for the corner squares and the rectangles, I used two different low-volume ones.   And I really love how this one turned out!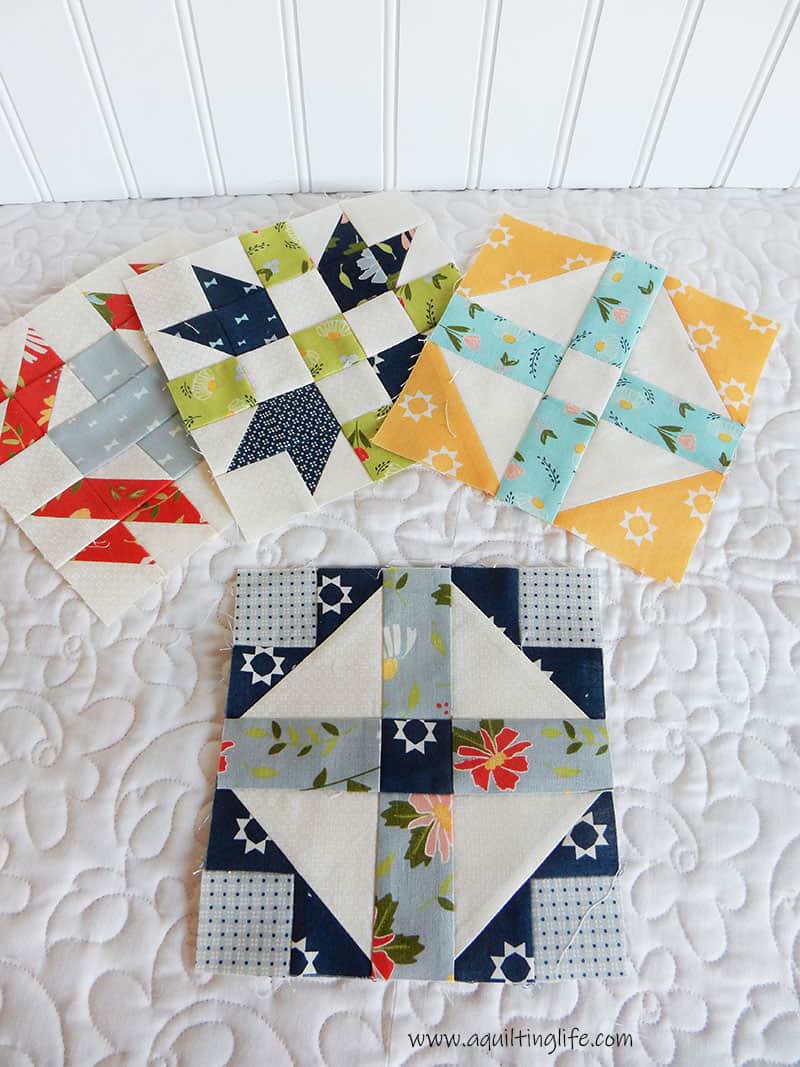 And finally…my mini versions of the block!  These just might be my favorites!  I again used two different fabrics for the outer squares and the rectangles, but these read as more of a medium.  Again…I love this look, too!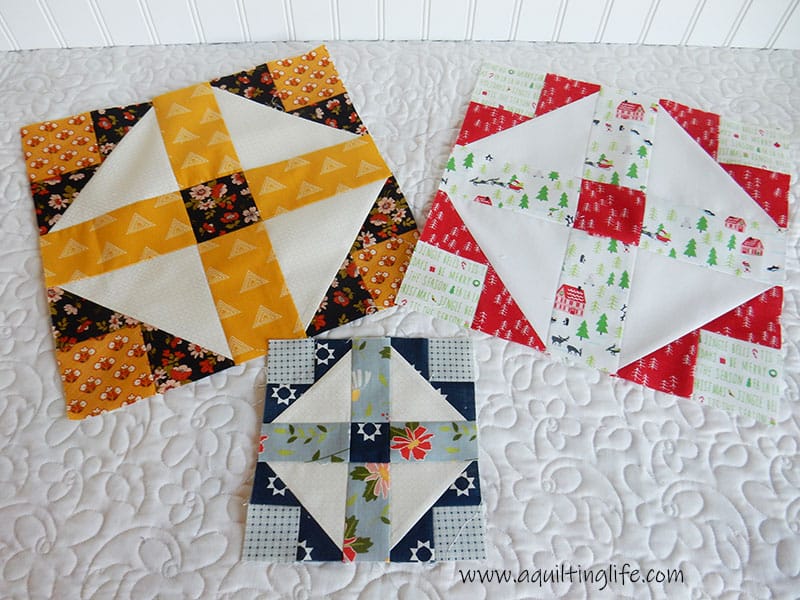 And here they are all together!  Now…for the tips:
Tips for Sewing Triangle/Square Units
Cut carefully.  Pieces that are even a little bit too small or too big will not fit properly.
Handle the bias edges carefully.  Whenever you cut squares in half to create triangles, the long side of the triangle is on the bias.  It will stretch easily and distort your block if you're not careful.
Consider using a spray starch for these units.  It helps to keep them from shifting and stretching.
Press after each step, again being careful not to stretch the fabrics.
When sewing the unit with two triangles and a square to the larger background triangle, place the large background triangle on the bottom.  This enables you to make sure you don't stitch past the seam allowance and cut off the inner corner of the square.
Trim dog ear pieces.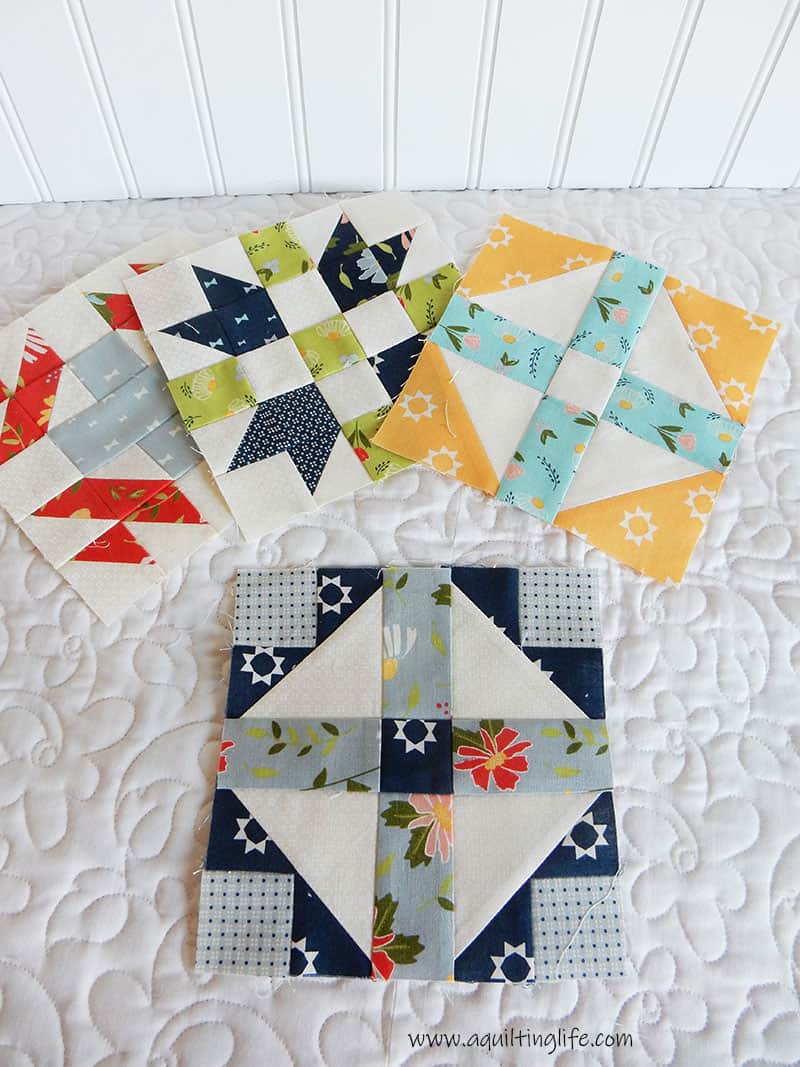 I haven't had time yet to revise the January, February and March PDF's to add the mini block measurements, but it's on my list to finish up for July.  I'll let everyone know here on the blog when they've been edited.  We are past the half-way point, so now is a good time to get caught up if you're missing  a block or two.  When I get behind I always make the most recent block first and then work backward until I'm back on track.  Someone gave me that tip years ago for when working on photo albums, and it seems to help me with quilting, too! If you are sharing your blocks on Instagram, please be sure to tag them with #aquiltinglife so I can see your fabric choices and blocks!
Go here to download this month's PDF for the July blocks.
Go here to access the landing page for the 2018 Block of the Month.  There you'll find links to all of the monthly posts and patterns.
Happy quilting, and thanks so much for stopping by!