Hello and happy Friday! Today marks the first day of  Spring 2017 International Quilt Market in Portland! I have  more projects with Clover Hollow to share with you today that I couldn't share earlier.  These projects are being used as booth props for the weekend and will be put to good use afterwards!
Contain Yourself Bins
First to share are these simple-to-make fabric bins.  These wonderfully useful fabric bins are from the new "Contain Yourself" pattern by Annie Unrein of Patterns by Annie.  Patterns include directions for a larger square bin as well.  Additionally, the directions make it possible for you to create your own size bin using Annie's formulas!
The blue bin pictured above measures 6″ high, 6″ wide, and 10 ½″ deep.  I plan to use it for brochures at market but will use it to store fat quarters when I get home!  The small grey bin measures 2 ¾″ high, 4 ½″ wide, and 3 ½″ deep.  This small bin can hold a variety of small items.  It will hold business cards at market and Clover Wonder Clips when I get home. (I like to keep some Wonder Clips near my machine, and this will store them perfectly)!  The large bin measures 11 ¼″ high, 11 ½″ wide, and 11 ½″ deep.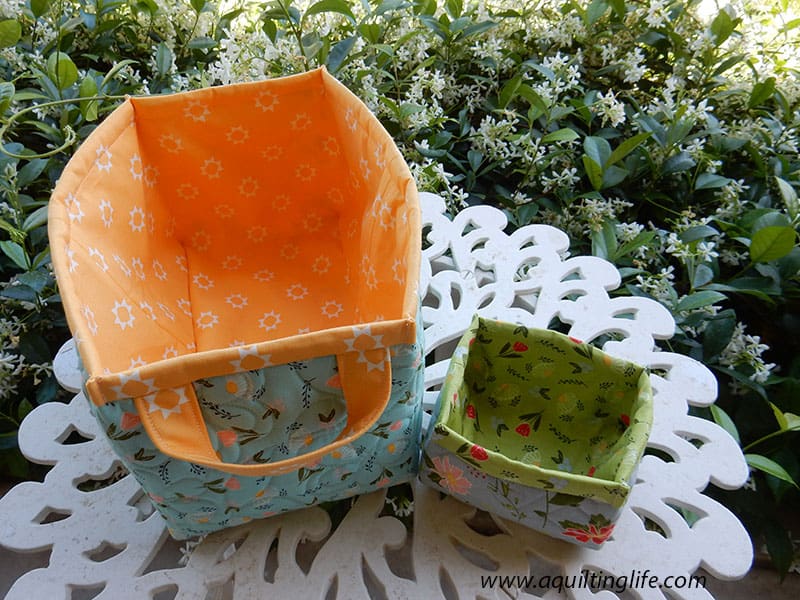 The fully-lined bins were designed with every attention given to finishing detail.  Because they use Soft & Stable, they have a good weight to them and aren't flimsy at all.  I loved making these and can see them being very useful for gifts for kids, too.  The medium bin makes a great diaper caddy, and the larger bin (not pictured) easily stores baby and children's toys.  You can also add a vinyl pocket to the front of the medium and large bins so that they can be easily labeled.  This is just a terrific project!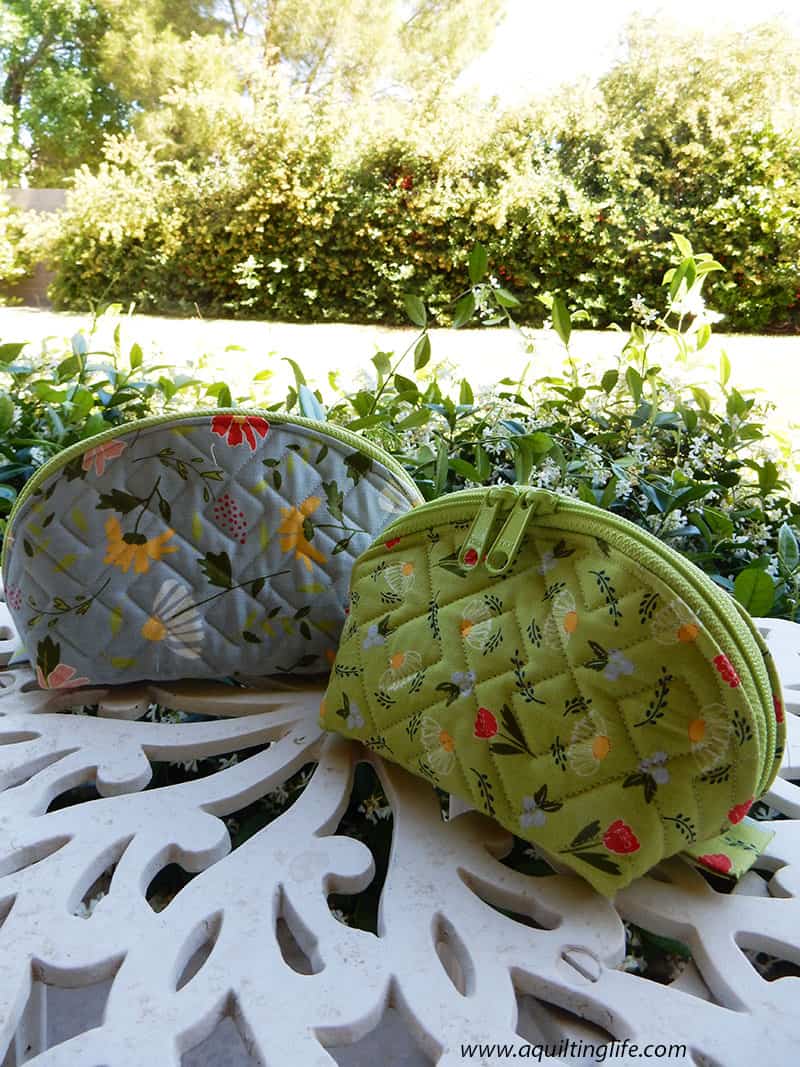 Clam Up Zippered Pouches
I also made some of these "Clam Up" zippered pouches (also by Patterns by Annie).  I can't even begin to tell you how much I love these pouches.  The green one is actually just a bit smaller than the grey (and they nest for storage, too)!  The green is the medium-sized pouch, and the grey one is the large size.  There are also extra-small, small, and extra-large sizes included in the same pattern.  You can use quilted or non-quilted fabric, and they are completely finished inside as well.
The medium green pouch measures 4 ¼″ high, 5 ½″ wide, and 4″ deep while the large grey pouch measures 4 ⅞″ high, 6 ½″ wide, and 4 ⅝″ deep.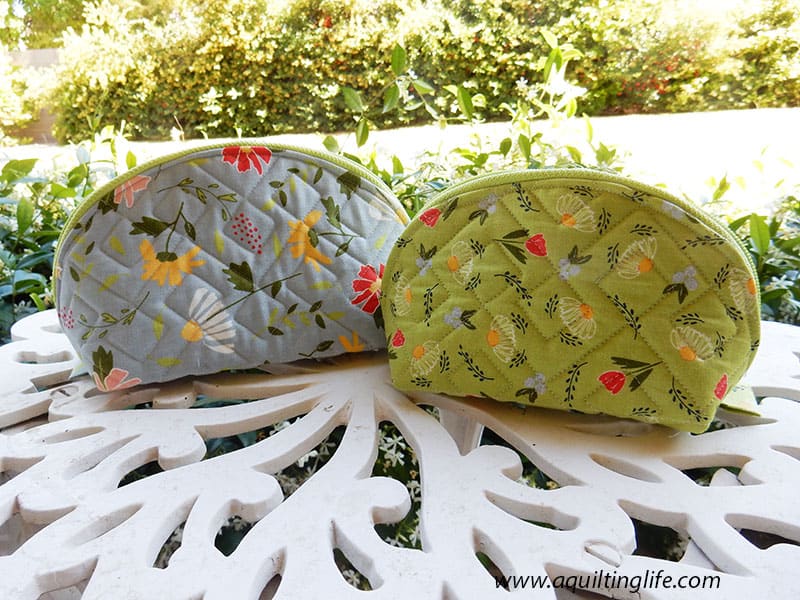 These pouches are perfect for make-up, for a small sewing kit, for sewing supplies and even for charge cords and tech gear.  They would be a handy addition to a diaper bag and could even be used for a small first aid kit.  You can also use iron on vinyl laminate if you want to be able to clean the inside of the bag.
I will definitely be making the extra large size to use after I arrive home from market.  I'm not sure I will make the two smaller sizes (although the smallest size would be perfect for ear buds)!  I'm glad I used the double-slide handbag zippers, although you could make this with a single slide zipper.  You can find the "Contain Yourself" and "Clam Up" patterns here available soon!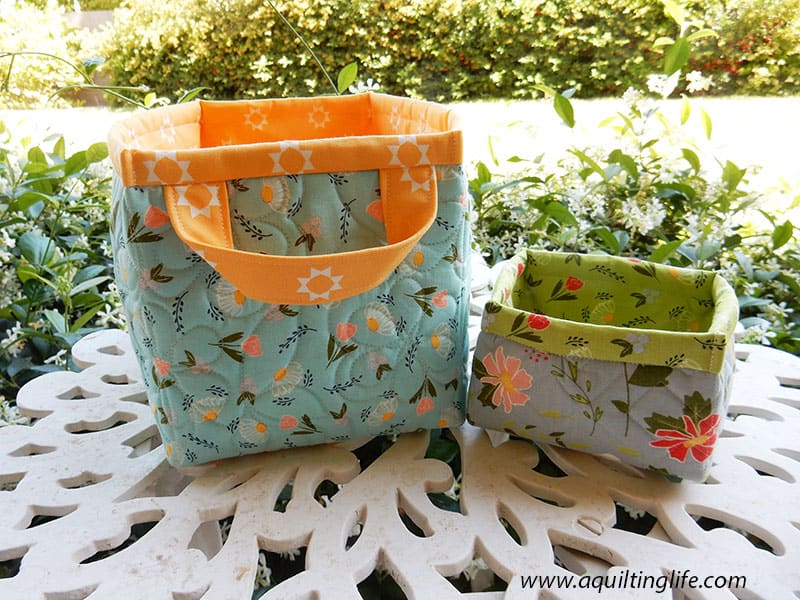 A big thanks to Annie who designed these terrific patterns for letting me sew with them before market.  She sent me a couple others of her new and upcoming patterns that I'll be making as soon as I return home!
Happy quilting, and thanks so much for stopping by!