Hello and happy Wednesday! Today I'm sharing the Moda Booths: Fall 2019 International Quilt Market. In fact, there are so many Moda booths that I've broken them up into two posts. Today I'm sharing the booths from both sides of the aisle I was on along with a couple of the end booths.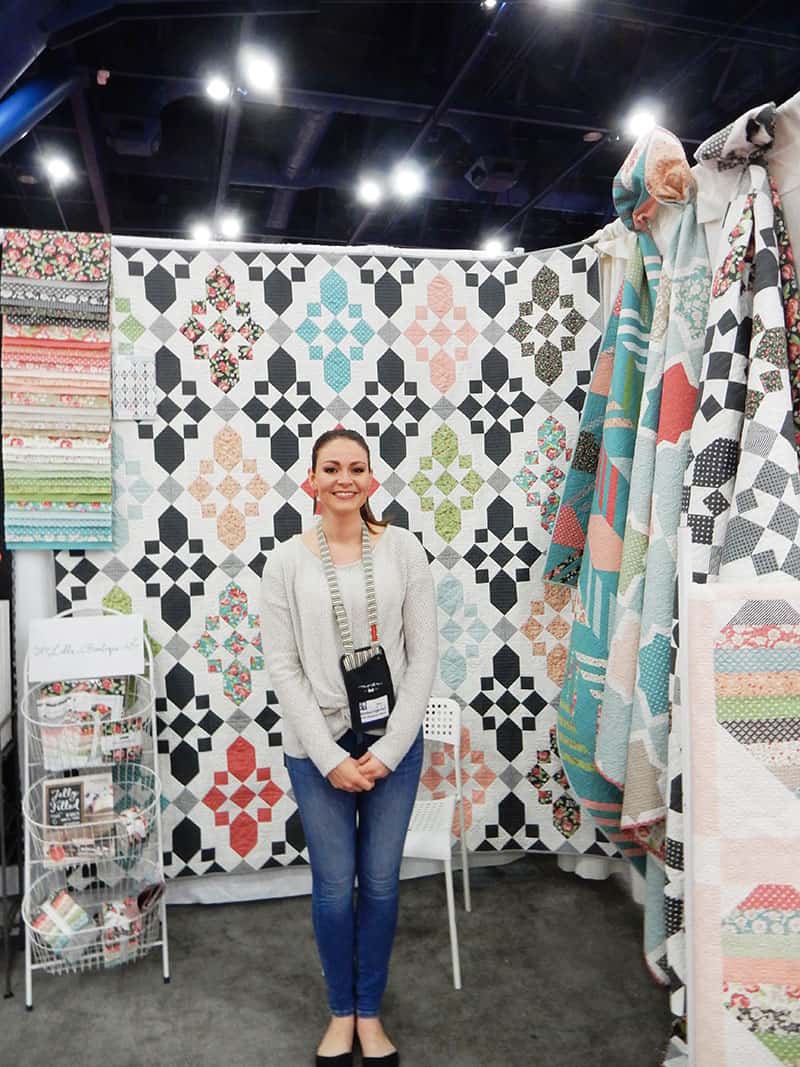 International Quilt Market Moda Booths Part 1
Bloomington
First up is Vanessa Goertzen of Lella Boutique who shared her new Bloomington collection. Her booth was jam-packed with new pattern quilts and quilts made from her recent book, Jelly-Filled.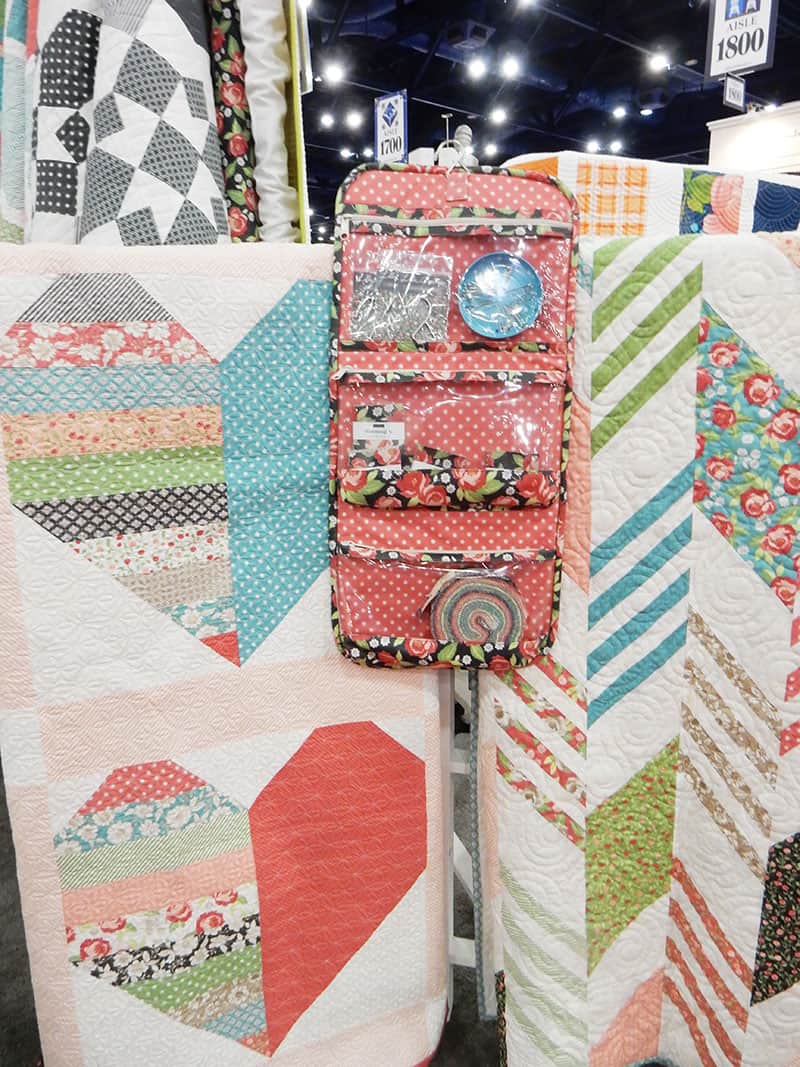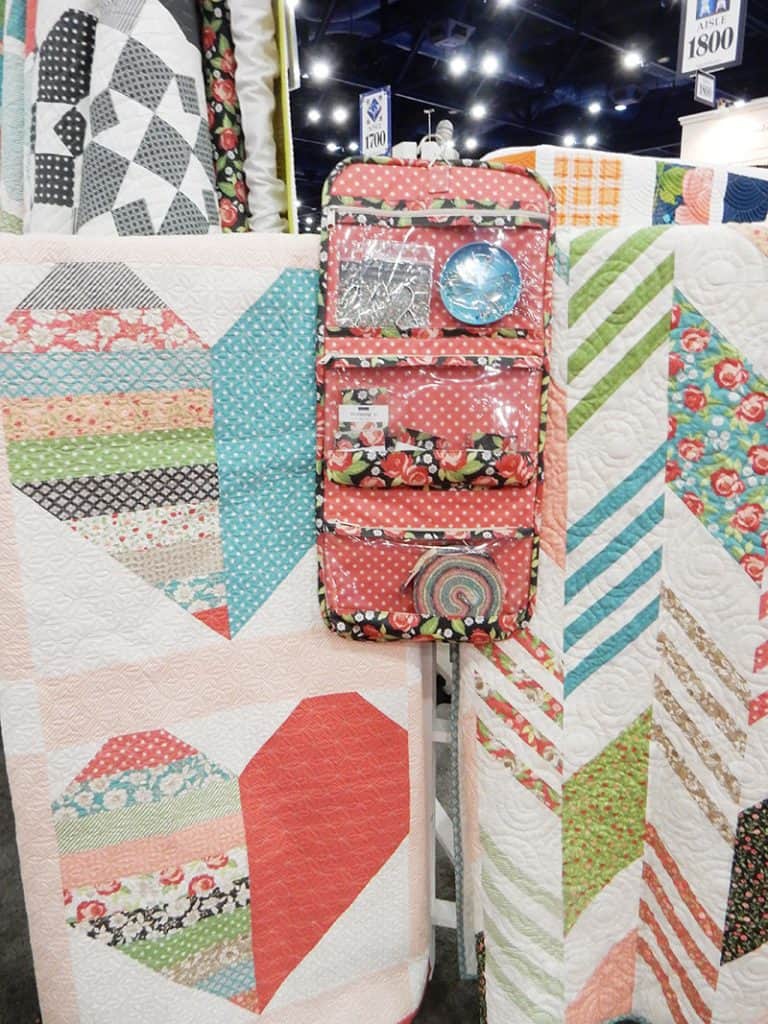 Vanessa's Bloomington collection also has some lovely coated fabrics, and she used those to make her fun "Kiss and Make-Up" bag. But I'm really sharing this picture because I pieced the heart quilt above on the left. It was super fun to put together (pattern from her book linked above).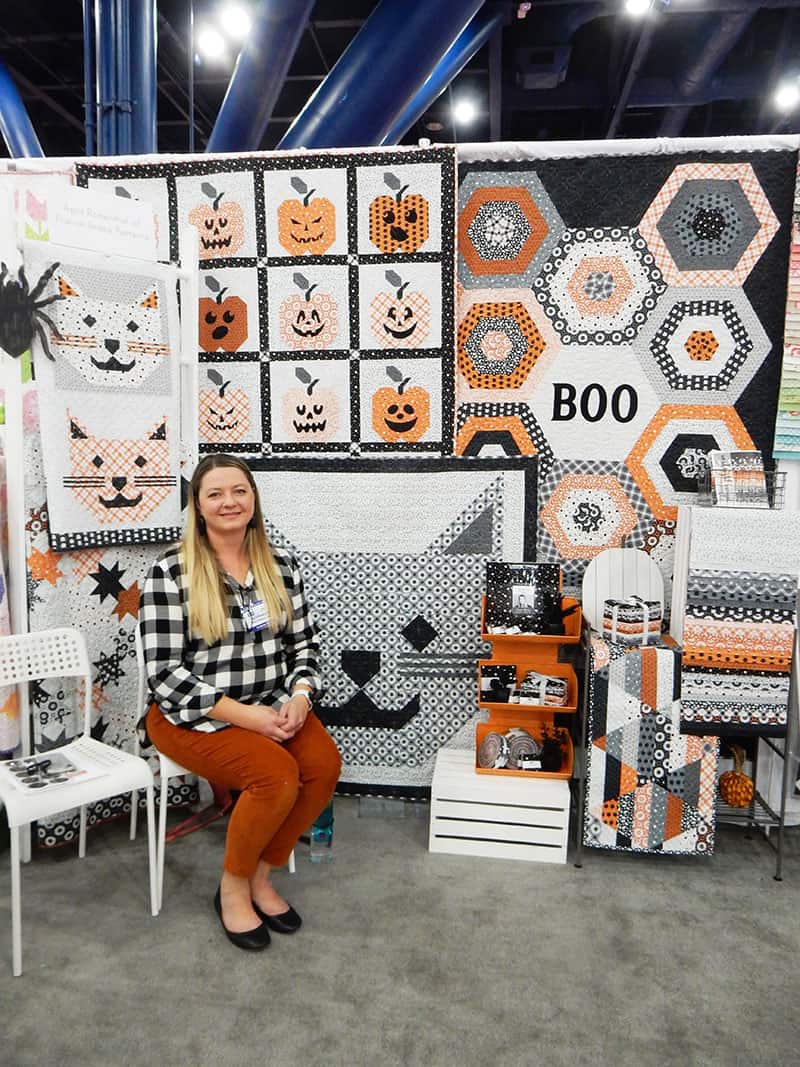 Midnight Magic
April Rosenthal debuted her fun and modern Midnight Magic Halloween group. April has lots of fun new patterns with this collection and had such a beautiful booth. She and her husband Jacob also dressed in fun fall colors each day, so it really got all of us in the mood for the holiday this week!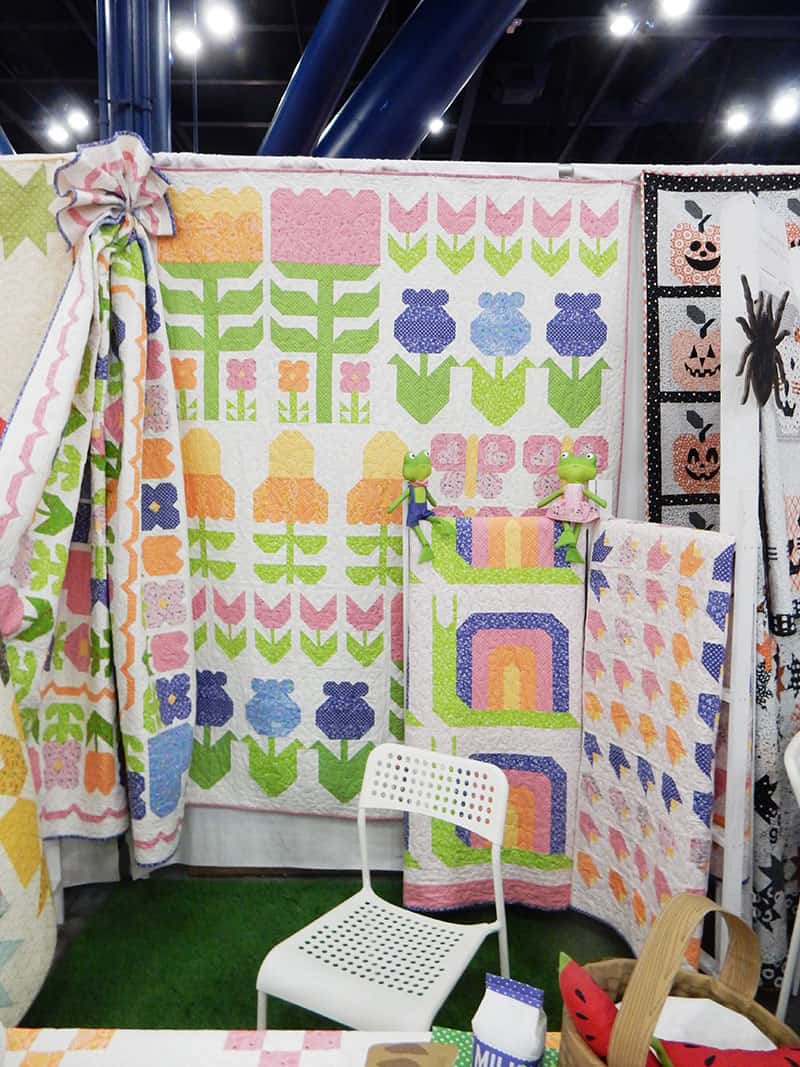 Sunday Picnic
Stacy Iest Hsu presented her delightful Sunday Picnic collection. We had a lot of fun sitting next to Stacy and getting to know her better. We always love getting to know and visit with the other Moda designers each market. Those cute frogs sitting on top of Stacy's quilt ladder made quite the splash this market. They are part of a panel that also includes a picnic basket and picnic lunch food!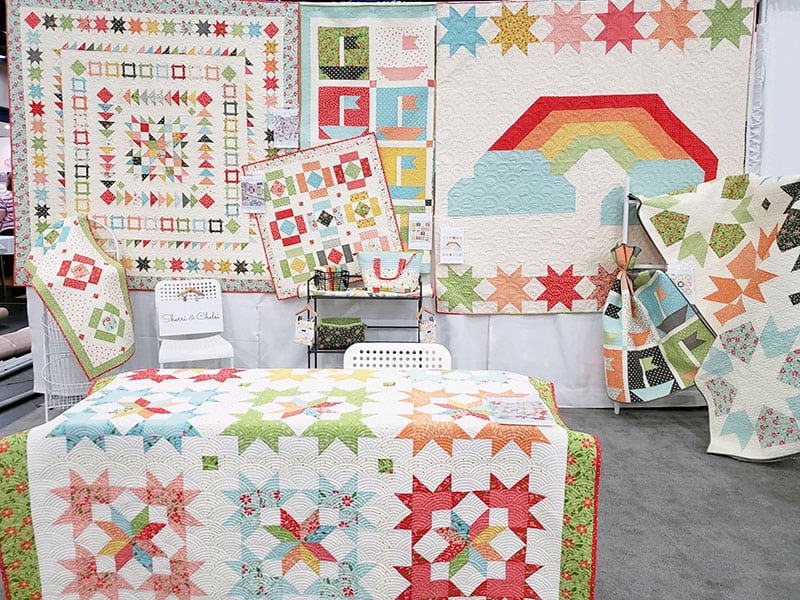 Summer Sweet
And here is our Summer Sweet collection booth. We really had a lot of fun with this one. Thanks so much to everyone who stopped by! There are some more pictures of our booth on this post from yesterday if you missed it.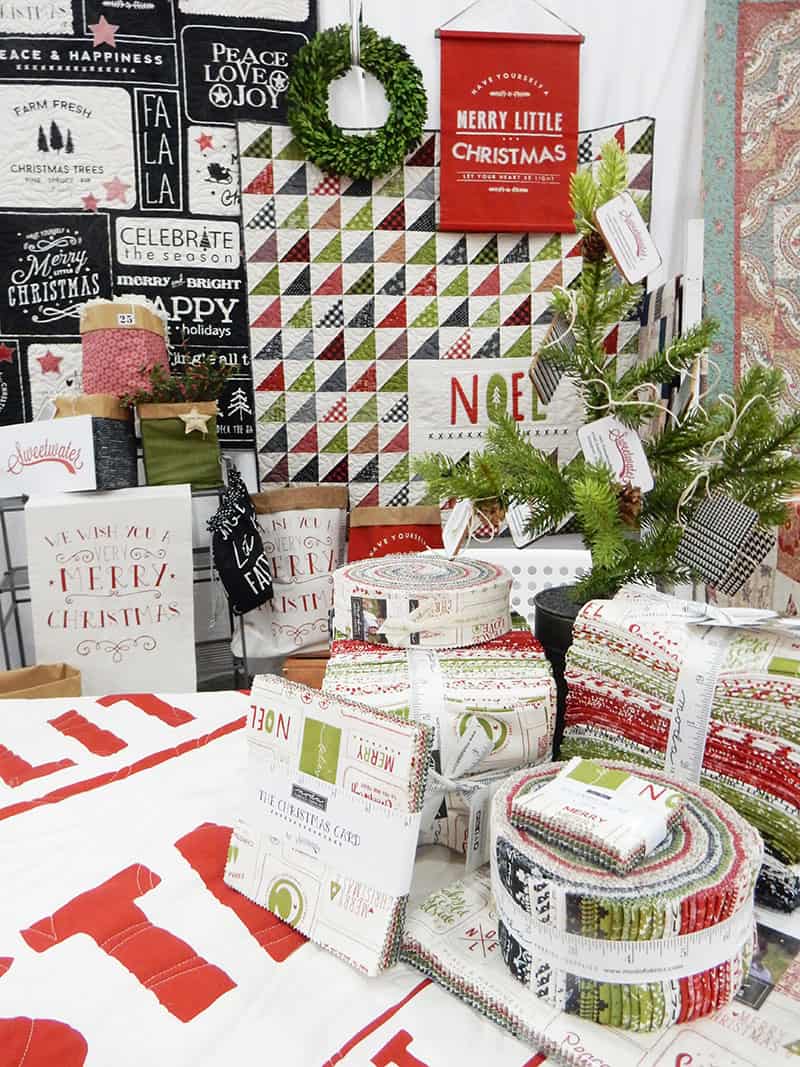 The Christmas Card & Printworks Holiday
The lovely ladies from Sweetwater debuted their fun The Christmas Card collection along with the new Printworks Holiday collection. We had a lot of fun sitting across from them and feeling the Christmas spirit. I love that their Christmas collections all coordinate with one another and can't wait to use some of these new fabrics with some in my stash. I also loved the Printworks holiday panels which are in a larger size that can be quilted into a throw quilt. And there are smaller size panels that can be used for smaller projects, pillows, quilts, and bags.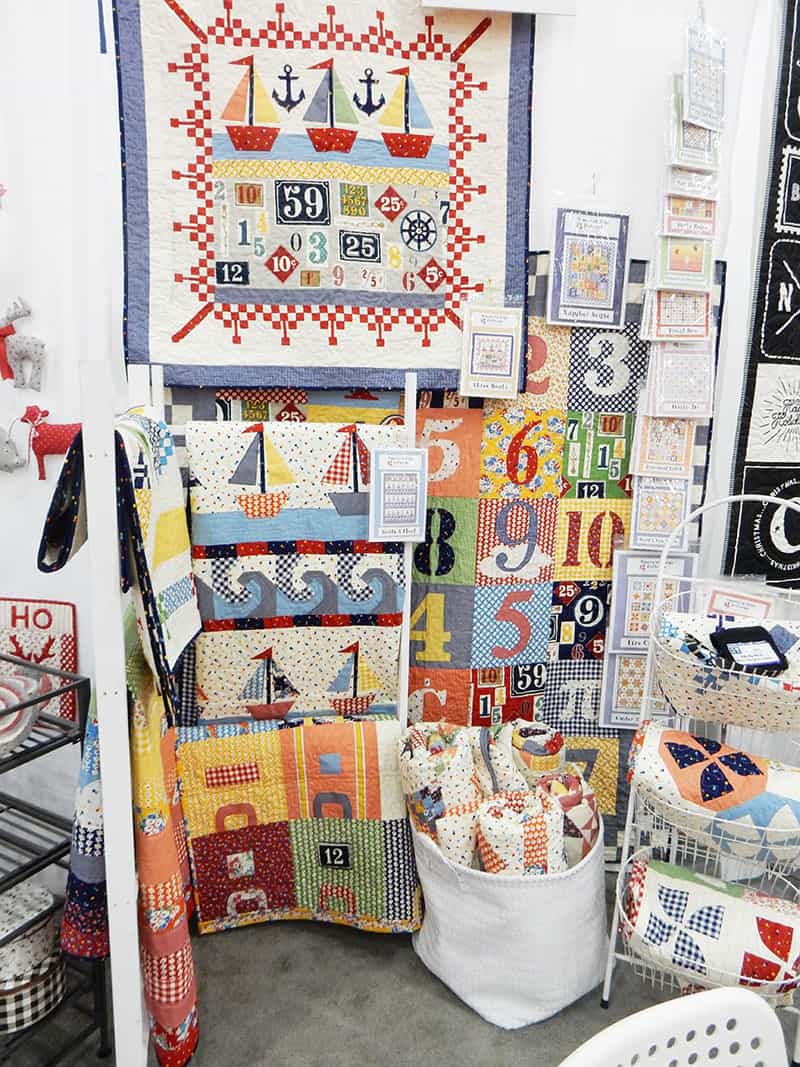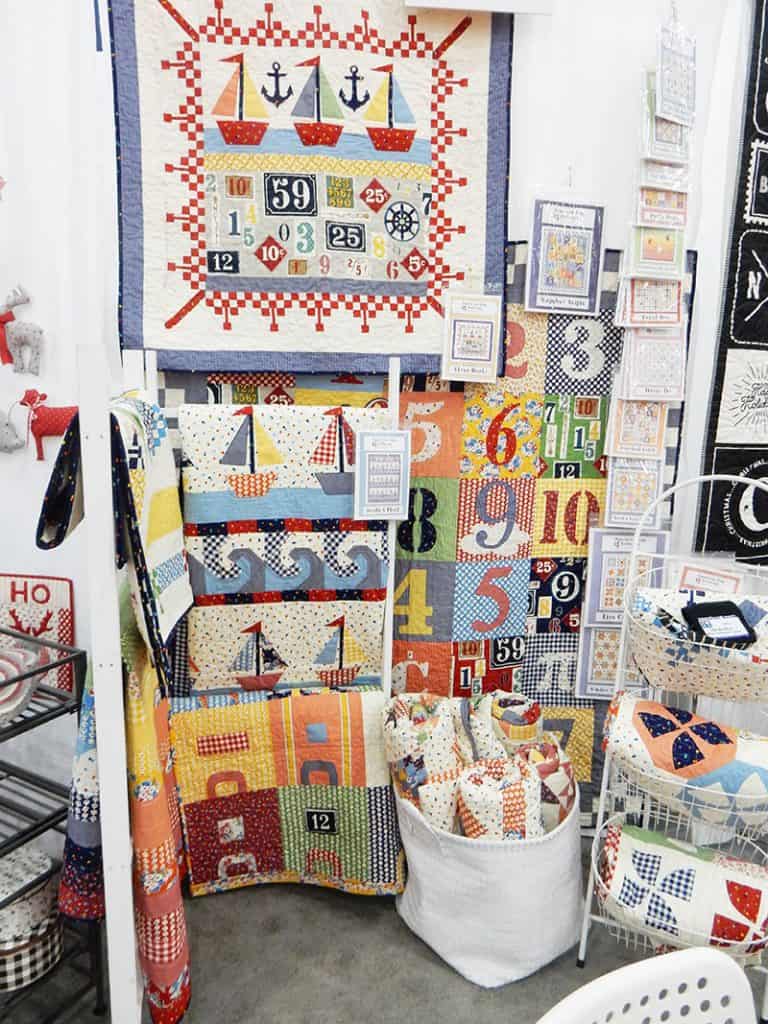 Good Times
Sandy Klop of American Jane shared her fun and whimsical Good Times collection. Sandy brought lots of beautiful quilts with her to display. I'm always amazed at how much she is able to get done…and with so much applique included as well. We enjoyed looking at Sandy's booth across the aisle over the weekend!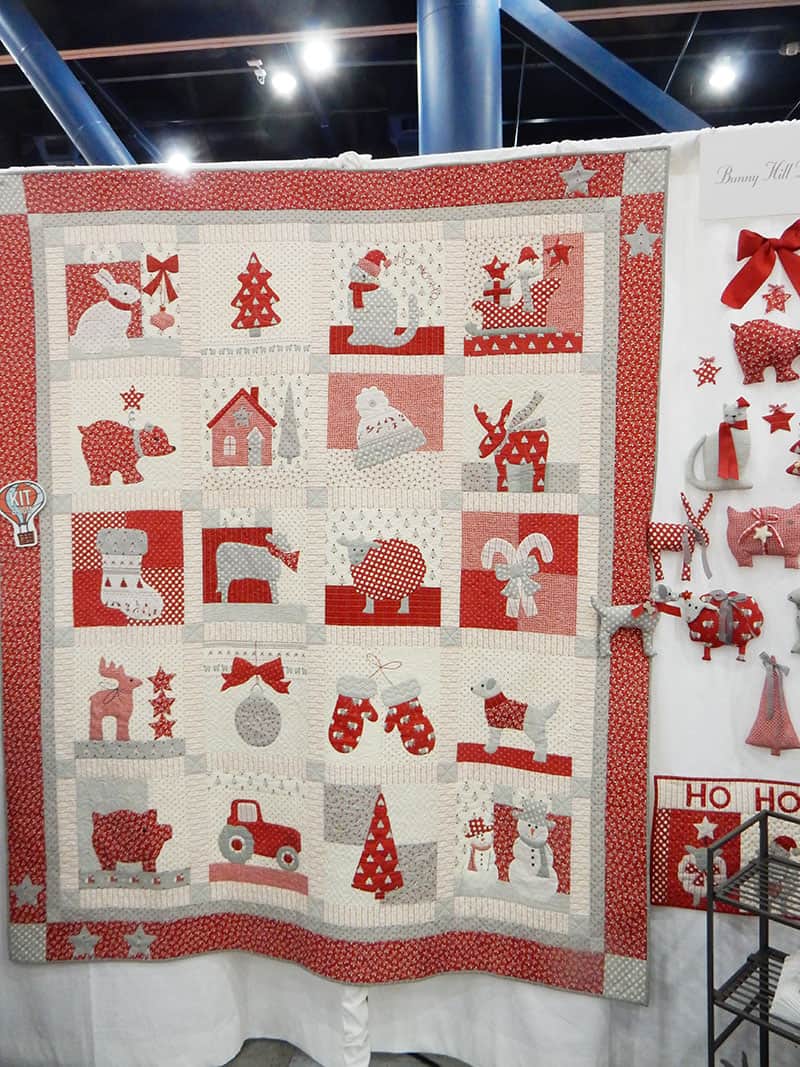 Country Christmas
Anne Sutton of Bunnyhill Designs also brought Christmas cheer to our aisle! Her new Country Christmas collection has beautiful reds, creams, and greys. She has a lovely applique sampler along with the cutest assortment of stuffed accessories. And Anne's work is just exquisite! I'm definitely ready to seriously work on my Christmas list!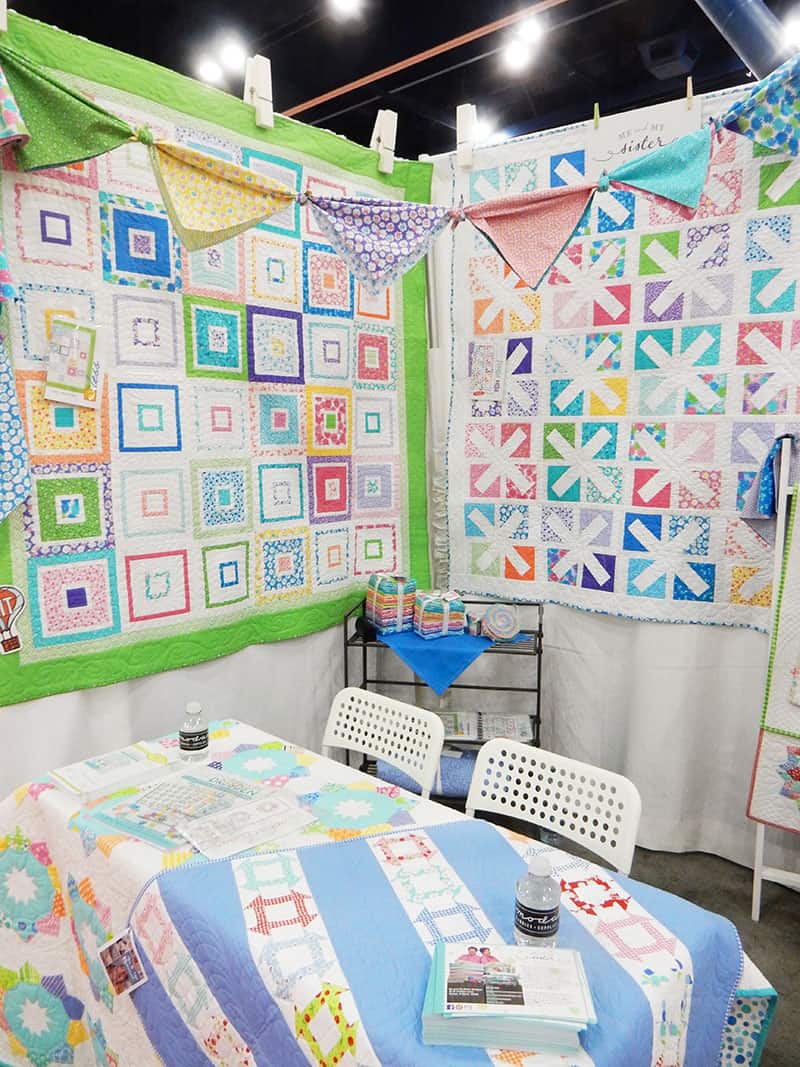 Fiddle Dee Dee
Barb & Mary of Me & My Sister shared their upcoming Fiddle Dee Dee group. Their fabrics are always bright and cheerful with fun designs to show off their prints and patterns. We also have fun visiting with Barb and Mary and enjoy their quick wit and positive outlook!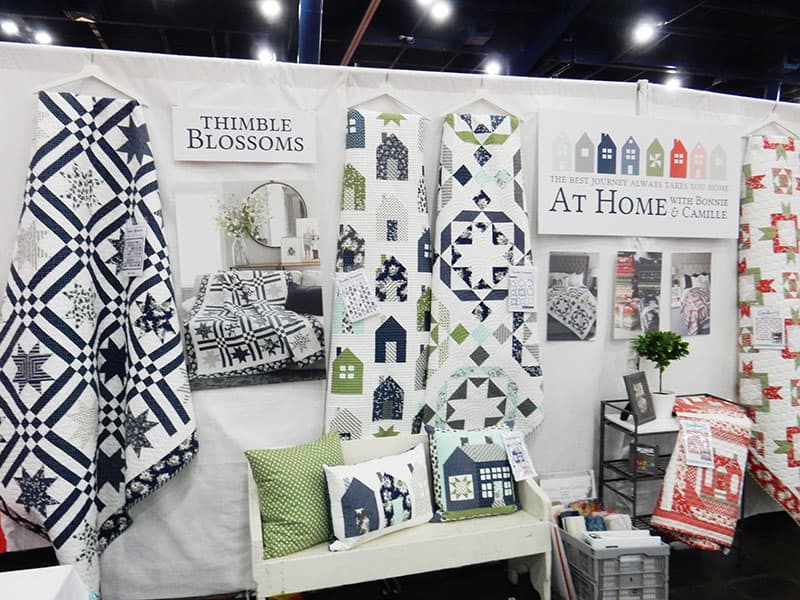 At Home
Bonnie & Camille didn't attend market this fall (we missed getting to visit with them), but their lovely fabrics, accessories, and quilts were on display. I think this is my favorite collection of all of the ones they've done. I especially love the blue, green, and grey colorway, but I also see so many possibilities with the prints in the reds and pinks.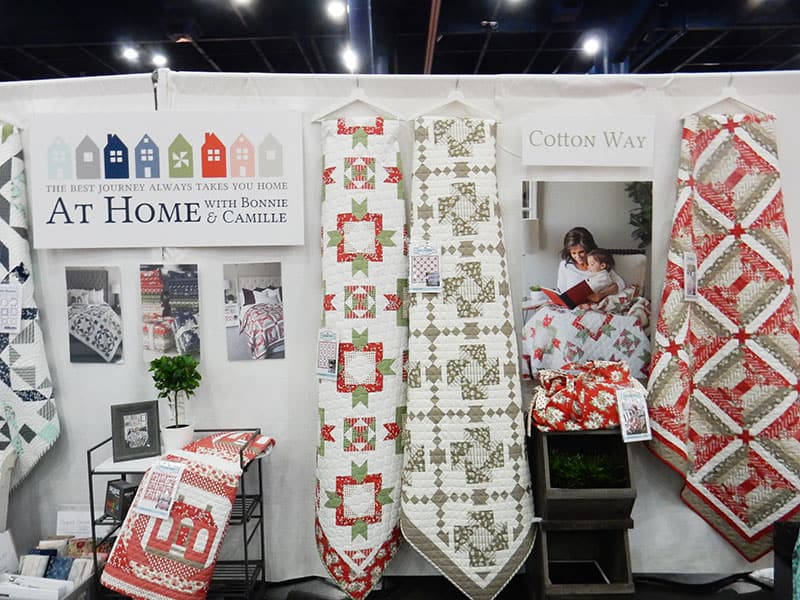 As usual, they both have some super fun designs to use with their fabrics, and Camille's house pillow is quite high on my "to make" list right now!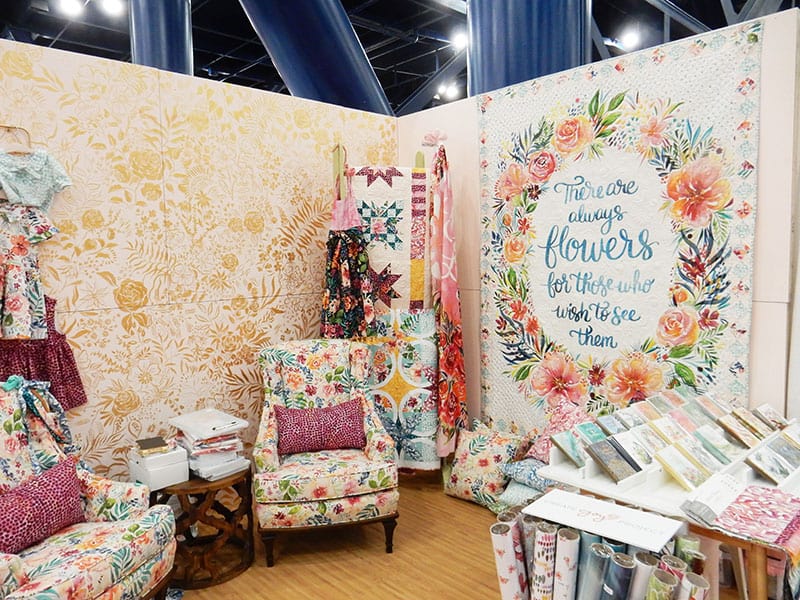 Brightly Blooming
I'll finish up today's post with the new Brightly Blooming collection from Laura Muir of the Create Joy Project. Laura is the newest designer to join our Moda group, and her fabrics and printed panels are absolutely lovely. She also has a gorgeous Mochi Linen printed piece that I absolutely fell in love with. I might need to recover some chairs in that fabric myself!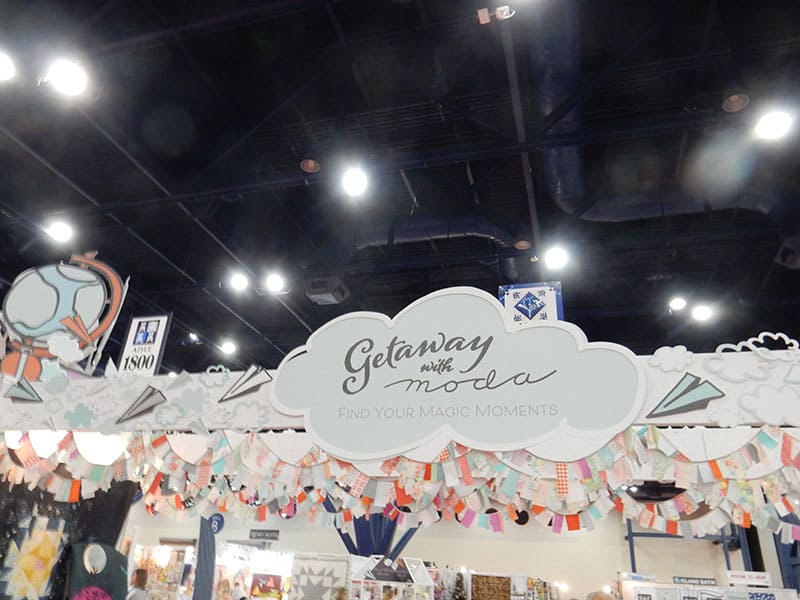 Stay Tuned for the Moda Booths Part 2!
As I mentioned earlier, there are so many Moda booths to share that I've broken them up into two posts. I'll be back soon with the other half of our fellow Moda designers.
Oh, and let me know if you have any questions about any of the Moda booths I've shared so far…happy quilting!
Which booth from the International Quilt Market did you like most? Share in a comment below!