Hello and happy Thursday! Today I'm sharing the International Quilt Market Moda Booths Part 2 with the remaining booths from the Moda designers. If you missed the first post with the first group of Moda booths, you can find it here.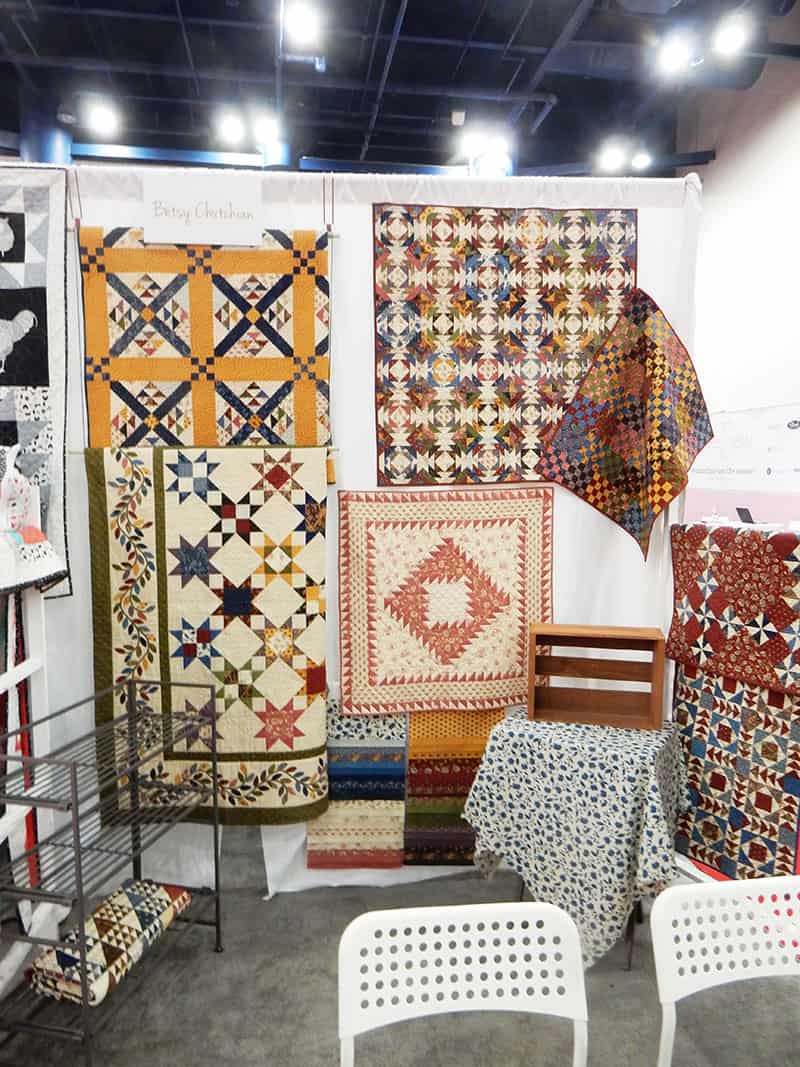 International Quilt Market Moda Booths Part 2
Nancy's Needle
Betsy Chutchian debuted her lovely Nancy's Needle collection with beautiful quilts and designs to showcase her fabrics. She has four new quilt patterns and also has patterns from a book showcased with these lovely fabrics.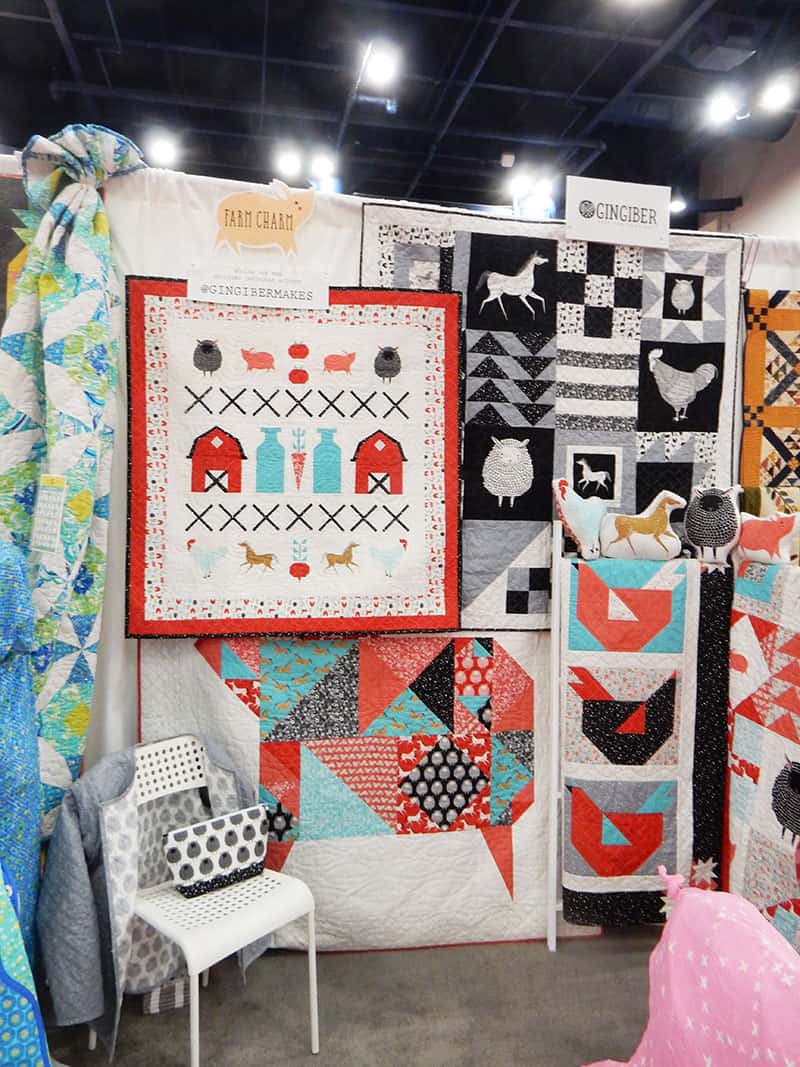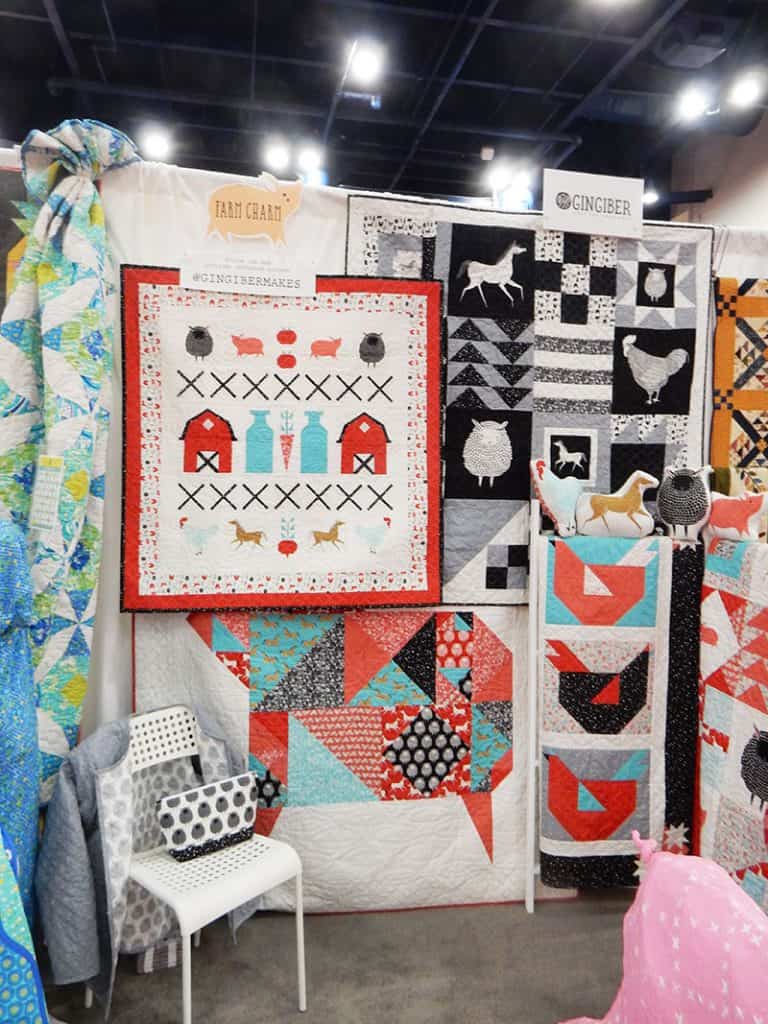 Farm Charm
Stacey Bloomfield shared her Farm Charm collection with some fun prints, patterns and even a printed panel for stuffed animals. Stacey also brought along her paper-mache' pig, Gilbert who was a big hit!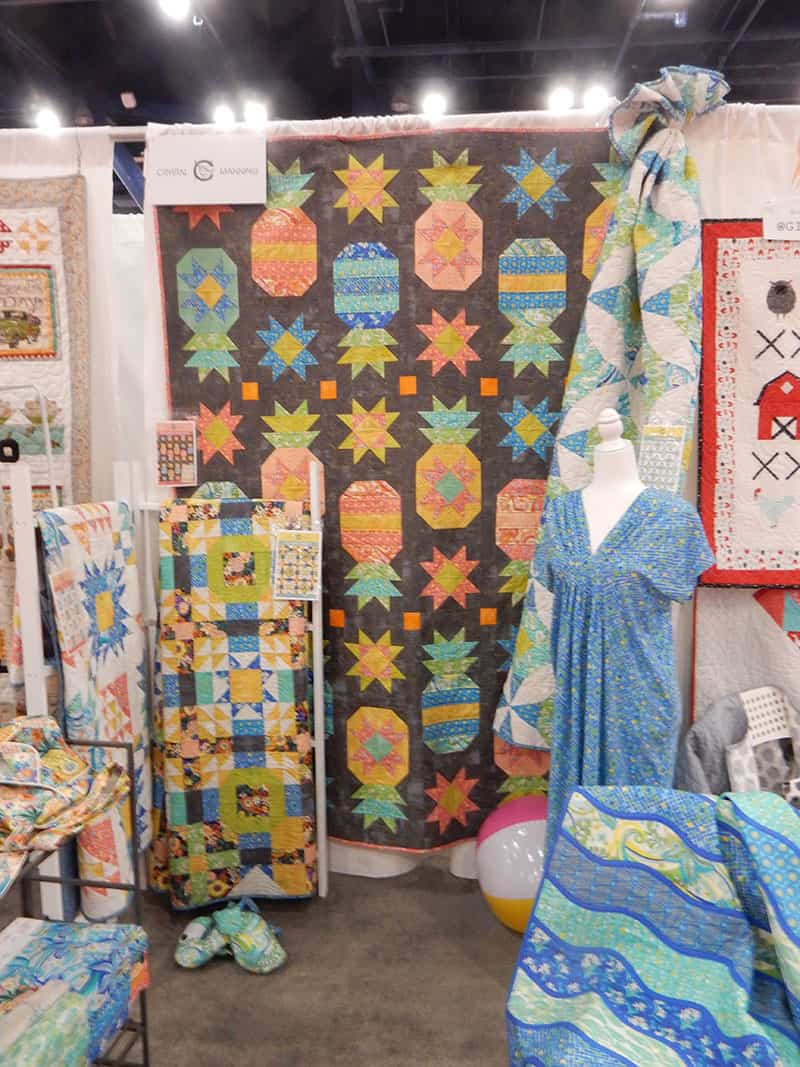 Kiamesha
Crystal Manning shared her lovely Kiamesha collection which features sailboats, sunshine, fish, and pineapples. Crystal's collection includes cotton prints and rayons that are perfect for garment sewing. Crystal wears beautiful dresses each market made from her fabrics, and it's always fun to see the fabrics come to life!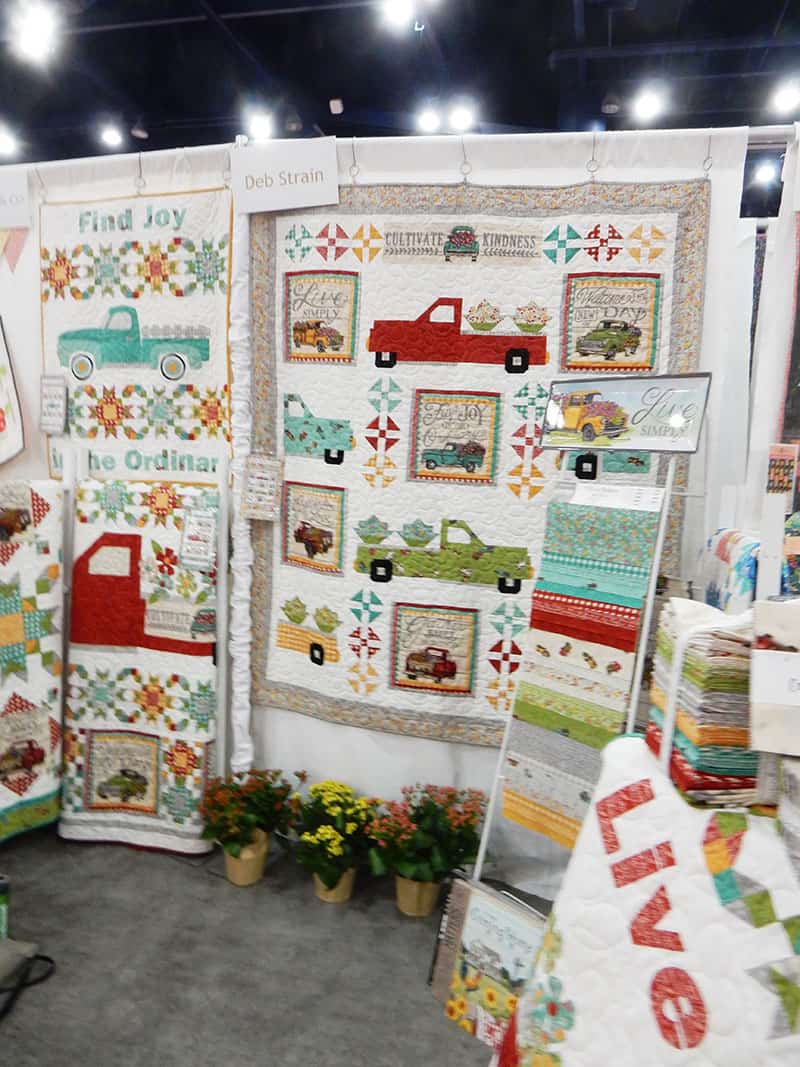 Cultivate Kindness
Deb Strain's new Cultivate Kindness collection is a delightful collection filled with old trucks overflowing with beautiful flowers. There are cute panels that can be cut up to use in quilts and in home décor pieces. This was such a delightful booth, and of course, Deb is so very delightful herself.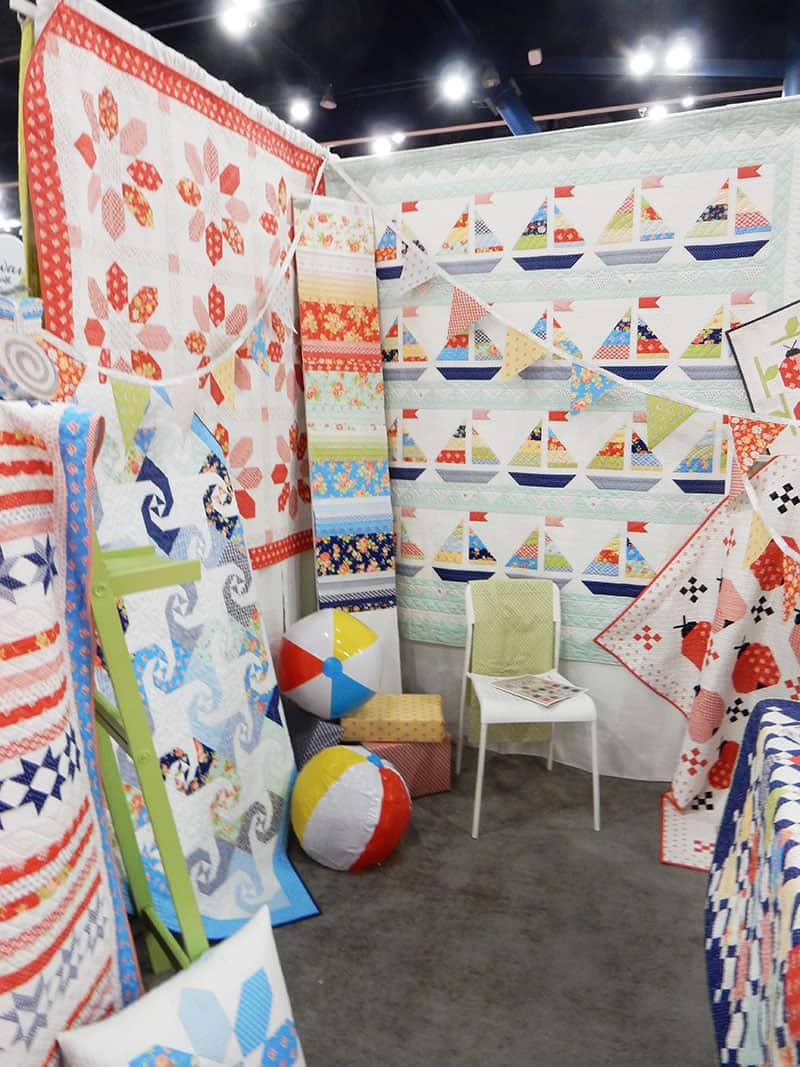 Catalina
Catalina is the delightful new collection from Joanna Figueroa of Fig Tree & Company. You might remember her Avalon collection from a few years back, and this group is a follow-up collection to that one. It was fun to catch up with Joanna and Eric as usual and to see their beautiful booth filled with fun quilts and fabric displays.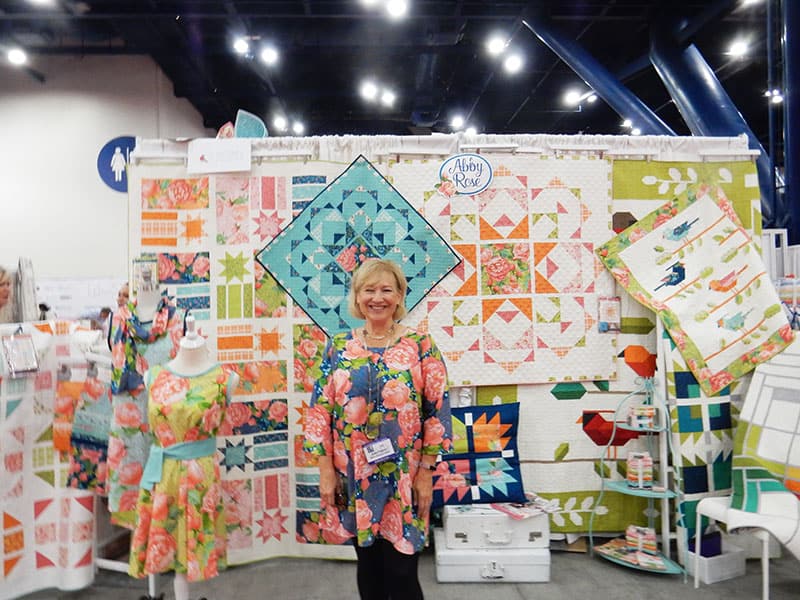 Abby Rose
Robin Pickens displayed the delightful Abby Rose collection which has quilting cottons and rayons. Robin's booth was pure delight and displayed everything absolutely beautifully. It's always fun to catch up with Robin at market as well.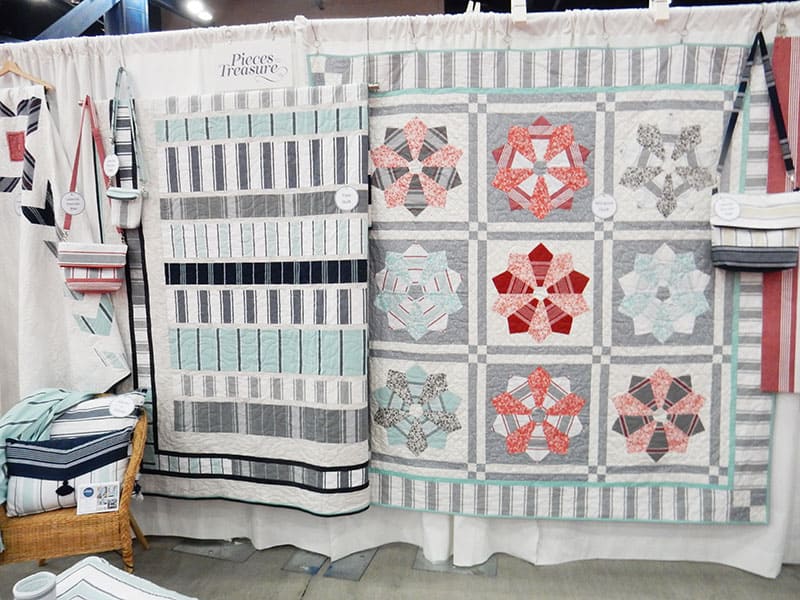 Rock Pool Toweling
We absolutely love the Rock Pool Toweling from Jenelle Kent of Pieces to Treasure. She not only creates beautiful accessories with her fun toweling but has even created gorgeous quilts with it. I also love how she is able to mix fun applique work into her toweling creatings.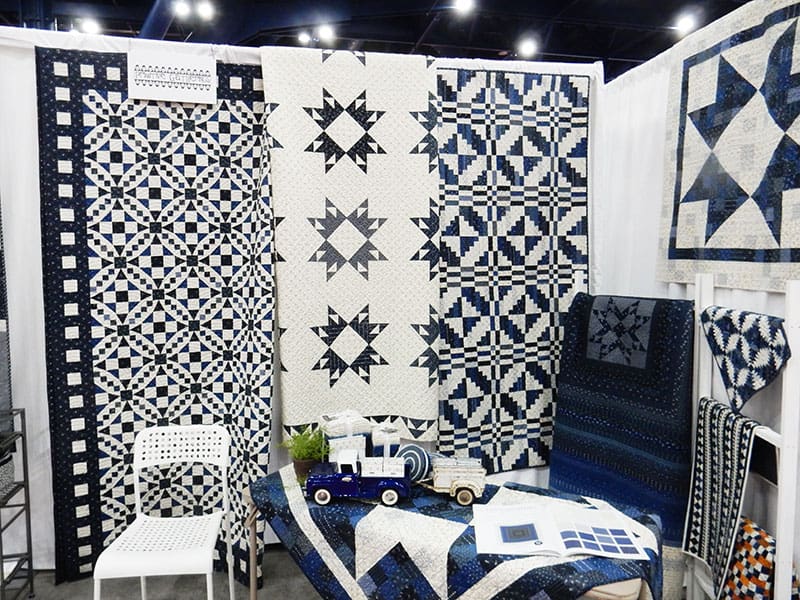 Indigo Gatherings
Lisa Bongean of Primitive Gatherings did not disappoint with her gorgeous Indigo Gatherings group. Her collection was perfectly timed with the release of the Blue & White quilts book and the sapphire quilt exhibit at Quilt Festival. Lisa's fabrics and quilts are stunning as usual.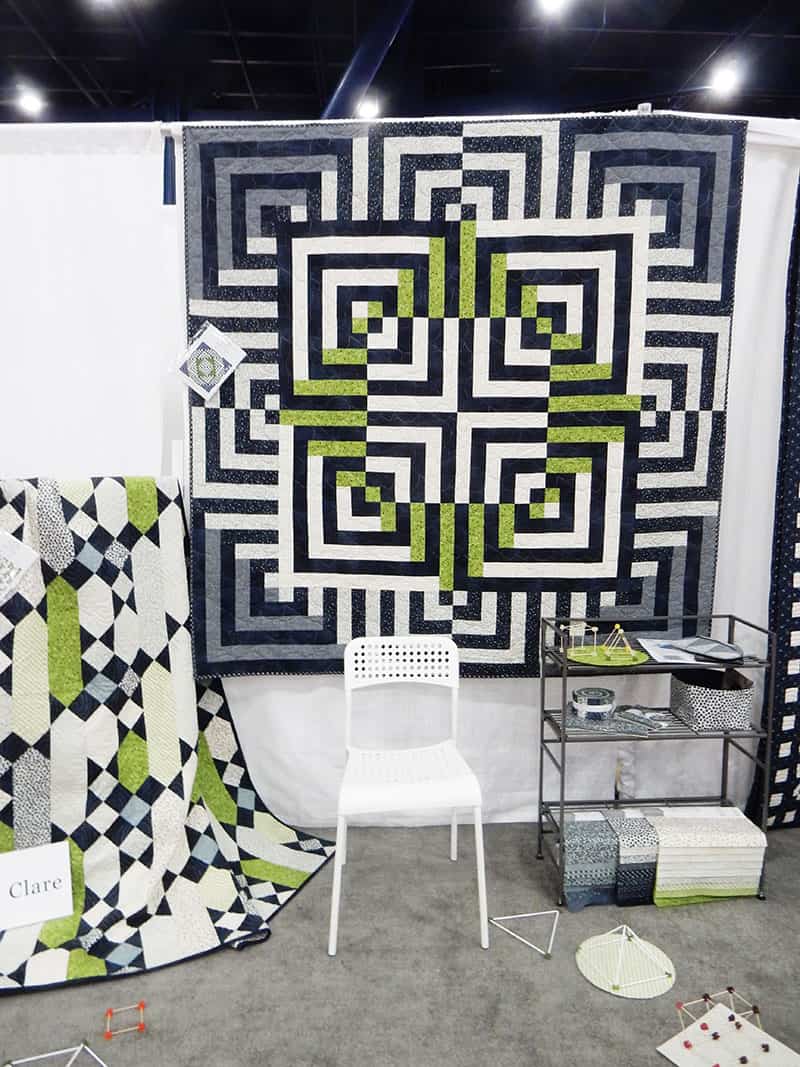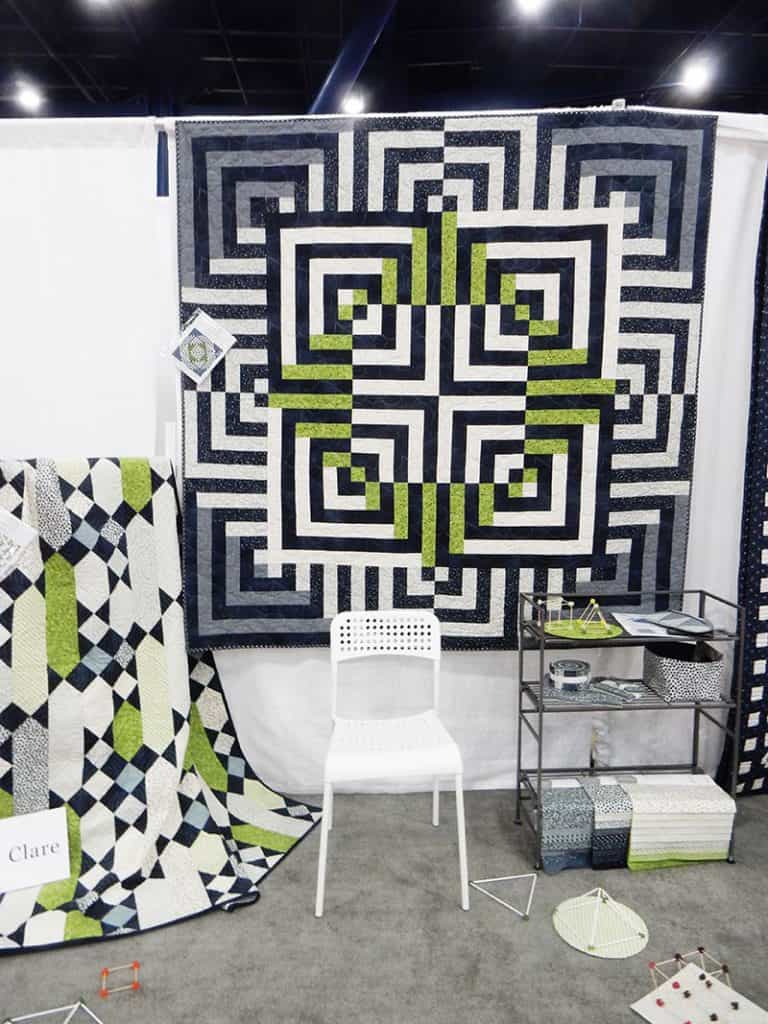 Geometry
Janet Clare shared her upcoming Geometry collection and as usual had a delightful booth display of quilts and accessories to go along with her fabrics. Along with her usual hues of blue, navy, and cream, Janet added in a fun pop of lime green to the mix!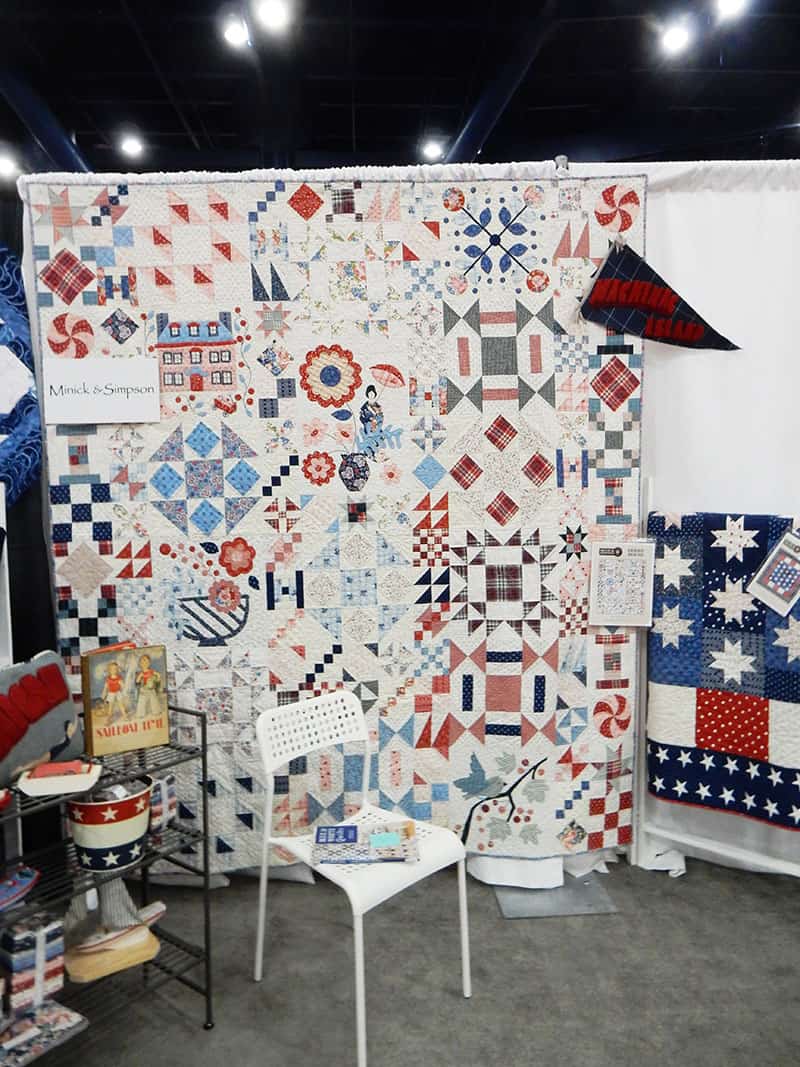 Mackinac Island
I'm pretty partial to the patriotic mix of colors in the Minick & Simpson collections. Some of my favorite scrappy quilts are made with a mix of pieces from a variety of their groups. So I fell head over heels in love with this new collection, Mackinac Island which has a delightful built in scrappy goodness to it!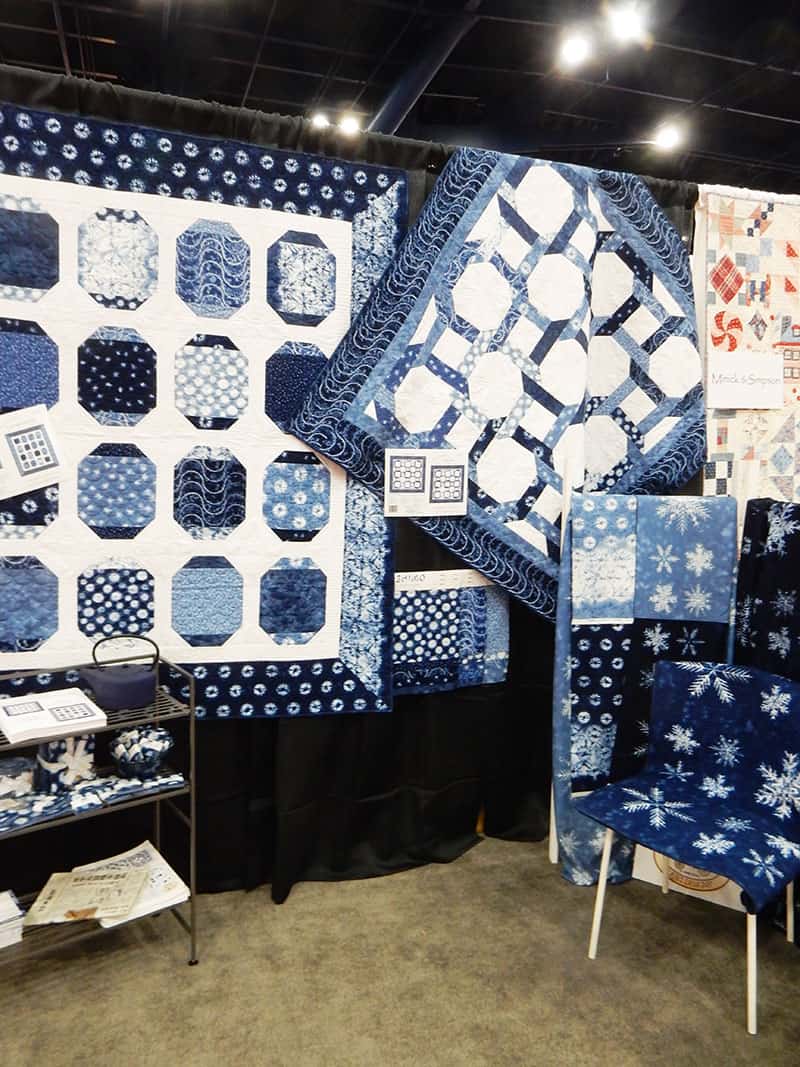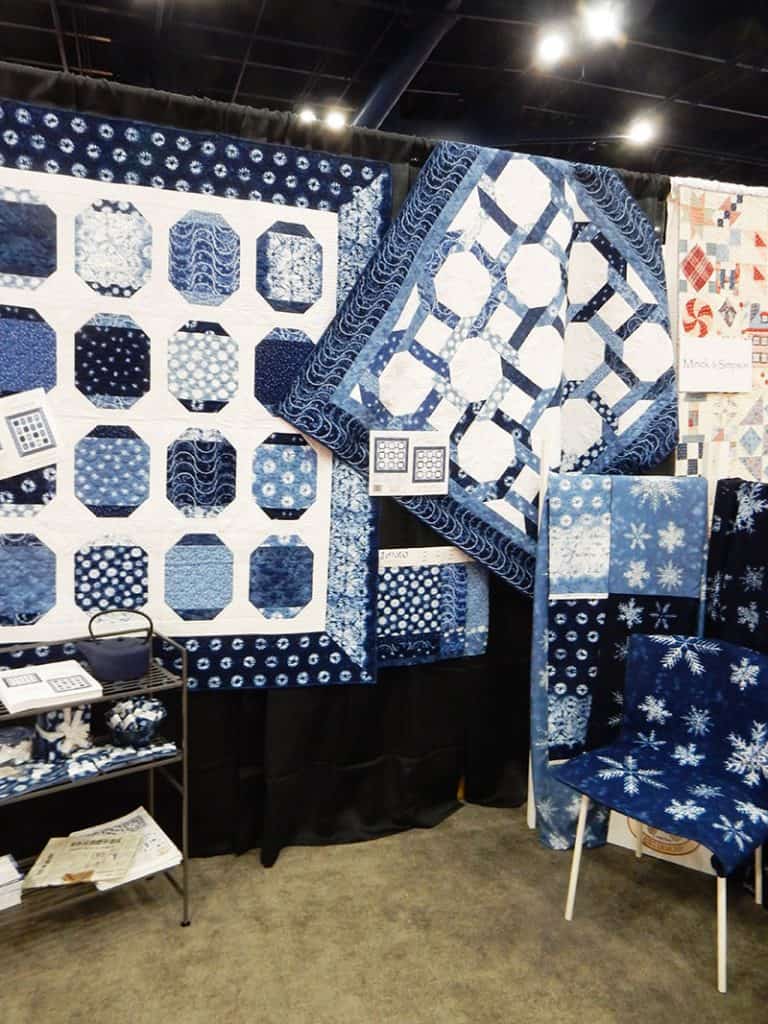 Shimo
And right next to Laurie Simpson's booth was the brilliant display of deep-dyed blues in Debbie Maddy's Shimo collection. These fabrics have a definite depth and brilliance that really can't be comprehended unless you see them in person. Debbie also shared two new patterns with her collection.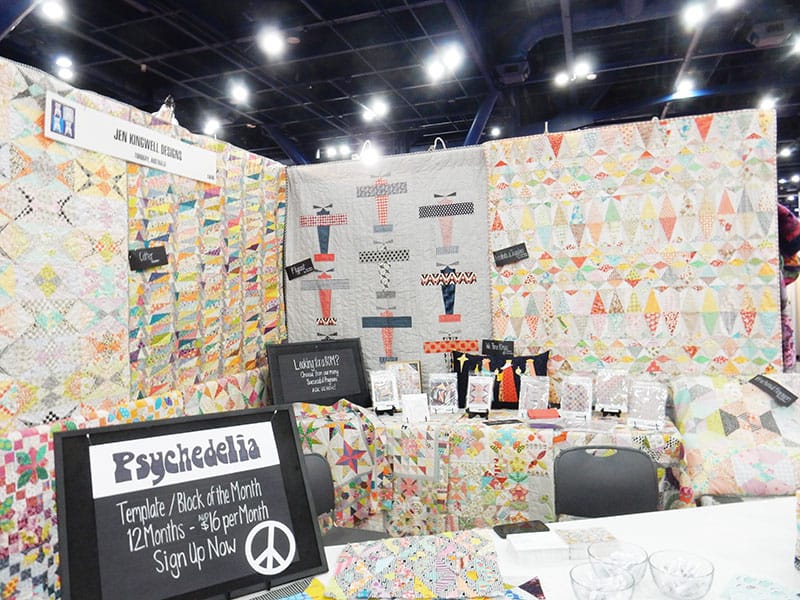 Fine and Sunny
The always amazing Jen Kingwell debuted her gorgeous collection Fine and Sunny at fall market. Hers is another group I'm just completely smitten with! The tones are a bit softer than her normal palette and just beautiful. As always, they also have a fun scrappy feel to them!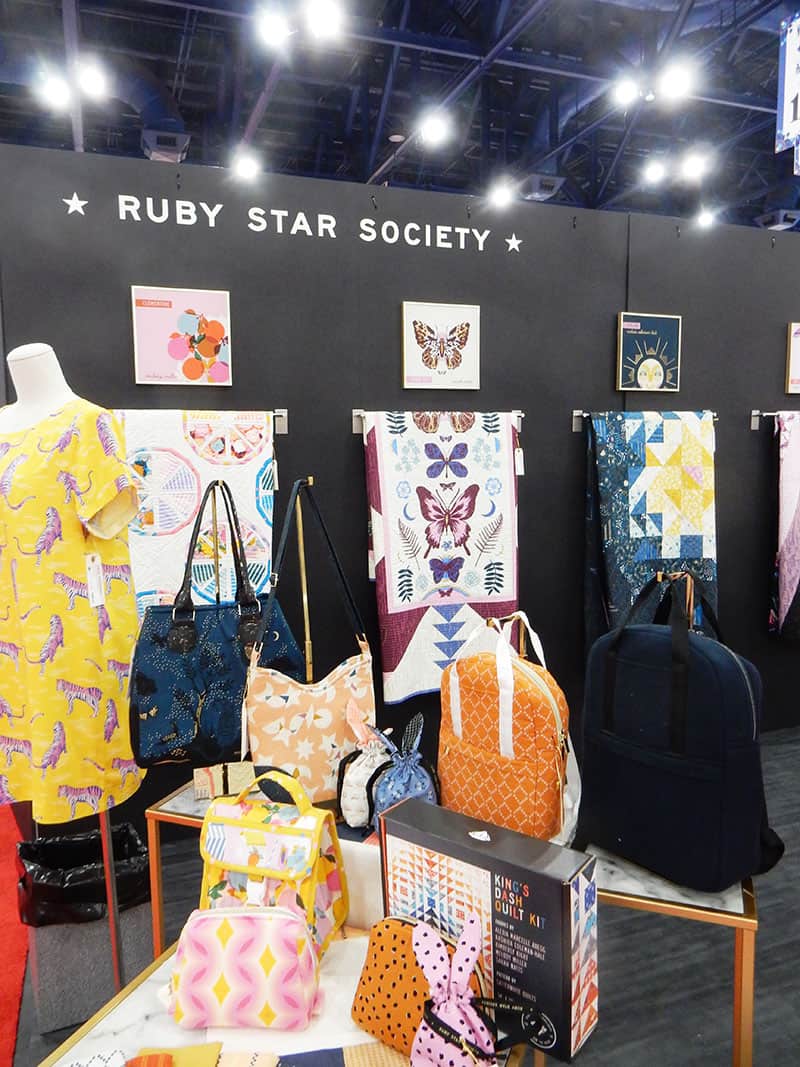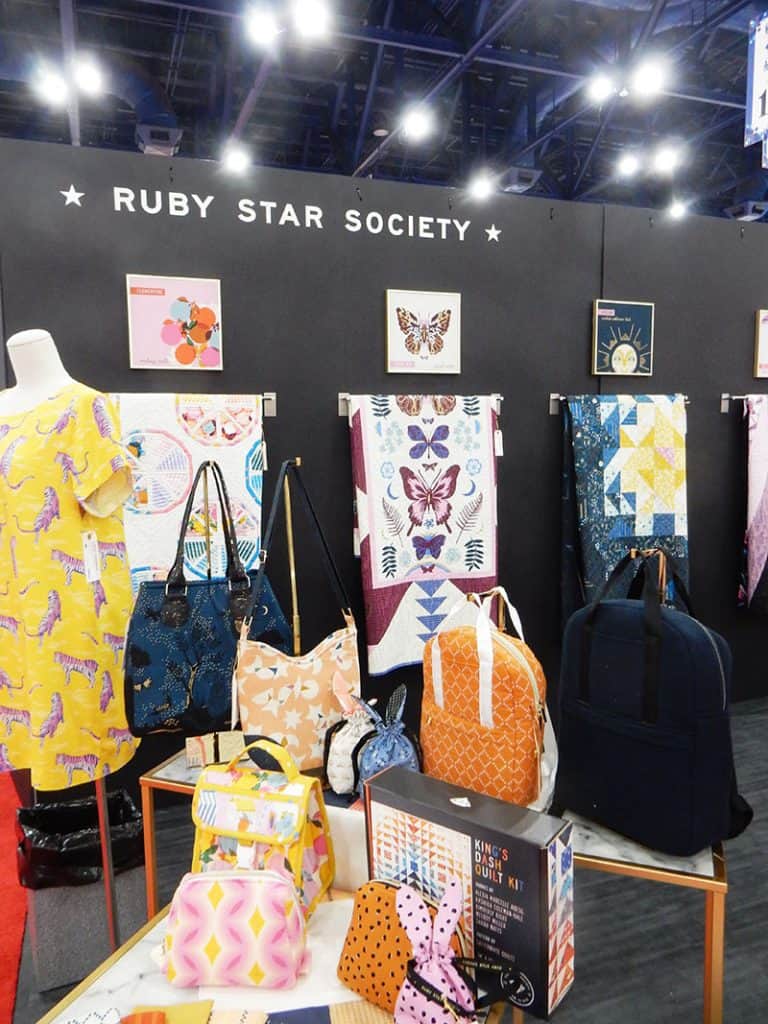 Ruby Star Society
The Ruby Star Society designers each presented new collections at Fall Market as well! And they had beautiful quilts, accessories, and clothing to display their gorgeous groups of fabrics!
I hope you've enjoyed this Moda Booths part 2 post. I have a lot more quilt market inspiration to share with you next week, and I'll be back tomorrow for the next block in our Sunday Best Quilts Sampler Sew Along.
Happy Quilting, and thanks so much for stopping by!
Have you been to the International Quilt Market before? Share in a comment below!