Hello and happy Friday!  I hope your weekend is off to a terrific beginning!  Today I'm sharing a fun and simple patriotic stars quilt my daughter Chelsi made!  She used a mix of our fabrics in reds, creams and blues and also wrote a simple tutorial for it.  I've also got some blog updates and sale information at the end of this post  you won't want to miss.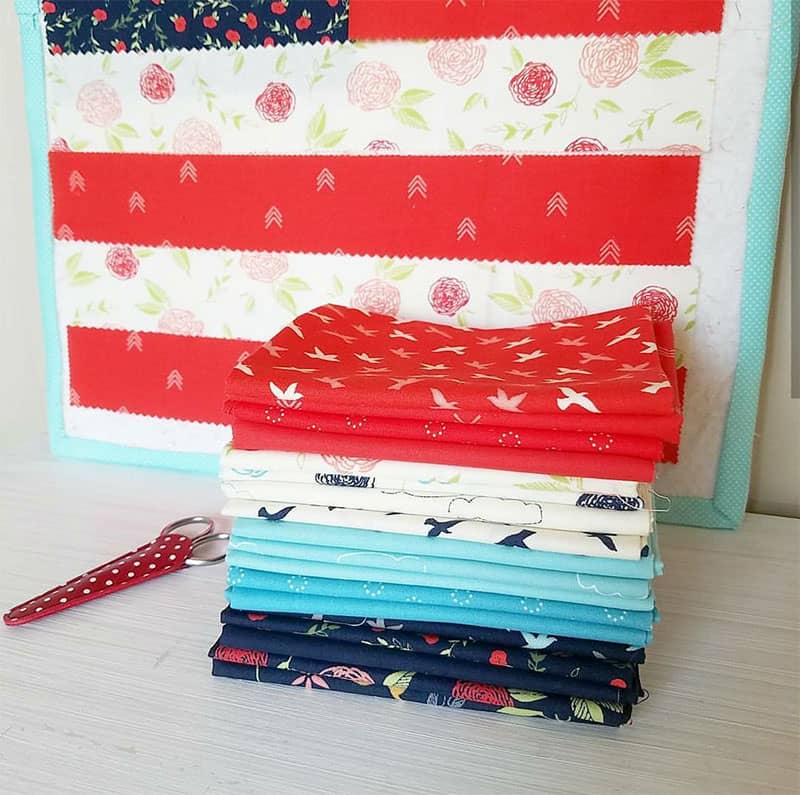 I believe this bundle of fabrics from our Creekside collection was the inspiration for Chelsi's quilt. It's such a great group of fabrics!  I'm feeling like I might need to pull these from my stash and start a project!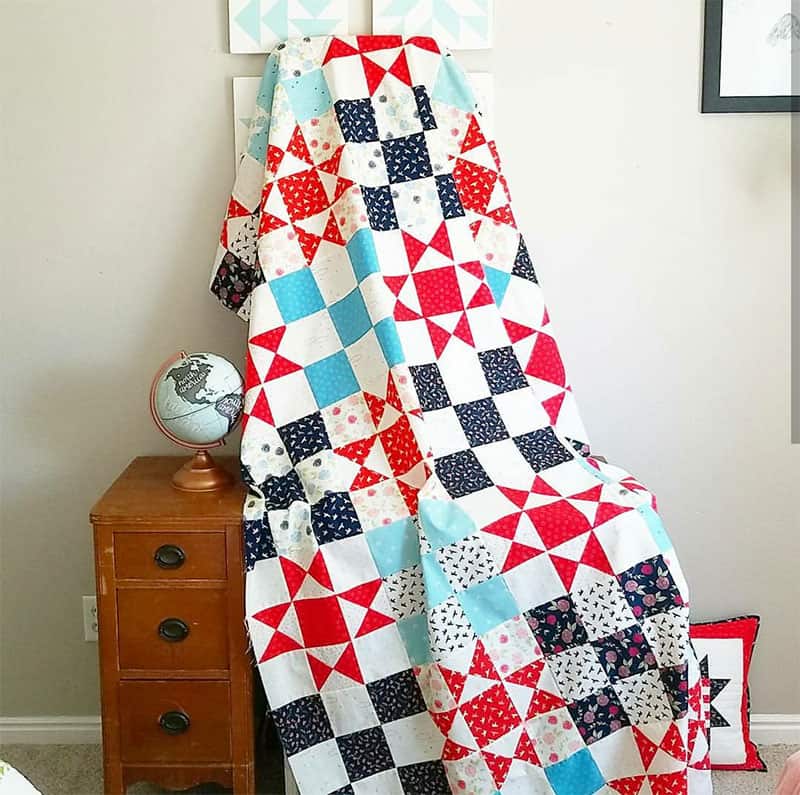 I just love this!  I think it's a nice mix to have the different shades of blue mixed with all of the different low-volume backgrounds she used.  Peeking out on the lower right hand side is a fun star pillow I made last summer.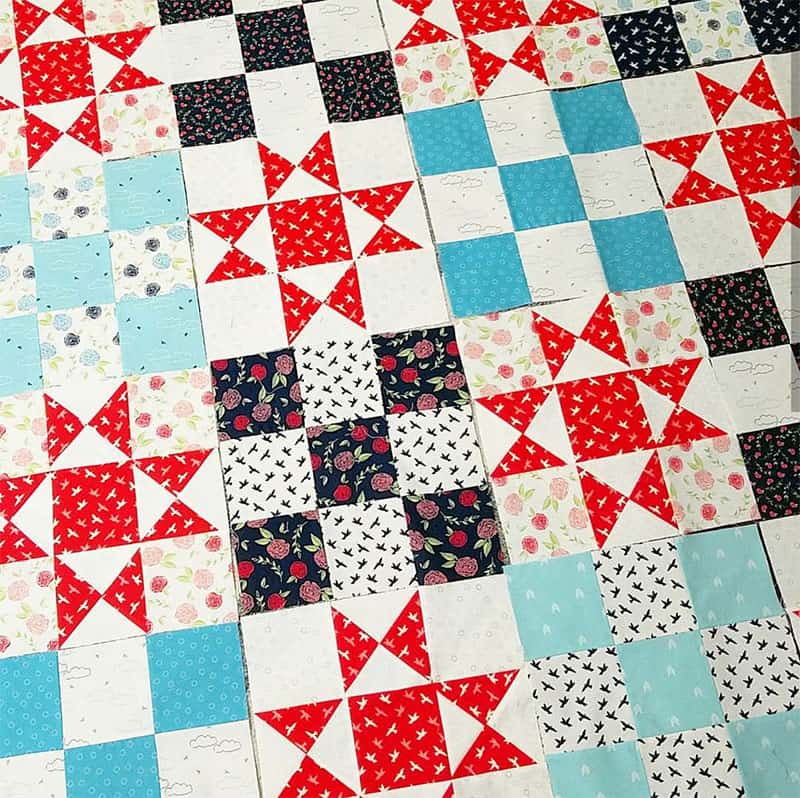 You can see that this simple patriotic stars quilt is actually a mix of Ohio Star blocks and simple nine-patch blocks which are alternated throughout the quilt.  Super simple and fast to piece.  The quarter-square triangles are sized up just a bit so you can trim them to size (use this method to trim your blocks).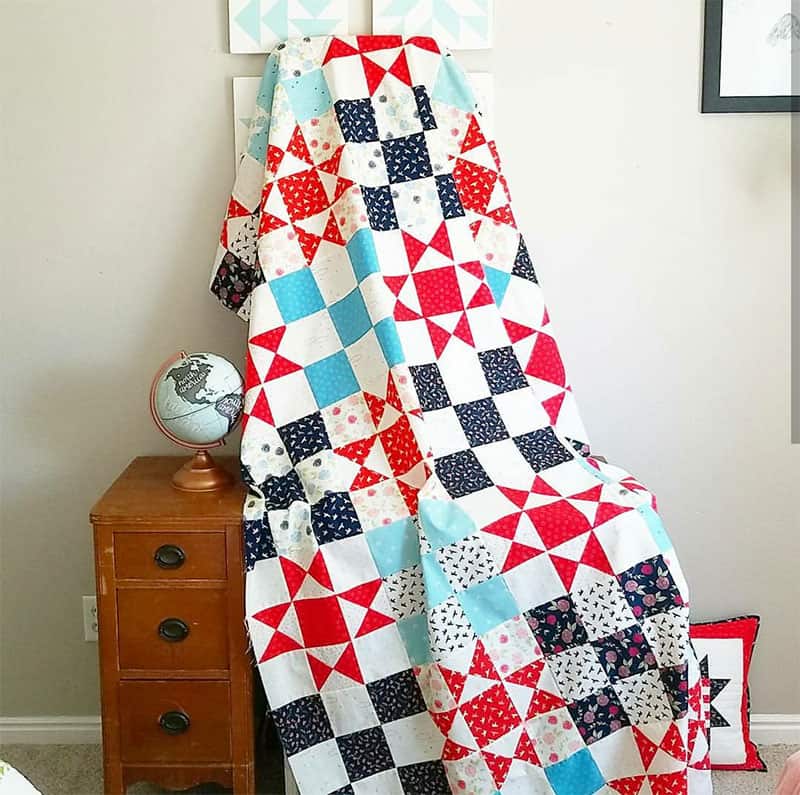 I really love this quilt!  You can find out all of the information for making it on Chelsi's blog here.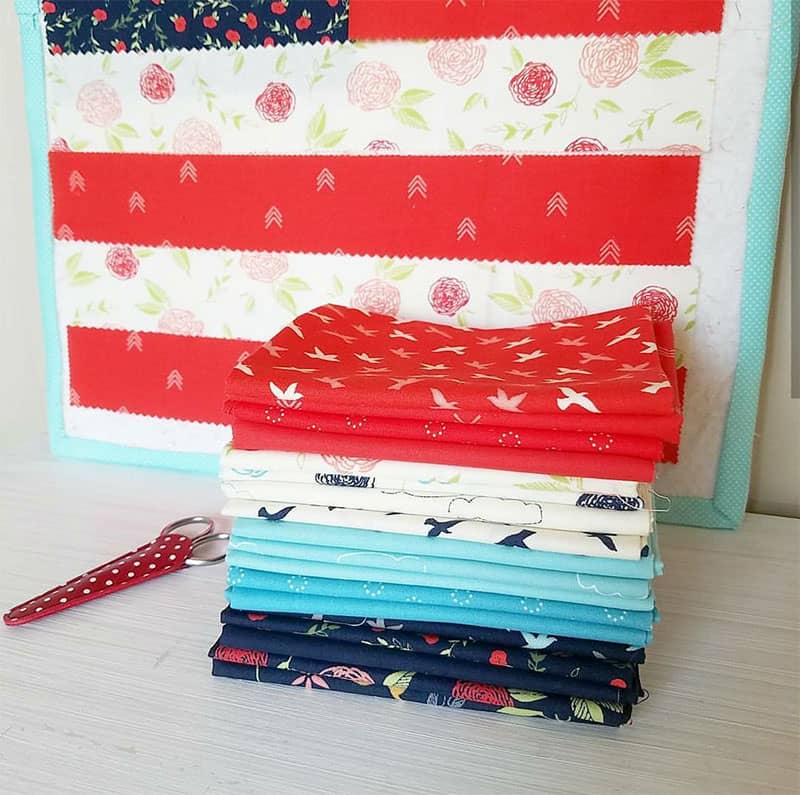 I have a quilt I need to finish up this weekend, and then I think I need to make a few patriotic projects for this year, too!  I might just have to start with Chelsi's Simple Patriotic Stars quilt!
Some other notes:
Craftsy is having a sale this weekend through June 10th–all classes are under $20!  Go here to shop!
I'm replying to comments here on the blog now, so if you've asked a question, be sure to come back for the answer!
I've received a lot of emails about why the emails that were sent with each blog post aren't going out anymore.  Because I switched platforms, those emails unfortunately aren't going out.  Subscribe below or in my sidebar to get a weekly email to be sure you don't miss any posts.  Those go out every Thursday morning and seem to be a good option.  Another option is to subscribe to my blog via a reader like Feedly or Bloglovin.  Click on the heart in my sidebar under "connect" to subscribe via Bloglovin.
Also, occasionally I change up the rotating post categories on the main page, and I've recently put the "Tips" category here.  You can easily find the tips posts here.
Finally, a few more of the bundles I shared on Wednesday have been listed in the shop.  They are smaller and slightly different from the bundles I showed the other day, but they all provide a fun mix to get started with if you are looking to use them for your Moda Block Heads 2 quilt!  Clover Hollow scrap bags are still available with purchase.  Just mention the scrap back in the comment section of your order page. Thanks so much for stopping by!