Hello and happy Wednesday! Thank you so much for all of the kind words on my sewing room update in my last post. And, I did go through and answer the questions you left in the comment section. Today I'm sharing Moda Block Heads 3 Block 8 which is a fun 9-patch variation block.
Moda Block Heads 3 Block 8
This week's block is brought to us by Laurie Simpson of Minick & Simpson. If you've followed my blog for a while, you know that I love Laurie's fabrics and generally find time to make at least one or two projects each year with her lovely designs. From May through December our home features a lot of her fabrics for sure! I actually have a couple of drawers devoted to storing her fabrics, and they rarely run low!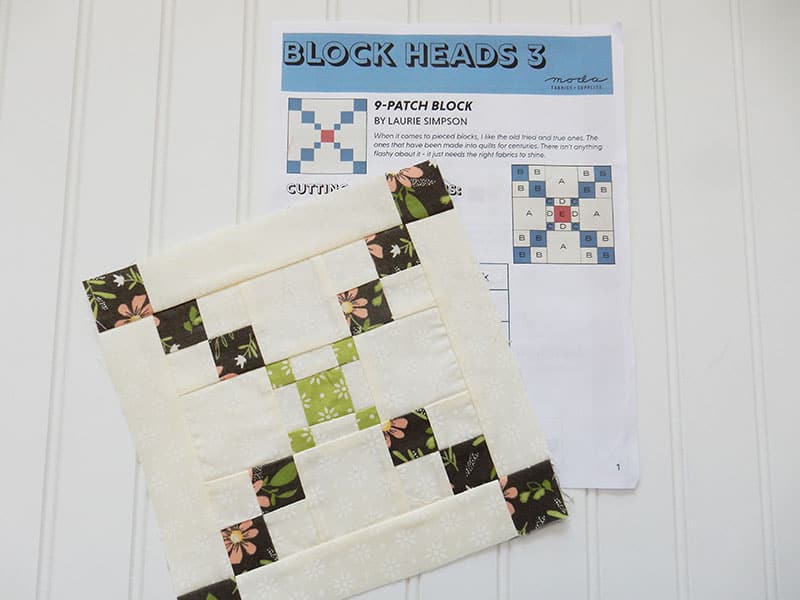 Block 8 Fabrics
I've been trying to incorporate a bit more of the greys into my quilt and decided to go with just a large floral on grey and a small floral on the pistachio green. I used the gorgeous ivory tonal daisy dot print for my background once again.
Block 8 Tips and Tricks
When we received our preview patterns, Laurie's block was shown in just 6″ and 12″ sizes. Since I'm making 8″ blocks, I went ahead and made the 6″ version from Laurie's pattern and then added (4) 1 ½″ x 6 ½″ background rectangles and (4) 1 ½″ x 1 ½″ grey squares to make an 8″ finished block. However, today you have other options as Laurie has prepared some alternate piecing for you that you can find on her blog when you go to download the pattern.
The center 9-patch is small! I wish I had used starch…mine ended up just a bit "wonky" since I didn't starch 🙂
Block 8 Links
Moda Block Heads 3 Designers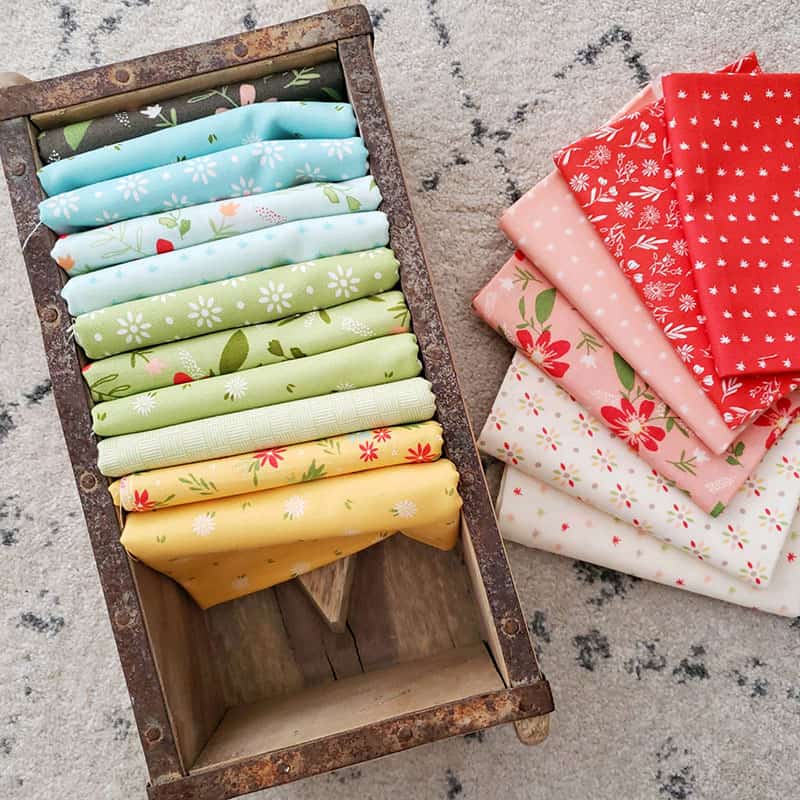 Something Fun this Week
Last fall, Corey Yoder and I collaborated on a fun "Sweet Day" package which includes 6 fat quarters from Summer Sweet, 6 fat quarters from Canning Day, a new pattern from Corey, a new pattern from me, and a favorite notion we both love. We both did pre-orders and sold out. My packages have been shipping out this week, and I do have a few extra in the shop…find them here!
Happy quilting, and thanks so much for stopping by!