Hello and happy Wednesday!  Today is Moda Block Heads Wednesday, and today I'm sharing Moda Block Heads 2 Block 11.  I love posting these blocks each week, but today is a little more fun, because this week's block is my design!  If you are new to my blog today, welcome!  If you are a regular reader, you know I'm having a ton of fun with these blocks, and this one is no exception!  I have a few tips to share with you about piecing this block and a shop coupon to share at the end of the post!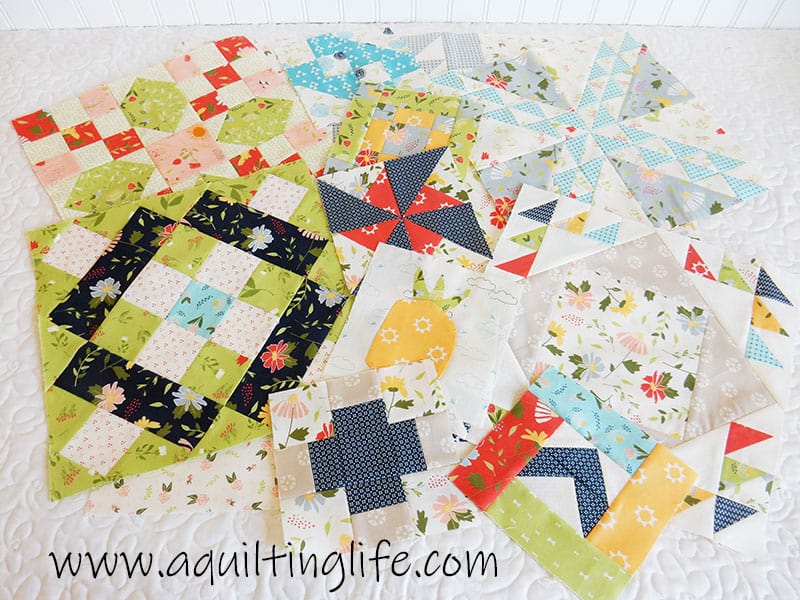 I just love seeing all of the blocks together each week!  Moda Block Heads 2 Block 11 is actually the first block I pieced out of all of these blocks, and all of the fabrics in my block are from our Clover Hollow collection!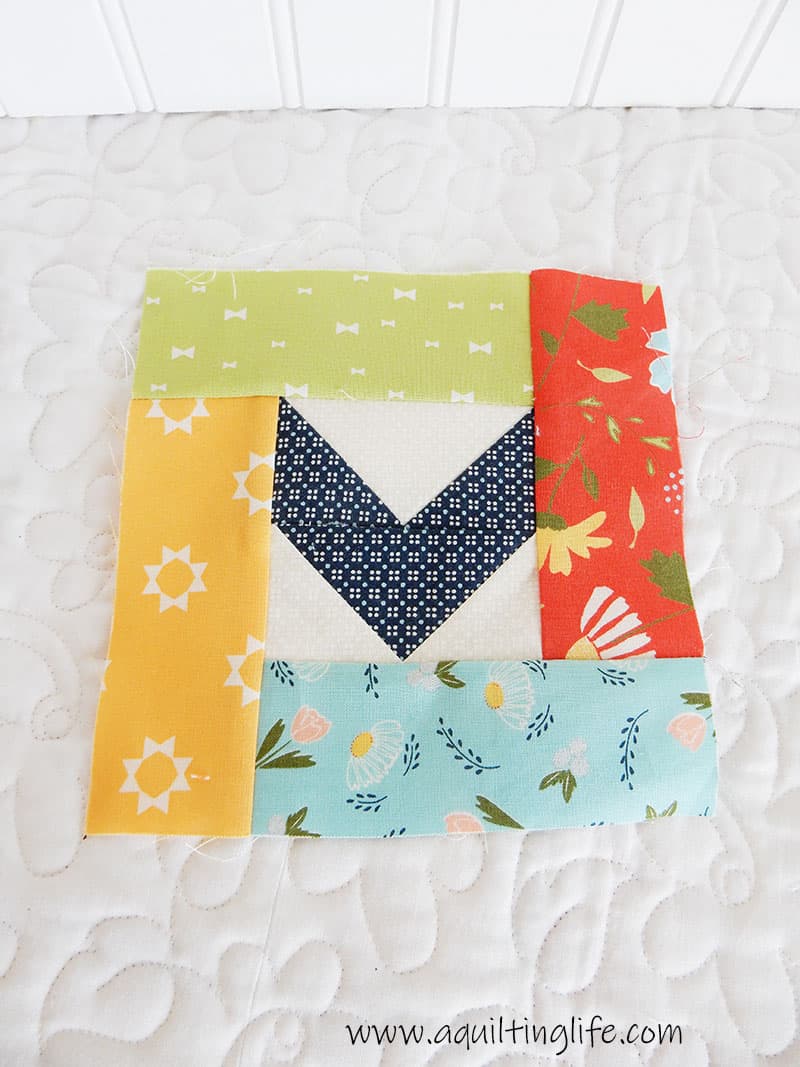 Moda Block Heads 2 Block 11:
This week's block is called Direction and features two framed flying geese blocks.  I used this ruler to piece my flying geese blocks (note that you'll have to cut your flying geese fabrics just a bit different if you use the ruler).  I have been using Bloc Loc Flying Geese rulers for all of my Flying Geese blocks for a few months now.  I'm pretty sure this is the only way I'll make these units from now on!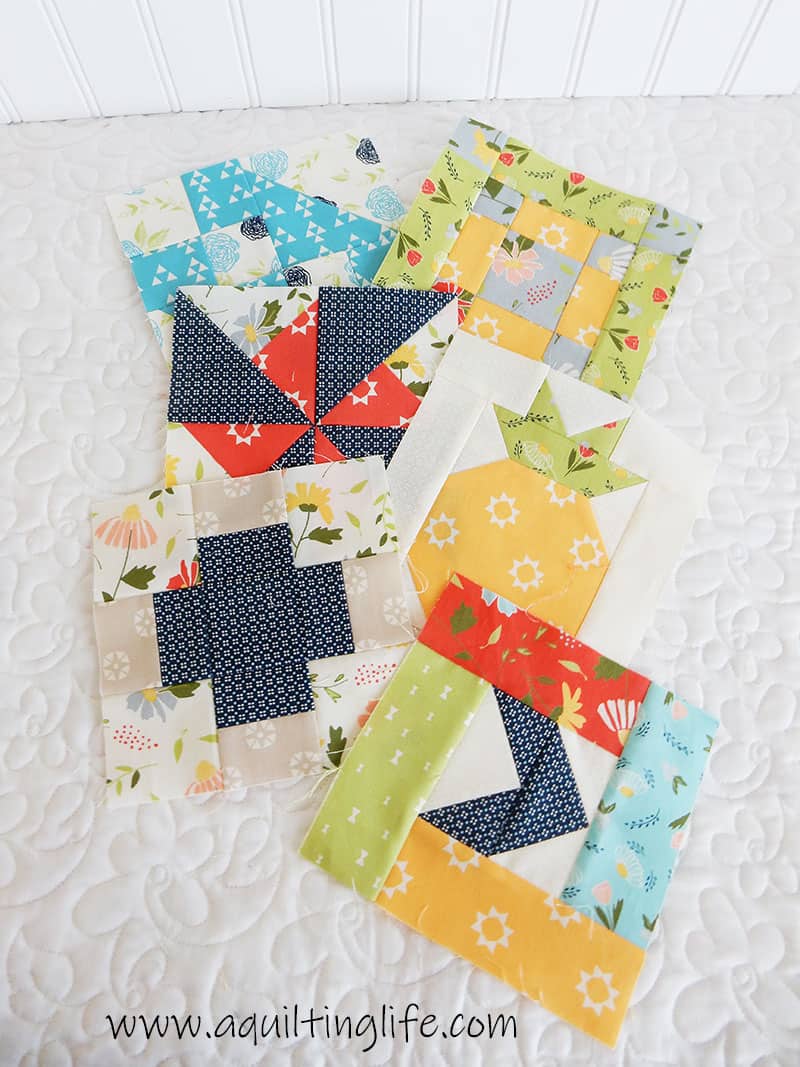 Here are the first 6 small blocks (6″ x 6″ finished).  Looks like I really like using the navy dot print from Clover Hollow!  I'll have to start using some of my other navy prints in the other blocks!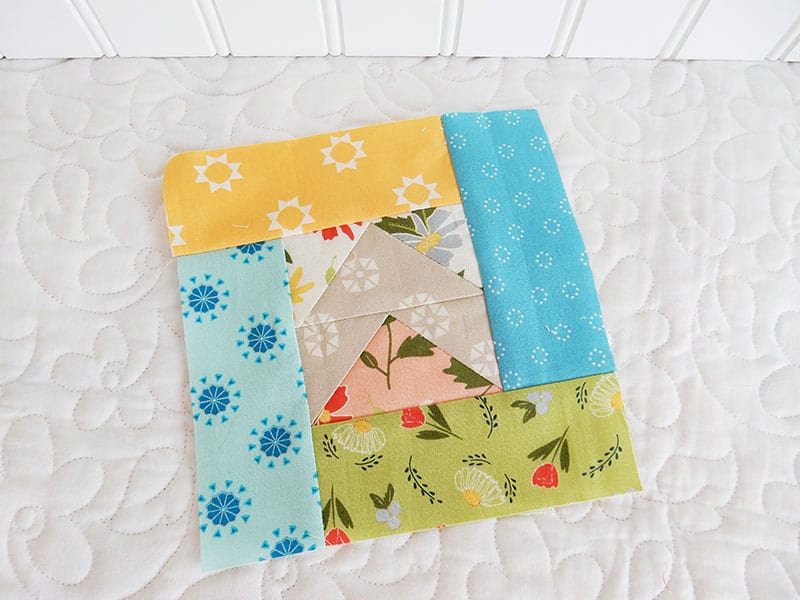 Along with the two flying geese units, this week's block features a simple partial-seam construction.  I love the look of blocks framed using this technique.  It's simple to do and yet adds such a fun finish to the outer edges of the block!  Below are some step-by-step photos for how to approach this.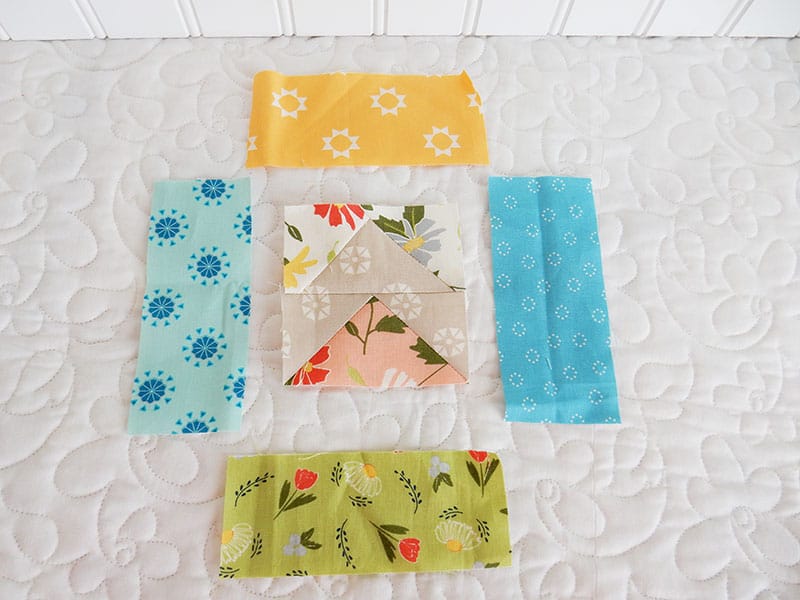 Partial Seam Construction Tips:
First, sew the two finished flying geese units together and arrange your outer strips.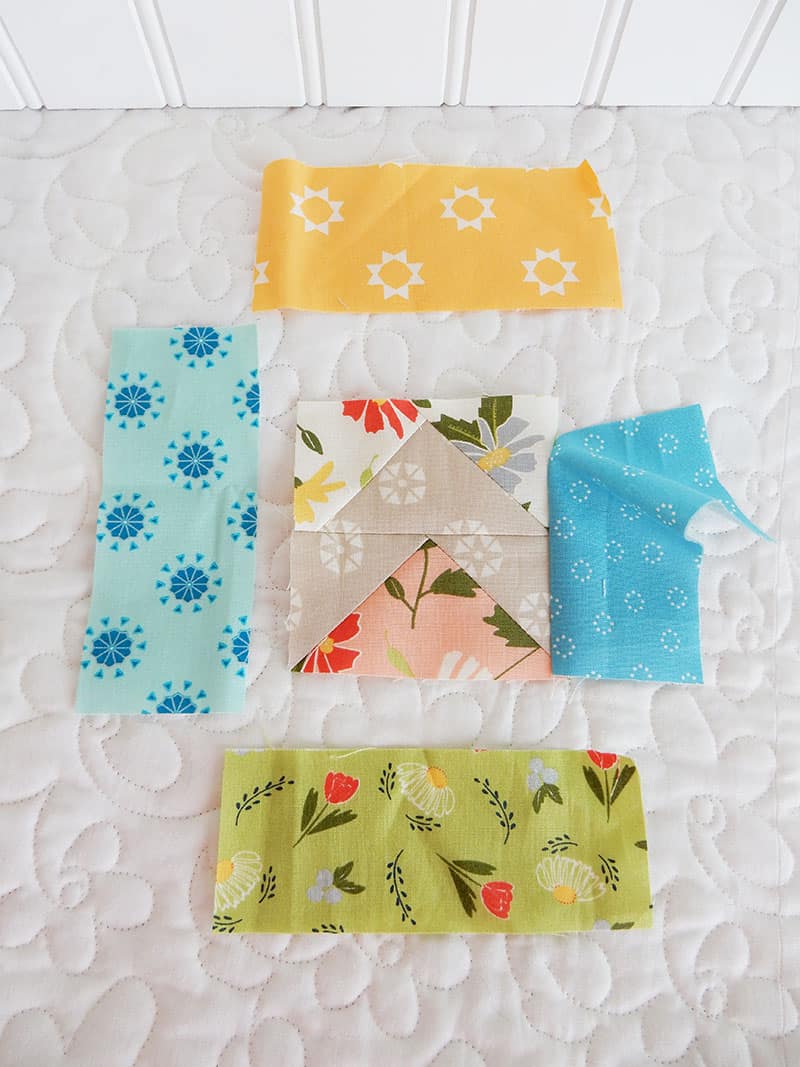 Next, line up the bottom of the strip on the right with the bottom of the flying geese unit.  This is where you'll sew the partial seam.  (We'll close it up at the end)! Begin sewing about ½″ down from the top as shown above.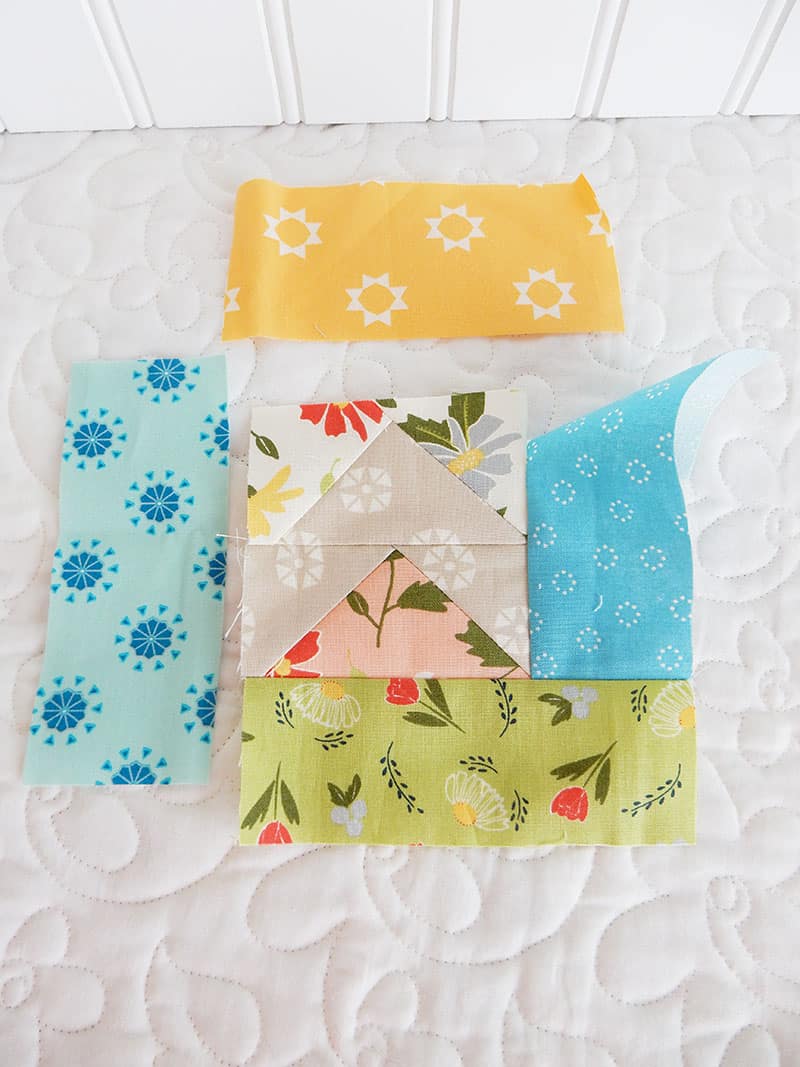 Now you can sew the bottom strip to the geese/side strip unit as you normally would. Press each seam out towards the strip you are adding.
Next, add the left strip in the same manner…
Finally, add the top strip!  Now all you have to do is to finish sewing the partial seam you began when you added the first strip to the flying geese!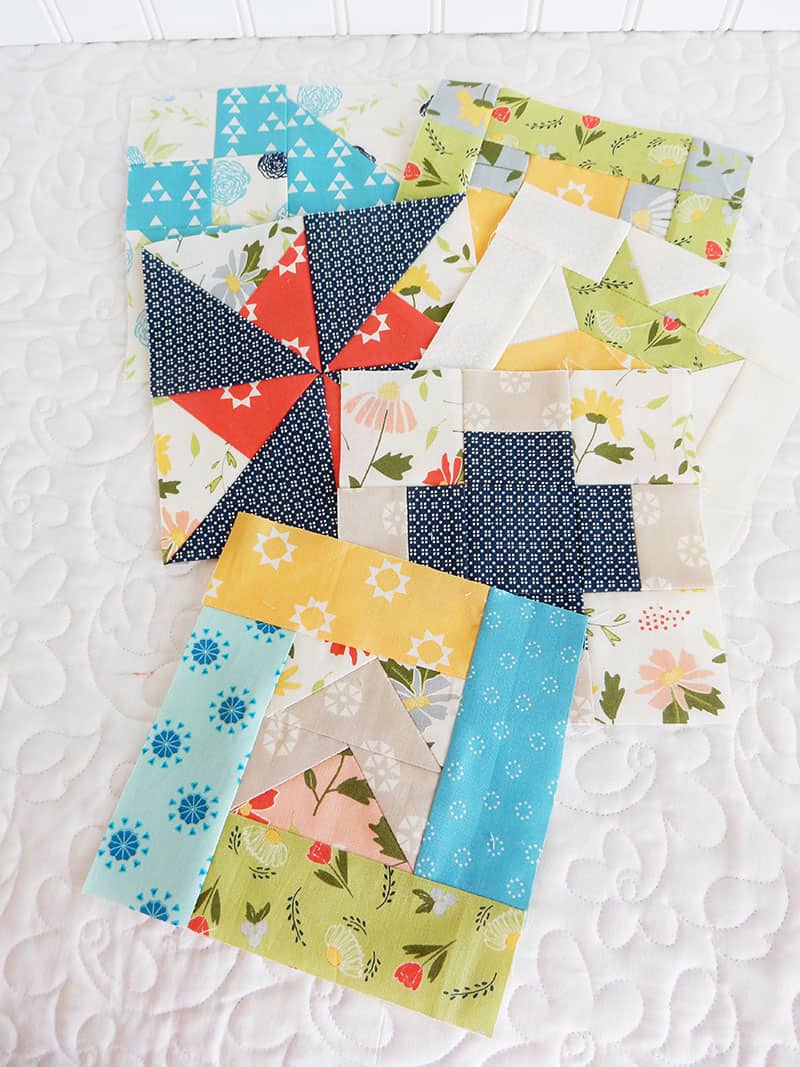 Moda Block Heads 2 Block 11 Links: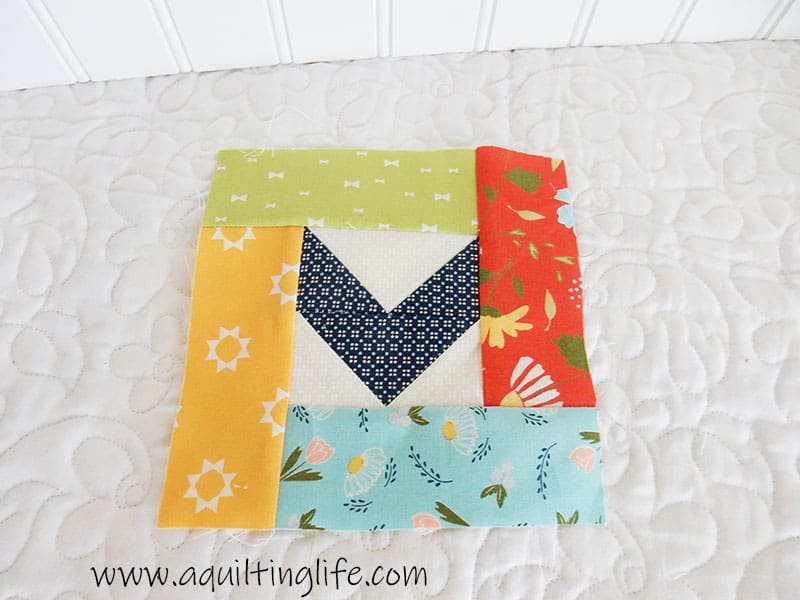 And Find the other Moda Block Heads here: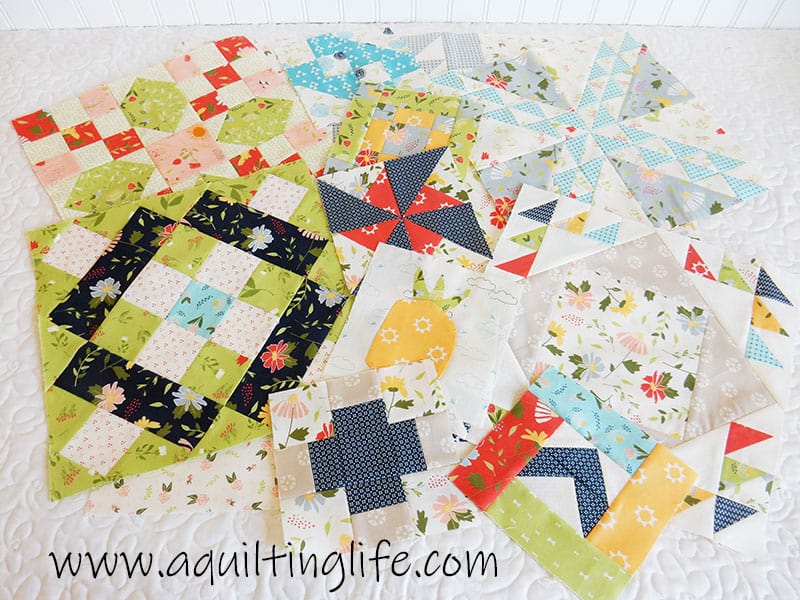 And…to celebrate my first Moda Block Heads block, take 25% off orders from my shop through Sunday night with the code BLOCKHEADS!  Thank you so much for stopping by…and happy sewing Moda Block Heads 2 Block 11!  Happy quilting!