Hello and happy Thursday!  Today I'm sharing the Fall 2018 International Quilt Market Moda Booths part 2!  There were so many booth photos that I couldn't fit them all into one post the other day.  So I hope you'll enjoy more fabric and quilt photos today!  I will still have a third post to share with more booths and quilt from Quilt Market and the Special Exhibit quilts that were there!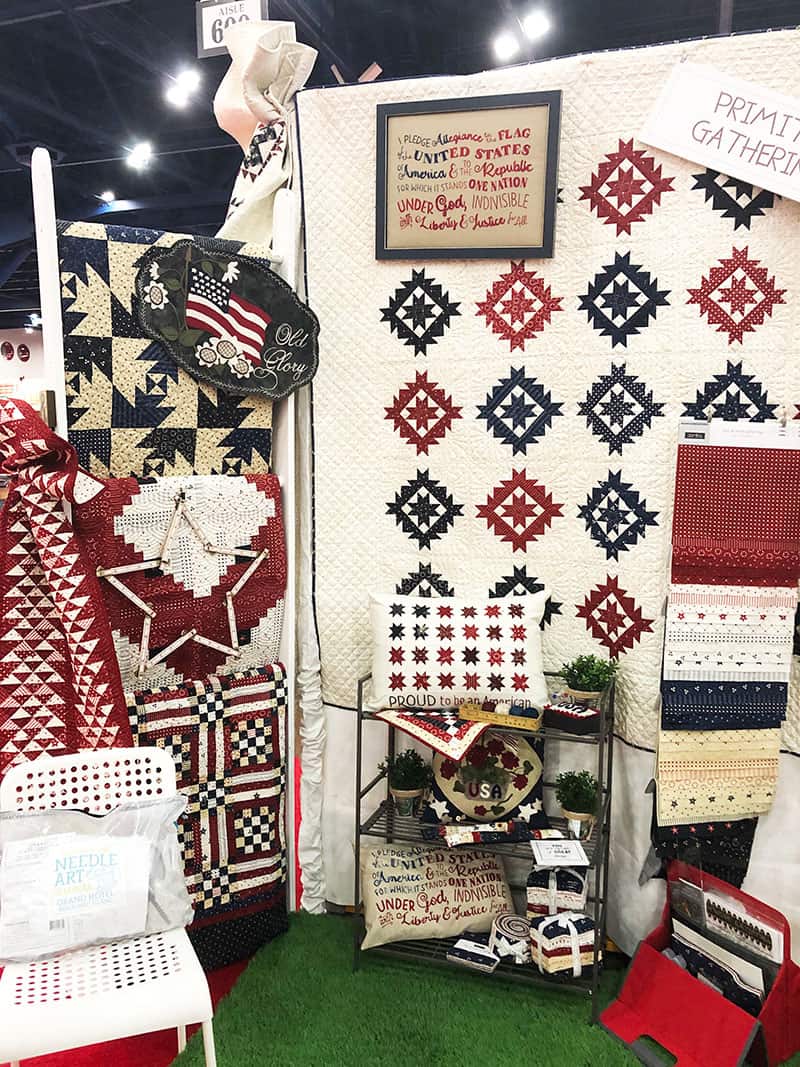 Primitive Gatherings
The Primitive Gatherings booth was directly across from ours…with the sales area and the United Notions area separating us!  So it felt like we were worlds away!  Lisa's booth displayed quilts and projects from her upcoming Star and Stripe Gathering collection.
I had to get a close up of her cute star pillow!  Wouldn't this be a really fun project for a Christmas pillow?!  And you could also embroider a Christmas saying at the bottom!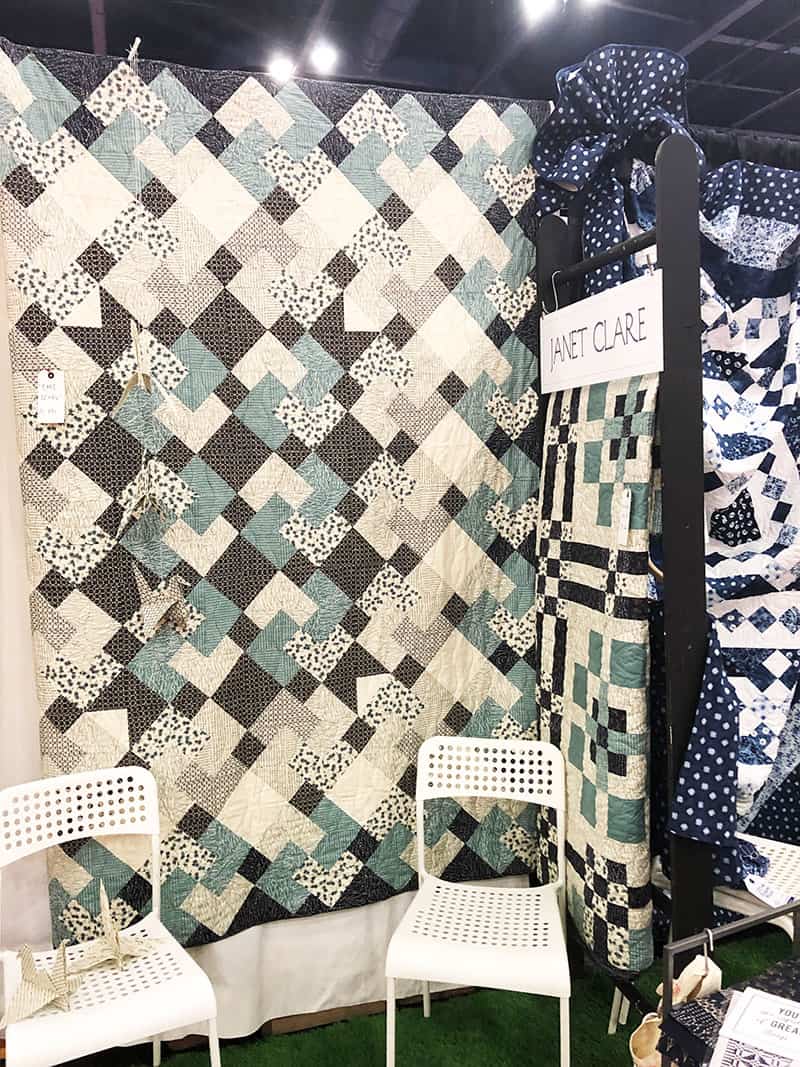 Janet Clare
Janet Clare debuted her upcoming Origami collection!  Notice the origami fabric birds on the chair on the left…so fun!  Janet also had a wonderful exhibit in the Special Exhibit area that I'll share in an upcoming post.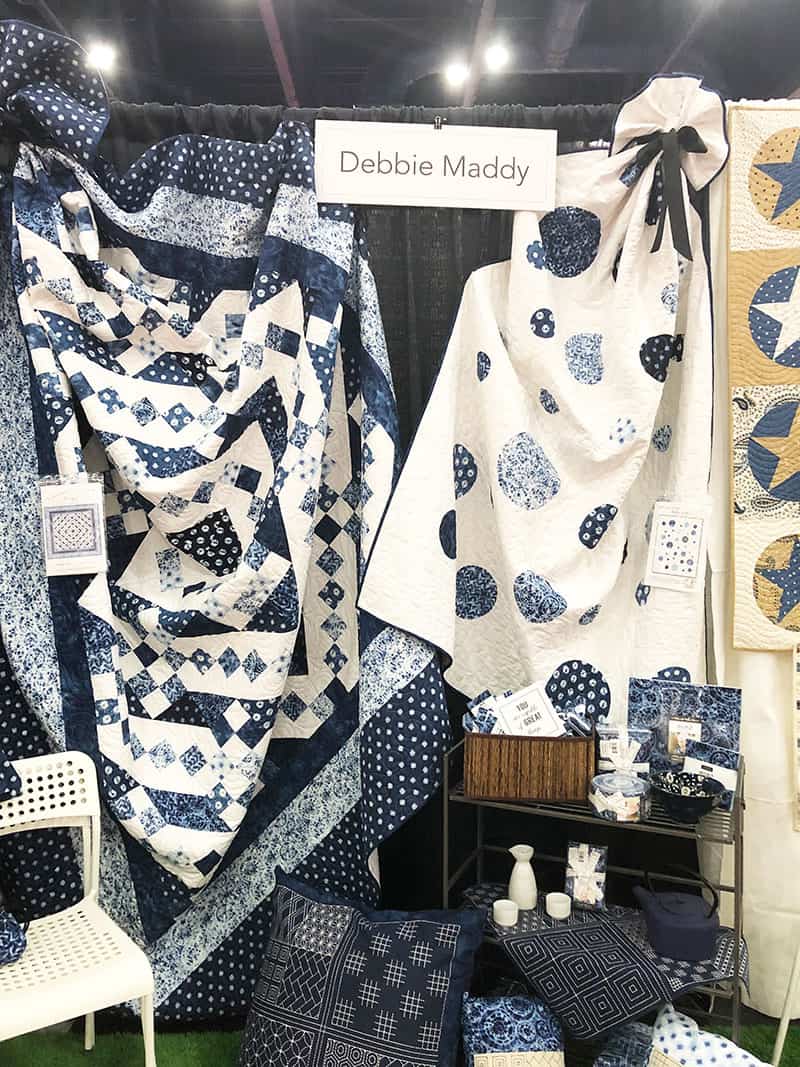 Debbie Maddy
Debbie Maddy designs beautiful indigo dyed fabrics.  Her upcoming collection is called Nuno and is simply stunning!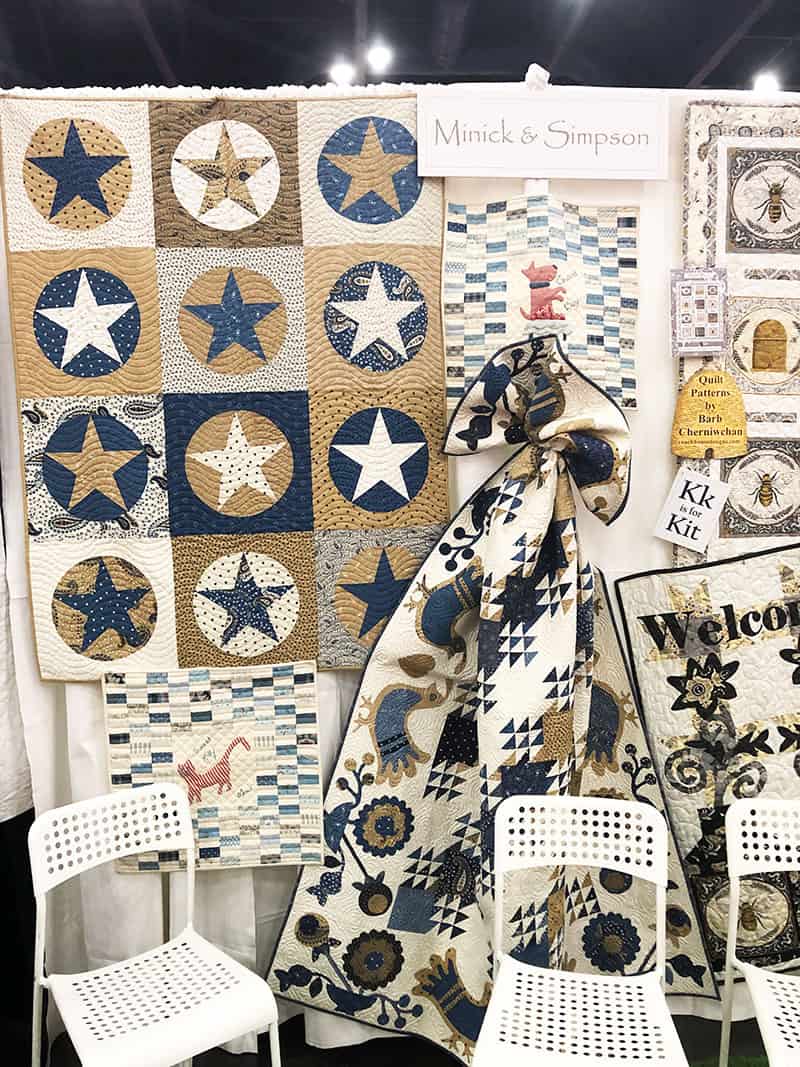 Minick & Simpson
Laurie Simpson's booth showcasing the Minick & Simpson Crystal Lake collection was beautiful as always.  I love this collection of blues and tans and was actually able to see her stars and circles quilt in progress this summer!  So much fun again to see a quilt come to life after quilting!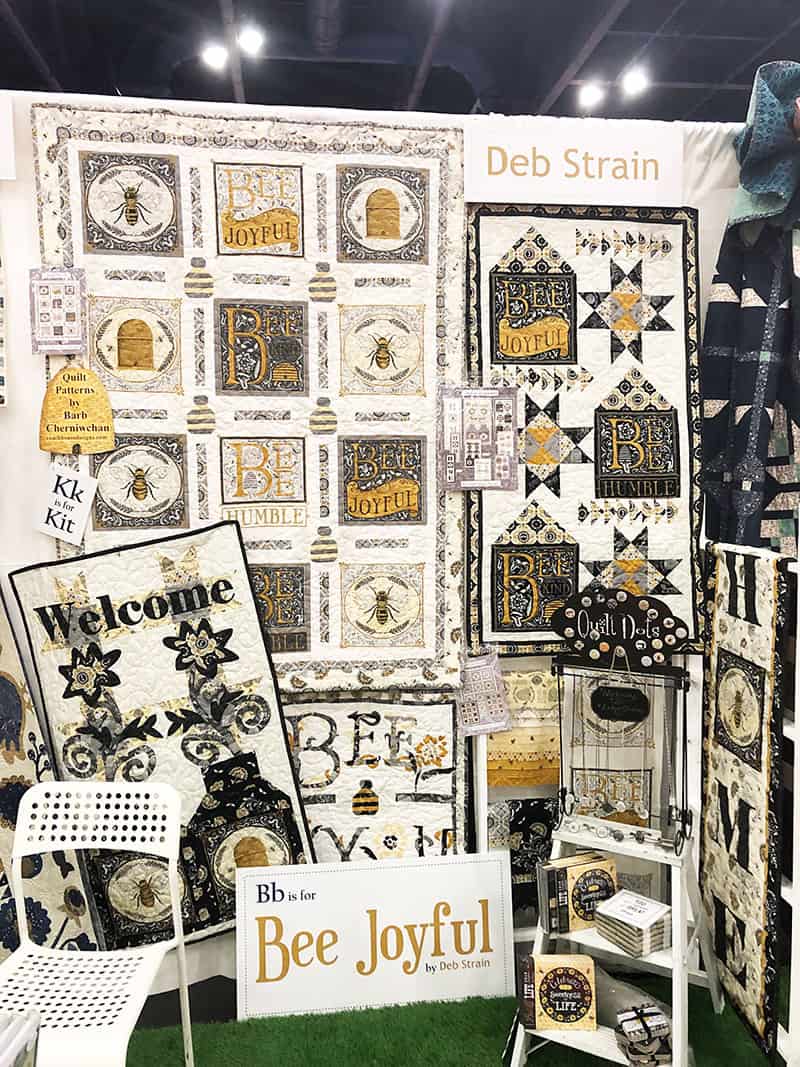 Deb Strain
Deb Strain is truly one of those joyful individuals (I'm so happy our first Quilt Market booth was next to Deb so we could get to know her early on in our fabric experience)!  So it was no surprise that her upcoming bee-themed collection is called Bee Joyful!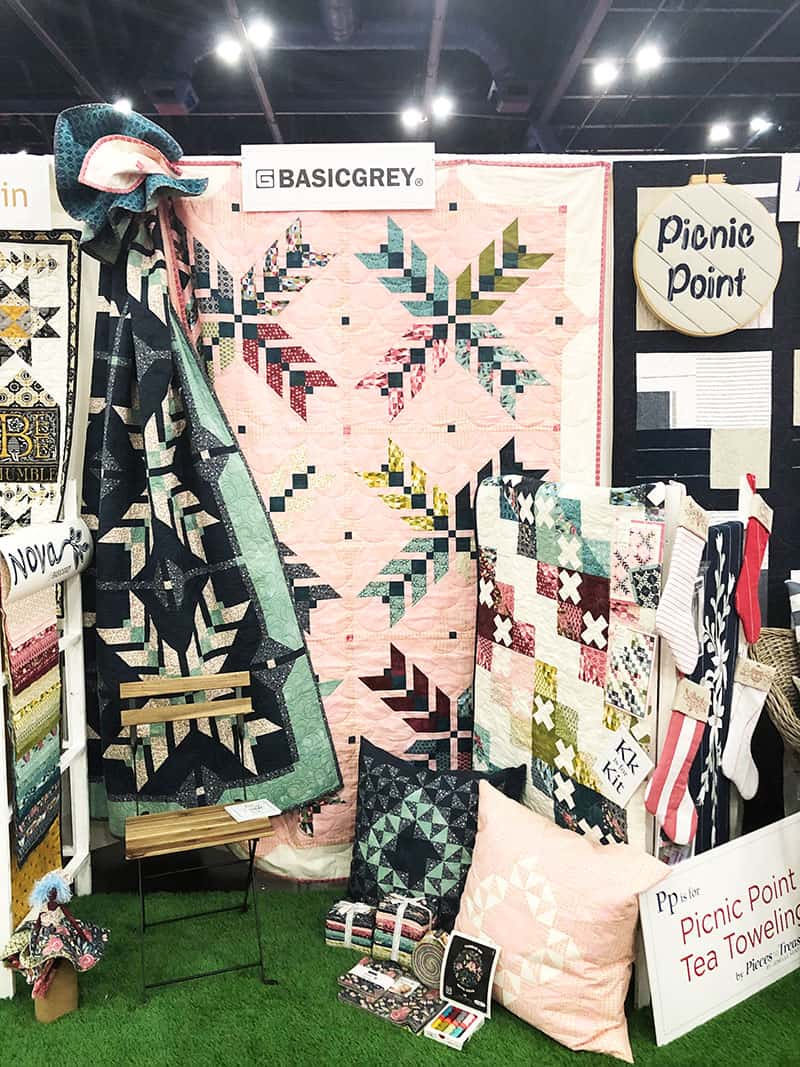 Basic Grey
The Basic Grey booth featuring her Nova collection was absolutely beautiful!  This is one of those collections that I fell completely in love with after seeing it in person.  I always love Rachel's designs and can't wait to do a little sewing with this group myself!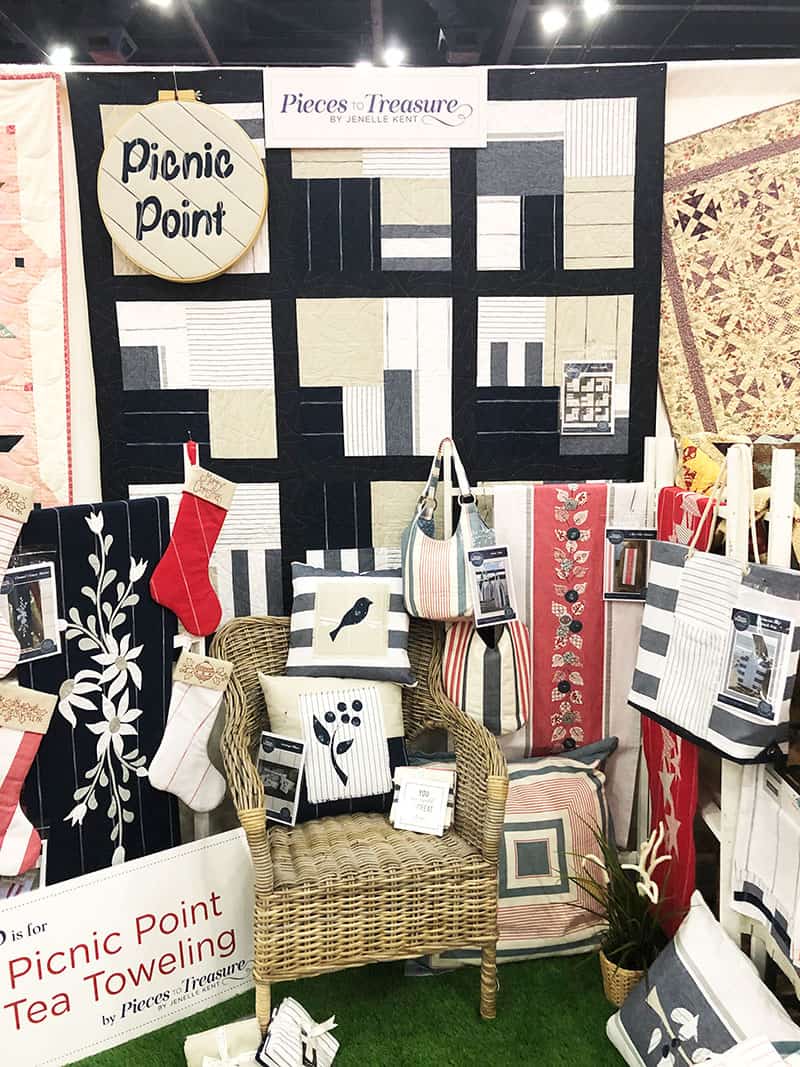 Pieces to Treasure
I really fell in love with the Picnic Point Tea Toweling by Jenelle Kent.  This was Jenelle's first market booth, and she did an absolutely beautiful job!  She hails from Australia and was just so sweet and genuine.  I really enjoyed getting to visit with her a bit!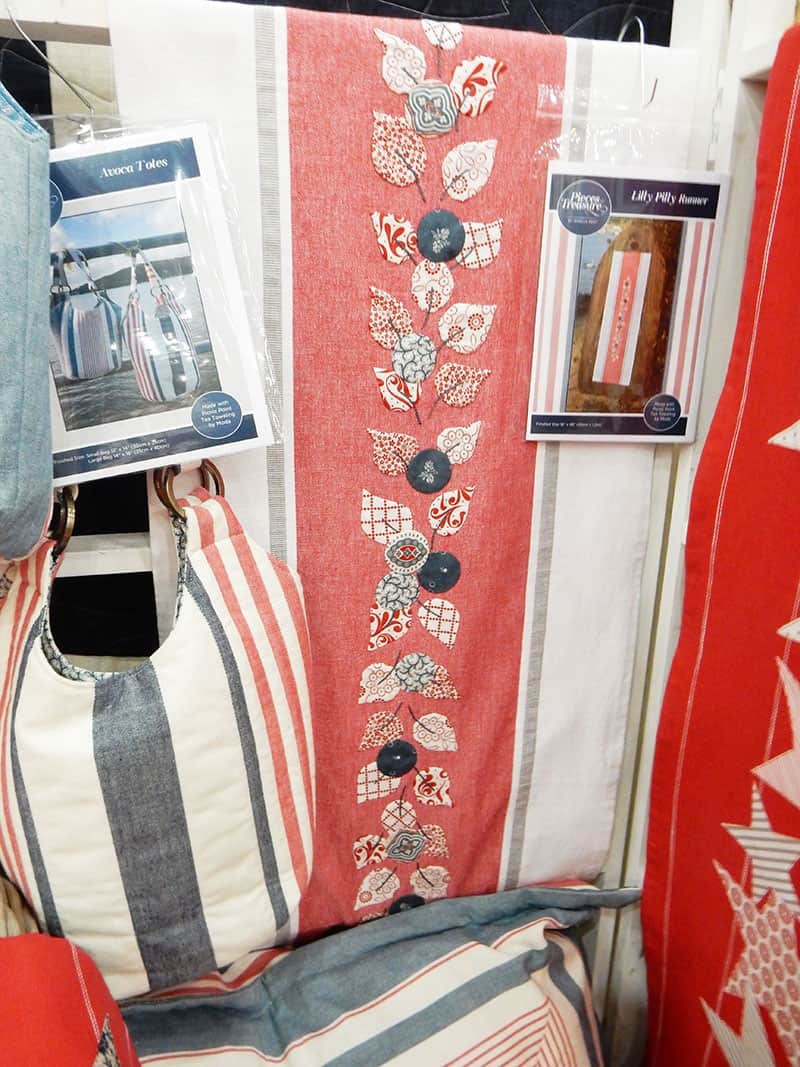 I took quite a few close-ups of some of the lovely applique' in Jenelle's booth.  I had a hard time deciding which one to post!  But I just fell in love with her beautiful applique' on her tea towels!  She has some beautiful patterns that present many terrific ideas for using these versatile fabrics.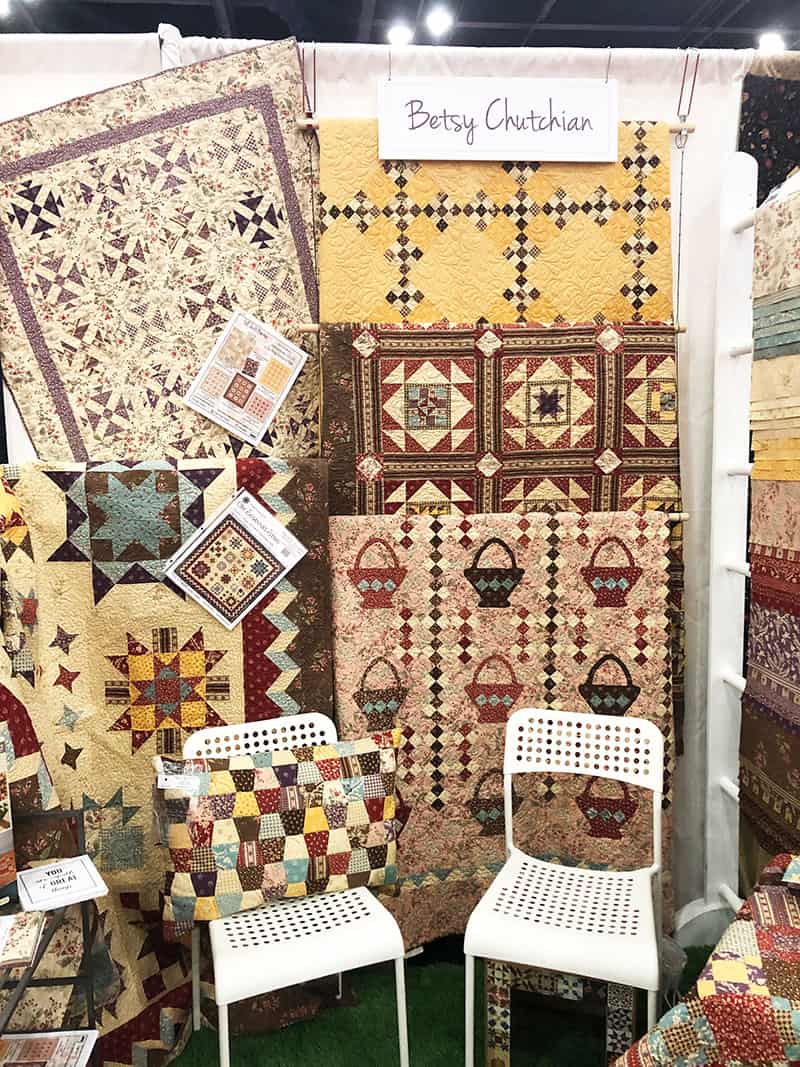 Betsy Chutchian
Betsy Chutchian's booth was also delightful (I think I need to make a tumbler pillow asap–don't know why I haven't thought of that before since I've made tumbler quilts, table runners, and bags)!  Betsy was presenting her upcoming Susanna's Scraps 1830-1875 collection.  This is my favorite collection of Betsy's to date.  It just spoke to me…the mix of colors was so much fun! And Betsy is always so very kind!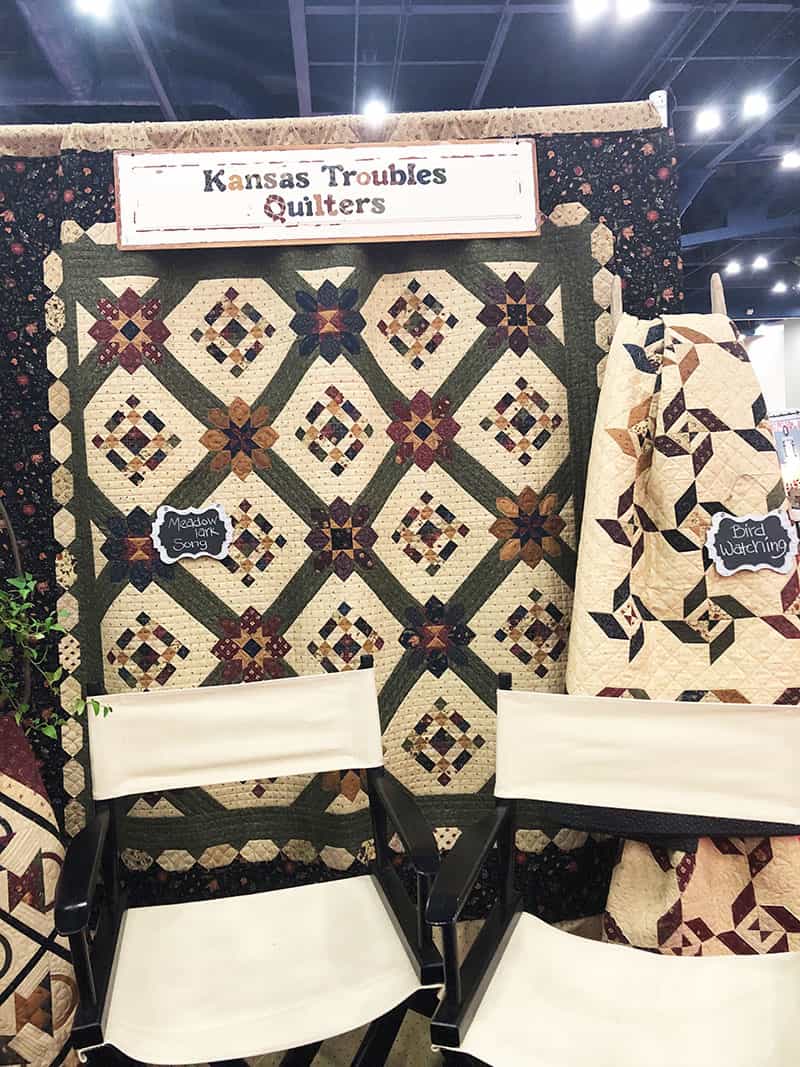 Kansas Troubles
At the end of the row was the Kansas Troubles booth.  Lynne presented her upcoming On Meadowlark Pond fabrics in her display this fall.  Lynne and her husband Robert even brought their own chairs and also had some other items displayed on a table in the front of their booth that didn't make it into my photo!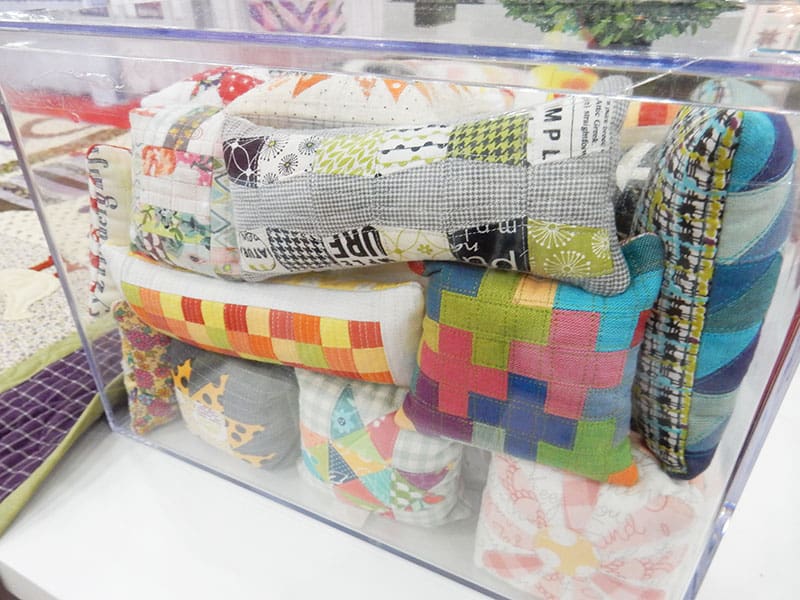 And a little more…
And that's a wrap on the two Moda designer rows!  There are just a couple of other things to share though!  Carrie Nelson was there and presented several demos (she is one of the most prolific quilters…I don't know how she does it all).  Since she had a book signing for her upcoming pincushion book, Pin Pals: 40 Patchwork Pinnies, Poppets, and Pincushions with Pizzazz
, she brought along the 40 pincushions from her book.  They were displayed in two clear acrylic cases which made it so fun to look and see all of them!  I want to make every. single. one!
We were also pleased to learn of the new collaboration between the designers of Ruby Star Rising with Moda fabrics.  They had a booth display area, but they didn't yet have fabric samples.  So I'll definitely be letting you know more about their work as information on the fabrics become available.
Finally…Christopher Tate debuted his upcoming Regency Sussex collection.  I missed his booth (it wasn't in the Moda designer row area), but I do have pictures to share later from his fabulous exhibit in the Special Exhibits area.  More on this soon!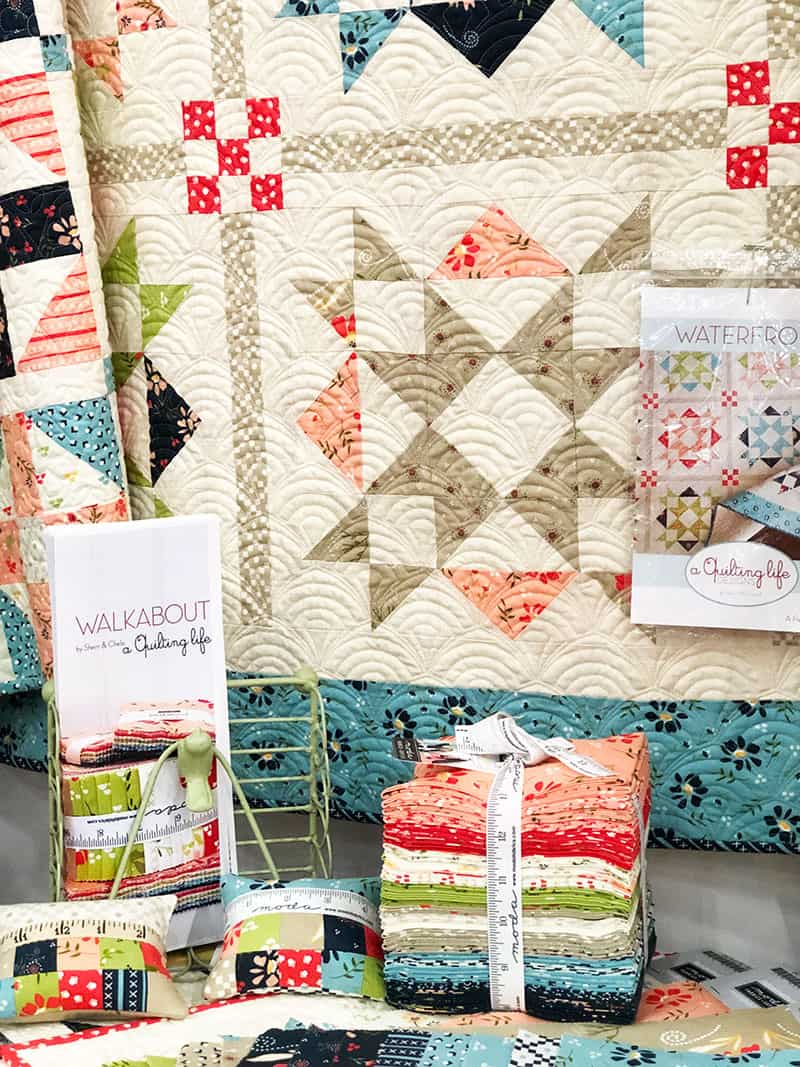 I hope you enjoyed the Fall 2018 International Quilt Market Moda Booths Part 2 post!  If you missed my first post sharing the other Moda booths, you can read it here.  Thanks so much for stopping by!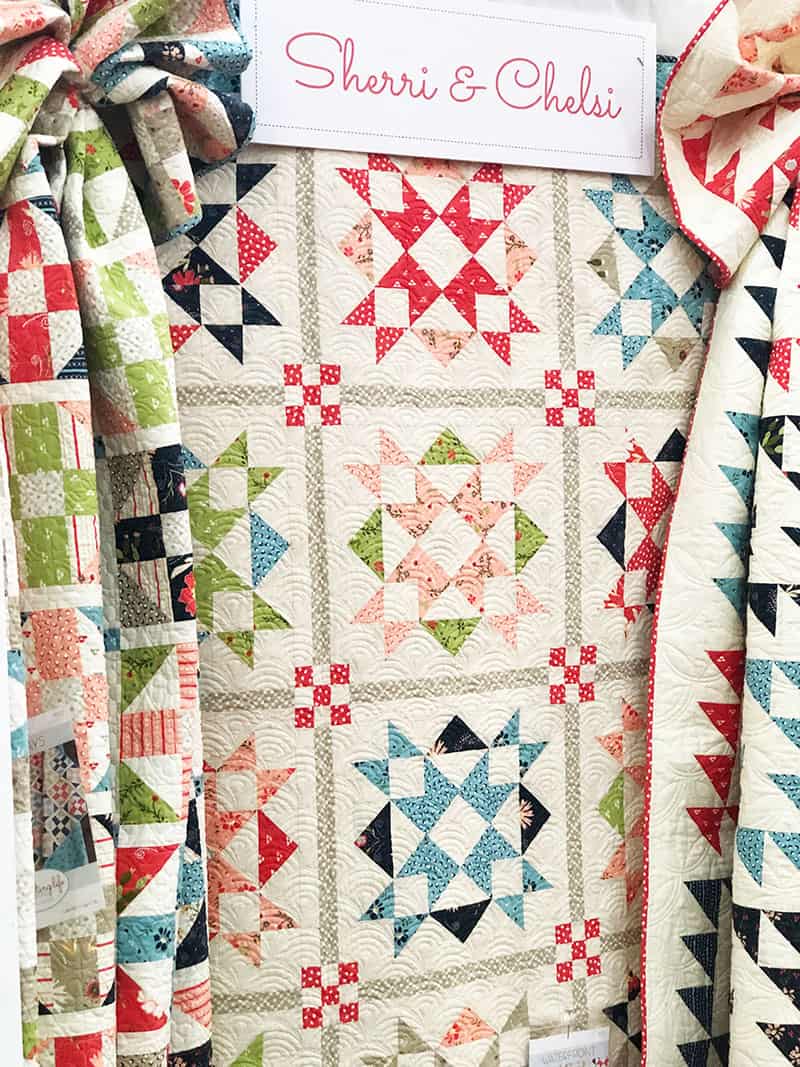 Happy quilting!