Hello and happy Tuesday!  It's Minis and More day today which means I'm sharing a mini parade of projects and also announcing this month's project challenge.  Today's parade features the Endless Summer Mini Quilt pattern, and you'll love seeing some fun versions of this design. I am definitely going to have to make another version of this one myself.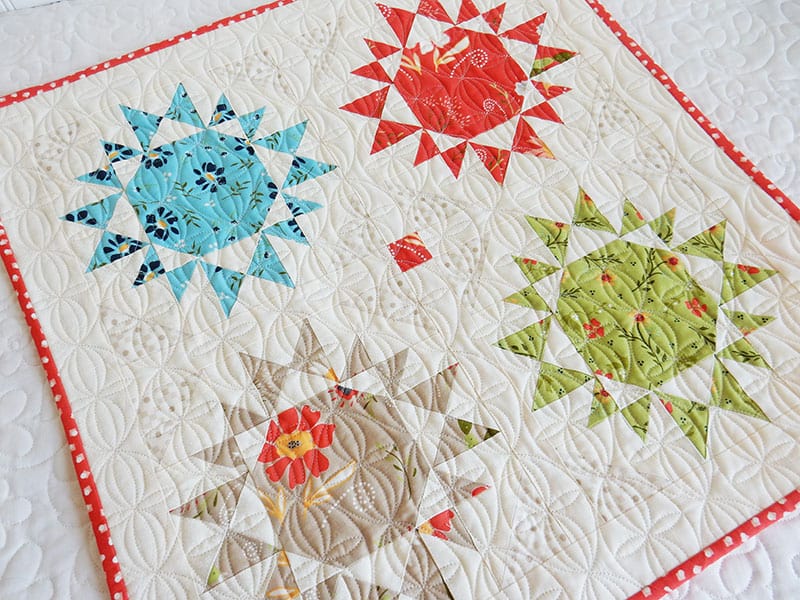 I made my original Endless Summer Mini Quilt using strike-offs while waiting for our sample yardage to arrive.  Since I could hardly wait to start sewing with our Walkabout fabrics, this kept me pacified for our long wait!  This is one of my favorite mini quilts, and I'll be putting it on the wall in my sewing room as soon as we get back from International Quilt Market in Houston next month.  And today we have some fun versions of this quilt to share with you that will give you some fun ideas of how to use this pattern.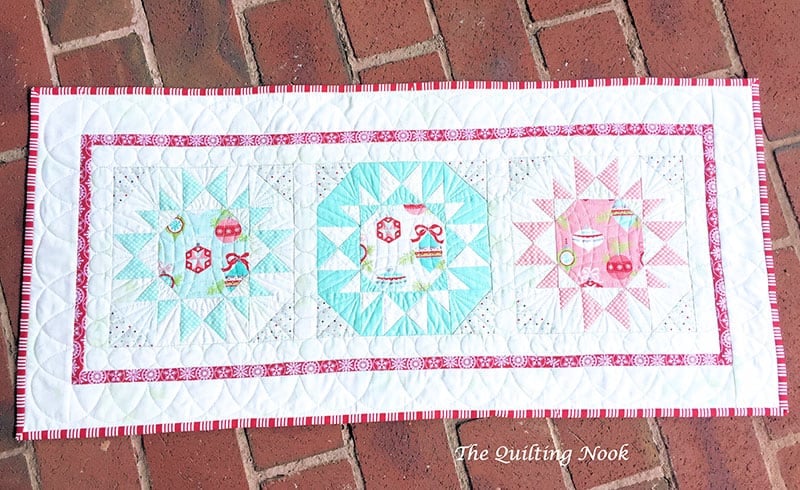 Brenda made this really fun Christmas table runner using the pattern.  I really love how it turned out!  I especially love how she reversed the darks and the lights in the center block.  Such a fun idea!  I've got to make a table runner version–just need to decide if I should make it in Christmas or Fall fabrics.
And Hildy made this delightful version using Tasha Noel fabric and a polka dot background.  I love this version as well.  When Hildy sent in her photo, she also sent a photo of her project back…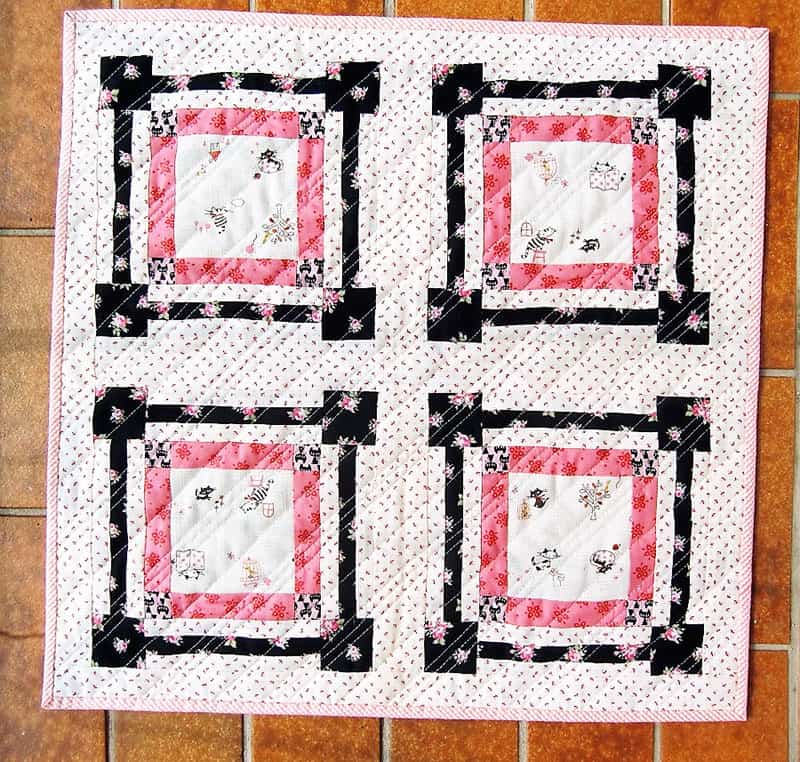 She simply used a block from her stash for the backing.  Such a great idea to use an orphan block for the backing with the added bonus that the mini is now reversible.  The binding she chose is a perfect complement to both the front and the back of the quilt.  (For more ideas on how to use Orphan Blocks, I have a post on this topic here).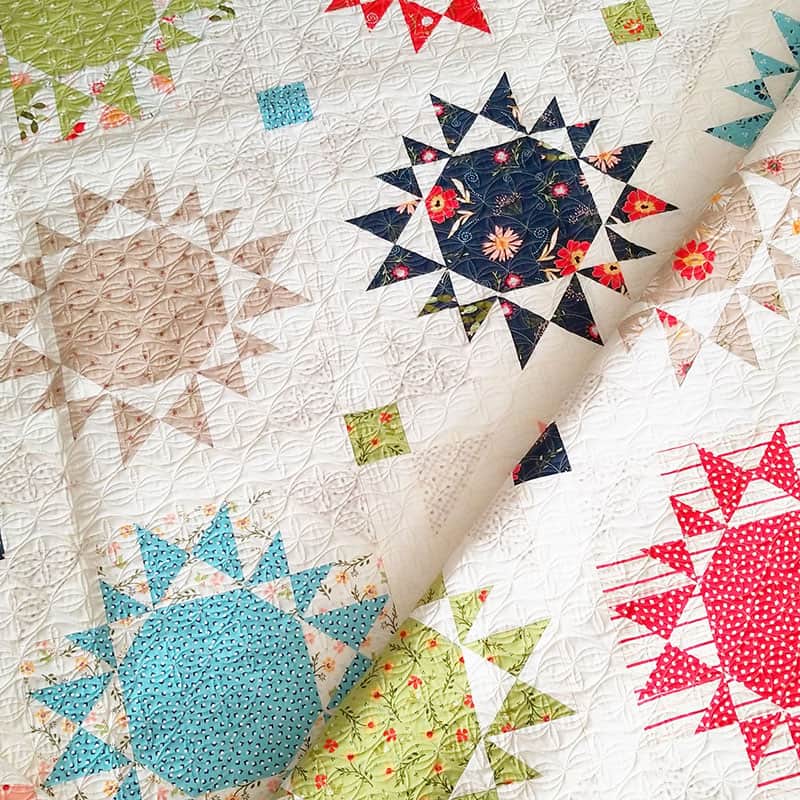 Endless Summer Mini Quilt Pattern and Endless Summer Quilt Pattern
Of course I also have a full size version of the Endless Summer quilt pattern…and my friend Marion used the exact same quilt pattern on both of them.  You can find the Endless Summer Mini Quilt Pattern and the large Endless Summer Quilt Pattern in both paper and PDF versions in my shop here.  Now, you'll want to visit Michele's blog to see the other half of our Endless Summer Mini Quilt pattern parade.  Find Michele's blog here.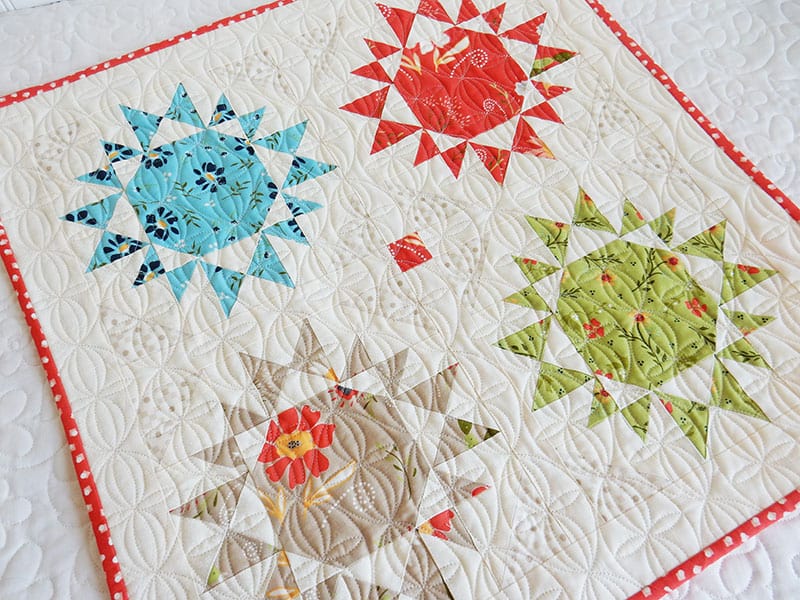 Things are just going to get busier from now through the end of the year, so Michele and I thought of a fun way to work next month's parade.  We think it would be fun to have an "anything fall" parade and let you decide what to work on.  Here are a few ideas, but please feel free to pick your own project and make it "fallish."
Some Fall Project Ideas
We're super excited to see what everyone comes up with.  And I'm actually going to have a mini fall project that I'll be sharing along with my Moda Block Heads block tomorrow (yes, it's my week to share a block again)!
Update:  The Quilting Life Mystery Block of the Month will post on Friday this week.
Happy quilting, and thanks so much for stopping by!