Hello and happy Wednesday!  Today I'm sharing Moda Block Heads 2 Blocks 23 & 24.  For this round of blocks we've been sharing a block from one of the original members of the Moda Block Heads group along with the block from the person/people they invited to join in this time around.  Jo Morton invited me to be a Block Head, and so I'm sharing her block this week along with mine.  Block 23 is Jo's, and block 24 is my block. Also, be sure to read through to the very end to see my Fall mini…with a free tutorial.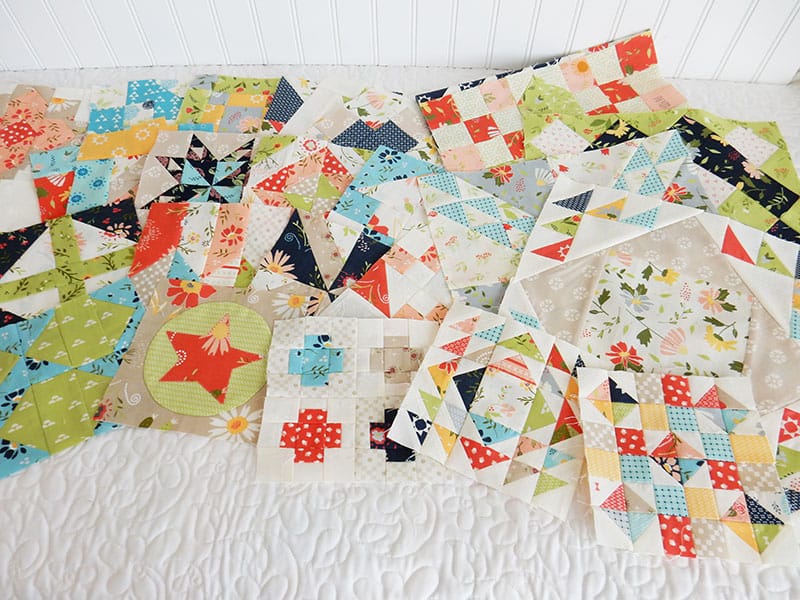 This Week's Scrappy Blocks:
Some of my favorite blocks have been the scrappy ones, so I went really scrappy for both of this week's blocks.  I love how they both turned out.  Another reason I went scrappy is the fact that both of these blocks use half-square triangles, and I had quite a few of those in my stash.  I save extra half-square triangles when I'm making projects and then have them on hand for scrappy projects like this one.  I simply needed to trim them to the smaller sizes for these blocks.  It saved a lot of time!  I used my method of cutting squares for the half-square triangles a bit bigger and then trimming them down (explanation of my method here).  For the flying geese units in Jo's block, I used this Bloc Loc ruler (my absolute favorite way to make flying geese units).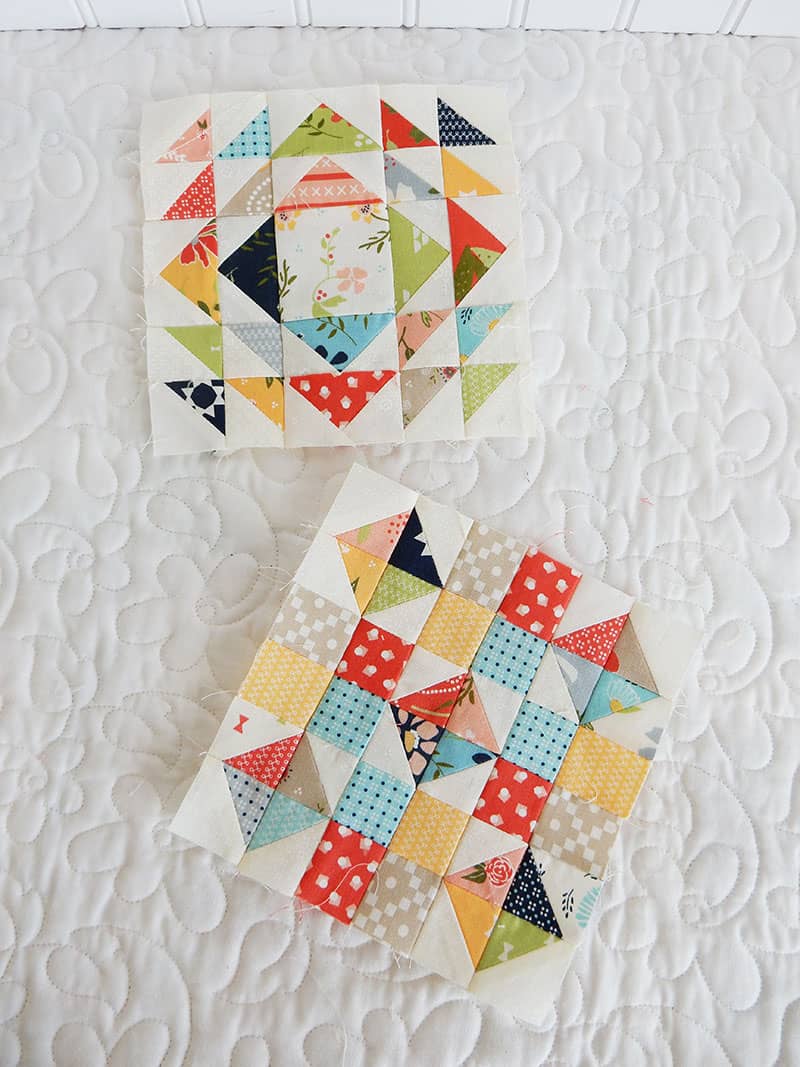 The Blocks…and a Little about Jo Morton
Jo's block, Broken Windows, appears at the top of this photo while my block, Kaleidoscope, is the lower block.  Both blocks feature a combination of our Clover Hollow fabric (in shops now) and our upcoming Walkabout group.  These two collections are my very favorite ones we've done, and they work together so beautifully.  (Be sure to save all of your scraps if you're sewing with Clover Hollow because they will blend beautifully with Walkabout).
I really enjoyed getting to know Jo Morton at quilt market just over a year ago when our booths in the Moda designer section were right across from one another.  She was so incredibly gracious and kind as I asked her all sorts of quilting questions!  I enjoyed visiting with her and learning from her and was honored when she chose me to join the Block Heads 2 crew.  She has been taking her quilting a little more slowly this year and has written some really fun blog posts about her journey.  You'll enjoy this one where she writes about finishing up a long-term work in progress and this one where she details some of her early quilting days and explains how to go about working on works in progress.  Thank you Jo!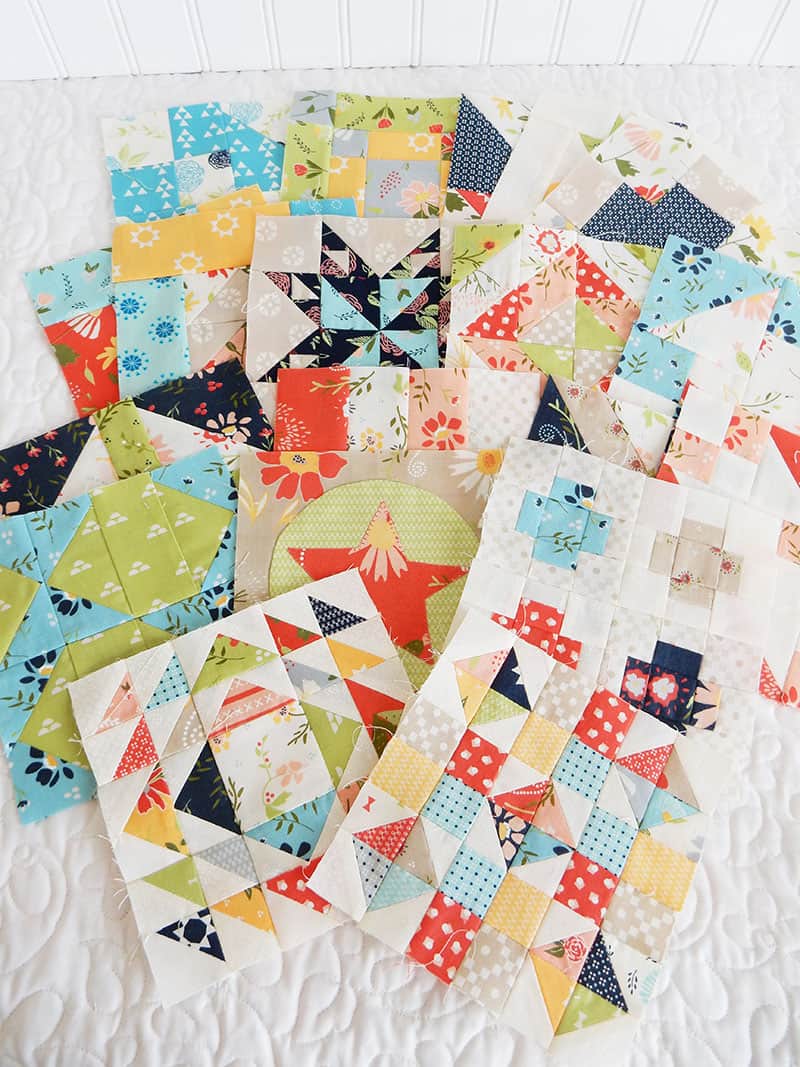 Because we've been making at least two of the 6″ blocks each week for several weeks, the collection of small blocks for this quilt is really growing quickly.  I love seeing them all together, and as I've mentioned in previous posts, taking these photos each week helps me keep the colors balanced as I plan blocks.  Making scrappy blocks is always a great way to keep everything balanced as well.
Moda Block Heads 2 Blocks 23 & 24 Links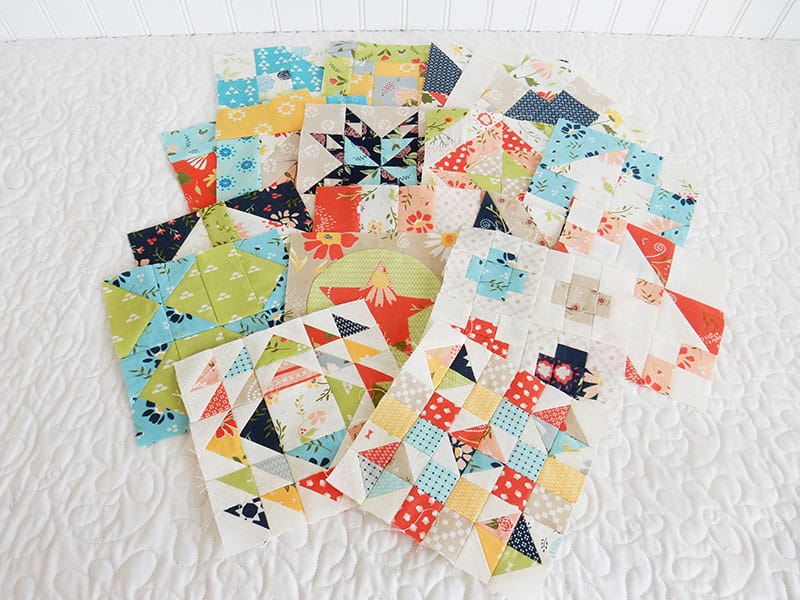 And Find the other Moda Block Heads Here: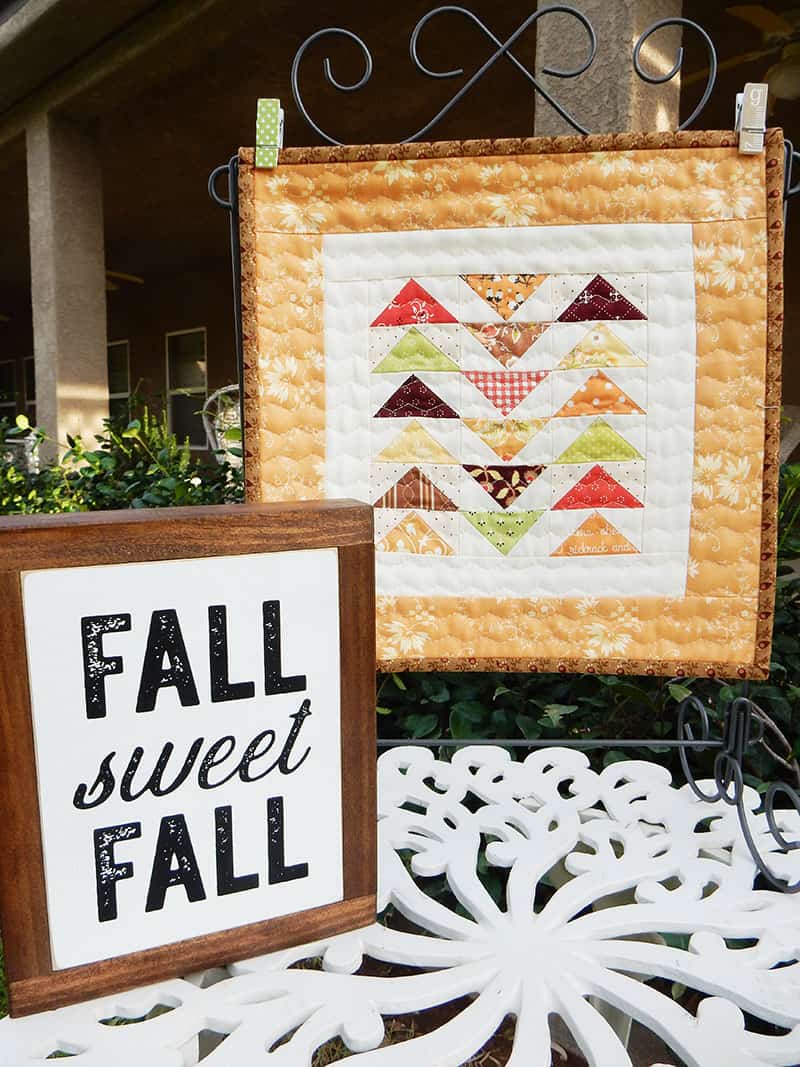 Finally…I just had to share my newest little mini.  Fall is my absolute favorite season, and so I savor the days when cooler temperatures in the evenings and early mornings signal its arrival.  The leaves don't really change colors much where we live in the southern Nevada desert, so I depend on my fall quilts and décor to announce the season.  The other day I decided to make a fall mini to hang on my mini quilt stand, and I love how it turned out.  Most of the fabrics are from Fig Tree, the black polka dot background is by Sandy Klop, and I'm not sure what the binding is–it was in my stash.  But you can find the tutorial directions for this little mini here (I made it in Christmas fabrics earlier this summer)!
Happy quilting, and thanks so much for stopping by!  Enjoy making the Moda Block Heads 2 Blocks 23 & 24!