Hello and happy Thursday!  I'm happy to share that I've finished up my final quilts!  I actually spent 5 hours binding yesterday to finish up the final two.  I still have more pictures I want to take, but I got a few this morning–enough to share!  We even had a cute quilt holder to help us out!  Today I'm introducing my Waterfront Fat Quarter Quilt, and tomorrow I'll do a post on the new Wander quilt!
I love the photo above because it so beautifully shows the quilting designs my friend Marion picked for these quilts.  I love them all!  She did something different and fun on each of the quilts–and each pattern goes perfectly with the quilt design!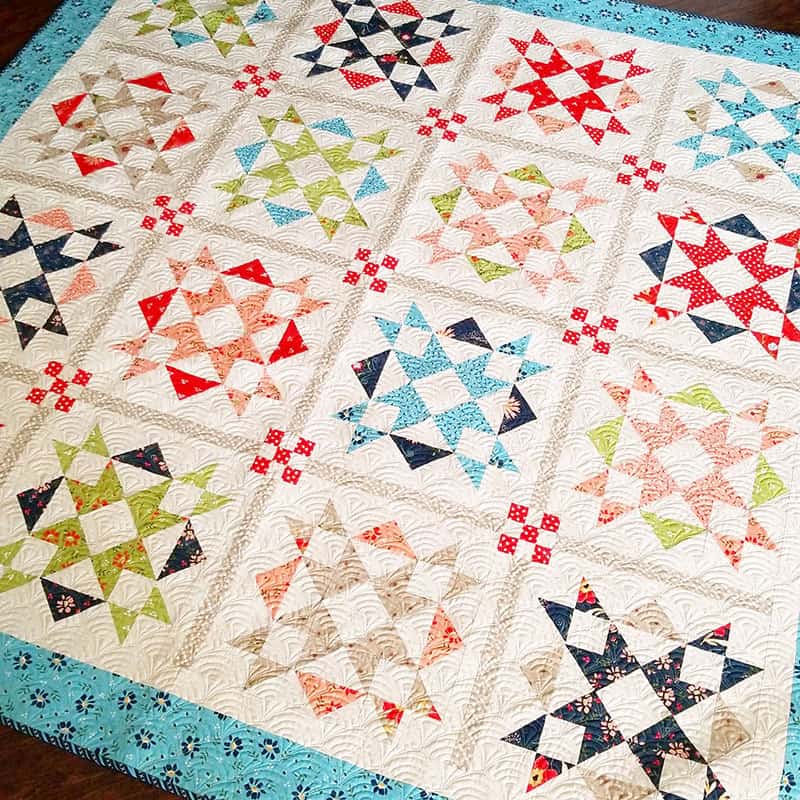 The Waterfront Fat Quarter quilt is definitely one of my favorites!  I used 16 fat quarters for the quilt along with post, sashing, border, and binding prints!  It was fun to mix and match prints for each block; however, it would also be easy to make each block out of just two fabrics or even just a single fabric.  I love how the sashing isn't too bold but yet sets off the blocks perfectly!  Of course I love the nine-patch sashing posts using our whimsical dot print in red!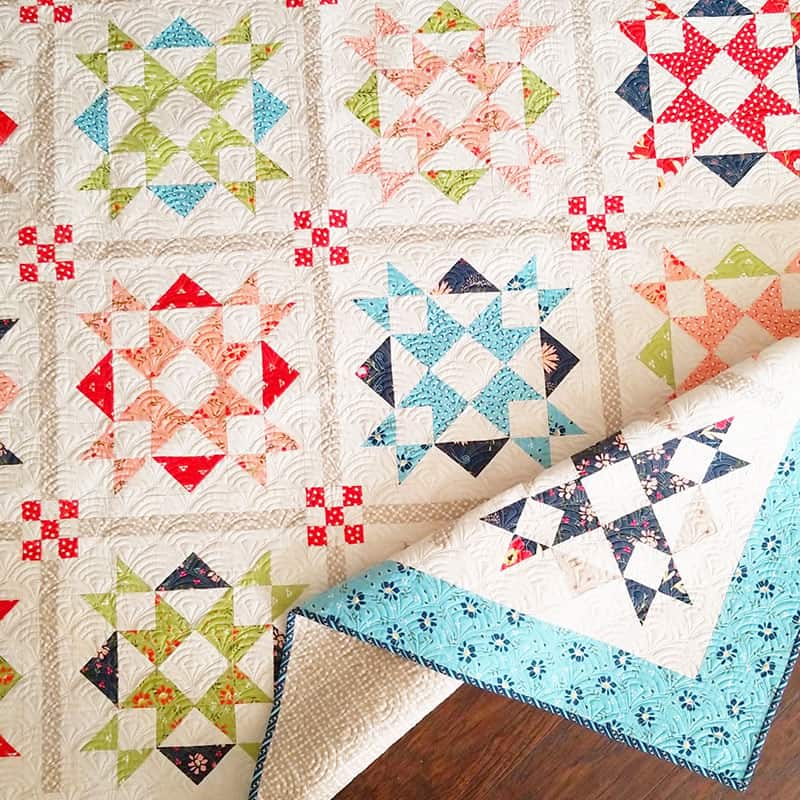 And the binding…I love our stripe prints, but they are especially striking on the bias!  I'm so happy with how this binding turned out!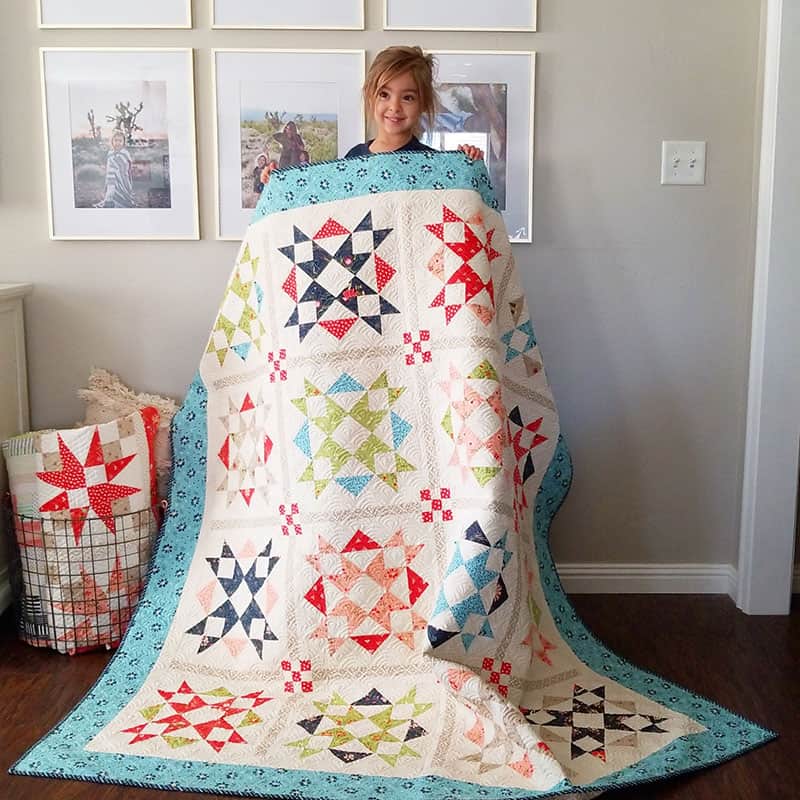 I really, really love this quilt!  And as I mentioned earlier, my cute granddaughter agreed to work as our quilt holder this morning!  The finished quilt measures 68 ½″ x 68 ½″–but you could easily make it larger by adding another row of blocks and/or an additional border.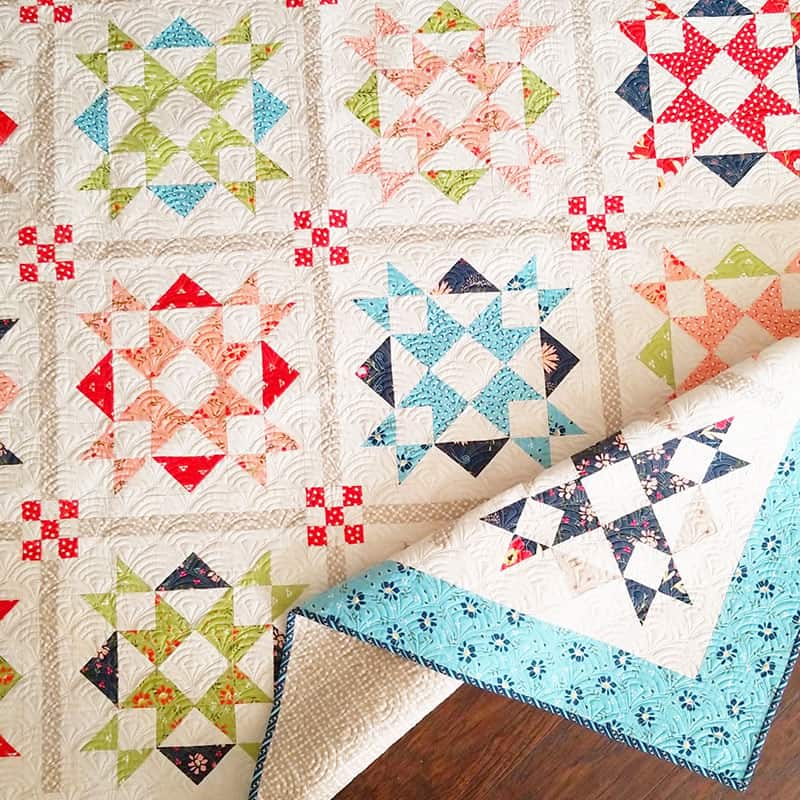 One other thing I should mention about this quilt is that I used Moda Grunge Manilla fabric for the background and absolutely love how it worked with our fabrics.  I didn't have enough sample yardage to use our beautiful tone on tone floral for all of my backgrounds and thought this was a perfect match!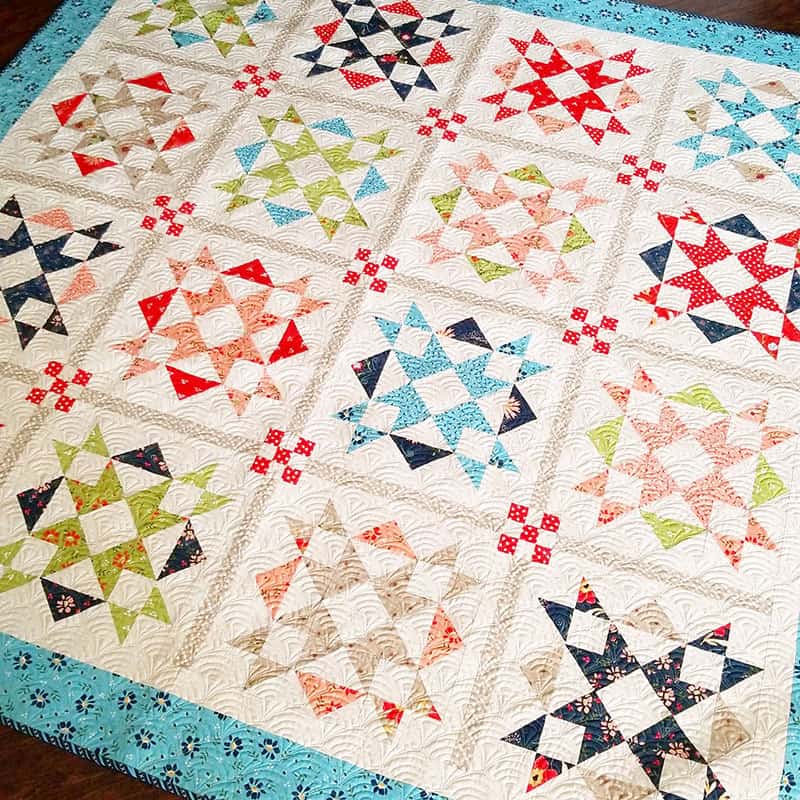 Patterns are available in the shop now in paper and PDF (sale goes through this weekend).  Also, I'm offering a pre-order for a kit for this one as well (I'm also doing pre-orders now for Sea Glass quilt kits).  You'll need to pay a deposit now and will be billed for the final amount due and shipping about a week before the kits ship in January.  Get all of the details here.
Hope you like this one!  Thanks so much for stopping by!