Hello, friends! Today I'm so very happy to finally be able to share our upcoming Sincerely Yours Fabrics by Sherri & Chelsi for Moda Fabrics. This fun collection has actually been in the works for quite some time, and we are thrilled to now be sewing with it and seeing it shared with quilters and shop owners world-wide. (And thank you for the kind comments yesterday on the sneak peek picture).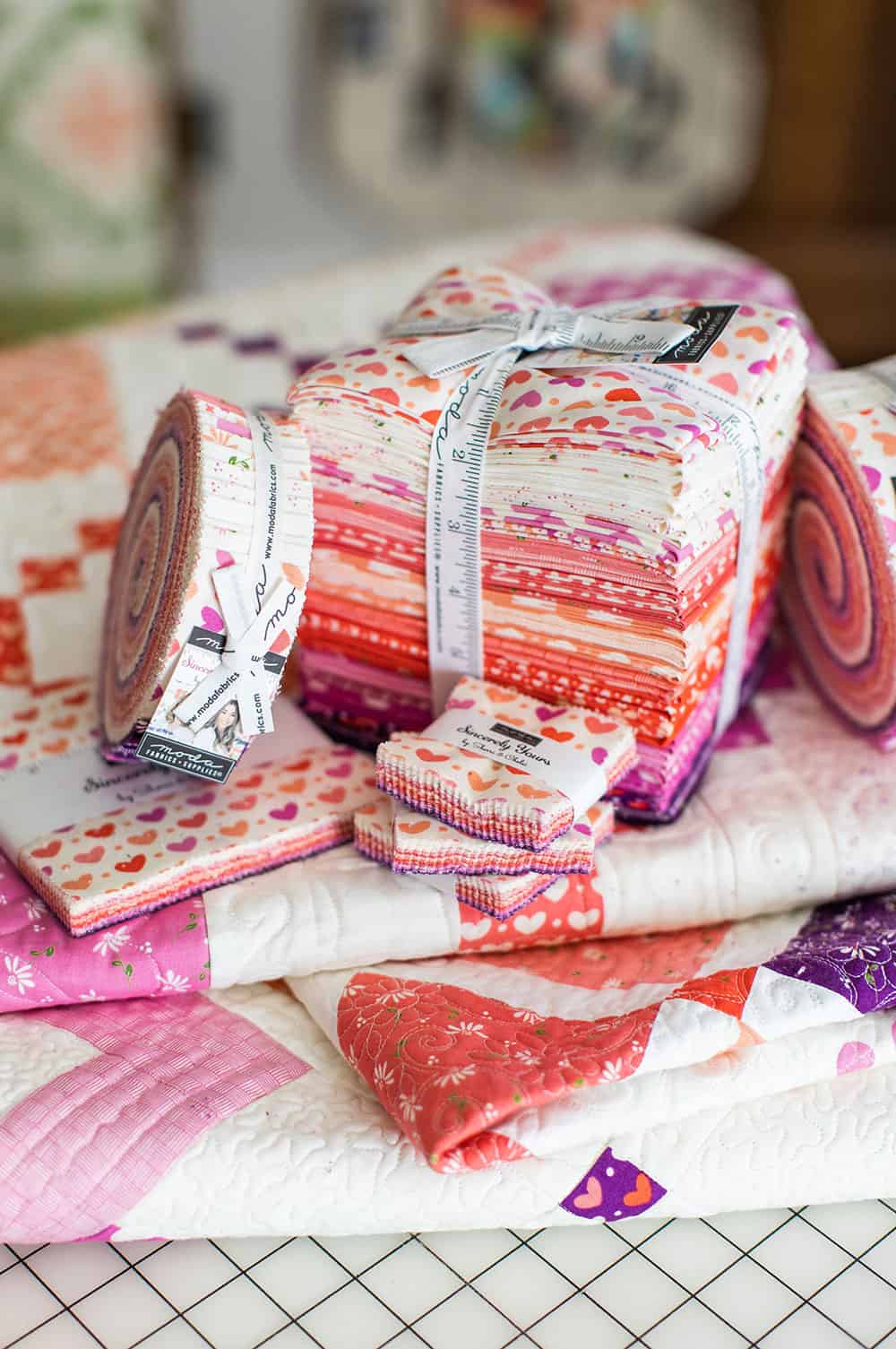 Sincerely Yours Fabrics Inspiration
Creating a collection in this beautiful spring color palette has been on Chelsi's and my to-do list for quite some time. Chelsi was inspired by all of the paper-crafting she did as a child along with the vision of this color scheme (we had a closet full of art supplies including construction paper, glue, scissors, glitter, and more). It was quite some time ago when she started putting things together, but we really got serious and submitted the collection a year ago. We are super happy to be able to bring these fabrics to life, especially since the palette is quite a bit different than our usual. There is a lot of continuity, however, in Chelsi's signature hand-drawn florals mixed with our terrific basics.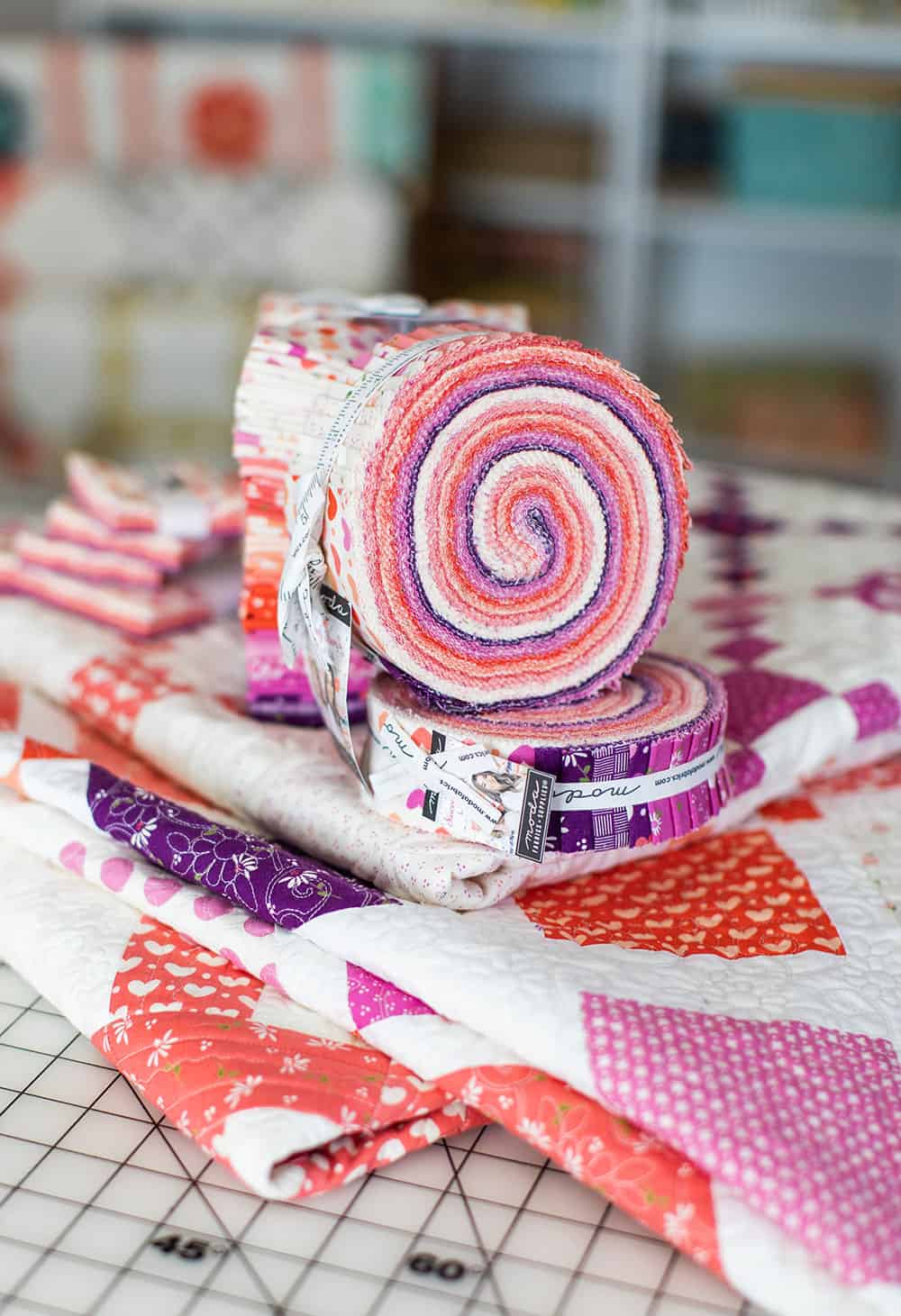 The Sincerely Yours Collection
The Sincerely Yours collection has 30 sku's and will ship in August of 2021. The color palette includes purple, orchid, red, soft coral, and two delightful shades of pink. There is an amazing tone-on-tone large dot that I want to use with everything, and a beautiful group of florals and prints with a light background. The background base for this collection is a little whiter and brighter than that of our previous collection. It looks absolutely stunning with either Moda Bella Porcelain, or the Moda Bella Off White (9900 200)–but you'll want to definitely stock up on the tone-on-tone dots for the perfect background match.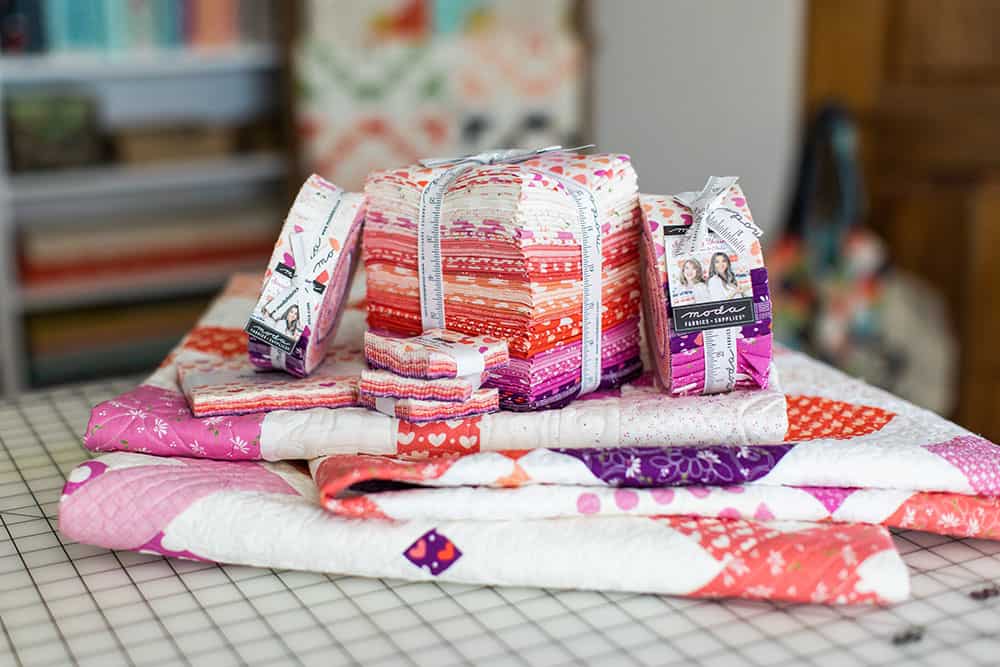 Sincerely Yours Pre-Cuts & Patterns
The Sincerely Yours fabric collection is available in Fat Quarter and Fat Eighth Bundles, Layer Cakes, Jelly Rolls, Honey Buns, Charm Packs, and Mini Charm Packs. I have lots of new patterns to share with this collection, and Chelsi has new designs to share as well. And keep reading below for some information on my new patterns.
Sincerely Yours Fabrics Prints and Color Stories
You can see all of the variety of prints, patterns, and color stories in the photo collage above. I'll also soon share photos in each color way and print. There are also lots of fun ways to mix up this collection as I'll share in the near future. I've done some fun photos with some really cute color mixes.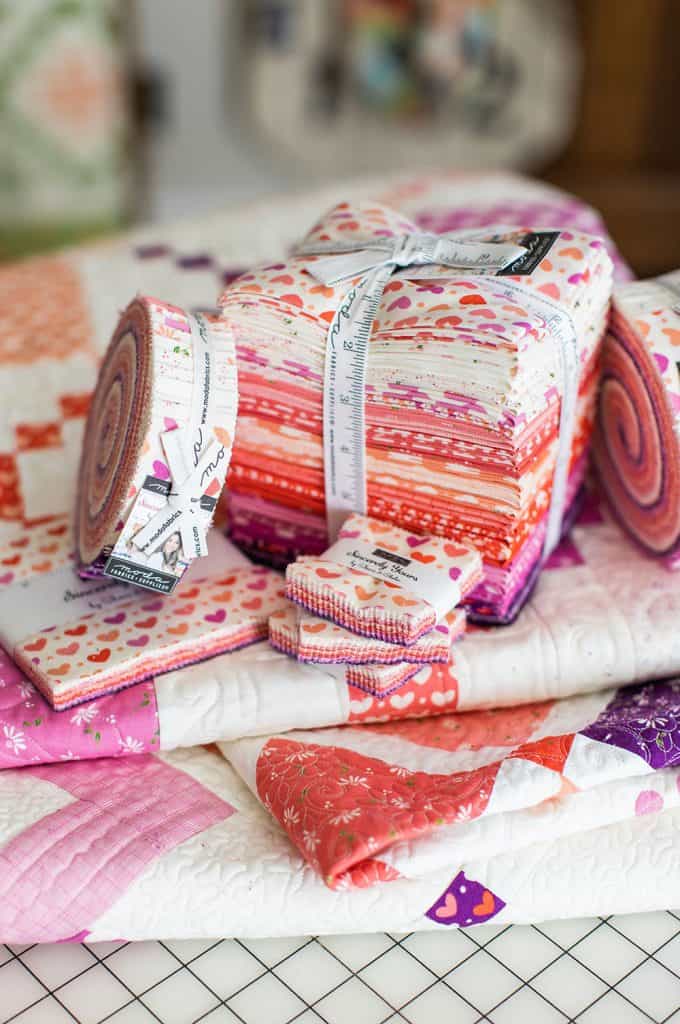 Sewing with Sincerely Yours
The Sincerely Yours collection is perfect for sewing, quilting, and home decor projects. Use the Sincerely Yours collection for sewing for babies, for quilts for those who love soft, feminine palettes, and for modern quilting projects with bright colors ranging in pinks, reds, orchids and purples. We are also super excited to announce that the Sincerely Yours collection will be the collection used in the Moda Fabrics Stitch Pink Sew Along in October 2021. I've designed a fun pattern for that and will be sharing more on that later, too!
Sincerely Yours Fabrics Quilt Patterns
Over the next week I'll be sharing my brand new Sincerely Yours Quilt and Project Patterns. I've got some sneak peeks above…and the first four patterns are finished and in the shop now if you can't wait. There is also an introductory bundle for these patterns in paper versions you can find here (free shipping, too). Individual patterns can be found in paper or PDF below:
More Soon!
Watch for posts on all of the new quilts and projects coming soon. And I'll have close-ups of the prints and more to share as well.
Happy quilting, and thanks so much for stopping by!