Hello and happy Monday!  I hope you had a wonderful weekend!  This weekend I spent some time making some fun gifts for friends!  Simple quilted zipper bags are one of my go-to gifts, and this weekend I started out by making twelve from one of my favorite patterns, The Quick Zip Case  from Patterns by Annie (details later in the post).  I've made this pattern before and loved it.  I knew it would be perfect for making a large group of bags, assembly-line style!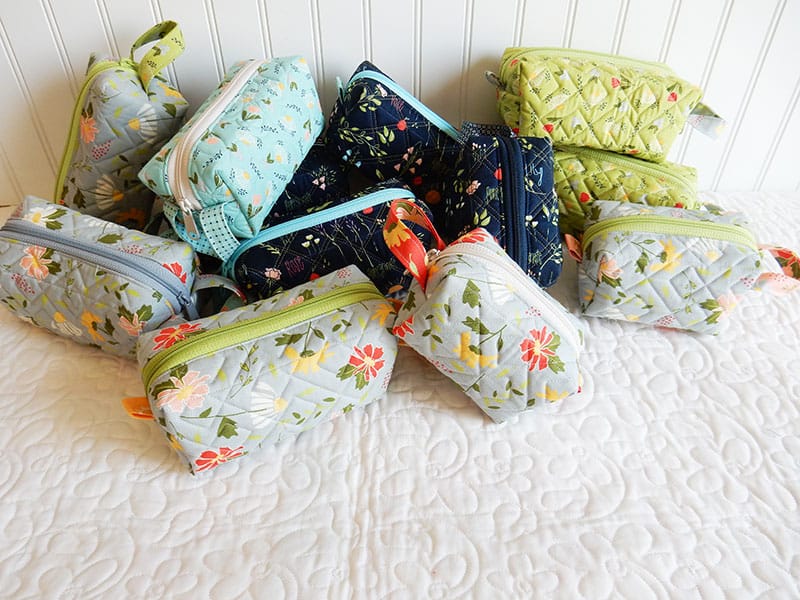 I started my bag-making project at 5 p.m. Saturday night, and by 11 p.m. I'd finished twelve of these bags.  I thinking making them all at once saved a good amount of time.  I'm not sure I could make one of these bags in just 30 minutes.  Another time-saver was that I used previously quilted fabric with Soft & Stable sandwiched between the outer fabric and the lining.  All I had to do was cut my bag rectangles and contrasting pieces and start to sew.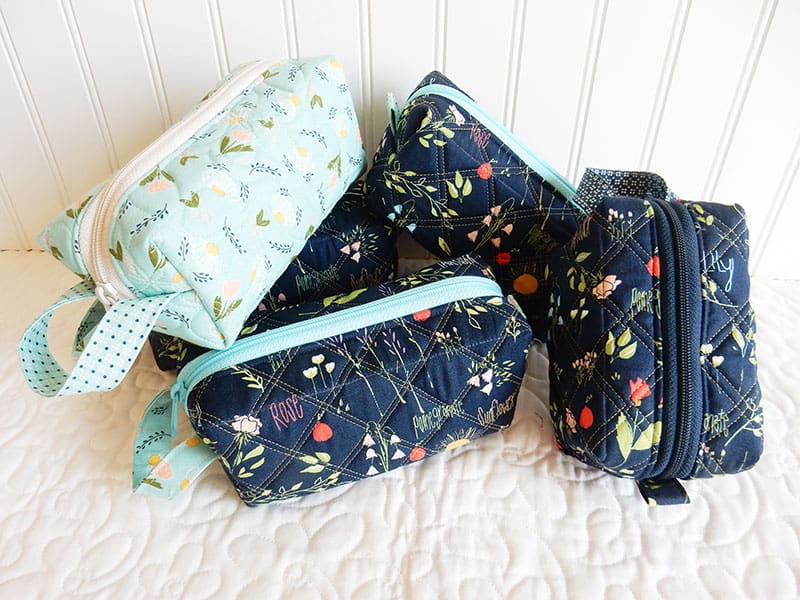 Simple Quilted Zipper Bags Fabric Information:
The navy print bags are made using fabrics from our The Front Porch collection, and all of the other bags are made with fabrics from Clover Hollow.  I trimmed the navy bags with fabrics from Clover Hollow as well.  You might notice that a few of the bags are a little bit smaller than the others.  I had some scraps that weren't quite as wide as the pattern called for, but since they had the proper height measurement, they went together without my having to alter anything.  And the small boxy ones have a fun look to them as well.  I made a note on my pattern about this so I won't forget the next time I make these bags!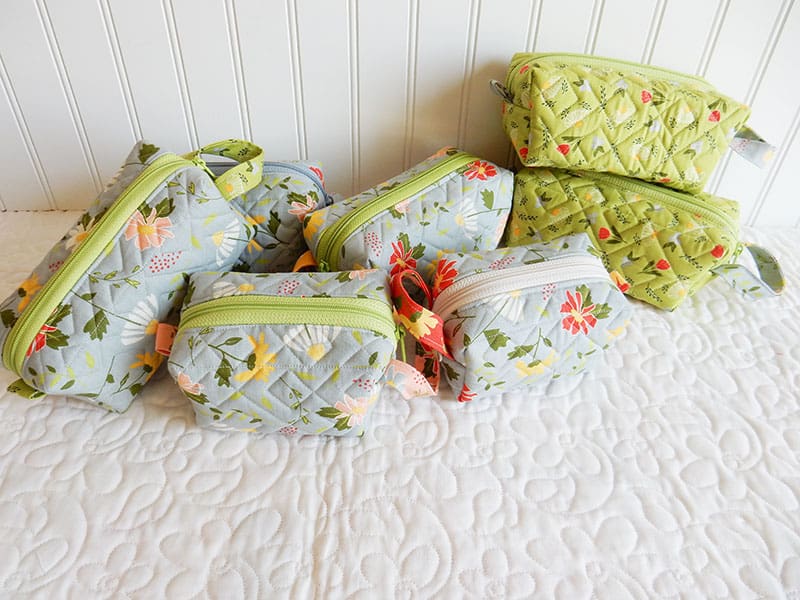 I raided my zipper bin for the zippers for these bags.  It was so much fun being able to use some zippers that had been sitting in the bin for quite a while.  And as I mentioned above, these bags went together very quickly since I had previously had the Soft & Stable quilted with all-over patterns.  The pattern calls for quilting simple straight lines, and I really love that look, too.  You can see the first bags I made using this pattern with the straight line quilting here.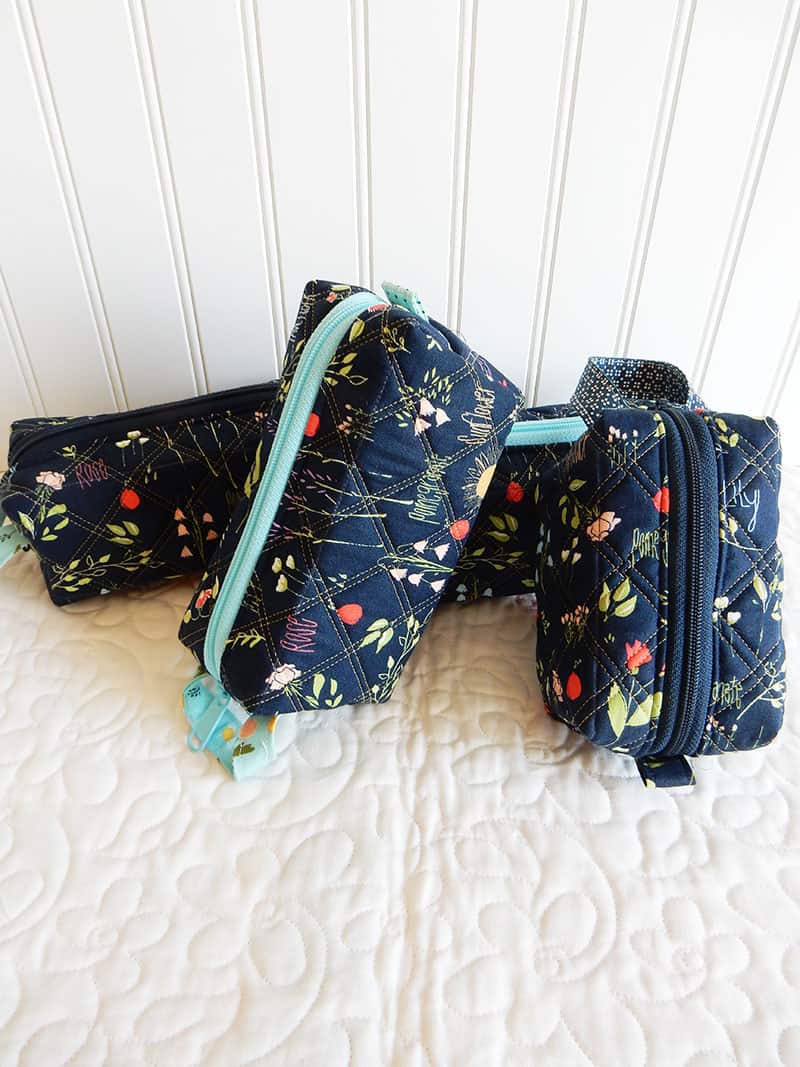 Why I Love the Quick Zip Case Pattern:
The bag is made from a rectangle–easy cutting!
The zipper installation is super easy!
The lining is quilted to the bag front, so the inside has a beautiful quilted look as well.
Raw edges on the inside are finished with a simple binding that you do by machine.
The pattern is fast and fun!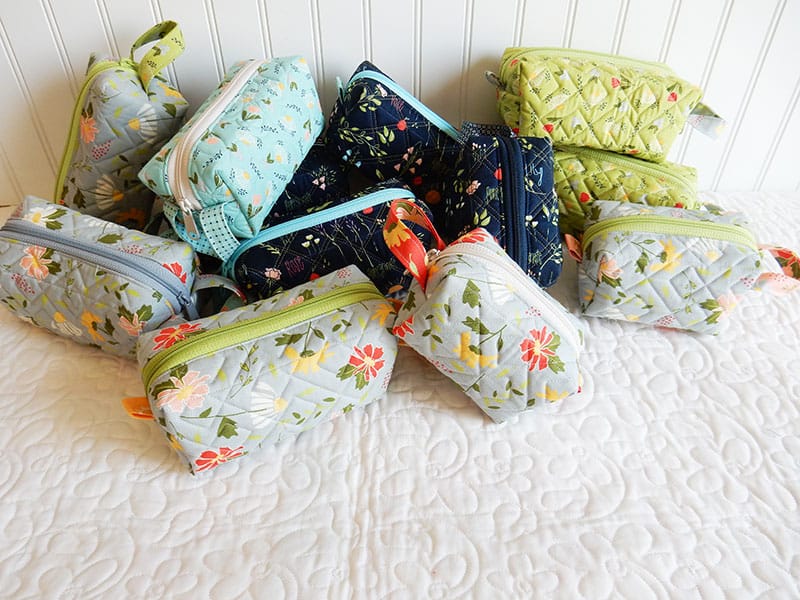 You might notice from the photos that the zippers I used are a little wider than the traditional zipper you might buy to use on a bag or for clothing.  I love using these wider zippers because you don't have to use a zipper foot when working with them.  I actually just use the quarter-inch foot on my machine when sewing.  It makes things so much nicer!  Also, on all of the bags except the navy I opted to use a grey thread so I didn't have to change threads with each different fabric color.  That saved a lot of time!
Simple Quilted Zipper Bags Pattern Info
I have ten more to make before I head out to do some sewing with friends later this week.  Since I'm out of quilted Soft & Stable scraps, I'll have to do some straight-line quilting on these, so I'll let you know how much time that takes per bag when I share the other bags.  I have some fun posts lined up here on the blog for while I'm away…including my debut Moda Block Heads block on Wednesday!  Happy quilting, and thanks so much for stopping by!