Hello and happy Friday! (This post was originally published in June 2018 and updated in June 2021). I'm happy to be sharing a really fun tutorial with you today–my simple quilted pillow sham tutorial!  I love making quilted pillow shams with left over fabrics from my quilts.  These shams really add so much to the décor, and you can also accent them with purchased pillows of a variety of sizes.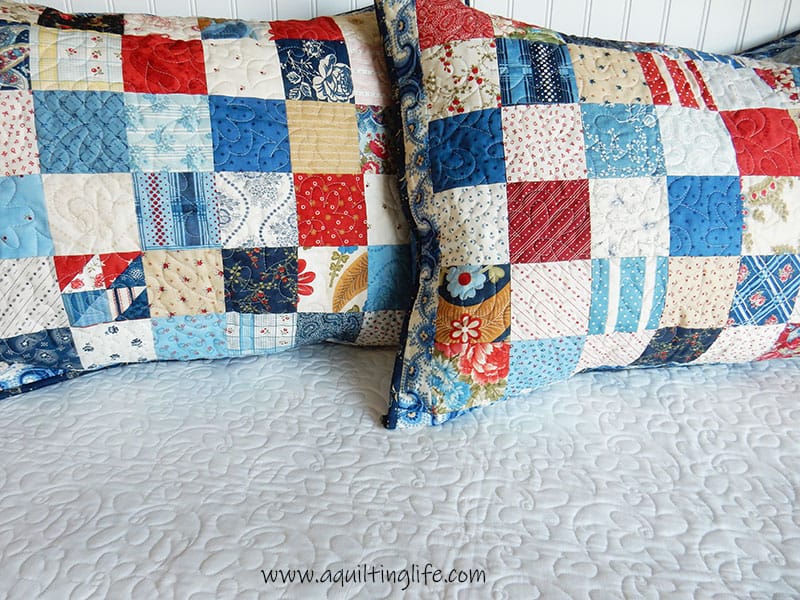 You might remember that I shared the simple patchwork for these pillows last week!  My friend Gail was able to quilt them up the same day I dropped them off to her, and then I got busy making the pillow flap backs and getting them bound! (I have the Christmas versions quilted and ready to bind as well–I'll share them soon)!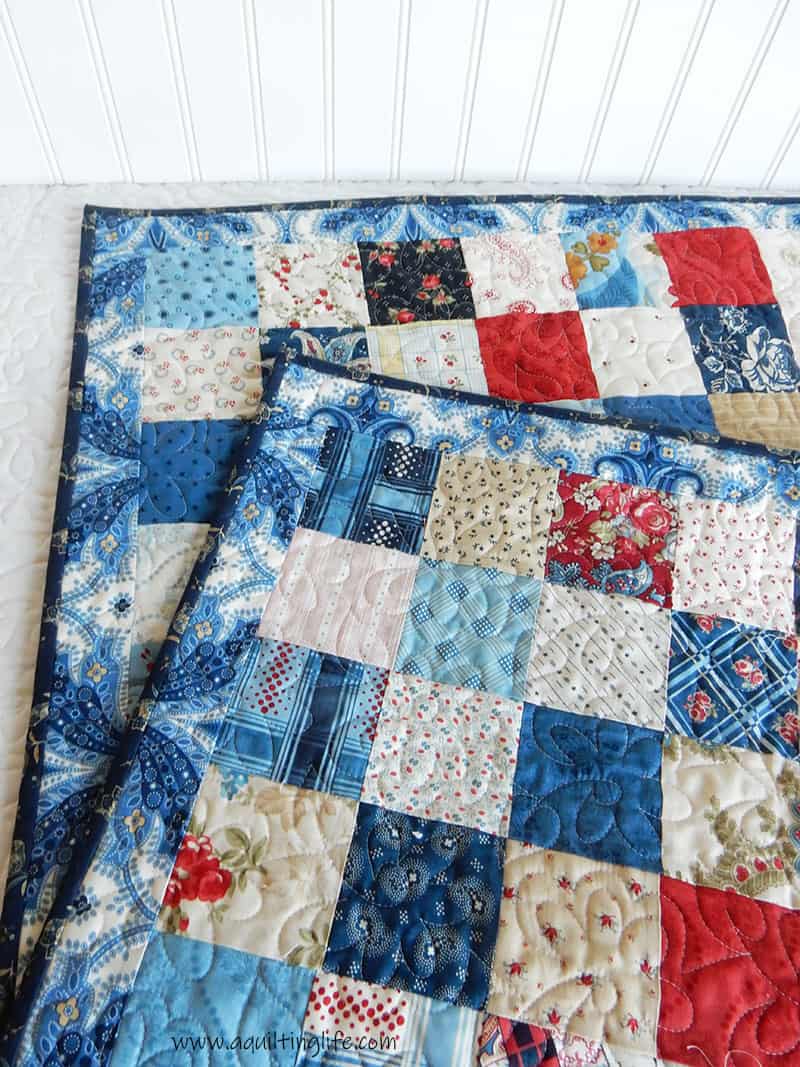 I used a simple navy print for the binding and love how it reads almost like a solid in some places and yet adds a nice finishing touch.  It doesn't take much time to add binding to a pillow and adds a really professional finish.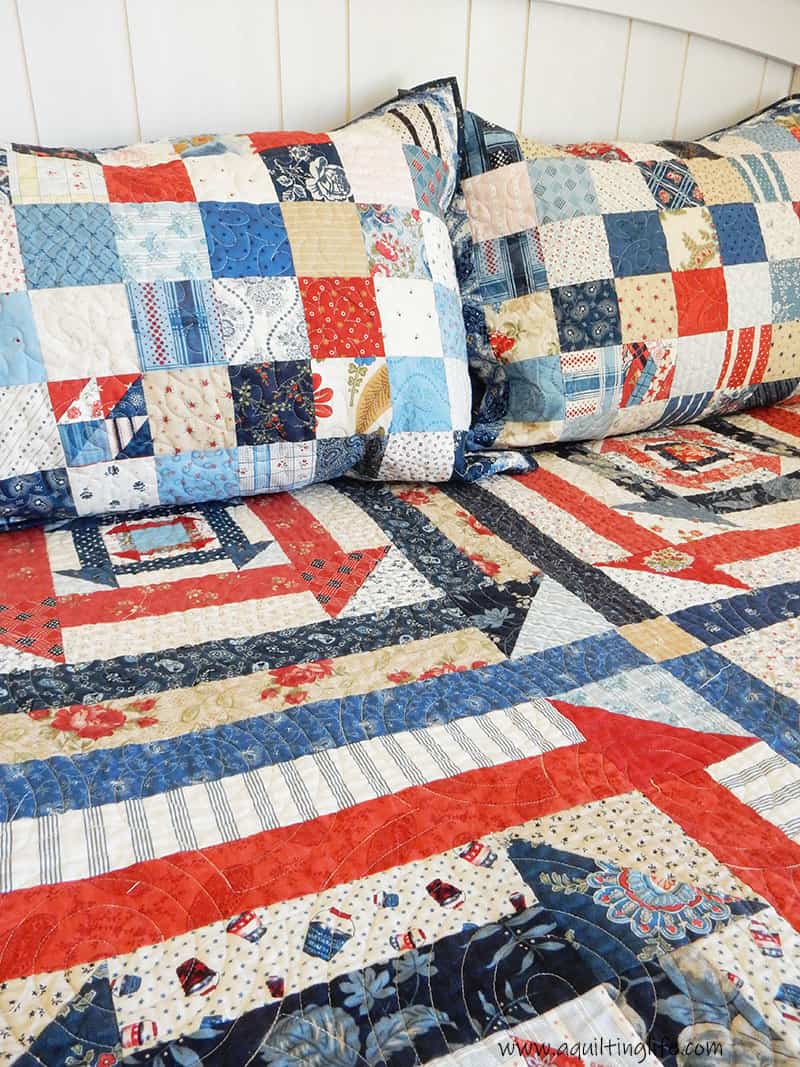 I'm using the shams in our master bedroom with my Nested Churn Dash quilt that includes some of the same fabrics as the shams.  But the lighting is better for photos in our guest room, so I brought my quilt and shams in there for a picture. (Painting this headboard with chalk paint is one of my projects for this summer)!  I love how the simple patchwork squares don't detract from the quilt which is supposed to be the focal point of the ensemble!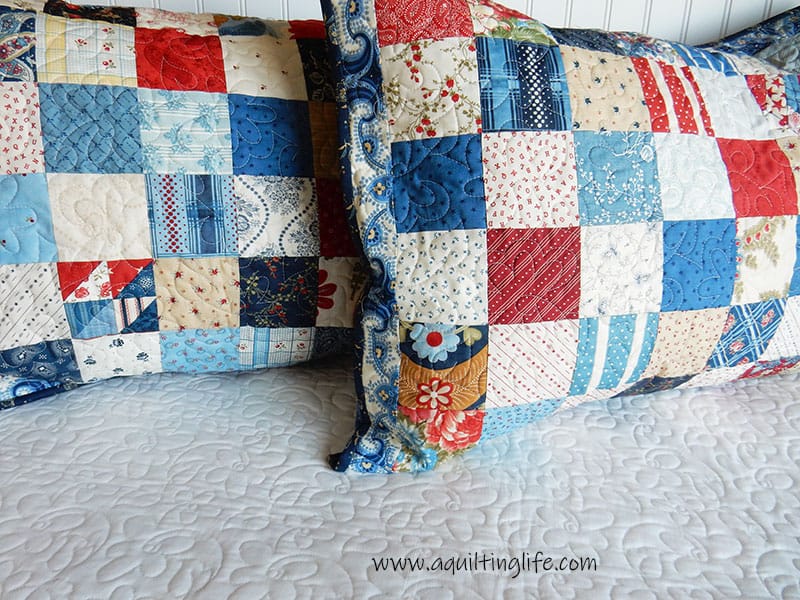 Materials information provided below is for just one sham because sometimes you just need to make one for a twin-sized or even a full-sized bed.  Also of note is that I added small borders to my patchwork section.  You could leave the borders off if you wanted your sham to be more tightly stuffed.  I wanted a looser, more casual look and so added those small borders.
Materials for One Simple Quilted Pillow Sham:
48 squares in a variety of lights, mediums, and darks 3 ½″ x 3 ½″ (I tried for a mix of about 50% light and 50% medium/dark)
¼ yard for pillow borders (optional); crosscut into 2 rectangles 2″ x 18 ½″ and 2 rectangles 2″ x 27 ½″
¼ yard for binding (crosscut into 3 strips 2 ¼″ x width of fabric and piece together for the binding)
Batting 27″ x 33″
Muslin 27″ x 33″
⅔ yard Fabric for Flap Back Closure (crosscut 2 rectangles 19″ x 21 ½″)
Standard sized pillow
Piecing Instructions for the Simple Quilted Pillow Sham:
Arrange the 48 squares into 6 rows of 8 squares each.  Move squares around as needed in order to have an even distribution of your prints and colors.  (I actually sewed all of my squares into pairs alternating medium/dark prints with the lights.  Then I sewed the pairs into groups of four before laying them out and deciding on a final arrangement).
Sew the squares into rows and then sew the rows together to create the simple quilted pillow sham center.
Add a 2″ x 18 ½″ border strip to the left and right of the sham if desired.  Press out toward the border fabric.
Add a 2″ x 271 /2″ border strip to the top and bottom of the sham if desired.  Press out toward the border fabric.
Finishing Instructions for the Simple Quilted Pillow Sham:
First, layer a piece of muslin, the batting, and the pillow sham top  and quilt as desired.  My friend Gail did an all-over medium floral pattern on my shams.
Next, trim the quilted pillow sham even with the edges of the sham front.
To finish the long edges of the flap back sections, turn in ½″ on a 21 ½″ side and press.  Fold over again and top-stitch to secure.  Repeat for both back flap sections.
Place the pillow sham front right side down.  Then align an unfinished  21 ½″ edge of one of the flap back sections with the outer edge of the sham front.  The flap back section should  be placed right side up. (If you didn't add borders, your flap back section will be a bit bigger.  The important thing is to line up the side edges).
Next, place the remaining flap back section right side up on top of the first flap back section.  Align the unfinished 21 ½″ edge with the other side of the pillow.  Flap back sections will overlap allowing you to insert a pillow in this opening when you're finished.
Use Clover Wonder Clips or pins to secure the edges. Sewing with the pillow sham front up, sew ¼″ away from all edges of the pillow sham front.  If the pillow flaps extend a bit, trim them even with the pillow sham front after sewing.
Finally, bind using your prepared binding.  See my tutorial for binding here…and for making a scrappy binding see here!
Then, insert a pillow and enjoy your simple quilted pillow sham!  I'm including a Pinterest graphic that you can use to make it easy to come back to this tutorial below.
Feel free to leave a comment if you have any questions, and I'll answer right there in the comment section!  Happy quilting, and thanks so much for stopping by!