Hello, and happy Friday! Today I'm sharing more on sewing room organization with practical thread storage ideas. I also have a video to share near the end of this post where I walk you through my storage methods and ideas. I hope you'll enjoy this post and find some inspiration and helps for keeping your threads in order. (Note: this post was originally published in June 2020).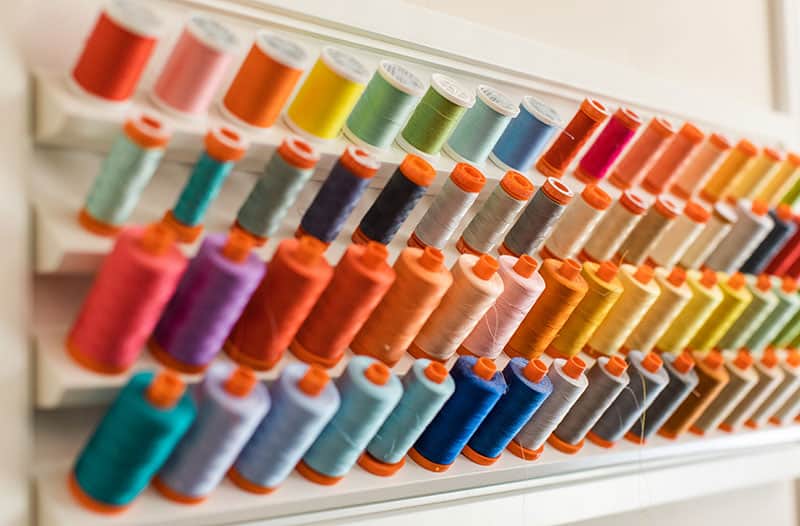 Thread Storage Ideas
I love having an assortment of threads for different types of quilting and sewing, but along with having a good variety of thread comes the need to effectively organize and store it. Here are some of the ways I've found to organize and store my various threads to keep them easily accessible and neat.
1. Know Your Threads.
As quilters we have many choices of thread available. I've been using Aurifil thread almost exclusively for about ten years now. It works well in my machine (details on my machine in this post), works well for binding and mending, and has good matches for the fabrics I use. There are several weights available, and I like the 50 weight for most machine sewing and binding. I will use a thicker thread when doing hand quilting and sometimes a thinner one for machine applique'. (Aurifil did not sponsor this in any way, this is just my personal opinion).
2. Utilize Wall Space for Thread Storage.
I love being able to use wall space and a thread spool rack for thread storage (mine isn't available anymore, but there is a similar one here). The brightly colored spools provide a décor accent to the room, and seeing them makes it easy to find and use the various spools. However, I don't have space to store all of my thread on the wall, so I've provided some other options below.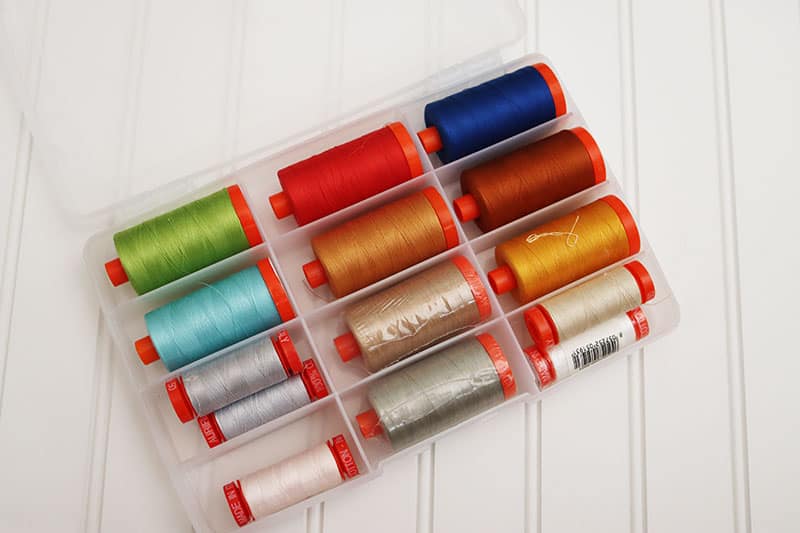 3. Use Smaller Containers to Store Similar Threads.
Several years ago I began storing my larger spools of thread in the large Aurifil Thread Storage boxes. (Also find them in sets of two here). As you can see in the picture, you can fit two smaller spools in one compartment sized for the larger spools.
I also use empty Clover Wonder Clips boxes to store small spools. I haven't found those available for purchase empty anywhere, but I store Wonder Clips in a patchwork bag so I can use the boxes for thread! Additionally, I use some small tin boxes to store other spools and threads.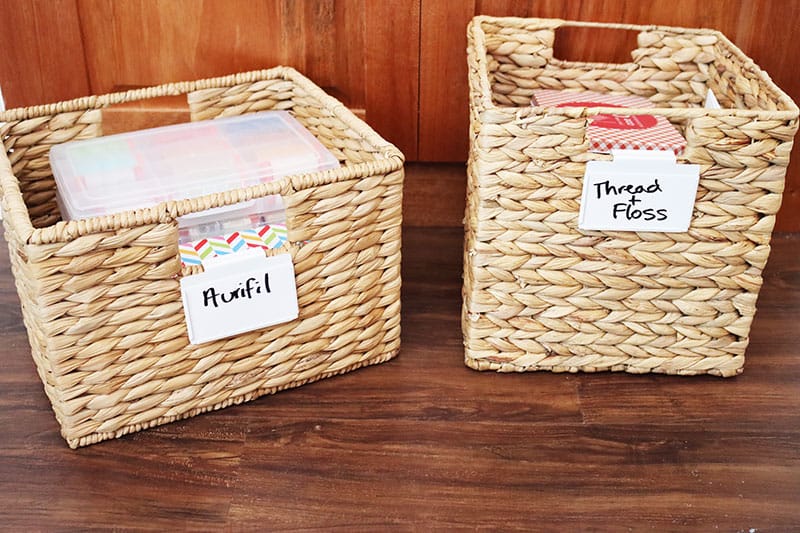 4. Store Smaller Containers in Labeled Bins.
While I do love the option of keeping my threads together in small containers, it's also nice to be able to corral those smaller containers into well-labeled bins like I've shown above (link to bins is below in the product links list at the end of this post). A drawer would also work well to store your organized containers.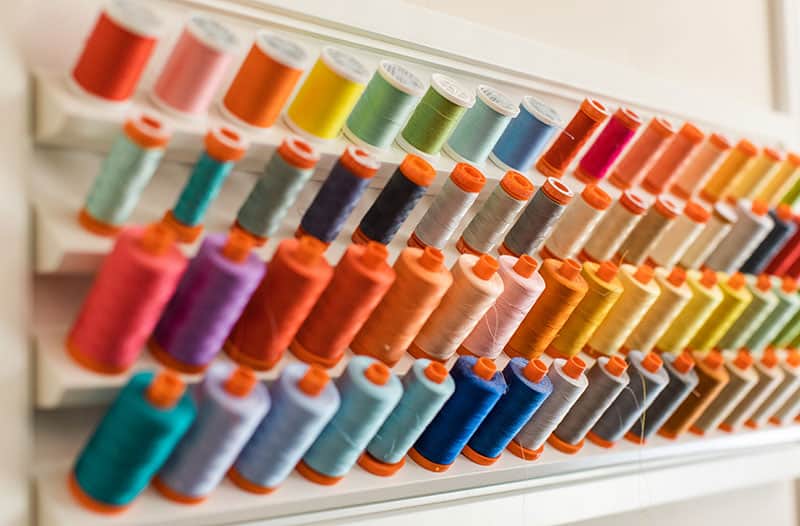 5. Plan a Space to Store Embroidery Floss and other Specialty Threads.
I don't have a lot of embroidery floss and other specialty threads right now, so I store them right along with my threads. I did make sure to add "floss" to the label so I don't forget where they are. If you have a lot of embroidery floss, you might want to consider one of the many floss storage systems and floss cards available and also consider using floss keepers to keep floss organized for current projects.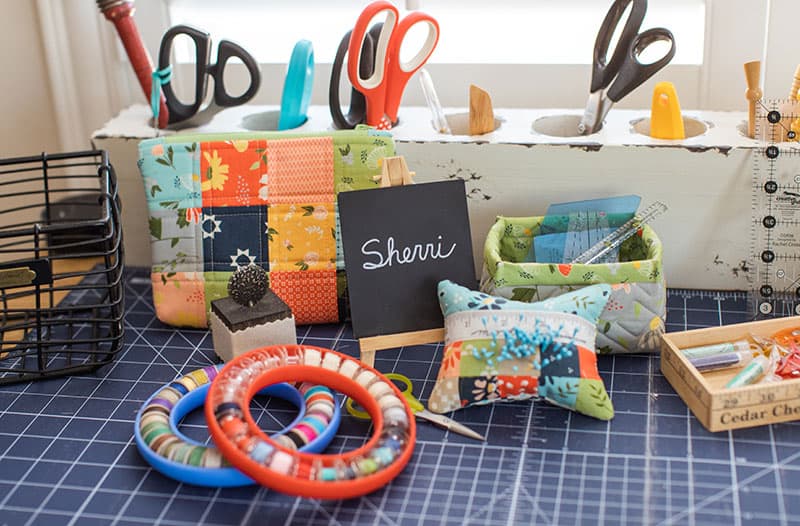 6. Plan for Bobbin Storage.
In the video I talk about my bobbin storage methods (my bobbin stash is pictured above in the round bobbin keepers) and also talk about how convenient it is to take these along when traveling. These and other bobbin storage options are linked in the products list below.
7. Keep a List of Thread Storage Locations.
If you're unable to keep your thread storage together (or even if you just want to be sure to be able to find any specific thread you have stored), keep a list by thread type and storage location.
Thread Storage Video
Watch my thread storage ideas video above or go here to watch it on my YouTube channel.
Thread Storage Product Links
Below are links to the products I mentioned and shared in the thread storage video.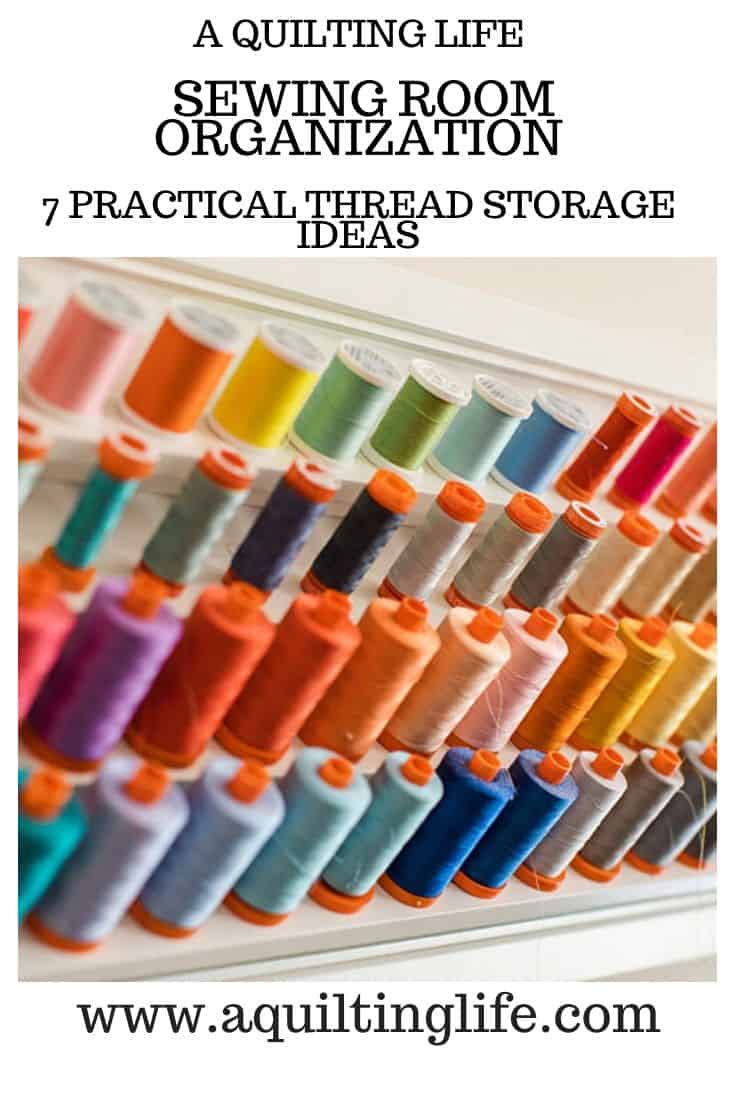 I hope this post with thread storage ideas was useful and gave you some good ideas for storing and organizing your threads. Happy quilting, and thanks so much for stopping by!