Hello and happy Monday! I'm posting later than usual, but I absolutely couldn't wait any longer to start sharing the new quilts.  This week I'll begin sharing the new designs made with our upcoming Walkabout fabric collection for Moda fabrics!  (I'll share the new quilts as I get them quilted and bound).  I'm starting with my new Sea Glass quilt pattern…and it's a favorite!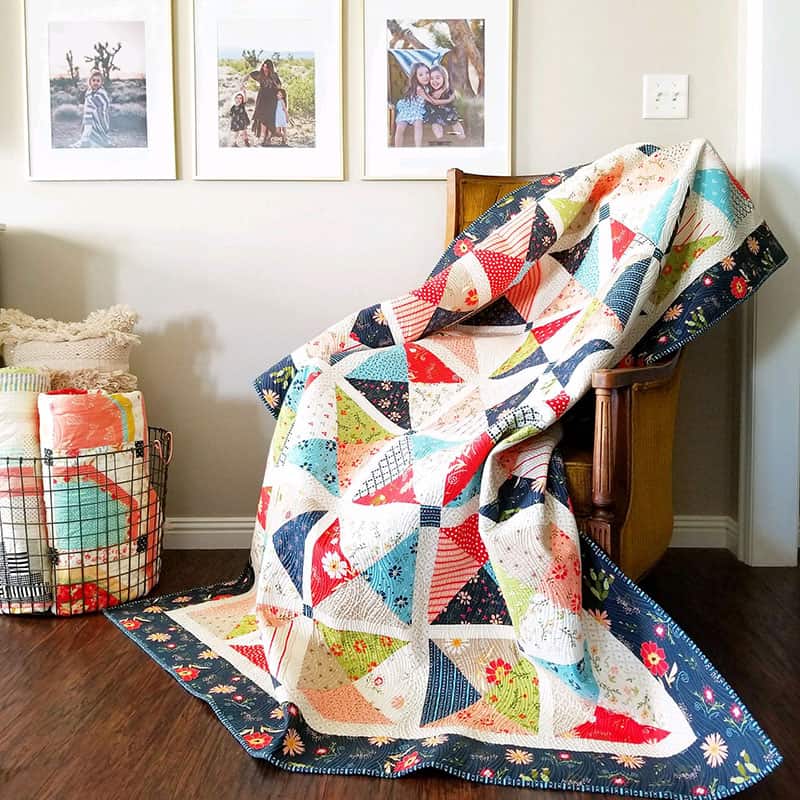 I took the quilt over to my daughter Chelsi's house this morning so she could do some photos.  Her sense of style with photographs is wonderful!  She is busy sewing, so I really appreciated that she was able to take some pictures for me today!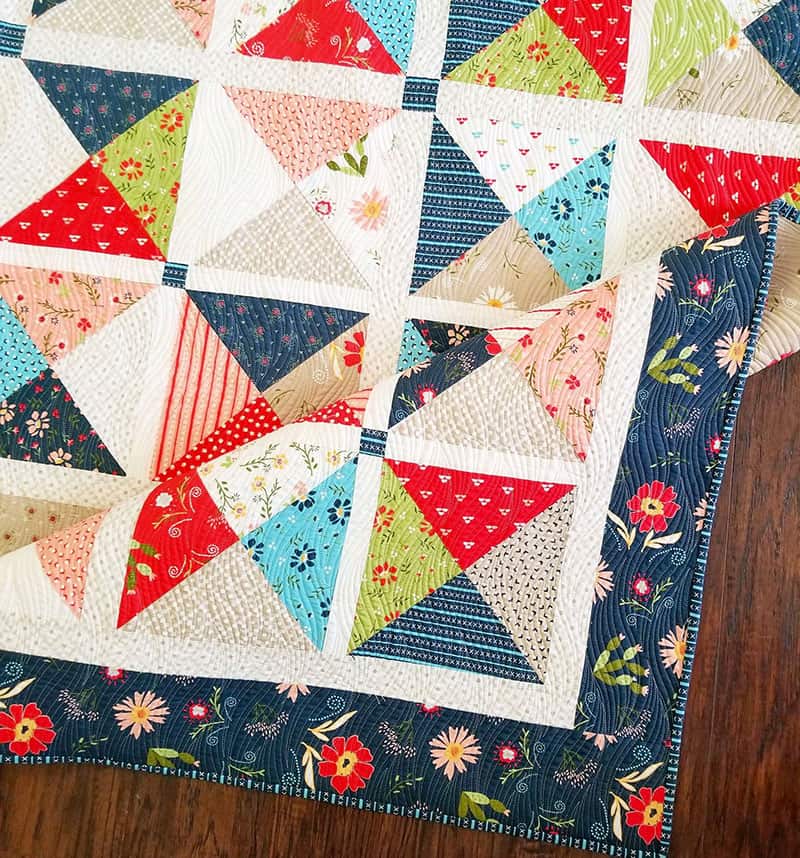 I love that I was able to use every single fabric from the collection in this quilt!  In fact, this is a Layer Cake pattern!  I actually published a smaller version of this quilt in Quilts & More magazine a couple of years ago.  I knew I'd be publishing it as a stand-alone pattern one day, and so I included the earlier version in the pattern, too.  The small version finishes at 65 ½″ x 65 ½″ while this version finishes at 65 ½″ x 84″.  The larger version requires just a couple of extra cuts of fabric.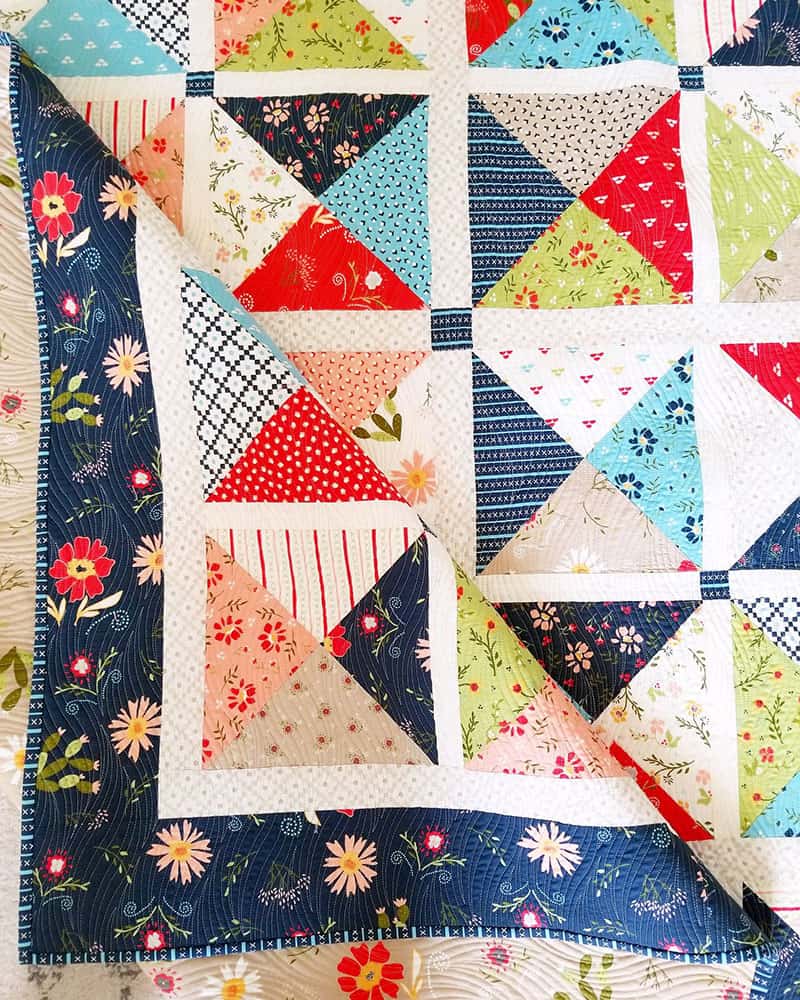 The Binding…
I couldn't wait to use our stripe in navy to bind this one!  I love the stripe as a binding cut on the straight of grain, and it's also perfect for bias binding!   Look for me to share a quilt with this print as bias binding soon!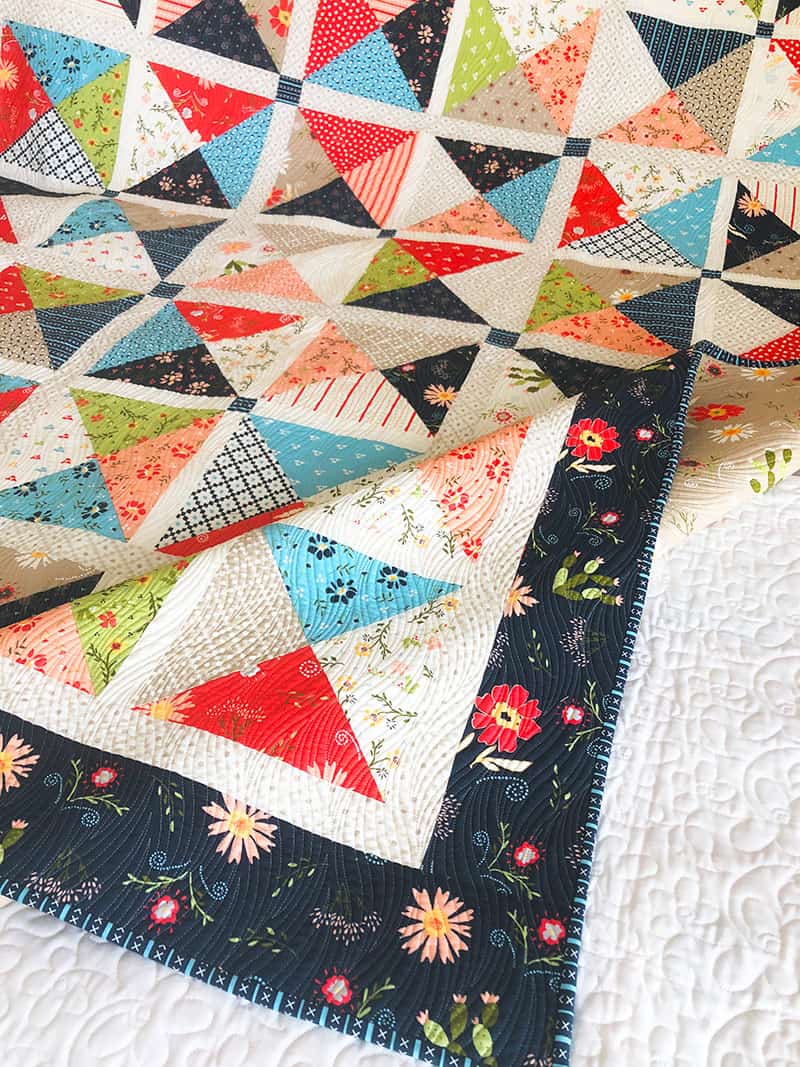 I'm just a little bit head over heels with this quilt!  While I was waiting to receive our sample yardage of Walkabout, I decided to make a mini version of this quilt as well!  The mini quilt is charm square friendly and goes together very quickly!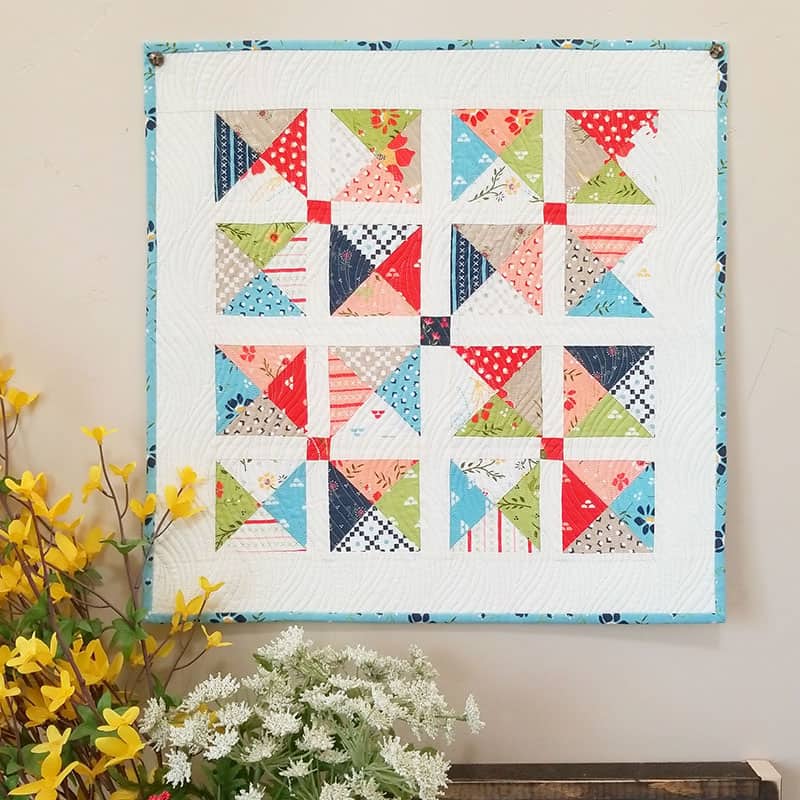 And since it was so easy to simply include the cutting instructions for the mini, I've included it in the pattern as well.  So the Sea Glass quilt pattern actually includes three different sizes.  The mini is perfect for a wall hanging or for a table topper or pillow front, finishing at 19″ x 19″.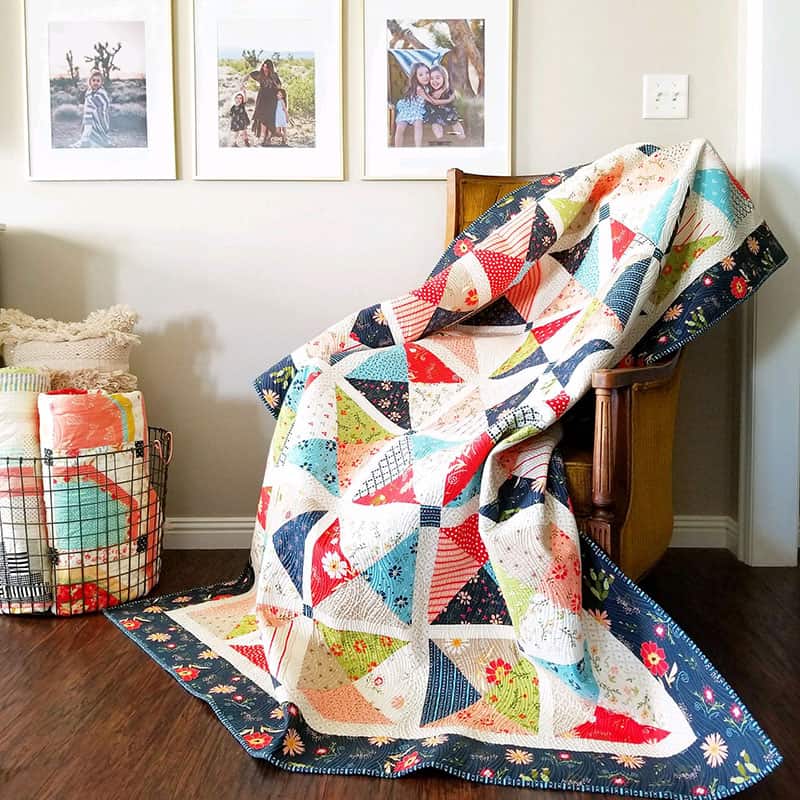 I love, love, love the navy border on this quilt, too!  And I'm swooning over the quilting as well!  My friend Marion went very modern on the quilting design on this one, and I think it's just so much fun!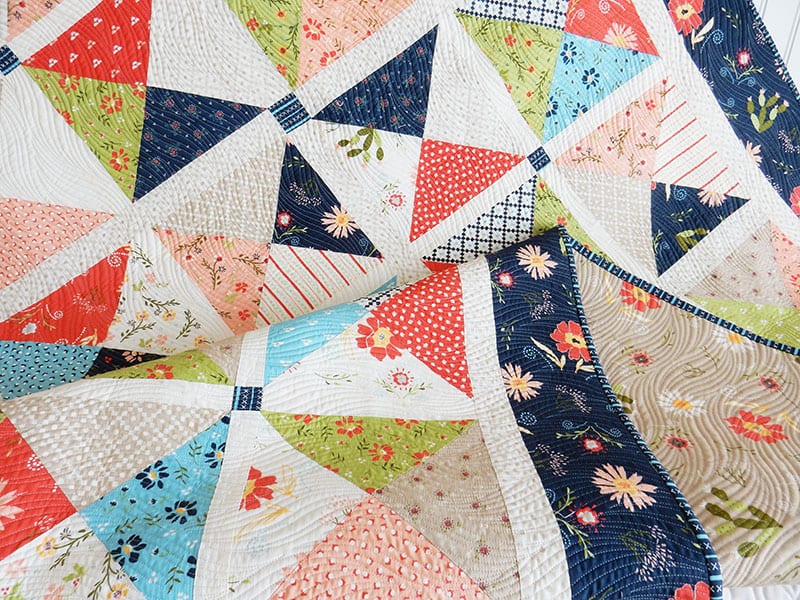 I used our large floral on taupe for the backing for this one.  I know this quilt is going to be used a lot, and I love darker backs for those quilts!
Sea Glass Quilt Pattern Info
Patterns are in my shop now at a discounted price for both paper and PDF.  Paper patterns will ship in 1-2 weeks when they arrive back from the printer.  PDF patterns are available for download now.  Actually, all of the new PDF's are in the shop now (just digital images until they are quilted) if you want to take a peek!
I have a pattern bundle sale going on now as well.  Purchase the 5 new regular-sized patterns at a discounted rate and get my new mini pattern included at no cost.  The bundle sale is for paper patterns; however, if you'd like PDF's, just include your email in the comment section of your PDF order, and I'll email the mini PDF to you asap!
Finally, I have a kit pre-order listed for this quilt.  You will pay a $25 deposit now, and I'll bill you for the remainder of the cost about a week before the kits ship.  More information here.
I hope you like the new Sea Glass quilt pattern…and can't wait to share the other new quilts with you!  Thanks so much for stopping by!