Hello, friends! Happy Thursday! Today I'm sharing the Scraps Along June Challenge and also sharing the fun projects and ideas that have been shared from the May challenge which focused on fat quarters! If you're new here, I've been giving everyone a monthly challenge to organize a portion of your stash each month and to also share your favorite methods for organizing. So far we've covered Jelly Rolls, Charm Squares, Mini Charms, Layer Cakes, and Fat Quarters. You can go here to visit all of the previous posts in this series.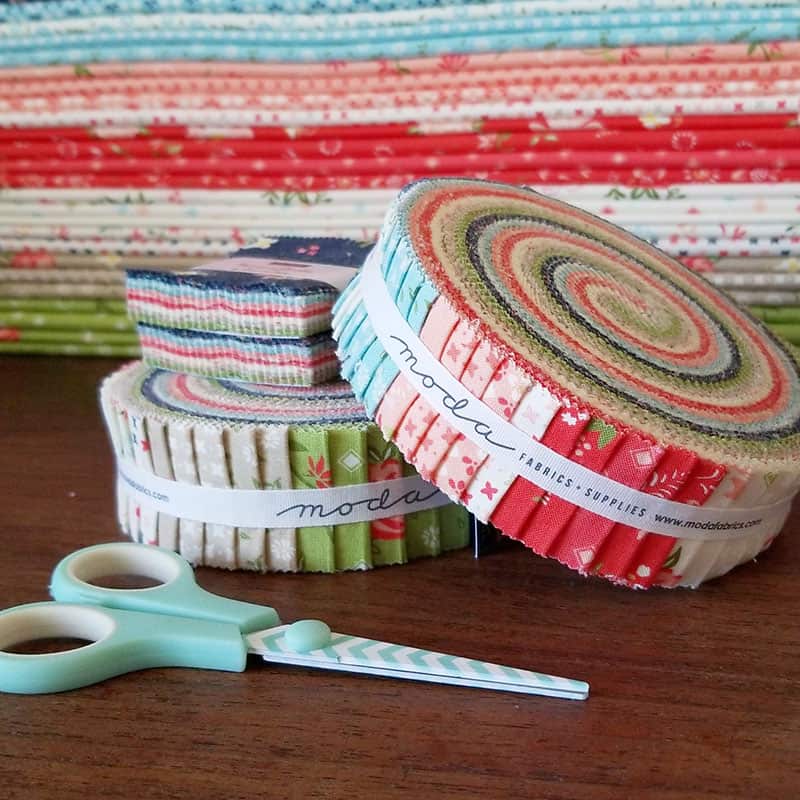 Scraps Along June Challenge
Our Scraps Along June Challenge will be to share project ideas and storage and organization tips for honey buns…those adorable 1 ½″ x WOF strips. I can hardly wait to see the ideas for these because 1 ½″ strips are actually one of my favorite size pieces to work with! You can enter a project or a storage/organization idea, or both. Simply send your project photo and/or organization photo to me by July 1st for our next parade.
If you're looking for Honeybuns, I have two left from our Summer Sweet collection (find them here).
Fat Quarter Projects
This month I have some wonderful fat quarter project ideas that were sent in by readers. Hildy sent in a photo of her Meadowland Quilt pictured above top left (find the pattern here). She did say that her favorite fat quarter pattern ever is Swoon, however!
Pictured at the top right is the Primrose pattern from the It's Sew Emma Fat Quarter Style book. It was made by Nicole and is absolutely stunning! Nicole also has a terrific organization system for her fat quarters that I'll share later in the post.
And finally are the lovely Township pillows made in Sherri & Chelsi fabrics by Kimberly. She was able to make 16 of these adorable houses using fat quarters and turned those into five 18″ pillow shams. (While the Township pattern is no longer on the Moda Website, you can find the instructions for the house portion of the pillow here).
Be sure to visit Michele at IslandLifeQuilts to see more fat quarter projects that were sent in this month!
Fat Quarter Organization & Storage Tips
We also received some wonderful Fat Quarter Organization & Storage Tips this month. The top left photo above was sent in from Amanda who shared her beautiful bookshelf made by her husband where she stores fat quarters in plastic boxes sorted by color. She also mentioned she has some fat quarter bundles stored that she hasn't been able to break into yet.
The top center and right photos were sent in my Nicole and show her wonderful Ikea drawer unit with drawers she is able to use to store fat quarters by color. She mentioned that when the drawers get too full, she knows it's time to make a fat quarter quilt.
And finally, the two bottom lovely photos were sent in by Vicki. Her fun flower cart fat quarter display was found at an antique mall. The red cubby in the photo on the right came from Hobby Lobby with the basket on top found at Joann's.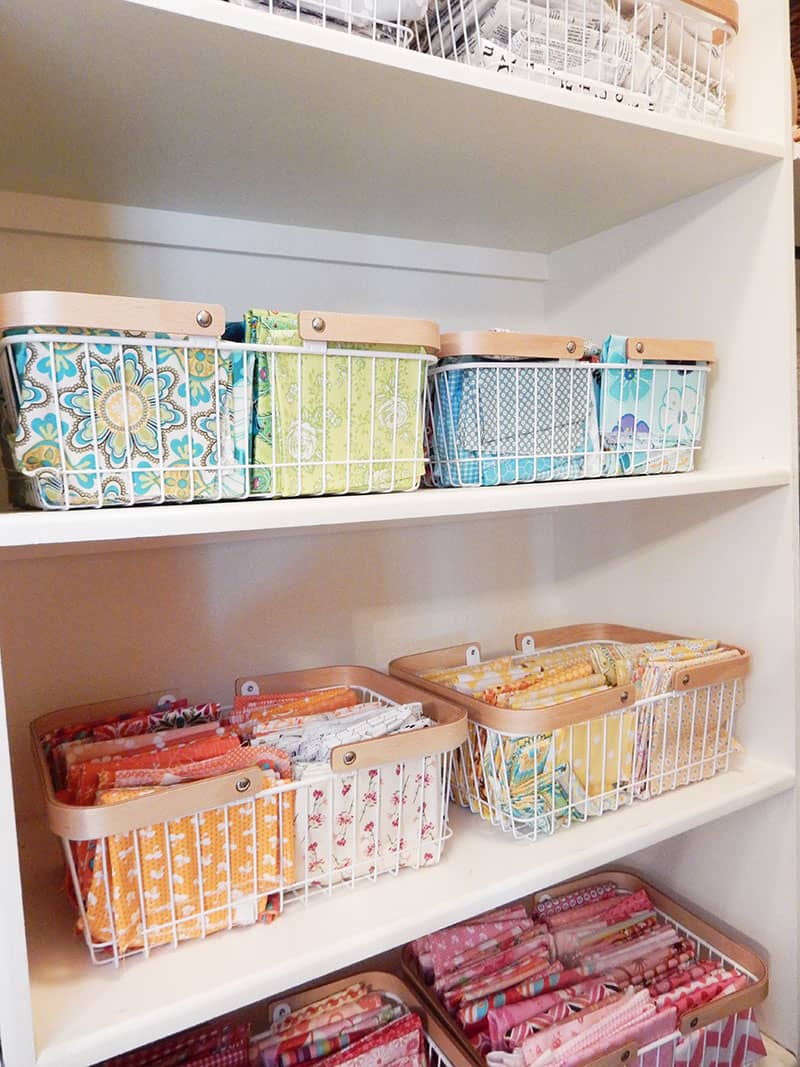 Winners and a Preview for July…
This month's winners are Kimberly and Vicki…I'll be emailing you for your mailing address. These fun projects and storage ideas have been inspiring for me. And I can't wait to see the ideas for honeybuns that you will share with us this month. Since I'm posting a little later than usual, I'll let you know that our July challenge will involve your Christmas or other favorite holiday stash. Share favorite projects and how you keep those parts of your stash stored and organized.
Happy quilting, and thanks so much for stopping by!