Hello and happy Monday!  If you are here today for the first time, welcome to my blog!  I've been blogging here at A Quilting Life for just over 10 years and absolutely love sharing my love of quilting and fabric!  To find out more about me, my quilting journey, my books, patterns and fabric designs,  and to see pictures of my sewing room you can go here.  Today I'm sharing an introduction to  the Save the Bees BOM hosted by Jacquelynne Steves!  The finished quilt is really cute!  And there is actually a mini quilt option you can also choose!  Read on to find out all about the Save the Bees BOM and to find out about the giveaway!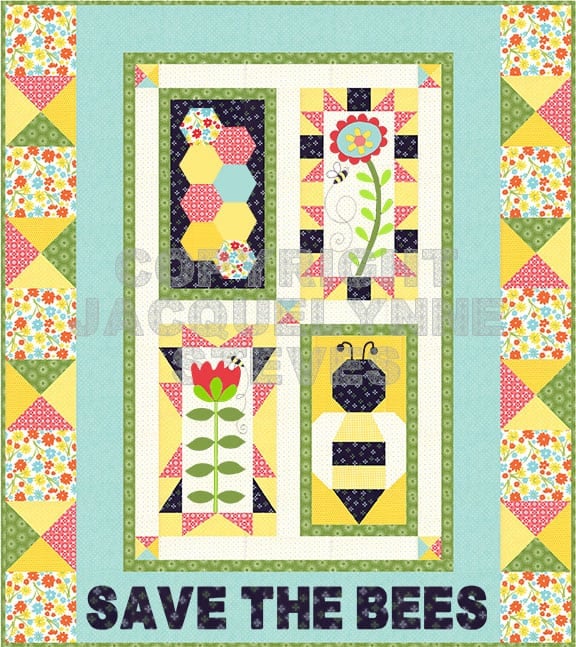 Isn't this going to be a great quilt?!  I thought it was really fun!  Such cute blocks!  And there are just four blocks to make along with borders.  Blocks are free, but you will have to sign up to have the patterns emailed to you.  Also, Brenda of The Quilt Nook has designed a mini-version, so if you want to make a smaller version, you'll want to get those instructions from her.  (All of the links you need are below).  Additionally, you might notice that the navy print in Jacquelynne's version is from our The Front Porch fabric collection!  I was so excited when I found out she was using it for her quilt!
Save the Bees Block of the Month Details: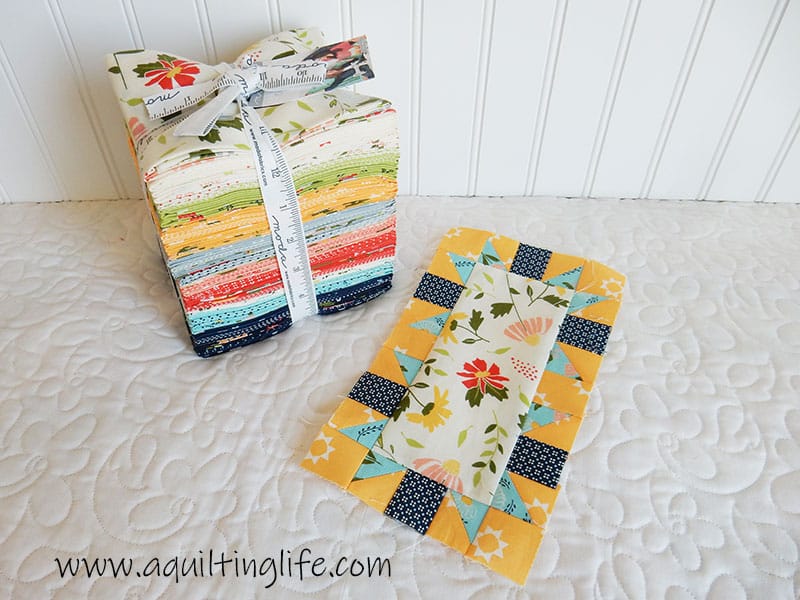 I am using our Clover Hollow collection (in shops later this month) for my quilt and couldn't be happier with how block one turned out!  I am making the mini version, and loved how fast and fun the block was to put together.  Since I'm going to have a busy fall, I've opted to use two different focal prints for the centers of the applique' blocks.  I will still add in the pieced bee and will probably use English Paper Piecing for my hexagons.  Other than that I will be following along with the quilt pattern.  This will make a delightful wall-hanging!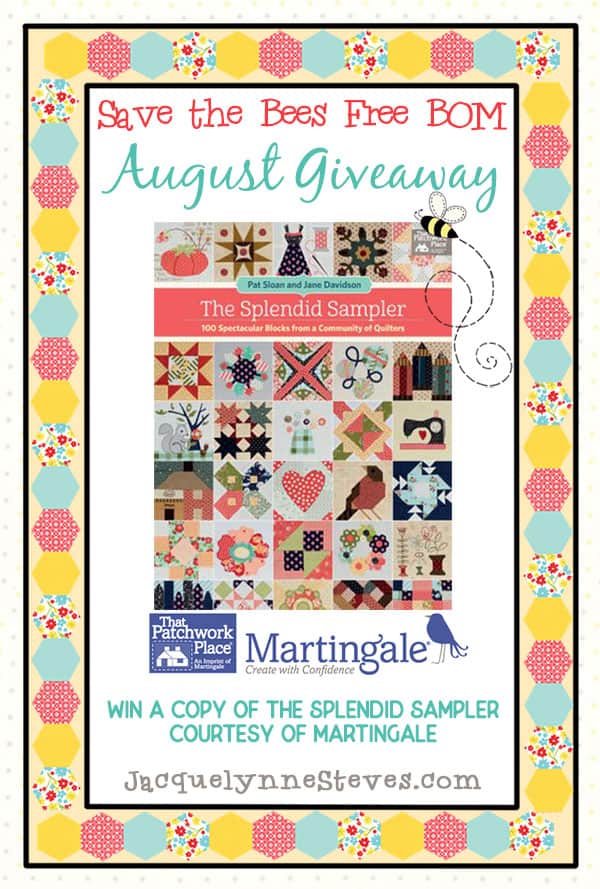 Save the Bees Block of the Month August Giveaway Details
Enter by leaving a comment on this post about your "must-make" project for fall. One reader of my blog will win a copy of The Splendid Sampler book from Martingale Publishing.
Participation in the block of the month isn't required to enter.
Giveaway is open through Sunday, August 12th.  US winners will win a printed copy of the book, and Canadian/International winners will receive a digital copy.
You have 8 chances to win a copy of the book…find the other participating blogger's blog links in the list below!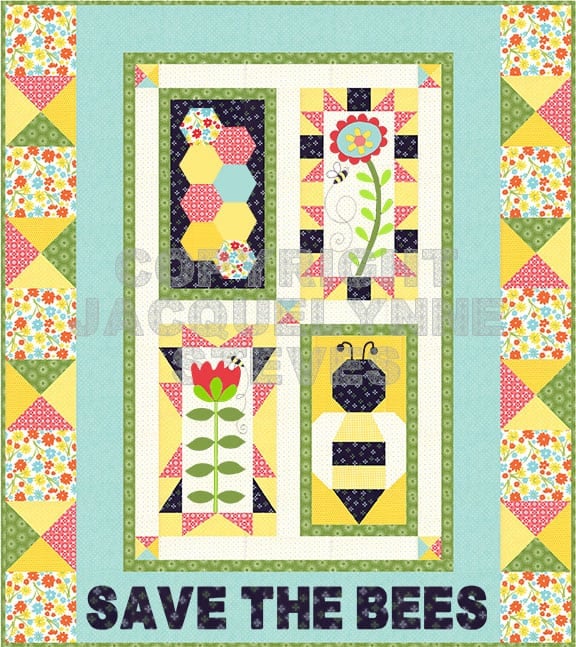 As with most quilt along projects, I'm really looking forward to seeing all of the fabric combinations being used for these blocks and quilts.  It's just so much fun to see them all!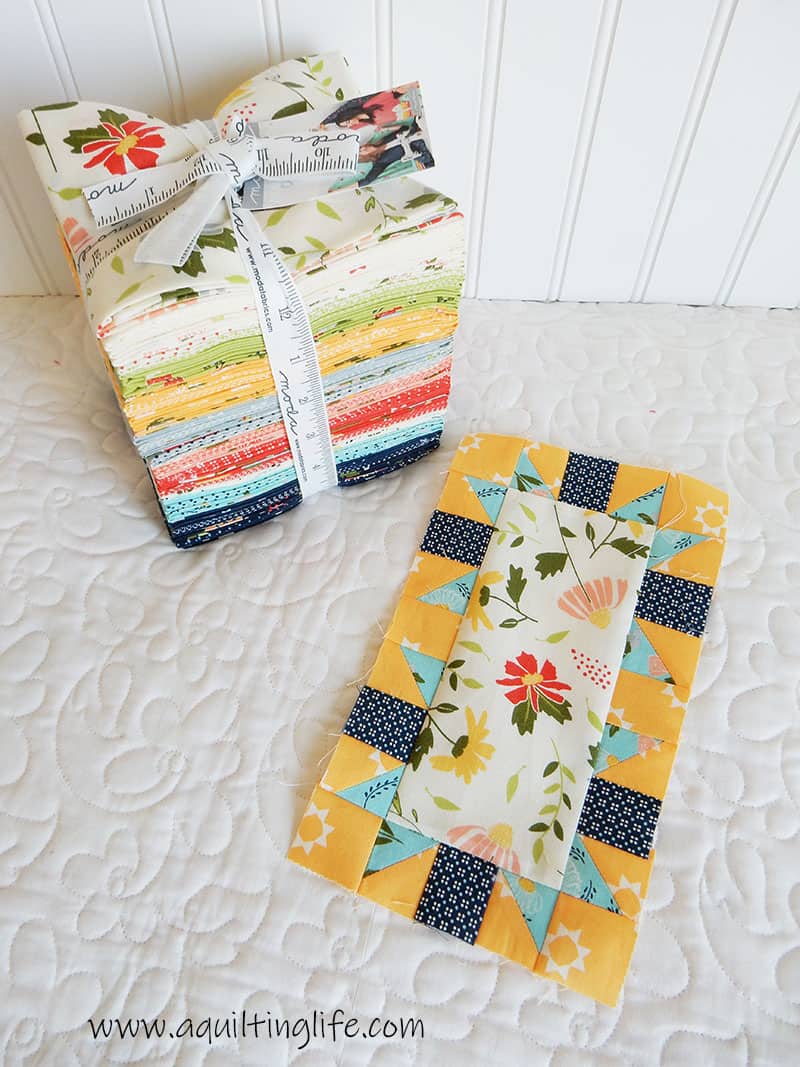 Save the Bees Bloggers: (So much inspiration on these terrific blogs)!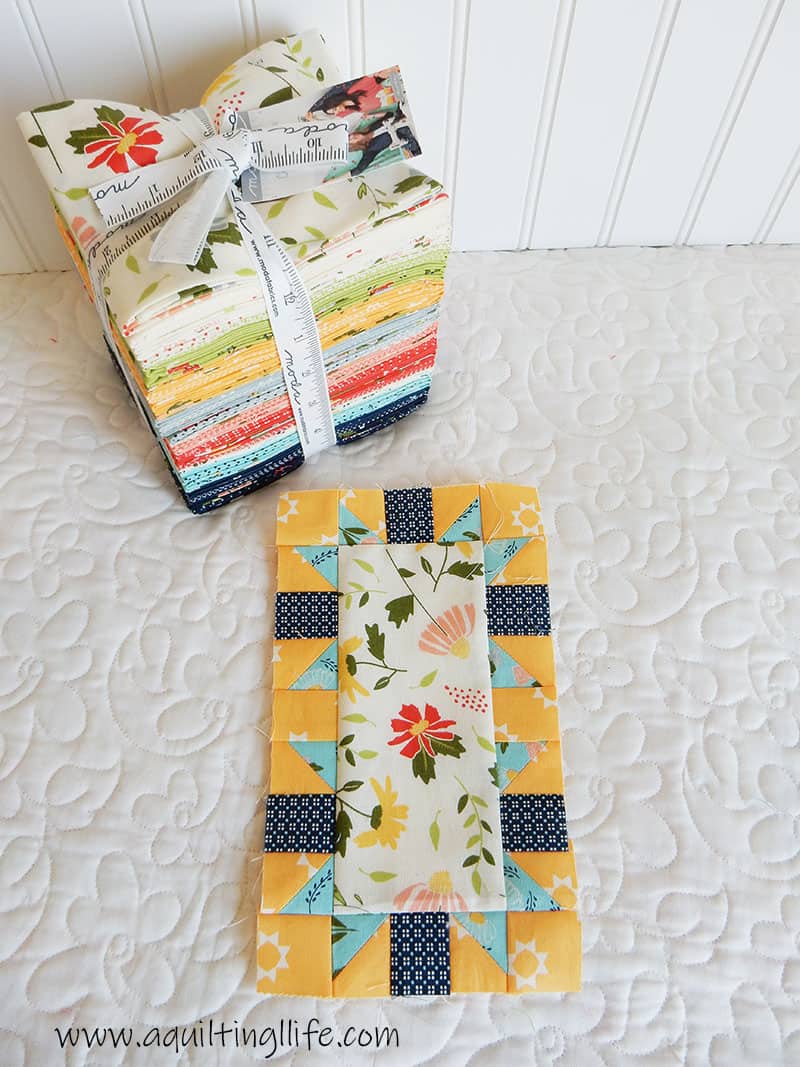 Happy Monday again, and thanks so much for stopping by!