Hello and happy Saturday! Today I'm sharing my Saturday Seven Inspiration for Quilters post with more Quilt Market Inspiration photos added in!  I hope your weekend is off to a wonderful start.  This is a holiday weekend here, and I fully intend to sew as much as possible! (Note: some affiliate links used later in this post).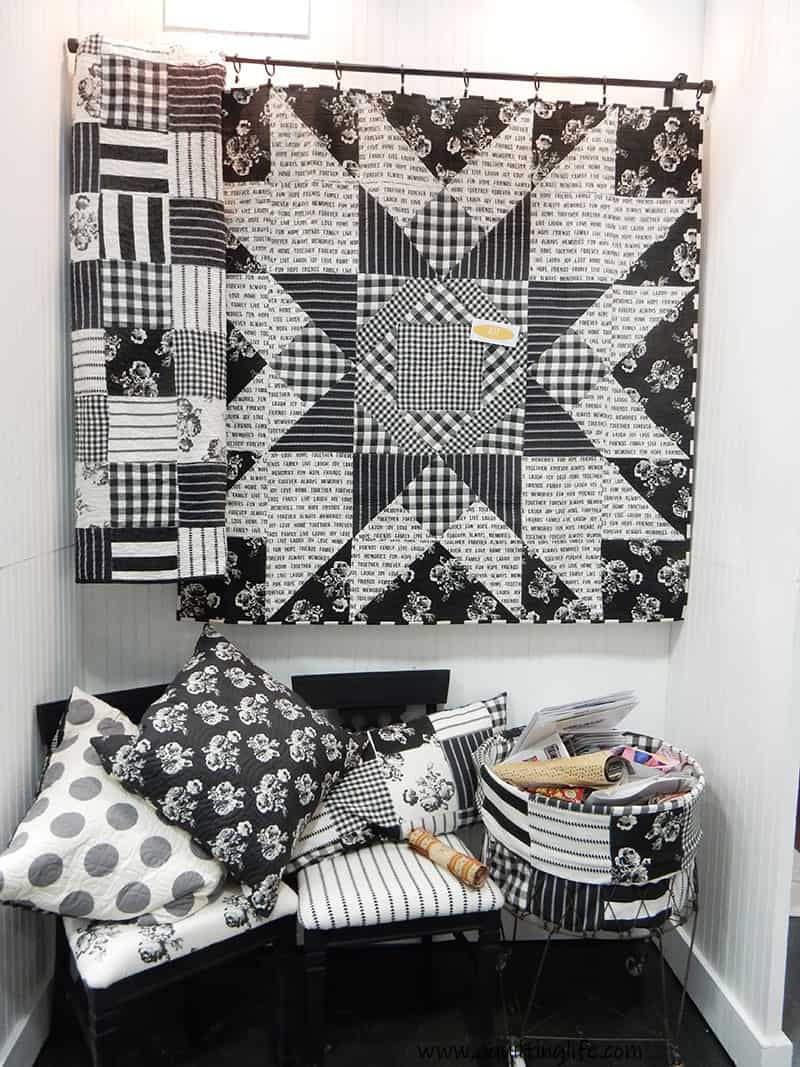 I'll start off with some more Quilt Market inspiration and then finish up with my Saturday Seven at the end of the post. The display above presents the upcoming Urban Cottage collection by Urban Chiks for Moda fabrics.  It's a wonderful collection with lots of home décor styled fabrics.  There were a lot of fun accessories for this collection as well, and it coordinates perfectly with the Basic Grey collection Metropolis.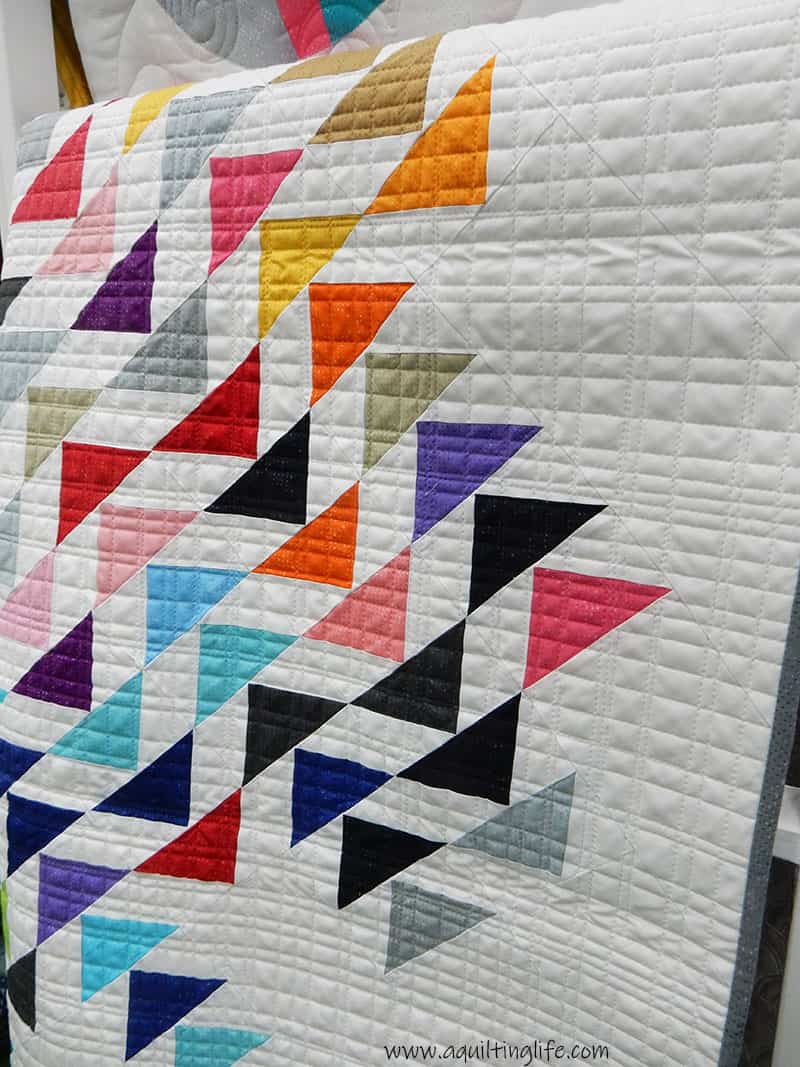 I also neglected to get a good photo of the Zen Chic booth in the Moda area.  Her booth was adjacent to our demonstration table, so there were often groups of people gathered there.  It made photo-taking a little tough!  I do remember snapping this shot of one of the quilts in her booth because I liked the off-set nature of the quilting! Her upcoming collections include bright and low-volume blender groups!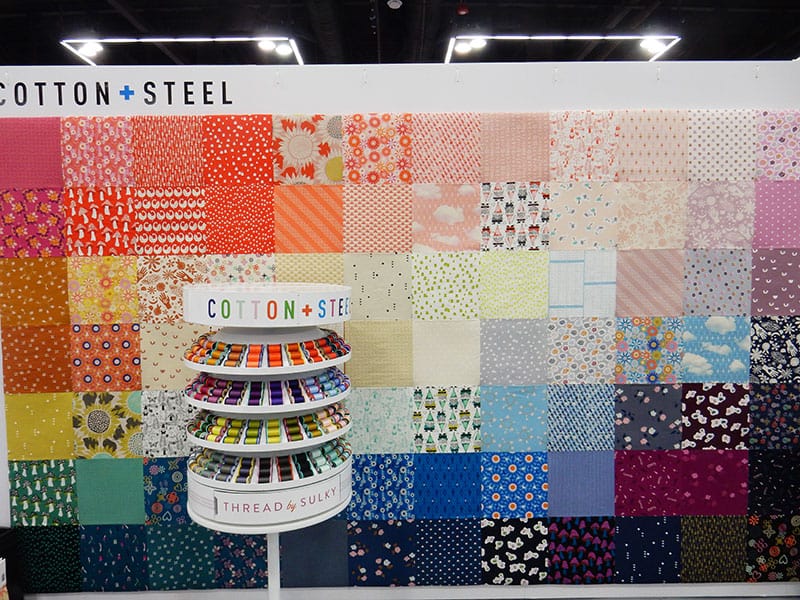 Cotton & Steel always presents a beautifully designed display area, and this rainbow wall was too striking to pass by!  There is always some good quilt market inspiration at the Cotton & Steel booth! There has been a lot of change in the quilting industry as of late with several companies closing and/or changing their methods of operation.  The Cotton & Steel designers announced that they would be leaving their parent company after this quilt market and that new information about their projects would be forthcoming.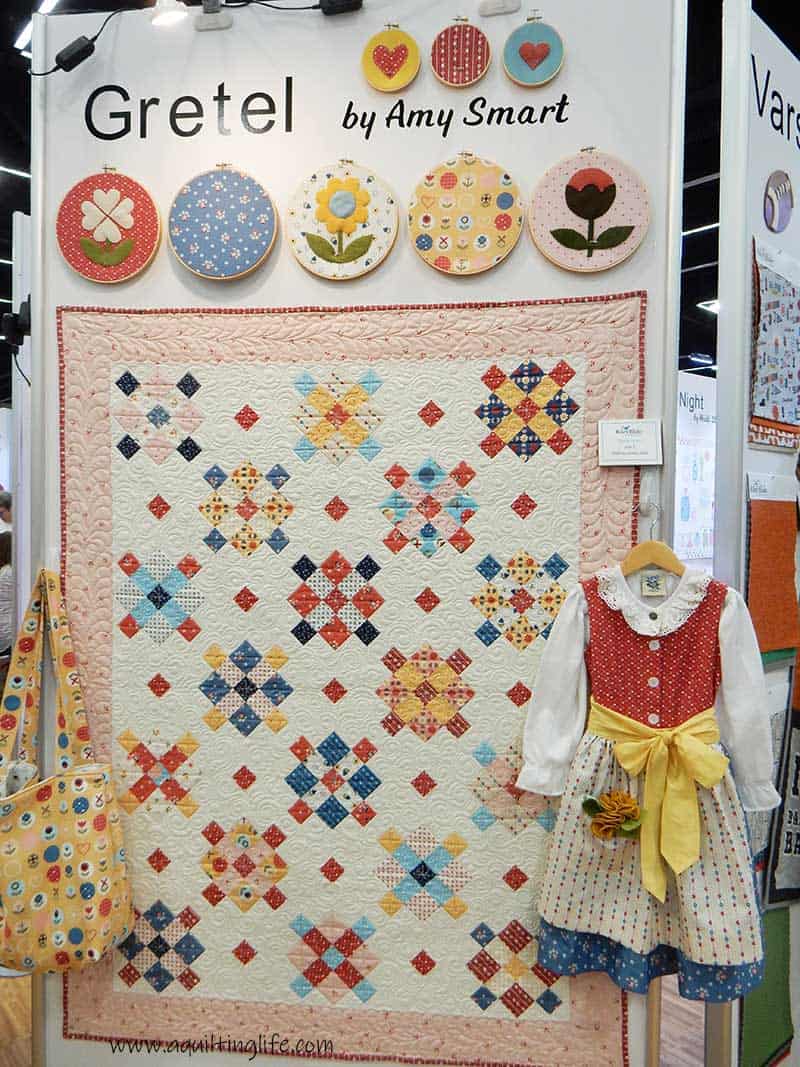 On one of my quick trips exploring the rest of quilt market I was able to see my friend Amy Smart's display for her upcoming collection Gretel for Riley Blake.  I just love this fun little group! And it was good getting to chat with Amy for a while as well!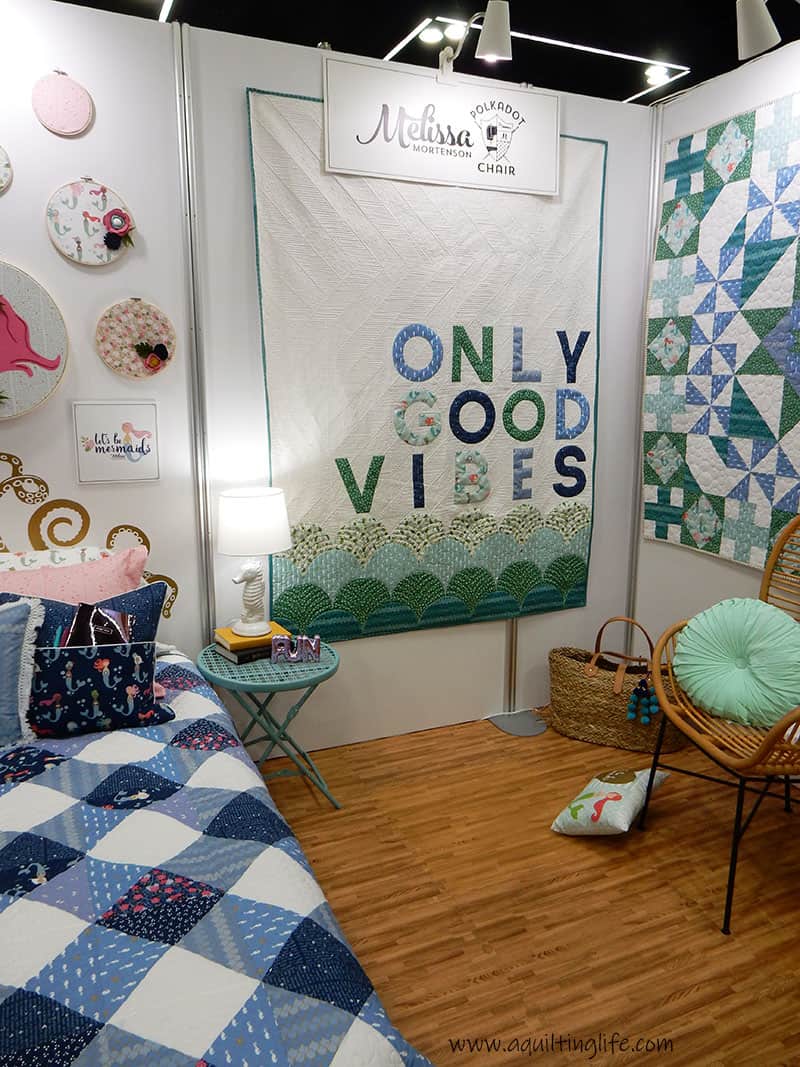 While in the Riley Blake area I was also able to see my friend Melissa's booth for her upcoming collection Let's be Mermaids.  I especially loved the "Good Vibes" quilt on the back wall and also got to have a quick visit with Melissa!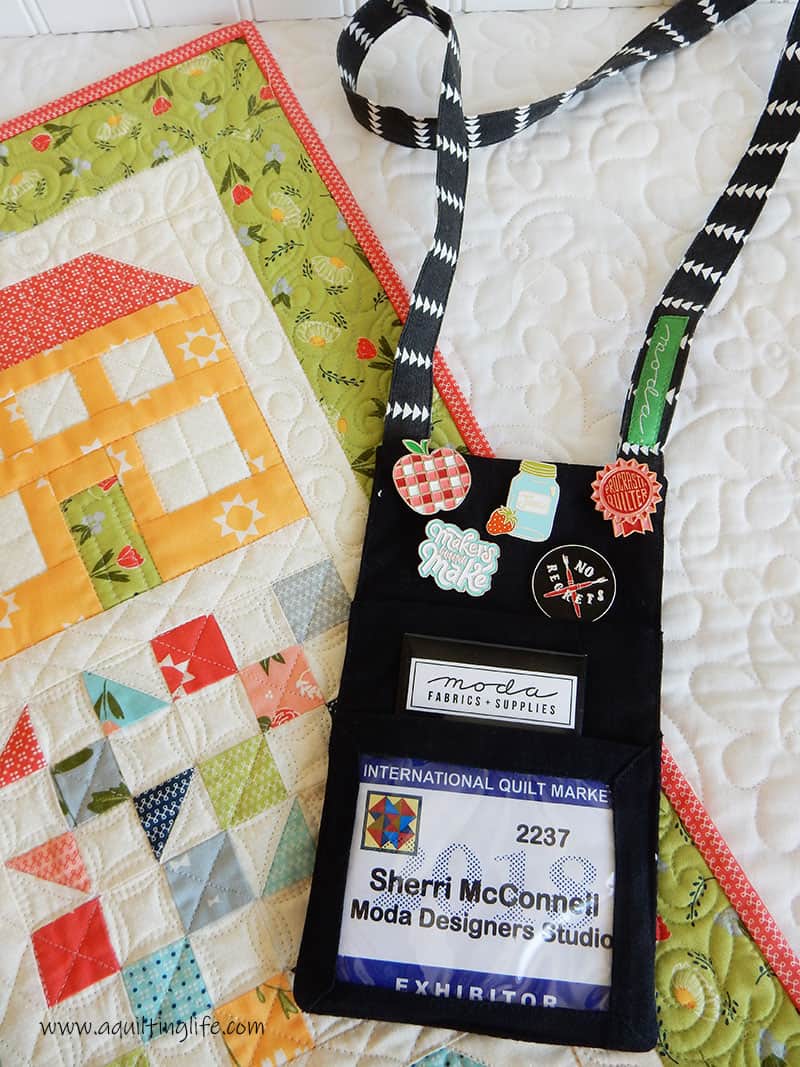 And now… Saturday Seven Inspiration for Quilters ideas!
1.  First up is more enamel pins…I got some new ones at market that are on my nametag above.  Clockwise from top left are the Apple Pin from Amy Smart and Maker Valley, the Canning Jar Pin from Joanna Figueroa (she has several others, too), and the Procrasti-Quilter, No Regrets, and Makers pins from Maker Valley!  I love them all! I'm going to have to decide on a new way to display my quickly growing collection!
2.  Wouldn't these Quick and Easy Wooden Hanger Frames work wonderfully for a display of mini quilts?!
3. I thought these "Tips to Focus in a Chaotic World" were really helpful.  I love being inspired by everything good on social media, but there is a need to control it as well.
4. This Seaside Tote Bag Tutorial looks like a good one for summer.  It would be great for library books and short outings for kids, and it would also be great if you need another small bag!
5. On my bookshelf this weekend is The ONE Thing: The Surprisingly Simple Truth Behind Extraordinary Results
.  I've had it for a little while and am impressed already by the ideas on multi-tasking and time management.
6. Now is the best time to get your sewing goals set for summer.  Go here for lots of posts about organizing in the sewing room!  Also, I just realized how handy my "Archived Posts" section is at the bottom of my site.  If you click on a month/year combination it will take you to a page where photos, snippets and post titles for that entire month are shown.  So handy!  As an example, here is the page for the first half of June 2014.
7. Pottery Barn is my favorite for home décor, baskets for storing and displaying quilts, and especially for products that work well in the sewing room.  They are having a terrific Memorial Day Sale this weekend, too!  Use the code SAVEMORE for up to 30% off!
Next Week on the Blog…
Finally, this new design by Jen Kingwell called "Shooting Star" was one of my favorite designs at Quilt Market. I believe my great-great grandmother made this quilt design in the 1930's. I'm going to have to do some research on this! Next week, I'll be sharing the quilts I use for Memorial Day decorating, sharing tips and ideas for third quarter quilting goals (can you believe it's nearly June), and more!  I hope you've enjoyed the Quilt Market Inspiration photos and the Saturday Seven links!  Have a great weekend, and thanks so much for stopping by!