Hello, friends, and Happy Wednesday! Today I'm sharing five more Sampler Spree Quilt Blocks I finished up this week. This has been a nice project to sew along with at a slower pace. Although as I get closer to the end of the book I might end up deciding to just get it done. I also made some Village House Blocks for my long-term work-in-progress Village quilt. I'm loving the pace on this project as well but realize that one of these days I'm going to have to just finish it up!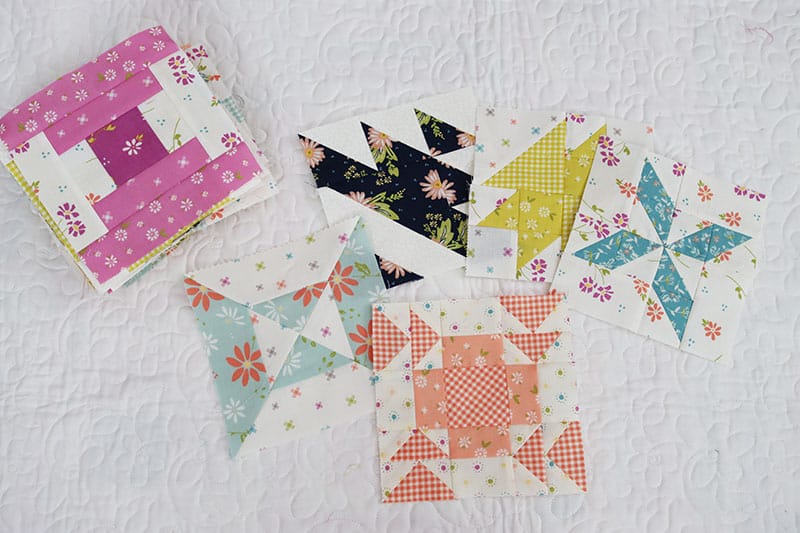 Sampler Spree Quilt Blocks
Here are my notes on the blocks I finished up this week:
Sail Boat, Block 46 – This one was fast and fun! I used the large floral from Happy Days along with the tone on tone tiny floral from Seashore Drive. And I used the Mini Simple Folded Corners Ruler on this one.
Anvil, Block 47 – This one went together extra quick because I had some half-square triangles already made that I trimmed down. I like the effect of using two different mediums to add more interest. Plus the low-volume background adds even more to this one. All of the fabrics are from Seashore Drive.
Dutch Windmill, Block 48 – Another fun half-square triangle block, this one contains the blue floral from Balboa along with a background print from Seashore Drive.
Opposites, Block 49 – I used Seashore Drive fabrics for this one and made a freezer paper template for my cutting. This was another fast and fun block because of the strip-piecing.
Apple Pie, Block 50 – And finally…fun flying geese blocks and simple rectangles (+ a square) combined to make a darling block. (The Bloc Loc Flying Geese Trim Tool made these small flying geese go together very accurately and easily). I used the soft orange prints from Seashore Drive along with the multi-suns on cream from Balboa.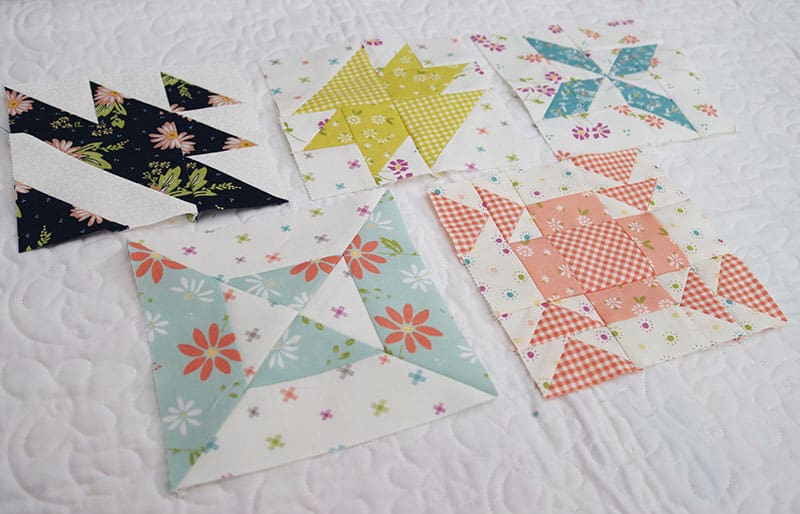 Sampler Spree Quilt Along Links
If you'd like to join in and begin sewing these blocks, you can find all of the details below. While the summer sew-along for these blocks is wrapping up soon, you can join in and sew along at your own pace at any time.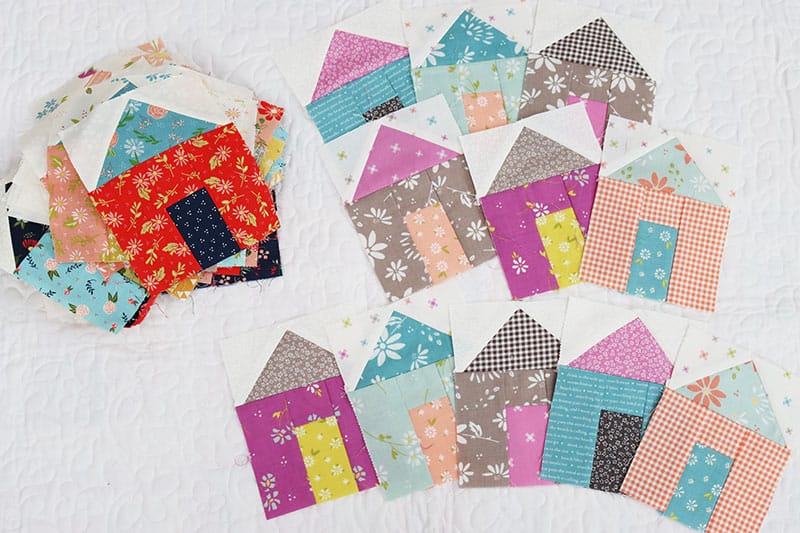 Village House Blocks
While I was working on my blocks this week I took the opportunity to make some Seashore Drive Village house blocks. I've been working on this quilt for several years now and have been adding 5-6 blocks each time we release a new fabric collection. I realize that one day I'm just going to have to finish it up–but it's so hard to think about finishing such a fun project. Each time I add blocks I know about our next fabric group that is in the works, and I always want to wait to finish in order to add those fabrics. So this project has stretched out much longer than I initially intended. And I'm enjoying the pace. Get the pattern for these cute blocks for free here (directions for a pillow included, too). And watch for me to share a fall version of that pillow soon!
Moda All-Stars Soft Spot Pillow Book
I also want to share my Sea Breeze pillow from the Moda All-Stars Soft Spot Pillow book coming this fall. I had a lot of fun piecing this pillow with our Happy Days fabrics. There are 17 delightful pillows included in the book. I'll be sharing more as it gets sooner to the release date, but you can pre-order here now from Amazon.
Happy quilting, and thanks so much for stopping by!