Hello, friends! Today marks the beginning of Sampler Spree Quilt Along Week One, and I'm super excited to share my first batch of blocks with you. If you haven't heard about this quilt along already, you're going to want to keep reading because this sew along is going to be a good one. As soon as I got my preview copy of the book I knew I was going to make every single block. I'm going to be sewing along at a little slower pace than the main group, but I have a schedule worked out and will get my blocks finished by the end of November. Keep reading for all of the details!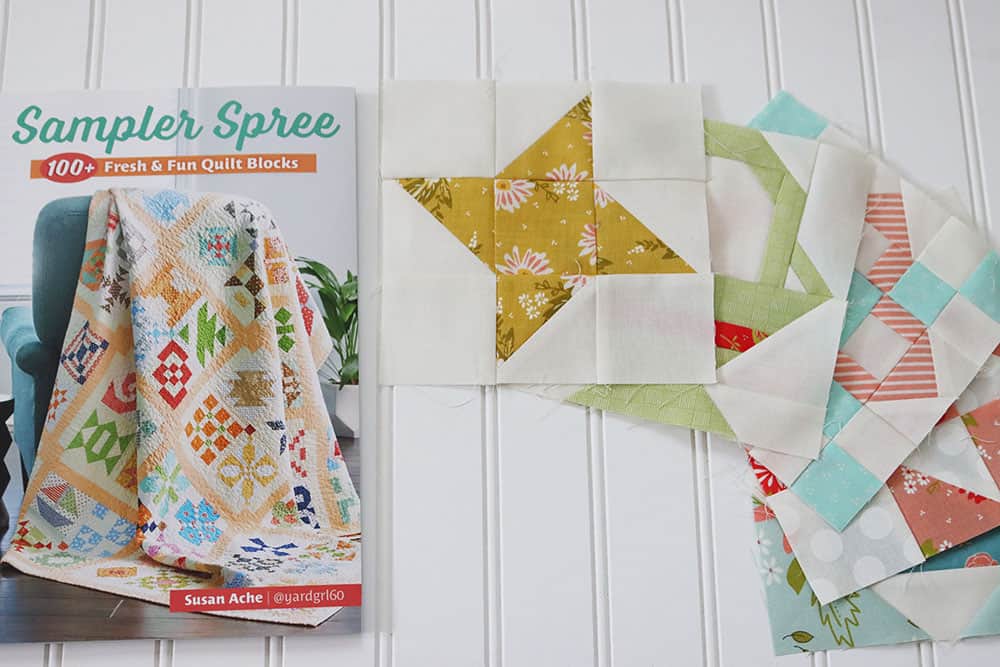 Sampler Spree Quilt Along Week One
The Sampler Spree Quilt Along will officially run for ten weeks this summer with ten suggested blocks in a specific color family. I thought this would be a little too ambitious for me to try with everything else I have going on, and so my plan is to make at least four blocks each week with a planned finish date of the end of November. Right now my plan is to use the setting in the book. I think it's a great setting option and already have an idea of the fabric I might use for the sashing contrast fabric. The book is required to sew along–all of the block cutting information and quilt fabric requirements can be found in the book. If you don't have a copy yet, you can find it here.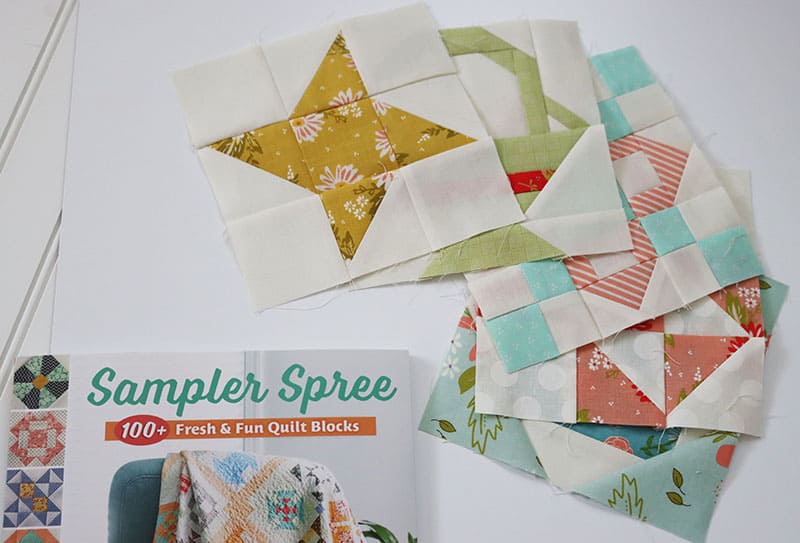 Sampler Spree Week One Notes
I've decided to follow along in the order the blocks are found in the book. Additionally, when looking through the book I noticed there are a few extra bonus blocks that can be used as substitutes (or used in the quilt backing/label). So this week I made the first four blocks and the final block. I do plan to make all of the blocks and use the extras on the back. I've also decided not to follow the color of the week guidelines. There are some colors I probably won't use at all in my quilt, so I figured I would just use a mix of colors each week and keep an eye on my overall palette as I go along.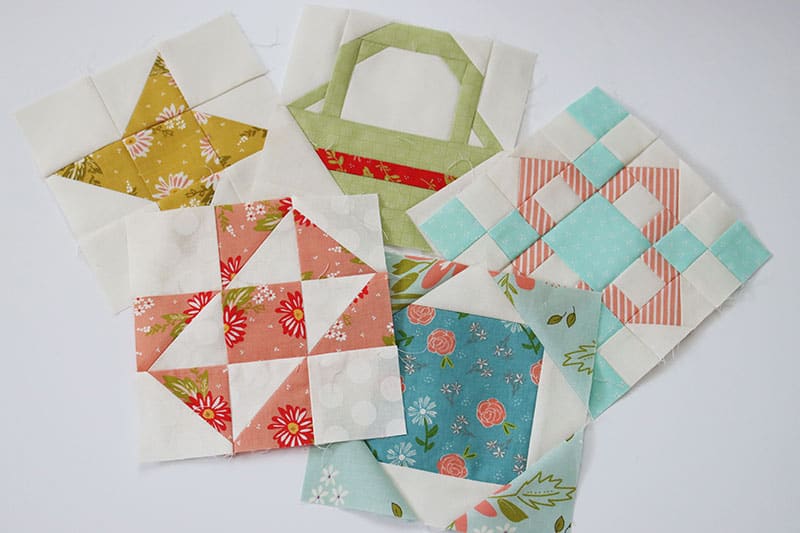 Sampler Spree Week One Blocks
This week's blocks were all fairly simple with no difficult piecing required. I am including some specific notes for each of the blocks I made here:
Block One (Friendship Star) is a traditional block made up of simple squares and hst's. I did add ⅛″ to the cutting size of the squares so I could trim the hst's perfectly to size.
Block Two (Cherry Basket) is such an adorable basket block. I used my Mini Simple Folded Corners Ruler for the stitch-and-flip and rectangle-to-rectangle units to avoid drawing any lines and to increase accuracy.
Block Three (Susan's Chain) Instead of cutting squares for this block, I used strip piecing for the four 4-patch units. I also used my Bloc Loc Flying Geese ruler for the four flying geese sections.
Block Four (Split Nine Patch) Another simple block with squares and hst's. As with Block 1, I added ⅛″ to the cutting measurements of the squares for the hst's.
Block 106 (Cutting Corners) Once again the Mini Simple Folded Corners Ruler saves time and increases accuracy on this block.
More Sampler Spree Links
Here are the links you'll find useful throughout this quilt along: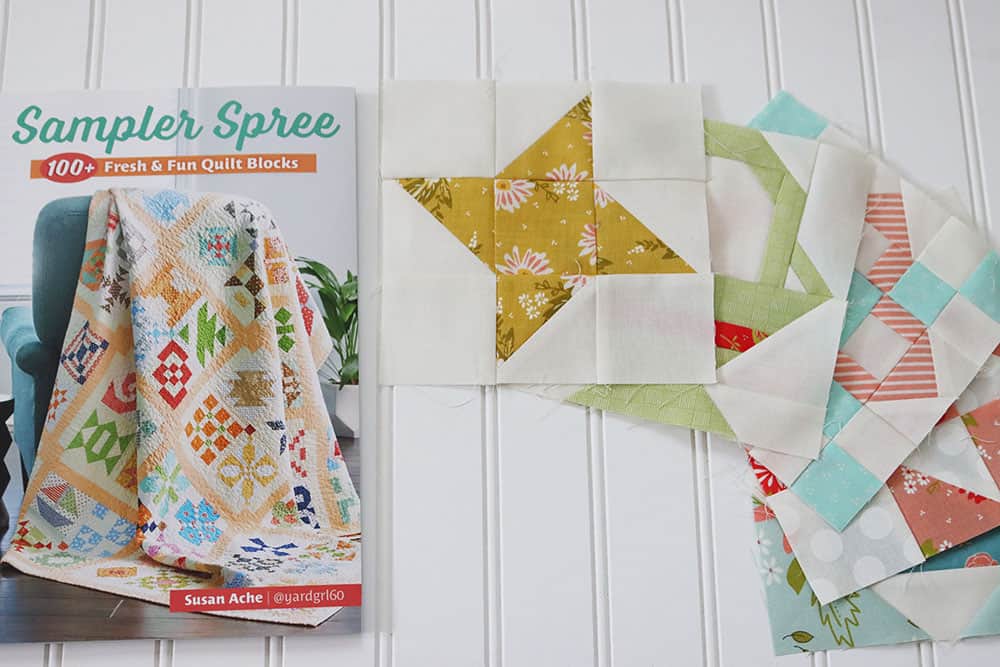 Next Week
Next week I'll be continuing on and plan to share blocks five through eight along with block 105. If I get a few more finished up, I'll share them as well.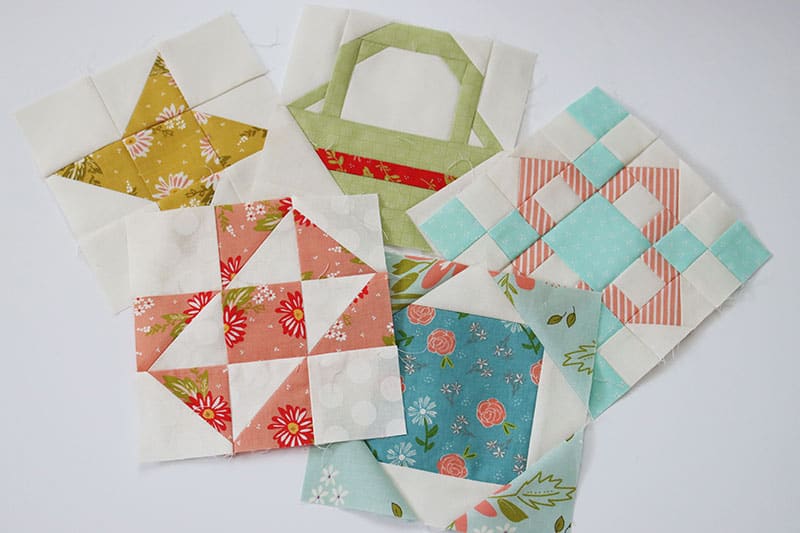 Happy quilting, and thanks so much for stopping by!