Hello, friends! Today I'm sharing the Quilting Life Block of the Month 2020 Finishing Instructions. And, I got my quilt with the 12″ blocks put together just in time yesterday to get a few (unquilted) photos for you. I did do one thing slightly differently in setting my quilt which I'll share below. And be sure to read to the end of the post for details on next year's Block of the Month.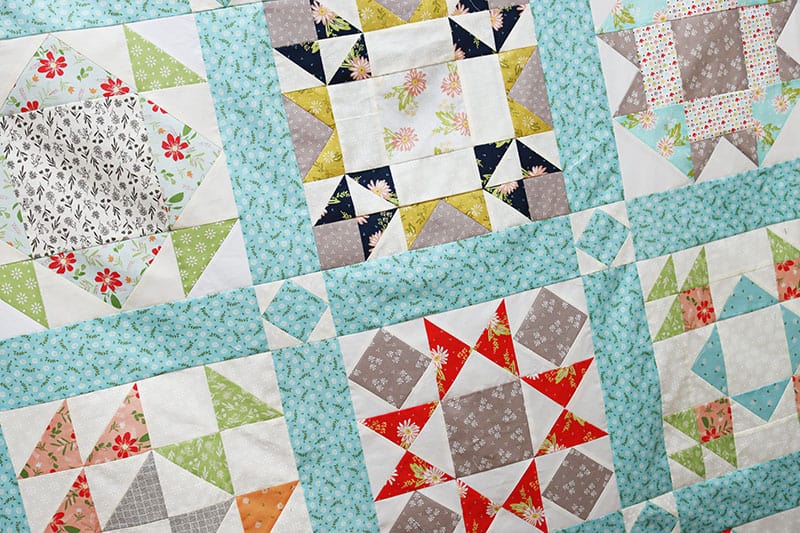 Quilting Life Block of the Month Finishing
I'm happy to be able to share a PDF printable with finishing instructions for the three different sizes of blocks for this year: 6″, 12″, and 18″. I generally use light sashings for my quilt…but my scrappy blocks were just calling for a medium-toned print sashing. And you'll notice that instead of square sashing posts I changed mine up just a bit with square-in-a-square posts. The cutting instructions are the same except I cut the sashing posts from the same blue fabric as the sashing. And I also cut (24) squares 2″ x 2″ to make the easy corner triangles on each square. (I used the Mini Simple Folded Corners ruler—and this tutorial).
2020 Block of the Month Finishing Instructions
Be sure to download your finishing instructions here or from the button below before the end of the year. At the end of each year, I put the previous year's Block of the Month patterns for sale in my shop and begin a new free program. If you are missing any of this year's blocks, you can find links to all of the previous Block of the Month posts from this post where I shared the December blocks.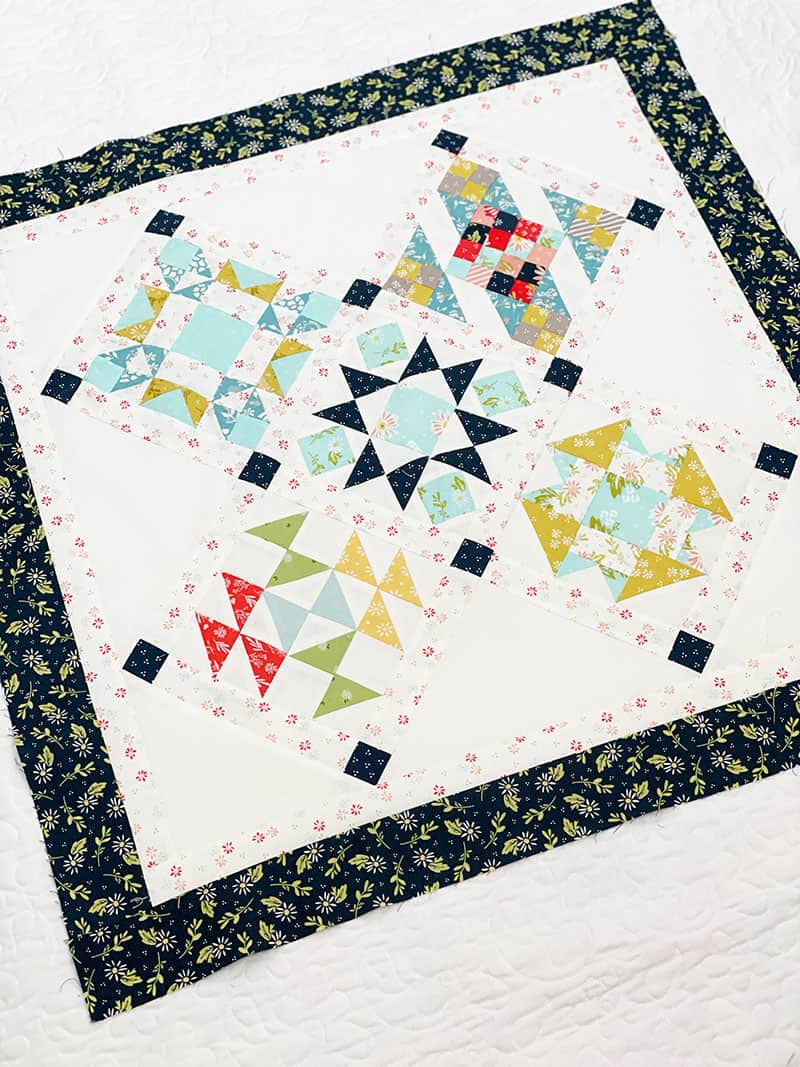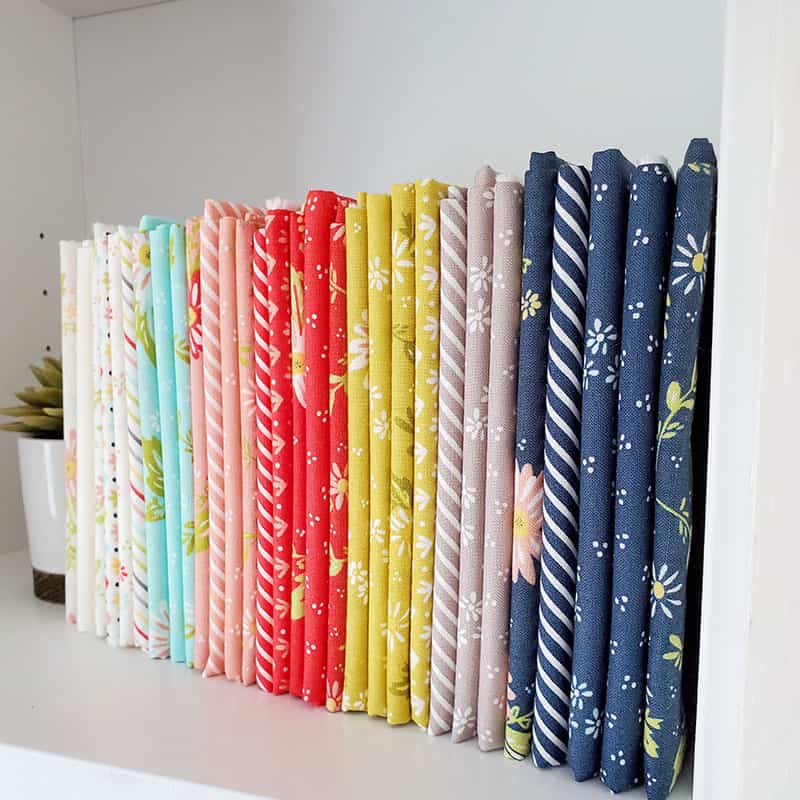 2021 Quilting Life Block of the Month Details
I am so super excited about next year's quilt. I almost released the pattern with our Happy Days collection late last summer but then decided to save it for next year's Block of the Month. It's really a fun sampler! And earlier this fall I offered kit and finishing kit pre-orders for the 2021 Block of the Month using Happy Days fabrics. Those have sold out, but stay-tuned as I may have more available. I will know for sure when I get all of the kits cut and ready to ship the first week of January. My goal is to have the kits ready to ship and patterns set to release by the 7th of each month.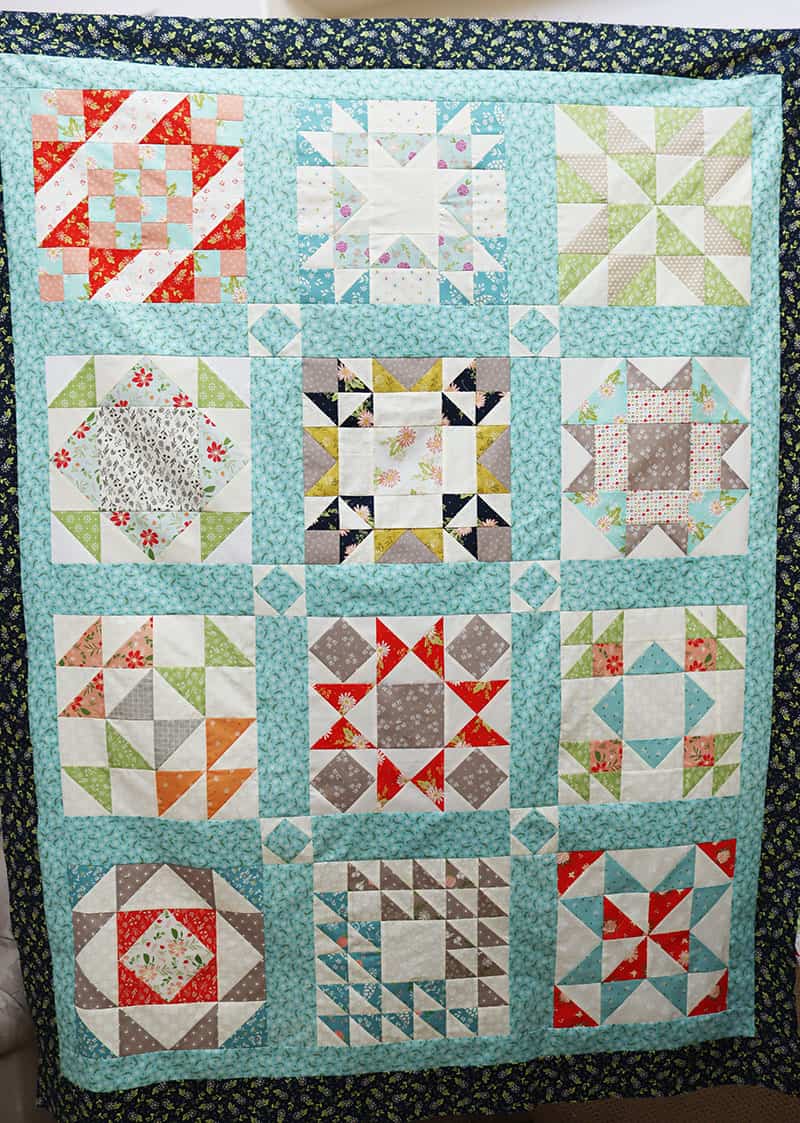 2017, 2018, and 2019 BOM Patterns
My previous BOM patterns are in the shop at the links below if you are looking for more block ideas. These patterns are available in PDF format only. The 2019 pattern consists of 25 different arrangements for half-square triangles.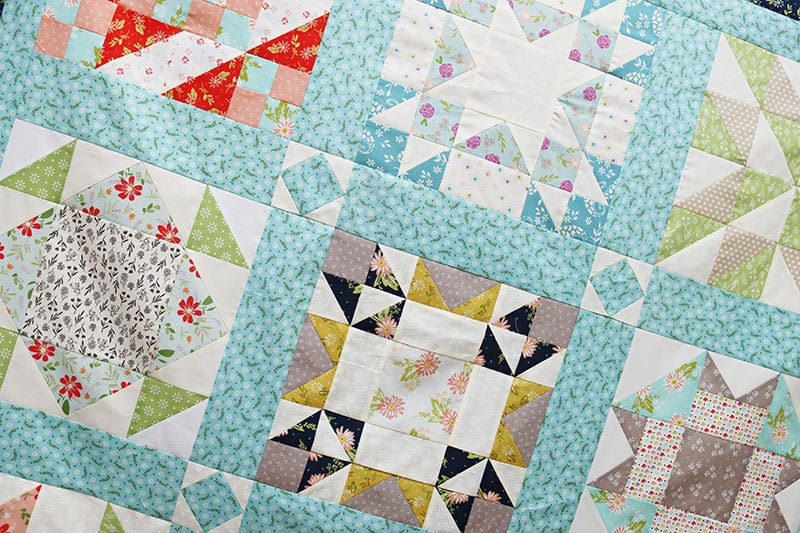 Thank You…
I so enjoy doing these patterns for my blog readers each year. And I'm really looking forward to the 2021 blocks. My plan is to also film an instructional video to go along with each one to make them more accessible to beginner quilters. And I know you'll love the block designs, too.
Happy quilting, and thanks so much for stopping by!