Hello, friends! Today I'm sharing a fast and fun Quilted Mug Rug Tutorial. This mug rug is super cute and is perfect to make for yourself or for gift giving. A fun mug with a mug rug rolled up inside and a packet of hot chocolate or a favorite tea would make a really great gift. And you can use any type of fabric for this design. I'm also sharing a cute coaster idea and a square candle mat/mini topper that go together quickly. Finally, there is a video with step-by-step instructions for making the mug rug.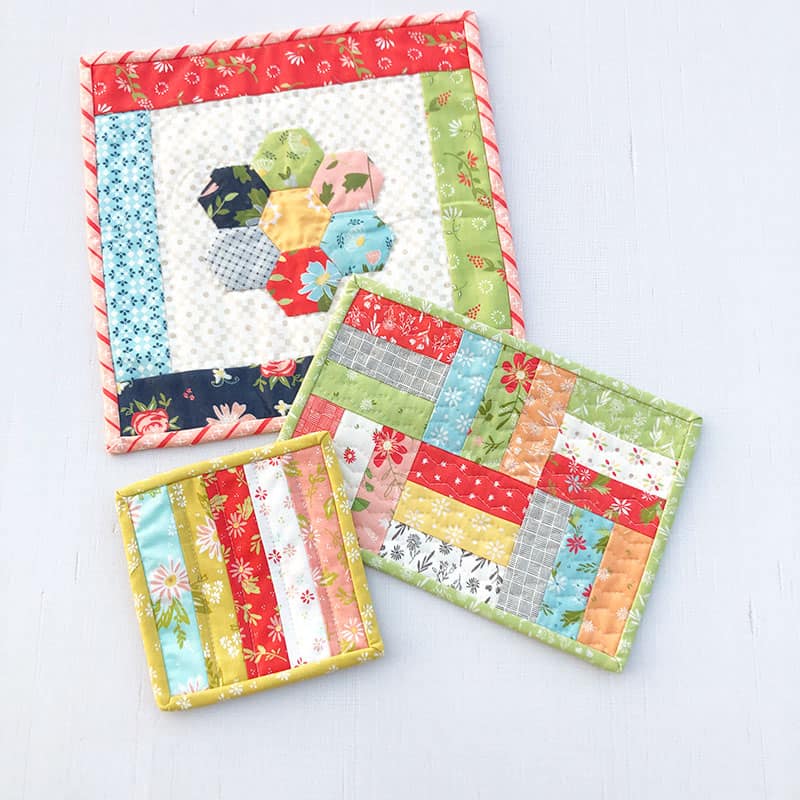 Quilted Mug Rug Tutorial
I've been thinking about doing a tutorial for a a fast and fun quilted mug rug for quite a while. I wanted to make something simple but that would allow for lots of scrappy fabric goodness. I finally decided on one of my grandmother's favorite blocks for placemats…a rail fence design. Using Honey Bun Strips made my project go together even more quickly.
Mug Rug Tutorial Video
Watch the video above for the full tutorial for this cute quilted mug rug. Or, go here to watch it on my YouTube channel. Then, keep reading below for the link to the Mug Rug Tutorial Printable.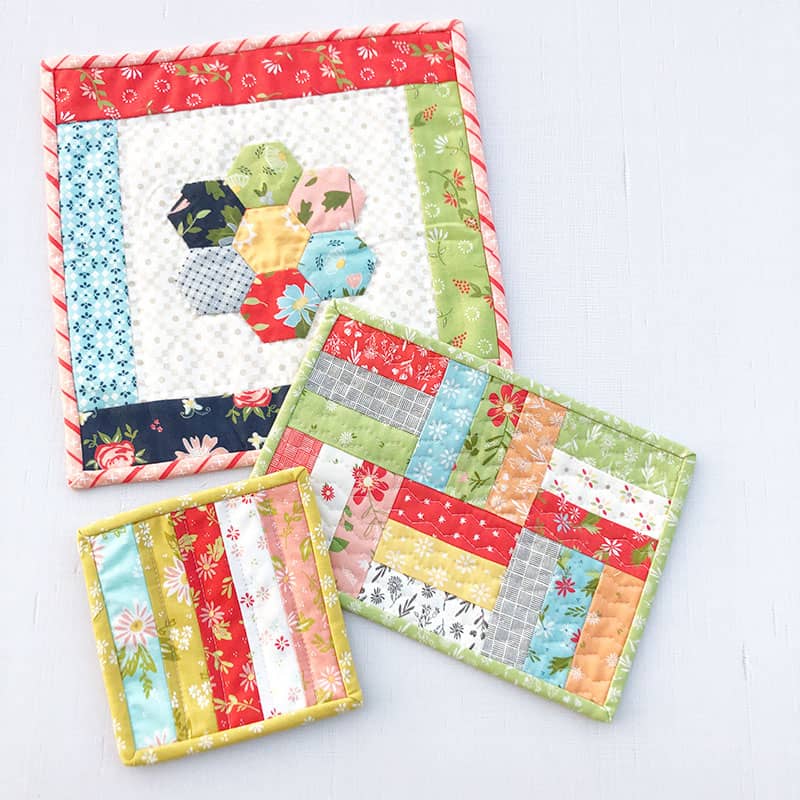 More Small Projects…
On the video I shared some additional fast and fun small project ideas. At the top left is a fun Candle Mat/Mini Table Topper project I made with just one Grandmother's Flower Garden Block. It's just the right size for a small space and sews up quickly. At the bottom is my quick and easy coaster–made with strips and just the perfect size for your favorite cup 🙂 I've got the measurements for all three projects included on my Mug Rug Projects Printable.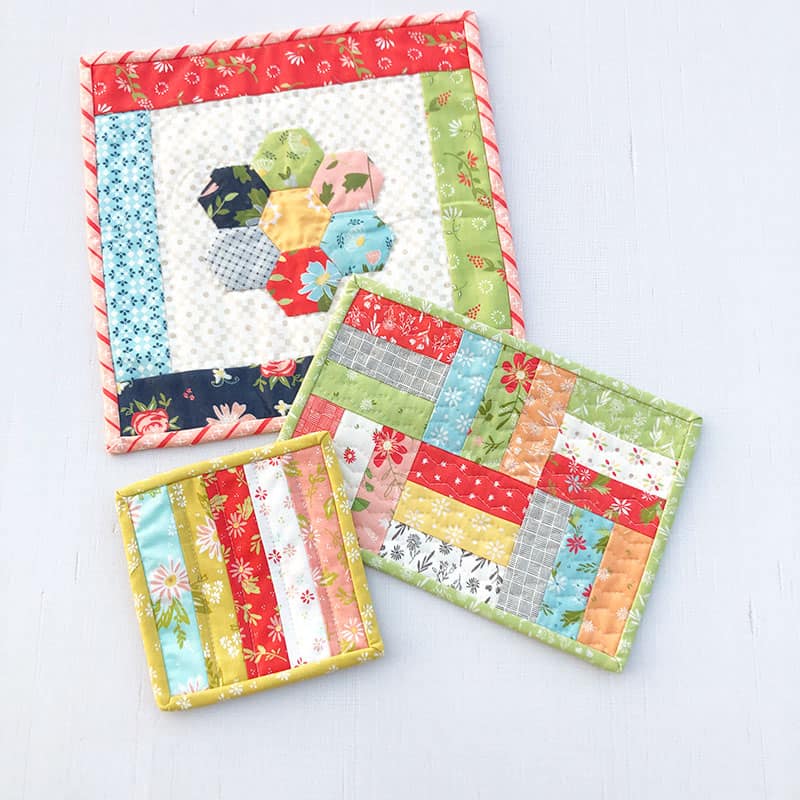 Mug Rug + Small Projects Machine Quilting Details
In the video I shared that I used a chunky zig zag stitch on my Janome Memory Craft 6600P for the mug rug quilting. I used stitch 9 with the width set to 5 and the length set to 4. For the quilting on the coaster I just did a simple straight stitch ¼″ away from one side of each seam. And for the Grandmother's Flower Garden Hexagon Mat, I hand quilted inside the center hexagon, around the hexagon flower, and inside the background square.
Happy Quilting!
I hope you'll enjoy making one or more of these fun projects for yourself or for your family or friends. They are perfect for any time of year, but I think they'd be really fun now in seasonal fabrics.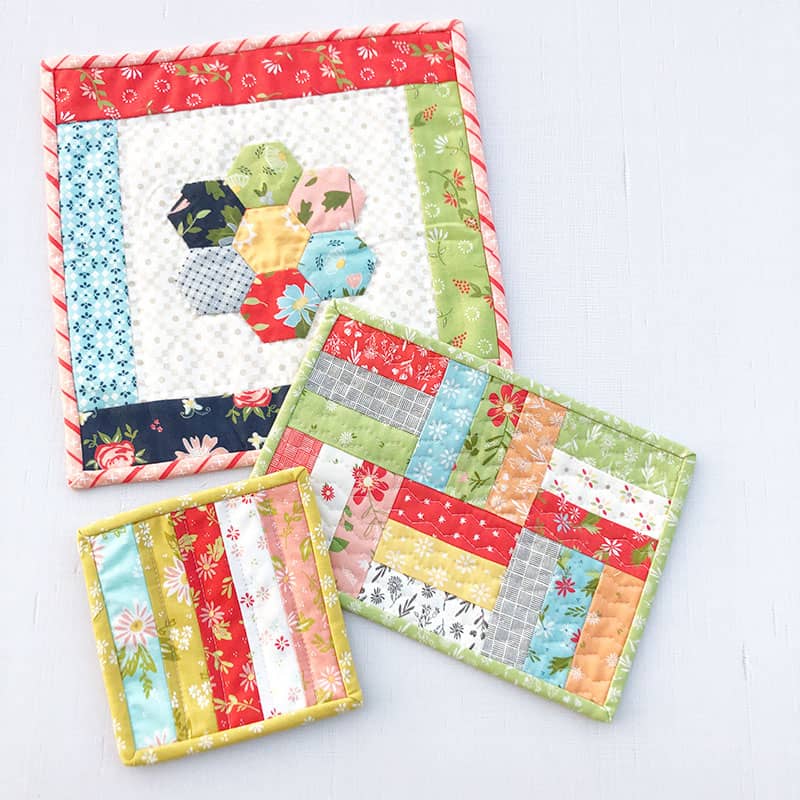 Happy quilting, and thanks so much for stopping by!