Hello and happy Tuesday! Today I'll be sharing the Quilt Market Spring 2018 Moda Booth.  Because there is so much to share from the Moda area, there will be another two posts to cover all of the beautiful things coming soon from Moda!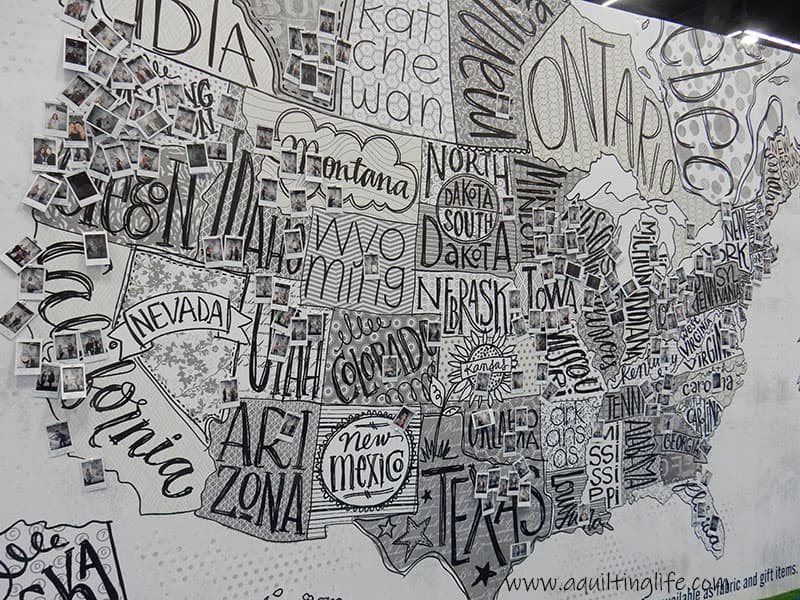 Yesterday I shared just a small portion of the gorgeous Moda wall map.  This map is a large version of the Basic Grey Metropolis map. You can see there were a lot of attendees from the Pacific Northwest to be sure! I'll share six designer booths today, and will share more designer booths and fun notions over the next couple of days.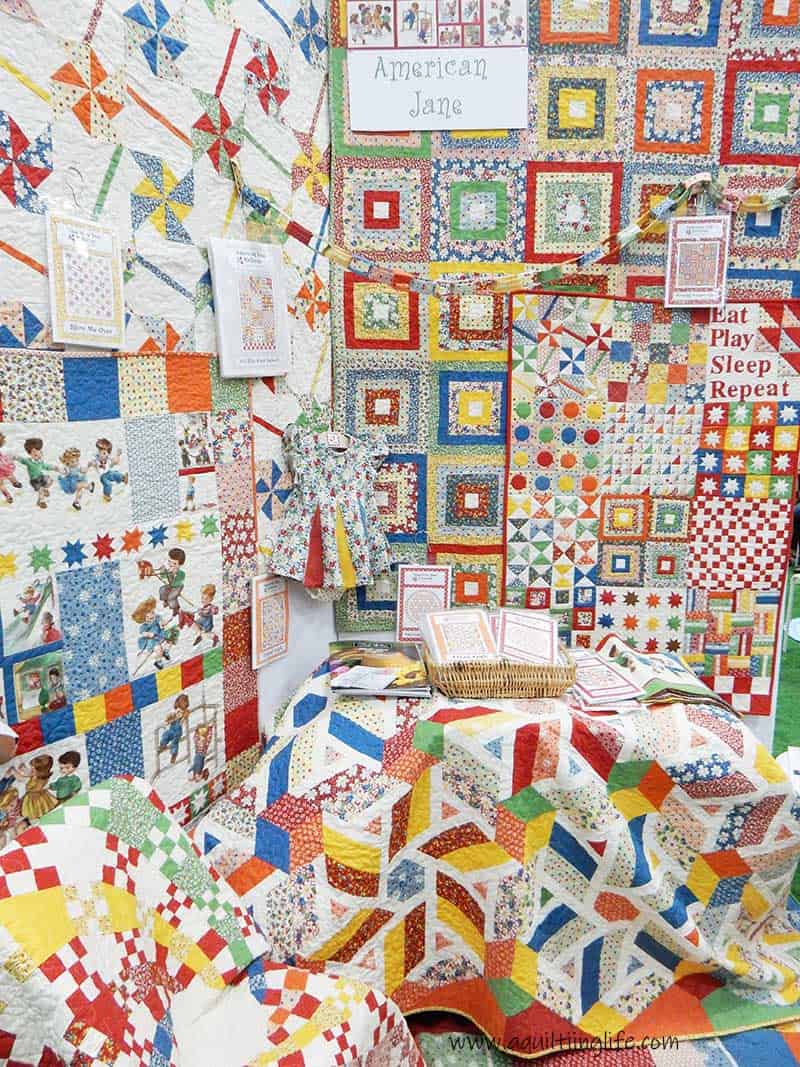 Sandy Klop of American Jane had a delightful booth for her "Play All Day" collection.  She was right in our little area, so we got to visit with her quite a bit and also look at all of her gorgeous quilts and projects!  I also got a little tutorial from her on how she pieced some of these fun projects!
Also in our little section of the designer area was April Rosenthal who debuted her "All-Weather Friend" collection.  We visited a lot with April and her husband and went to lunch and dinner with them nearly every day.  It was super great to get to know her better!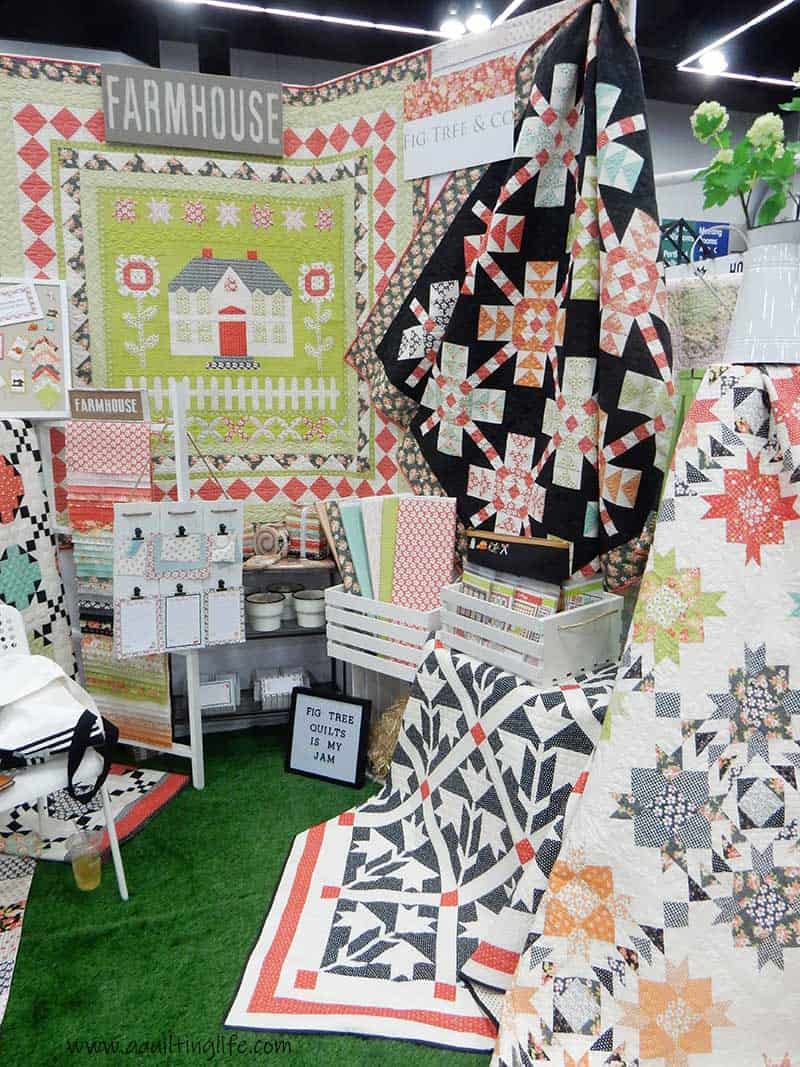 Right on the other side of our back wall was the Fig Tree booth by Joanna Figueroa.  She created a lovely display area full of fun ideas to showcase her "Farmhouse 2" collection.  Of particular interest to me was the Thistles quilt in the lower right corner of the photo.  I was able to piece that for her during the middle part of April.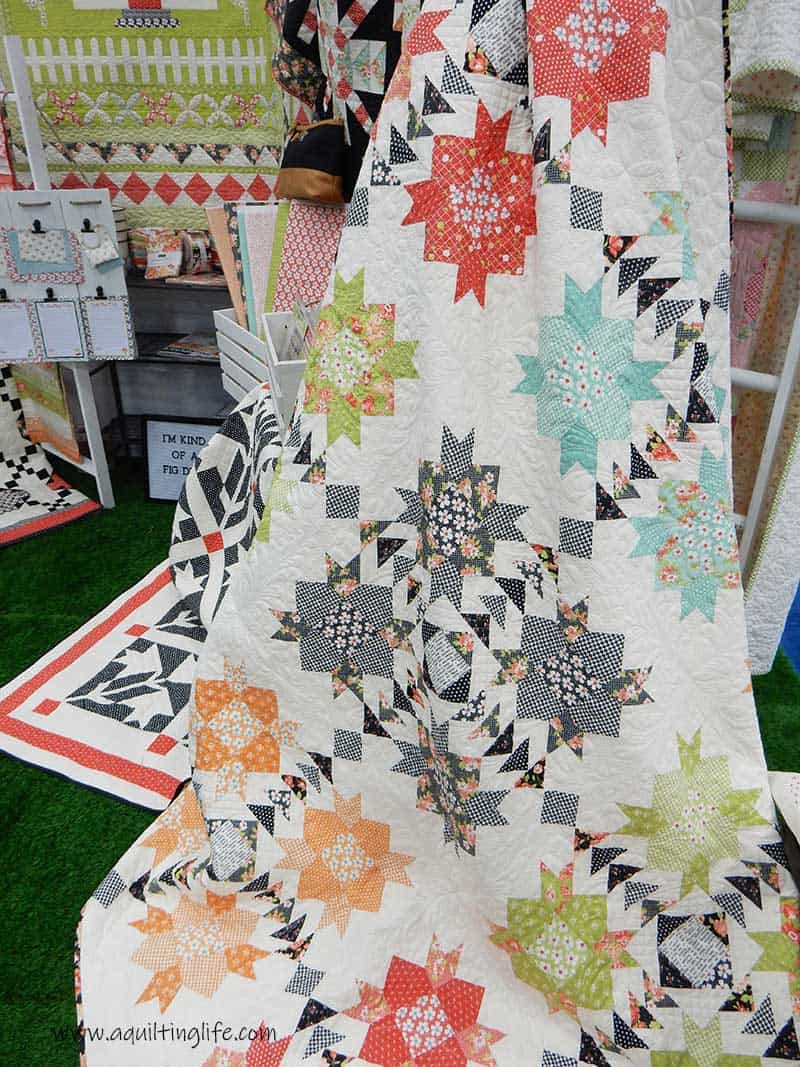 Isn't this a lovely quilt!  I'm not going to lie that when I counted up how many flying geese and half-square triangles I had to make for this quilt I was a little overwhelmed!  But I broke it into pieces and got it finished just in time to make the deadline for Joanna's quilter.  I'm definitely going to make this quilt for myself this summer using scraps from all of our fabric collections.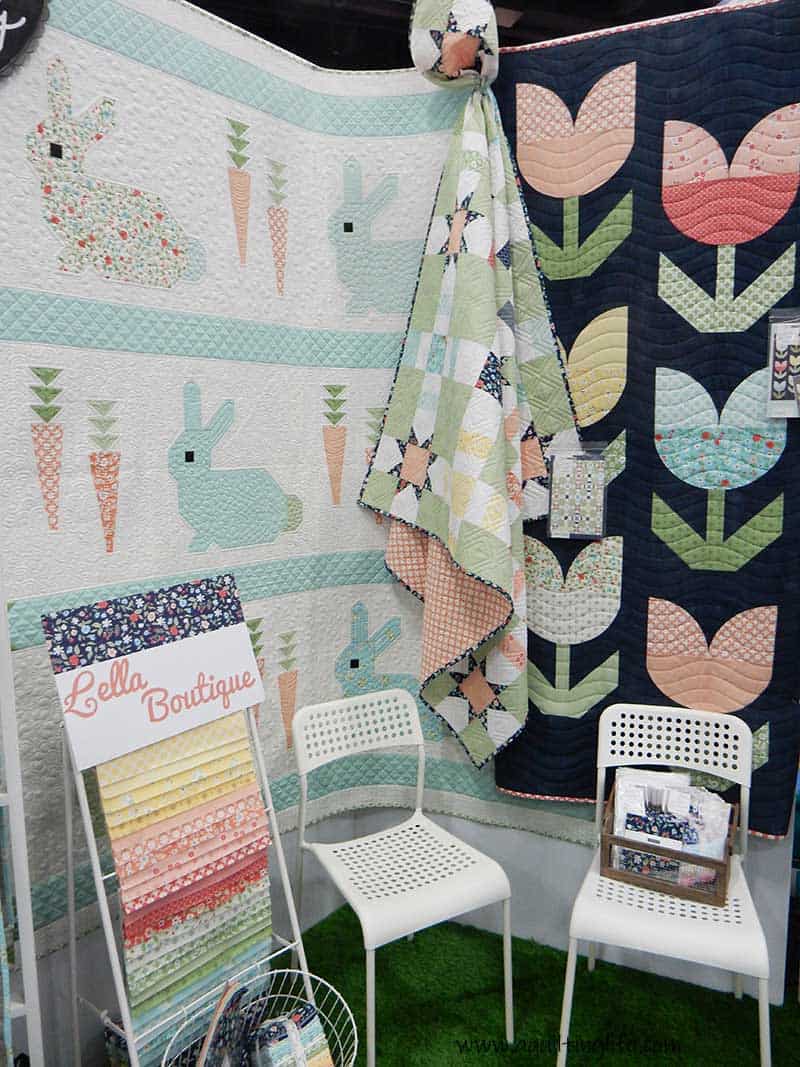 Vanessa of Lella Boutique debuted her "Garden Variety" fabric collection at this market.  It's a beautiful range of soft colors!  We ate out a lot with Vanessa as well and shared lots of Lyft and Uber cars with her.  It was a lot of fun to get to visit so much this market!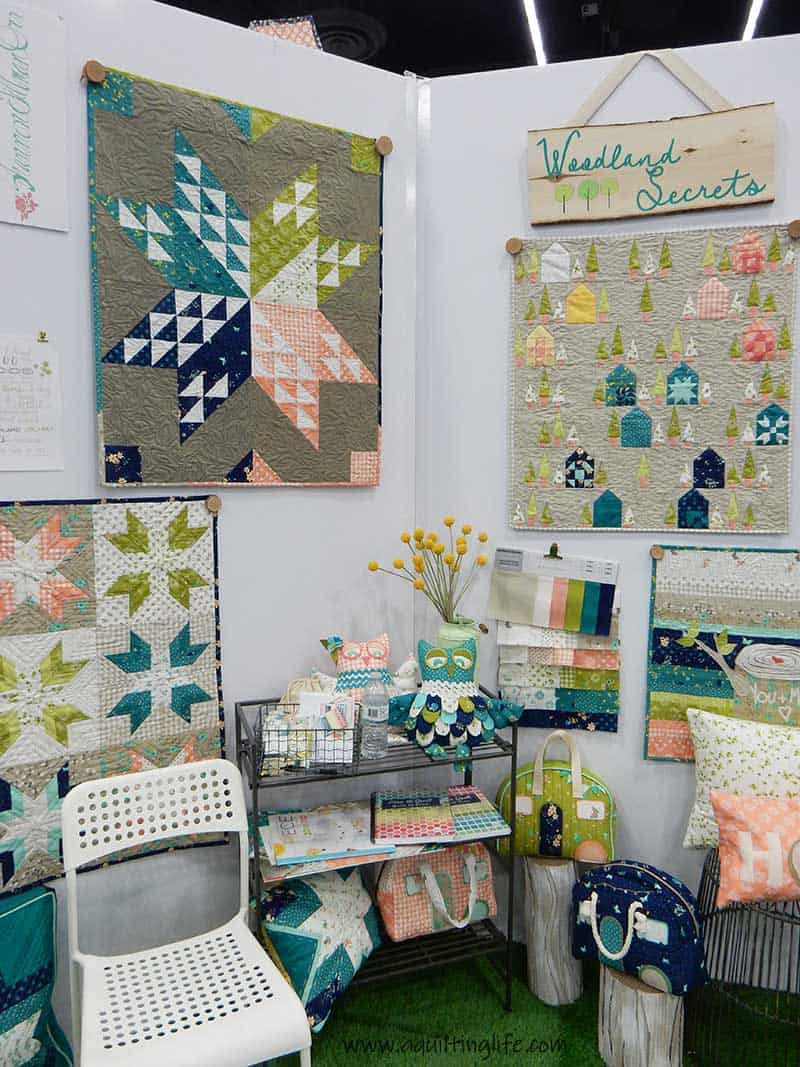 Shannon Orr debuted "Woodland Secrets" at this market.  She had a lot of fun projects to display as well.  Shannon was also another designer who I got to visit with quite a bit this time.  It was really nice to get to know her better.  Over the past six markets we've attended with a booth we have been able to get to know so many of the other designers.  It's always hard to head home at the end of the show.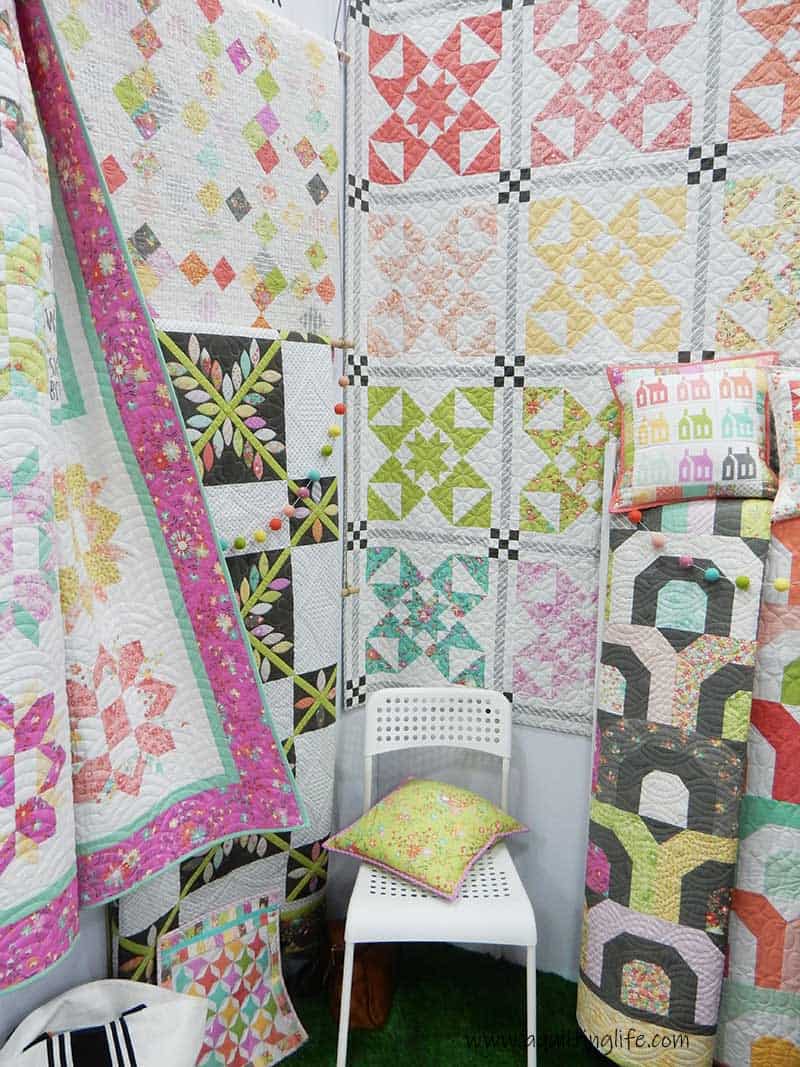 I'll finish up today's post with Corey Yoder's booth.  It was so bright and sunny, and I love the addition of the pinkish purple she added this time.  Corey's collection is called "Sunnyside Up" and is truly a sunny, happy bunch of fabrics!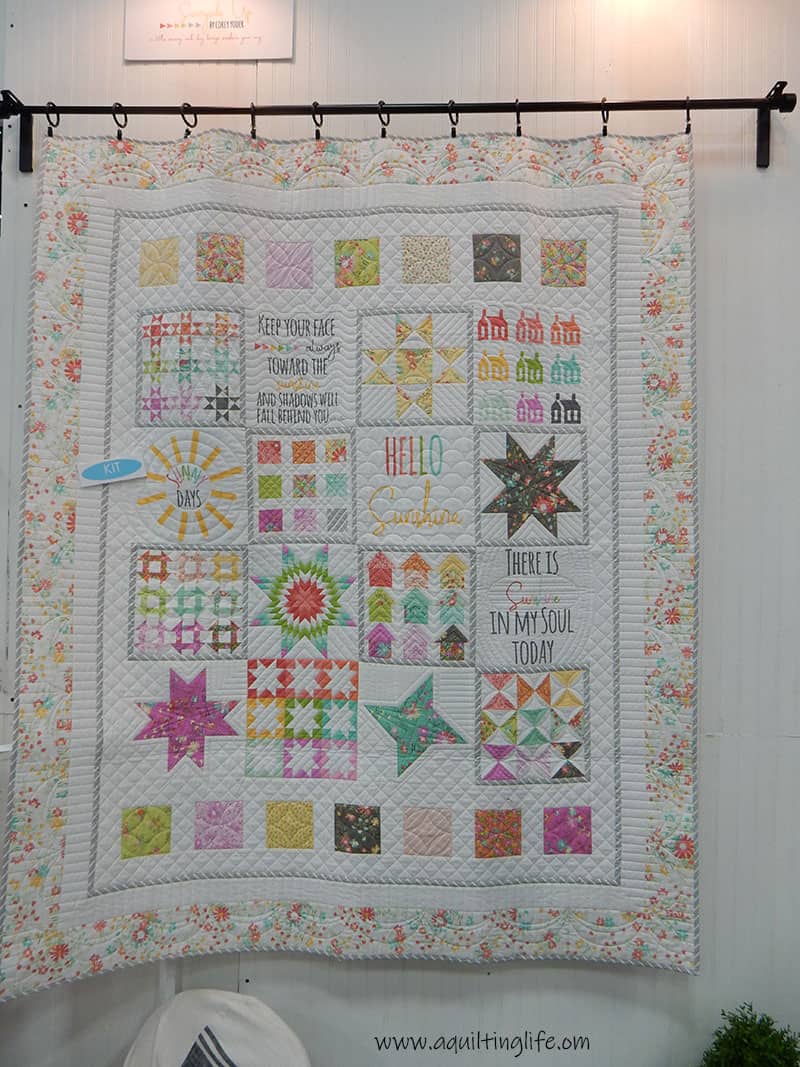 I'll finish up today with one of Corey's fun quilts.  Eight of the blocks above are actually part of a panel that comes with the collection.  So while this looks like there was a lot of piecing going on, this was actually a quite simple quilt.  Corey used the panels for pillows and bags as well.  Such a fun idea!
I hope you enjoyed this little tour of the Quilt Market Spring 2018 Moda booth.  Don't worry…I'll have more pictures soon!  Thanks so much for stopping by!