Hello, friends! Today I'm sharing a little bit about Quilt Ladders: Quilt Decor & Inspiration. It's demo-day three in our master bathroom, so my coping mechanism was to clean up my studio and take a few pictures while it was sunny and beautiful outside. (I do love having two windows in my sewing room for light). I get a lot of questions about my quilt ladders and quilt display and decor. So hopefully I can answer several of those questions in this post.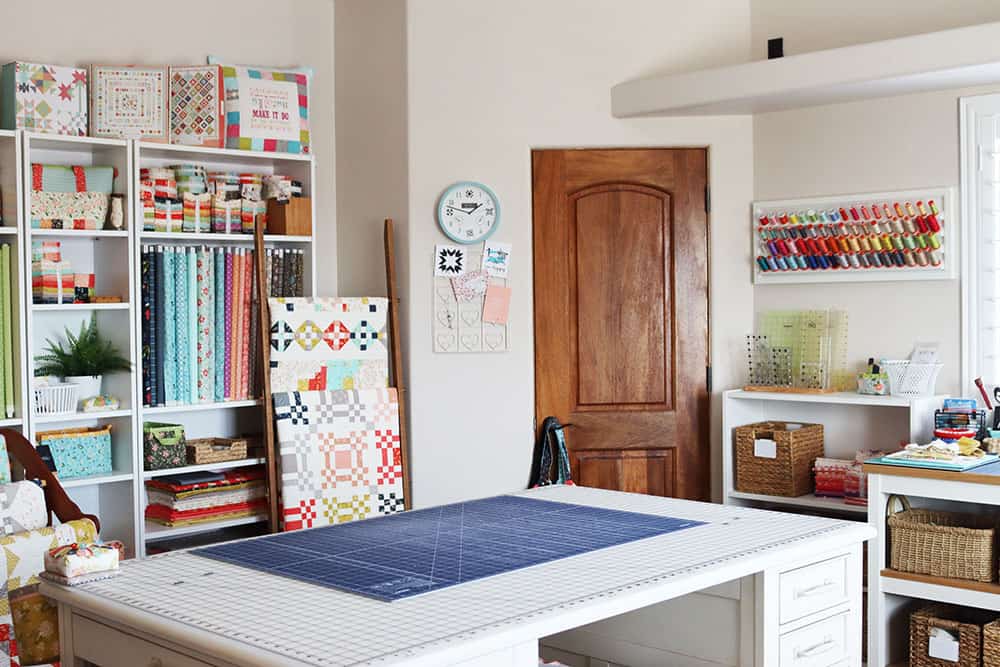 Quilt Ladders: Quilt Decor & Inspiration
Over the years I've collected a few quilt ladders, racks, and stands that I use to display many of my quilts. I love to change things out seasonally (and in some cases monthly where there is a lot of natural light that might affect my quilts). As a new quilter I was inspired by the book Living with Little Quilts and dreamed of the day when I could one day have quilt decor throughout my house. In fact, I feel like wanting to decorate with quilts actually motivated me to quilt even more than having them for our beds.
Wooden Quilt Ladders
Several years ago I was able to purchase two quilt ladders, one with a wood stain and one with a white stain from a local quilter. I'm so happy I got those when I did as she has since moved away. I also have a nice quilt ladder purchased from Magnolia which has since sold out. Additionally, I have a lovely stand-alone quilt rack I use to display quilts in my studio. Here are the dimensions for eachof these pieces:
Homemade Ladders: 72″ tall, 17″ wide rungs (4–15″ apart)
Magnolia Ladder: 70″ tall, 22″ rungs (4–13.5″ apart)
Quilt Rack: 42″ tall, 30″ wide bars (3)
Other Quilt Display Options
I also love using curtain rods and rings in order to display quilts. I have several of these installed throughout our home and love the ease with which I can change out quilts to display. For the best results with this method: use lots of rings to ensure there isn't too much pressure put on the quilts, and change out quilts fairly frequently. Find the rods and rings I use for my indoor quilt display here.
I'm also really blessed to have a handmade quilt rack made by my late uncle along with some other small quilt racks that have been gifted to me. And I've recently purchased the lovely swing arm quilt display rack (now available in three different sizes) from Primitive Gatherings (link above under the photo).
Quilts as Decor
In addition to hanging quilts on walls and on ladders, there are endless ways to display your favorite decor quilts. They are beautiful stacked on shelves, in cabinets, on top of cupboards, and even draped over the edges of sofas and chairs. I also like to roll small quilts up and put in baskets and crocks. You can find an additional post I wrote about decorating with quilts here.
More Quilted Decor: Mini Quilts and Pillows
Mini quilts can easily be used like paintings to add decor to any area of your home. And quilted pillows also function as mini quilts wherever they are placed. I feel like I should probably dedicate an entire post to minis and pillows in the future 🙂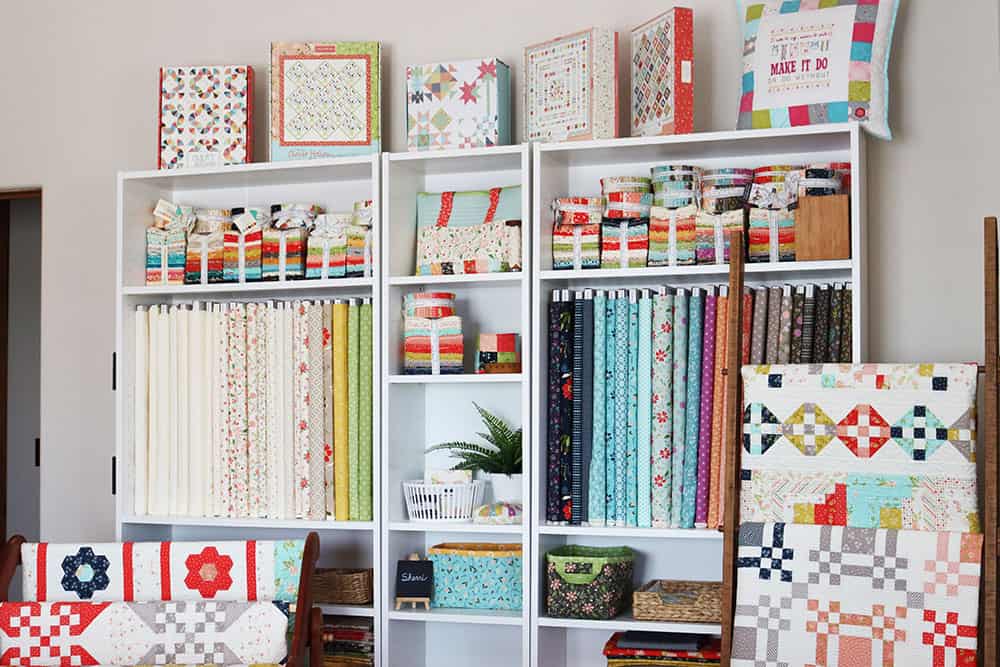 Inspirational Books for Quilt as Decor
The following are some of my favorite books for inspiration and ideas about using quilts for decor:
Your Decor Inspiration…
I'd love to have you share any thoughts or ideas you have on quilt display and decor in the comments below…there are so many fun ideas out there!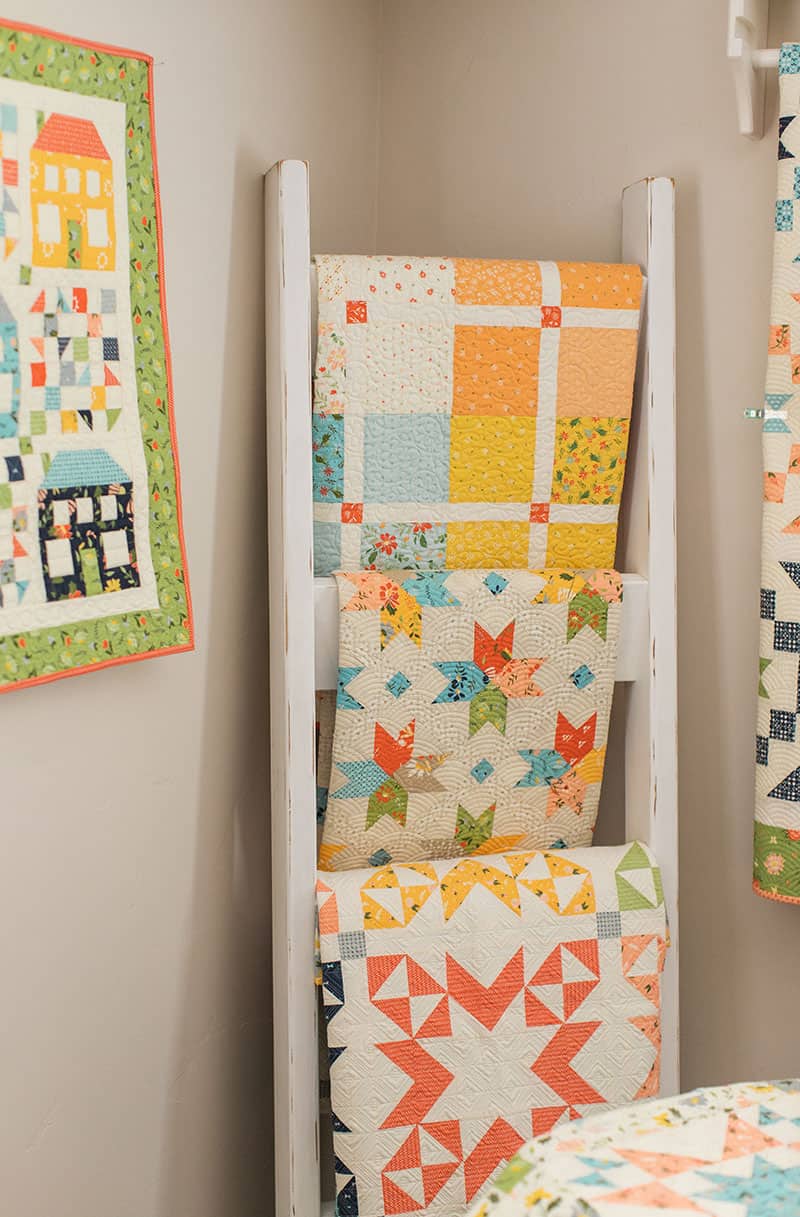 Happy quilting, and thanks so much for stopping by!