Hello and happy Tuesday!  I hope your week is off to a great start!  Today I'm sharing my modern barn blocks using the Fat Quarter Shop Barn Block pattern series.  (I just received the pattern for the fourth block in this series and stitched it up immediately)!  I'm also sharing the latest Sew Sampler Box, and have a fun giveaway to share with three of my readers!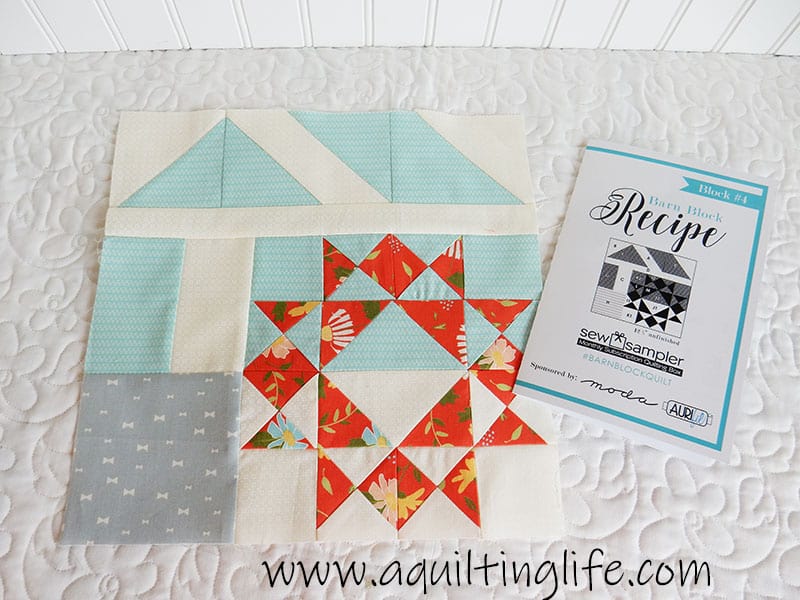 I think this is my favorite block in the series so far.  These blocks have a fun, modern style to them, and yet use traditional quilt designs for the "barn block" portion.  I decided to be a little more bold with my color choices for this block, and I'm really happy with how it turned out!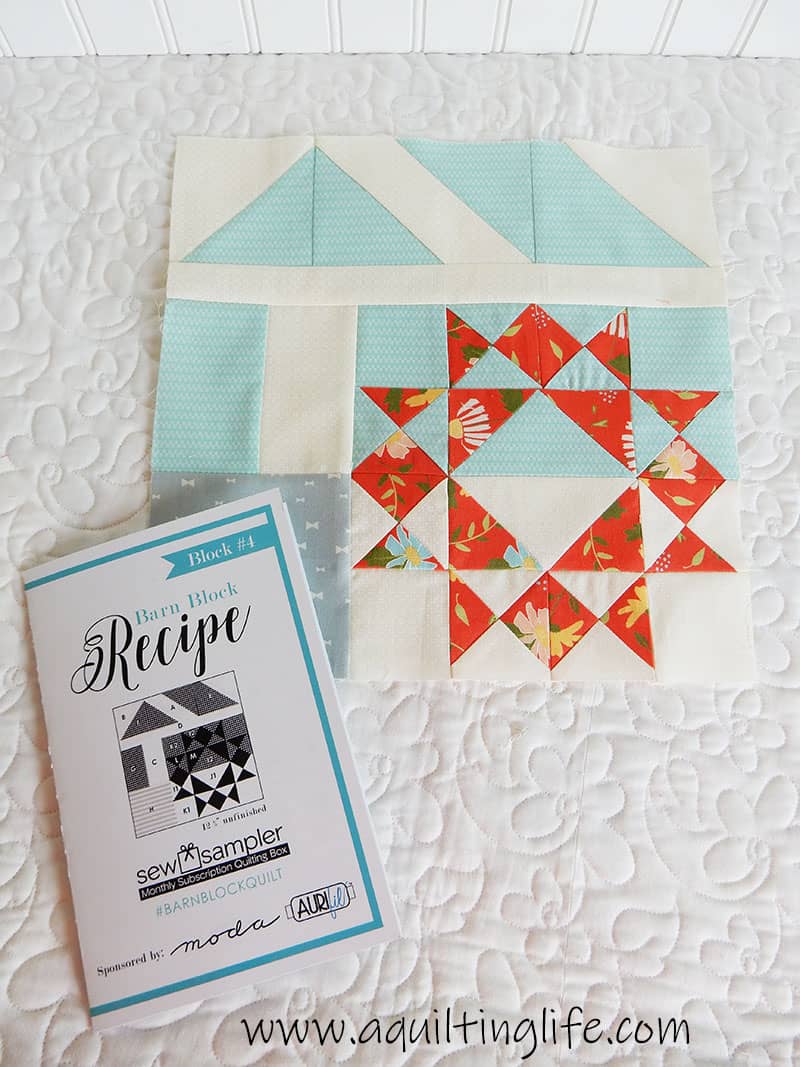 The fabrics I'm sewing with are all from our Clover Hollow fabric collection. (It will be in shops in just a few short weeks)!  I can hardly wait!  This month I changed up the assembly instructions just a little bit so I could use my favorite method for making quarter-square triangle units.  You can see my favorite method for making these blocks here.  If you want to use this method for your barn block QST units, just add ¼″ to the measurements of each square you cut out for that part of the quilt.  Making these pieces a bit over-sized and being able to trim them to the perfect size makes a great impact on the accuracy of the block.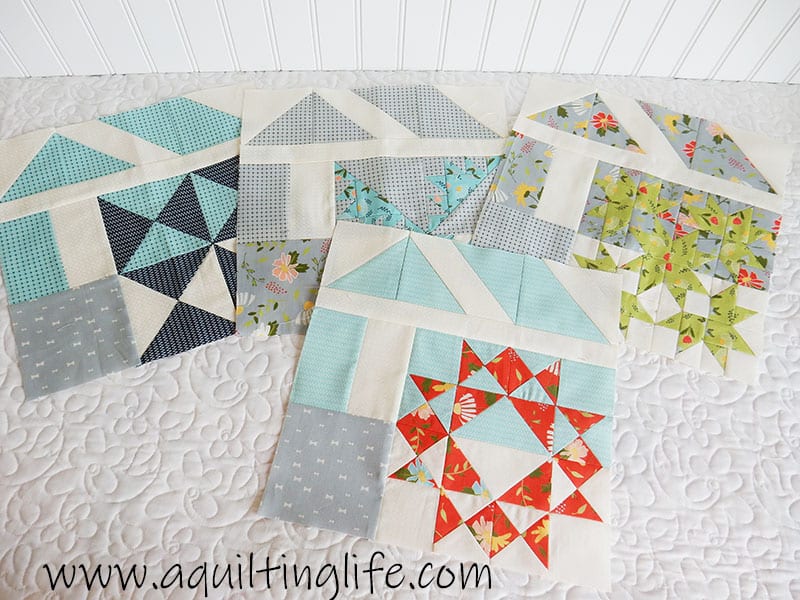 I love how the first four modern barn blocks look together!  And I love the pop of red that I added to this month's block.  Next month I'm thinking I might make a navy roof!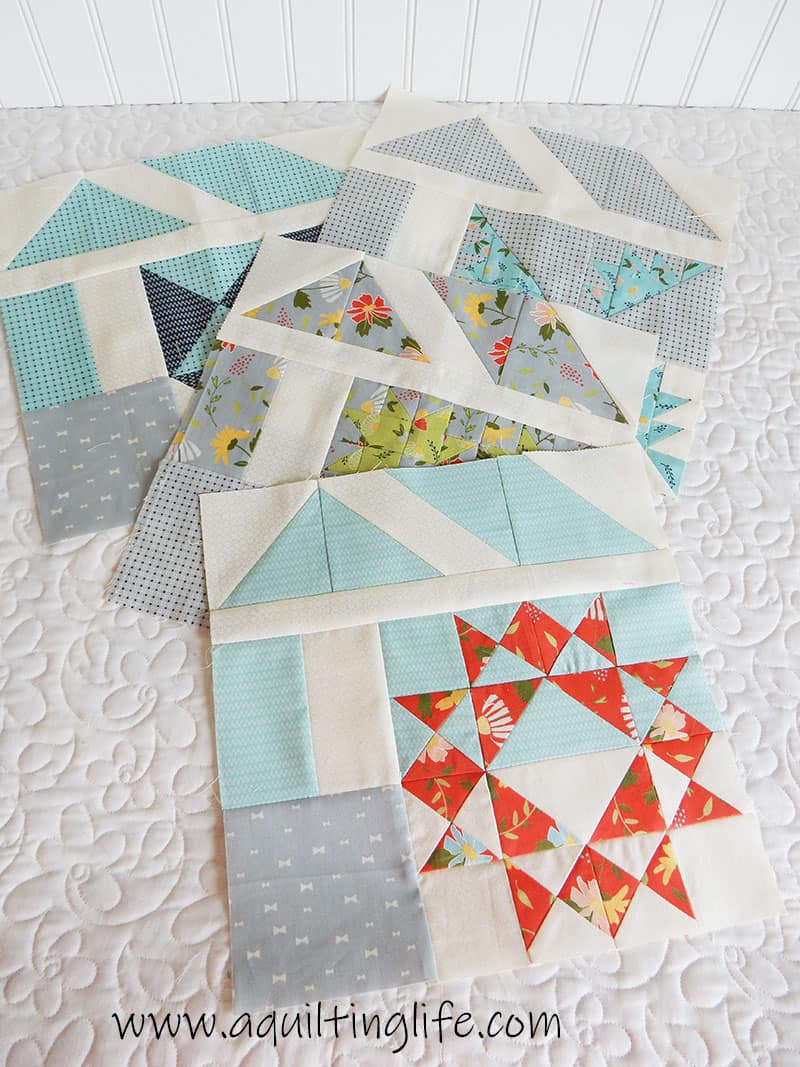 The only bad thing about making the new block right away is that there is a month to wait before the next pattern arrives!  While these Modern Barn Blocks patterns arrive in the monthly Sew Sampler Box from Fat Quarter Shop, you can also purchase the Barn Block patterns separately if you're not a Sew Sampler Subscriber (subscribe here).  I love that Fat Quarter Shop is making the patterns available even if you don't receive the box!  Find the Modern Barn Blocks patterns in paper and PDF versions here.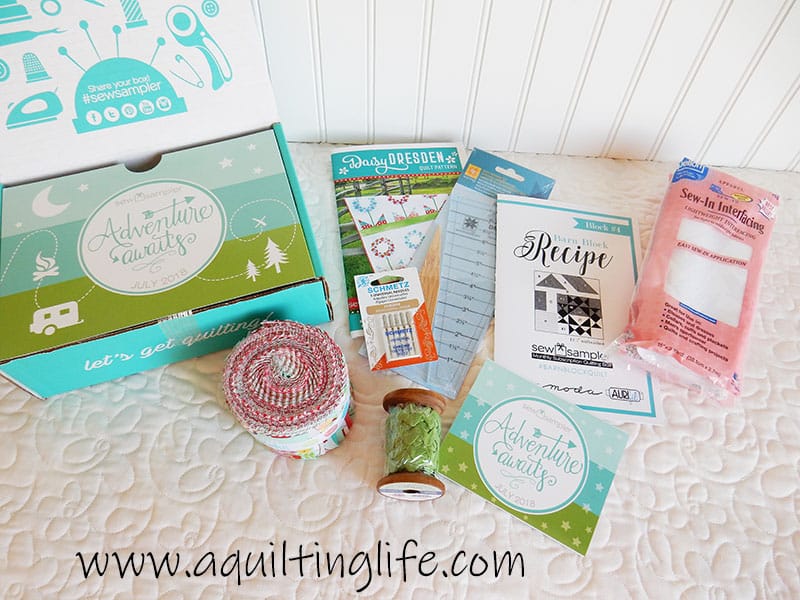 While I must admit that the Barn Block is the first thing I look at when I open my box, the other goodies are always so much fun too!  This month's box theme is "Adventure Awaits."  Such a fun theme for this time of year!
Here's what you'll find in the July Sew Sampler Box: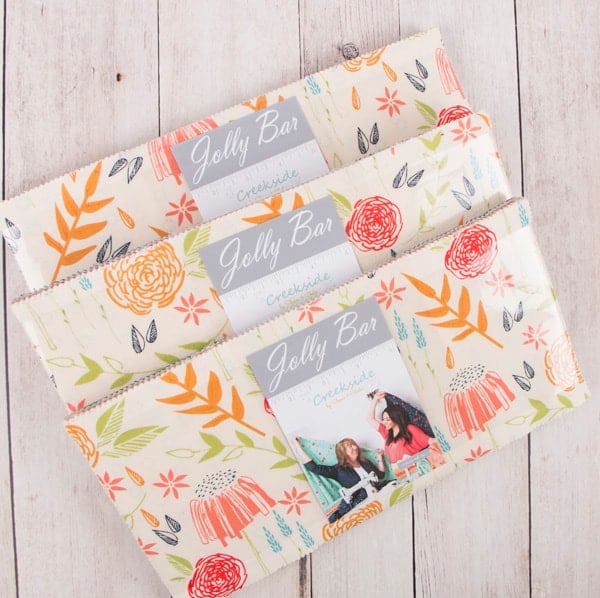 And a Giveaway!
Finally…Fat Quarter Shop is giving away one Jolly Bar of our Creekside collection to three of my readers!  Creekside has a great mix of large and small florals. It is a fun collection and will blend beautifully with our other and upcoming fabric collections! If you don't know what a Jolly Bar is, a Jolly Bar is basically half of a Layer Cake, or two Charm Packs put together.  It measures 5″ x 10″ and is perfect for so many projects!  Fat Quarter Shop has published several individual Jolly Bar quilt patterns and a Jolly Bar quilt pattern book (find their patterns here).  They've also shared some fun sew-alongs using this versatile pre-cut!
To enter the giveaway…
Simply leave a comment on this post mentioning what project you're working on now, and what you're going to start as soon as you're finished with your current one!  I'll leave the giveaway open through Thursday night and choose three random comments to win.  I'll announce the winners here on this post sometime Friday!
Happy quilting, and thanks so much for stopping by!
Giveaway now closed…thanks so much and congratulations to Kathleen King, Sue Hoover, and Carol Feye!  I've emailed you all!