Hello, friends! Today I'm sharing Moda Block Heads 3 Block 56 which is the final block release pattern for the wonderful Block Heads 3 quilt along. I'm excited to share today's block along with more pictures of my finished quilt, but I'm also a bit bittersweet that our quilt along has come to an end. It's a good thing I have some other fun quilt alongs coming up soon so I can't be too sad (more on those at the end of the post).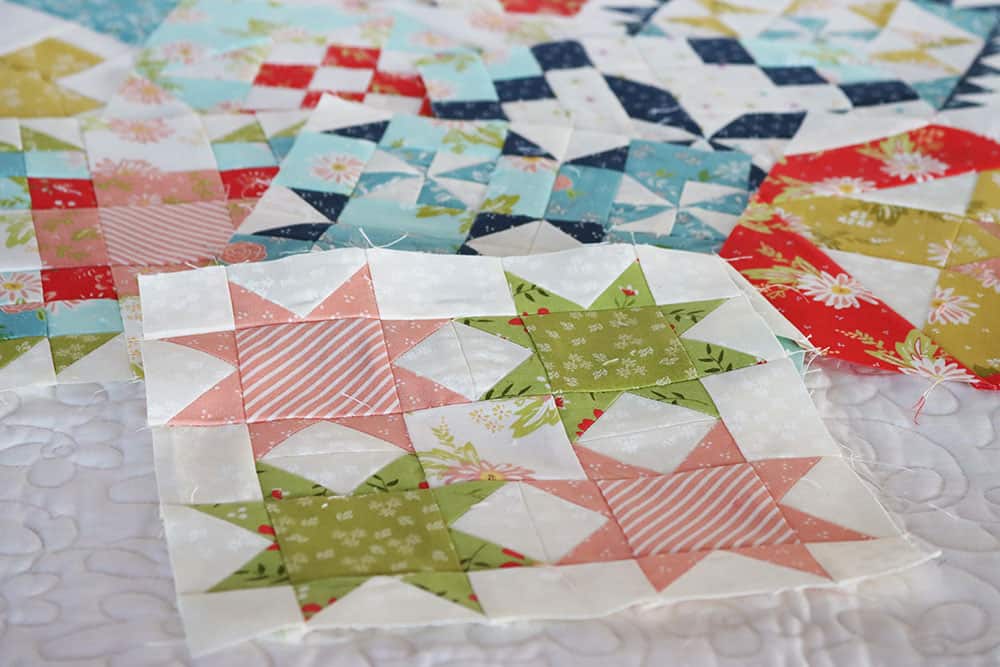 Block 56 Details
This week's Star Dance block was designed by Joanna Figueroa and is a lovely group of stars with beautiful secondary patterns. I used a mix of fabrics for my blocks–combining fabrics primarily from our Happy Days and Balboa collections. This block does have a lot of little pieces, so here are a few tips as you're piecing your block:
First, you might consider starching your fabrics before cutting.
Cut carefully as the pieces are small (especially in the smaller versions).
I'm making the 8″ block and used this Bloc Loc Flying Geese Ruler for my flying geese sections. The Bloc Loc really helps improve accuracy when piecing tiny units.
Also find the Bloc Loc Flying Geese ruler for 4″ finished block here; and Bloc Loc for 6″ finished block here. I couldn't find a Bloc Loc for the size needed for the 12″ block.
Finally, be sure to press frequently. And press seams open where needed so you can reduce bulk.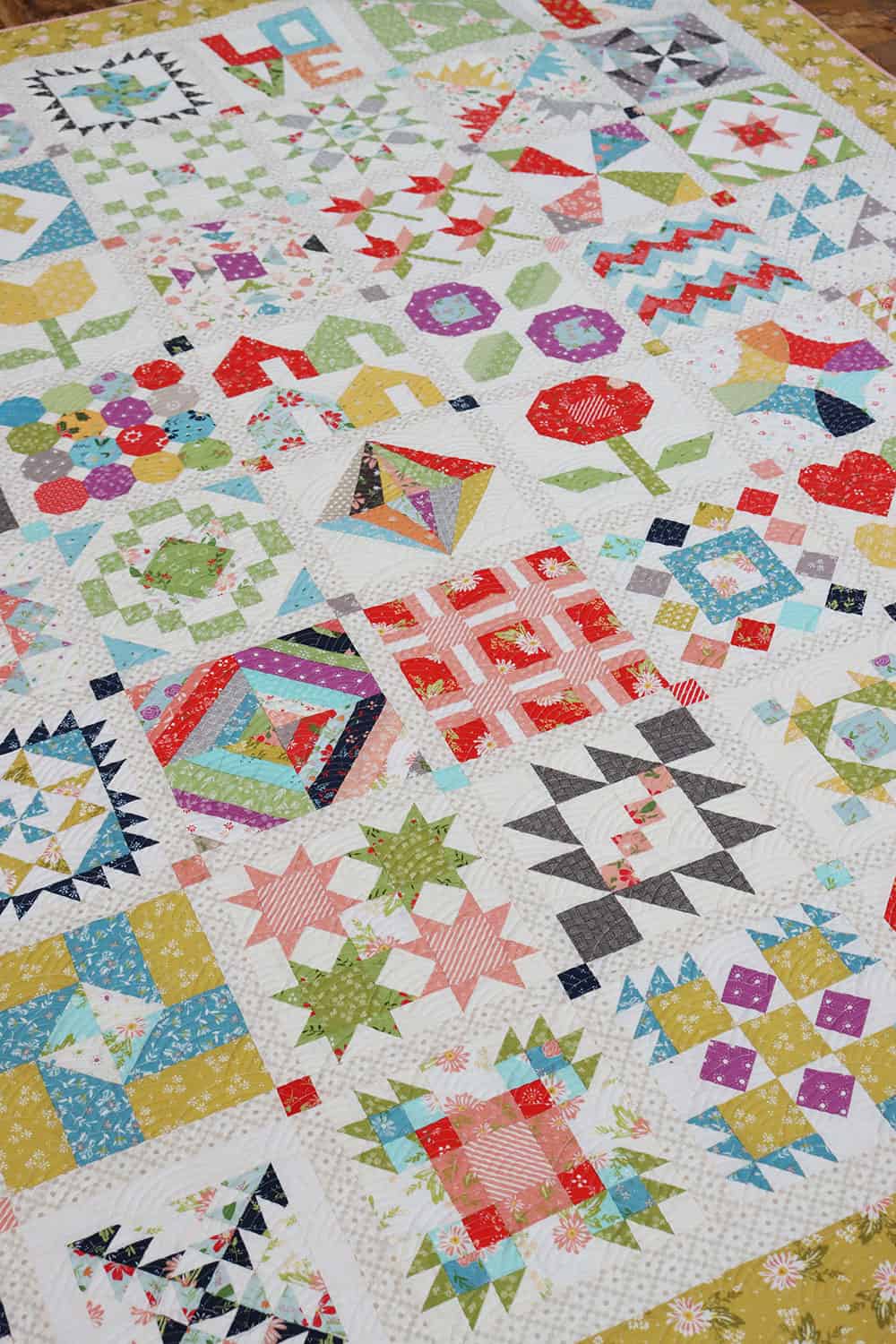 Block 56 Links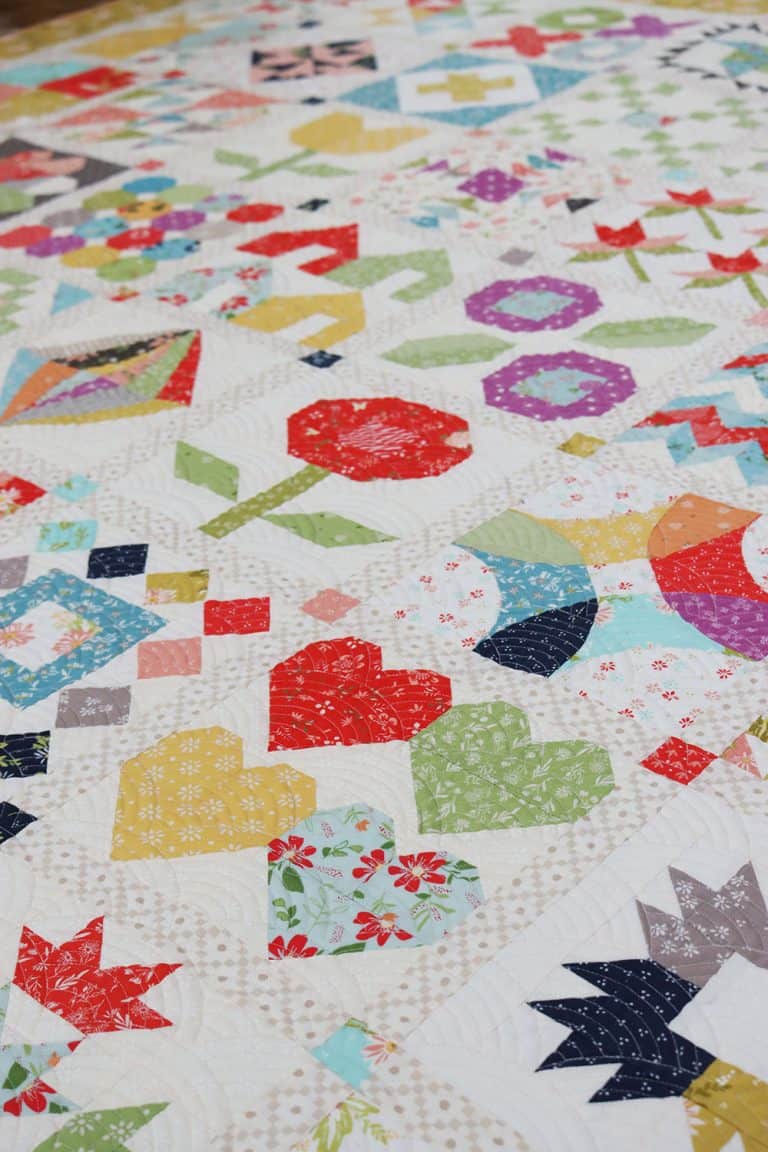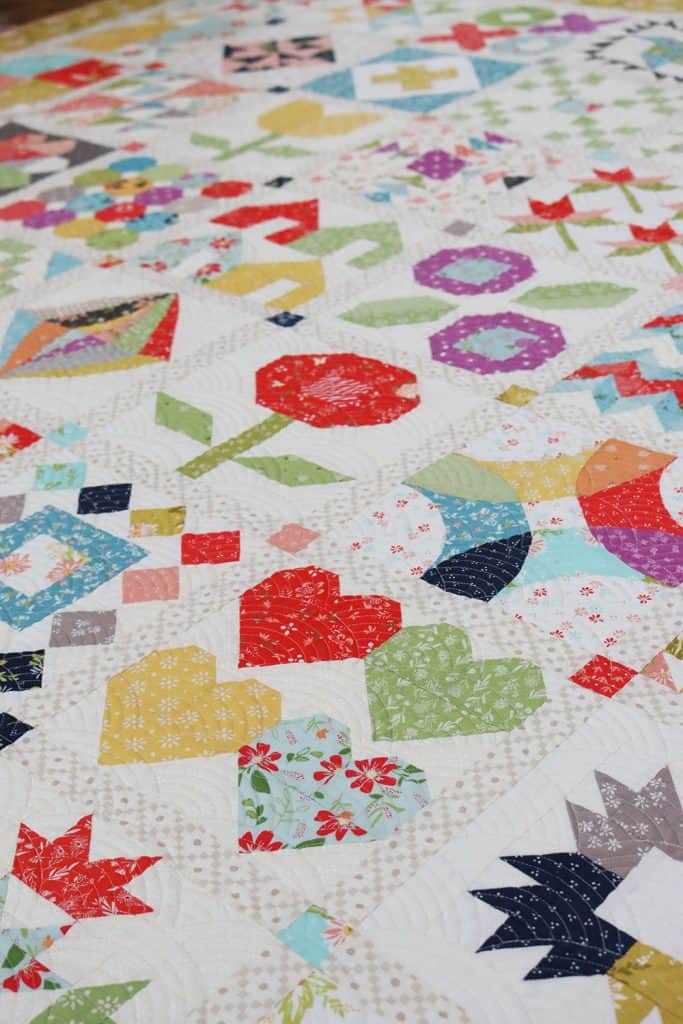 My Quilt Finishing Details
I used a simple straight setting with 8 rows of 7 blocks each for my quilt.
And I used 1 ½″ x 8 ½″ (cut) sashing strips between my blocks (the low-volume print I used is from our Walkabout collection a few years ago).
I used 1 ½″ x 1 ½″ squares for sashing posts–these are scrappy and primarily from our Happy Days collection.
I added a 1 ½″ finished (2″ cut) inner border from the same print as the sashing.
And I added a 4 ½″ (4″ finished) outer border using the large floral on Citrine from our Happy Days collection.
And for the binding I used the diagonal stripe in soft coral from Happy Days.
Moda Block Heads 3 Designers
Below find links to the other Moda Block Heads 3 designers. Be sure to stop by and see what they are up to this week.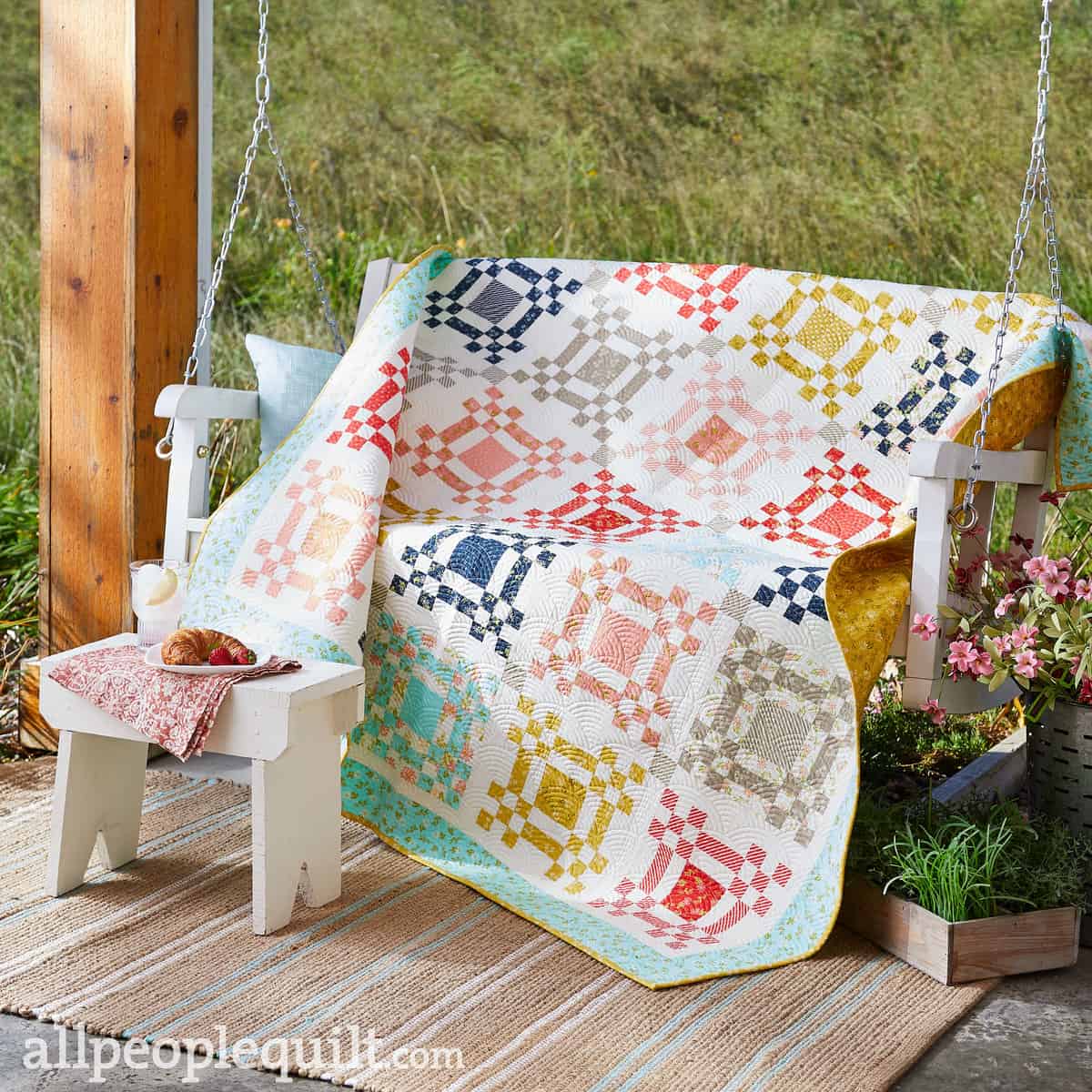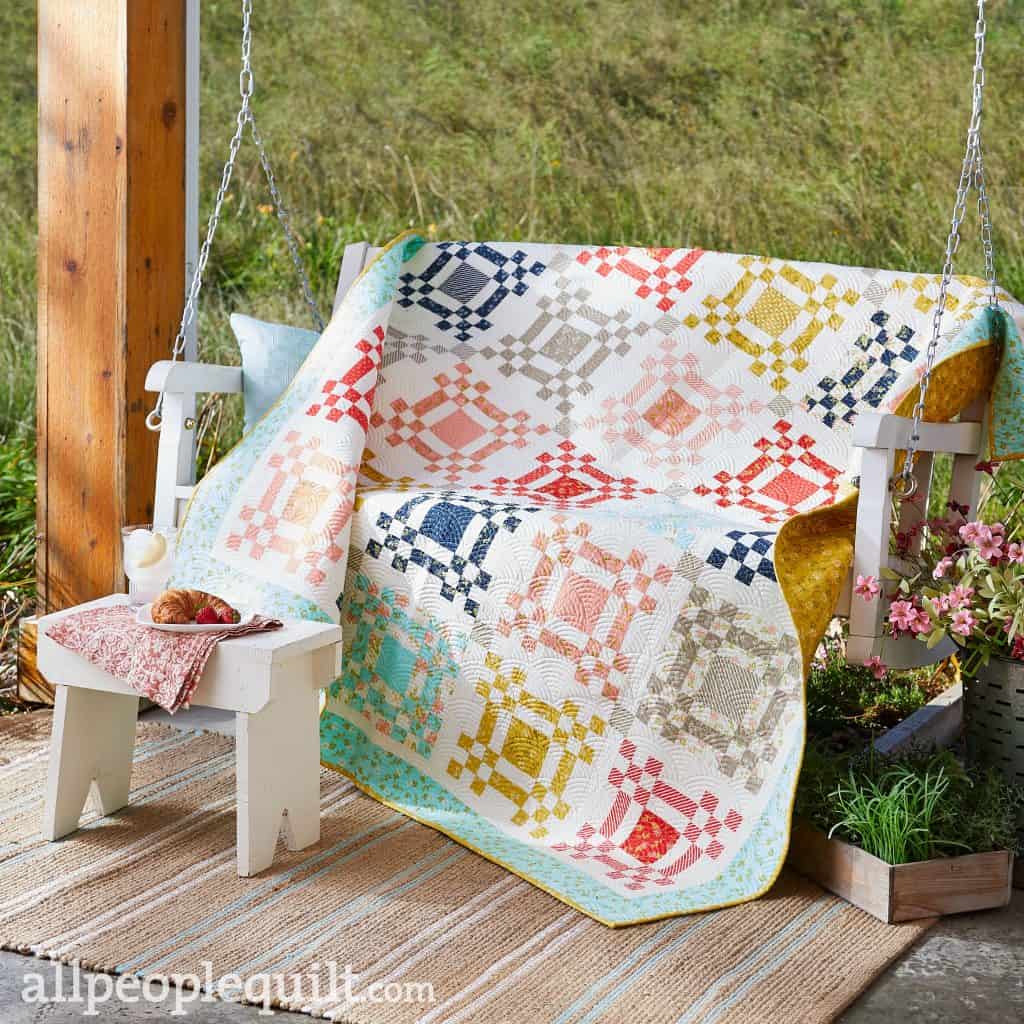 This Week's Giveaway + More
Be sure to visit the Moda Block Heads Facebook Group to enter to win a Layer Cake of the Fig & Shirtings collection. And…if you missed it, there is also a giveaway going on here now for a quilt kit for my Nine-Patch Square Dance quilt featured in the April 2021 issue of American Patchwork & Quilting. Get all of the giveaway details here.
And…if you're looking for another quilt along…there will also be a quilt along beginning February 22nd for the Nine-Patch Square Dance quilt above. I'll be sure to update you on that when the time gets closer. Additionally, I'll be sharing a quilt along for the Beach House Row quilt when the Happy Days fabric ships in March.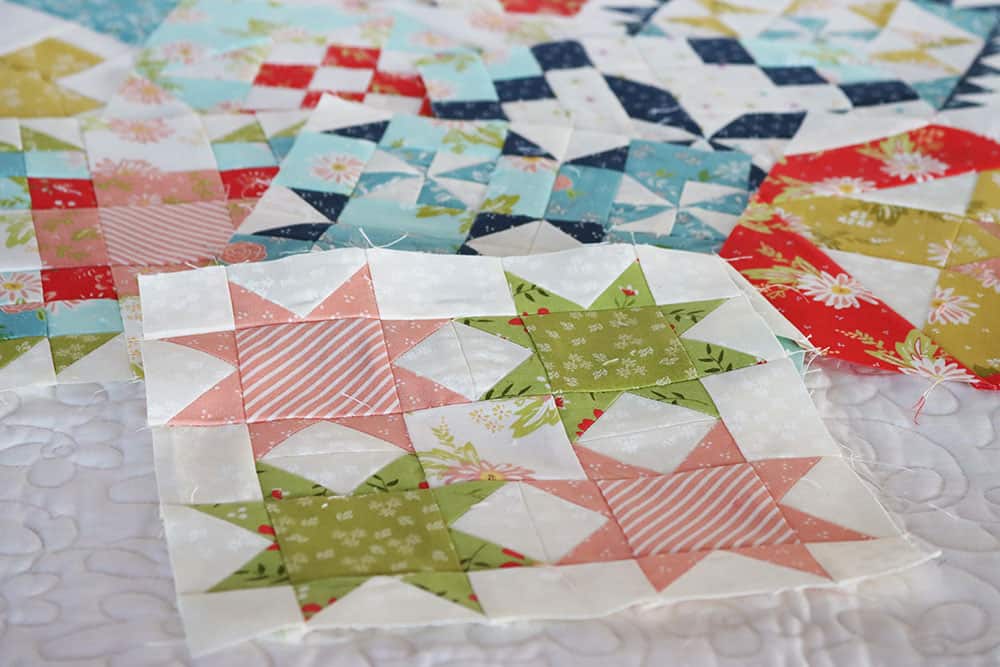 Happy quilting, and thanks so much for stopping by!