Hello everyone and happy Block Heads Wednesday. I hope you are staying well and safe in your part of our world. Today I'm super excited to be sharing my second block in our quilt along, Block Heads 3 Block 16, Dream! This week's block is a fast and fun half-square triangle block that has lots of options for you as far as color placement goes!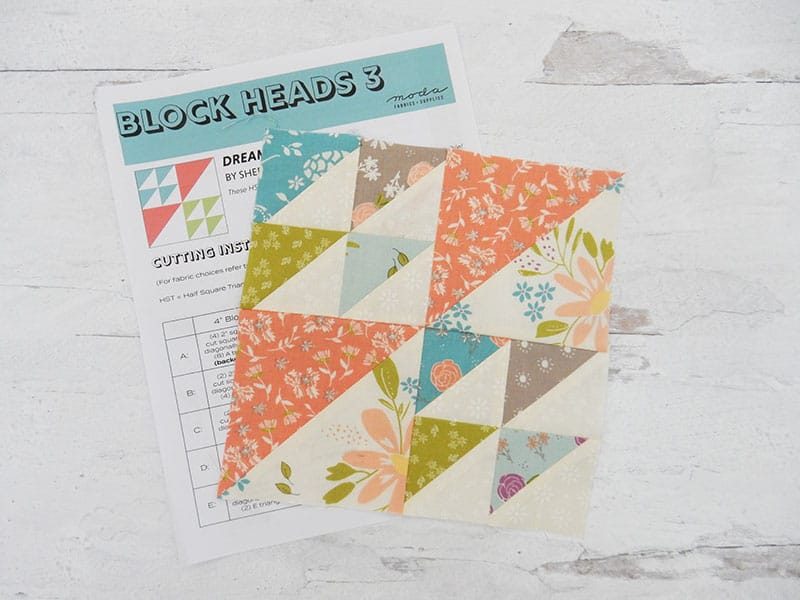 Block Heads 3 Block 16
Since we've been able to share our upcoming Balboa fabric collection since I shared my first block, I've used Balboa fabrics for all of the units in my block. I took the opportunity to use a large floral print on cream for the background fabric of my large half-square triangles (I'm making the 8″ blocks). It added such a fun touch. I also made the smaller half-square triangles from seven different fabrics (truth be told I already had those hst's left over from previous projects–I love saving time)! You have lots of options with this block…you can use fewer fabrics than I did or even more…it's your block!
Block 16 Video
Watch the short video above for a quick preview of this week's block and construction techniques. Or watch it on my YouTube channel here.
Block 16 Tips & Tricks
Pattern instructions for this week's block have you cutting squares into triangles to make your half-square triangle units. But I always prefer to begin with squares when making half-square triangle units. Cut your pieces the sizes listed in the pattern, but use this method for your half-square triangles. Or…use the following sizes of triangle paper. Just check the finished sizes on page two of the pattern for the size block you're making (a real time-saver especially if you are making all of the small hst's from the same fabric. And you'll definitely want to use triangle paper for the smaller block sizes).
Block 16 Links
Moda Block Heads 3 Designers
Be sure to visit our Moda Block Heads 3 Designers for their tips and tricks for this week's block!
Fun Things this Week…
Earlier this week on the blog I wrote about How to Hang Small Quilts (find this post here) and gave Tips on Small Space Sewing (post here)! I hope you've enjoyed today's post on Moda Block Heads 3 Block 16. Thanks so much for stopping by, and happy quilting!