Hello friends, and happy Wednesday! Today I'm sharing Moda Block Heads 3 Block 15 which is a beautiful star block by the lovely and oh-so-talented Corey Yoder. I did make just a couple of changes in block construction from the pattern, and I have a video and some photos below to show you the changes I made.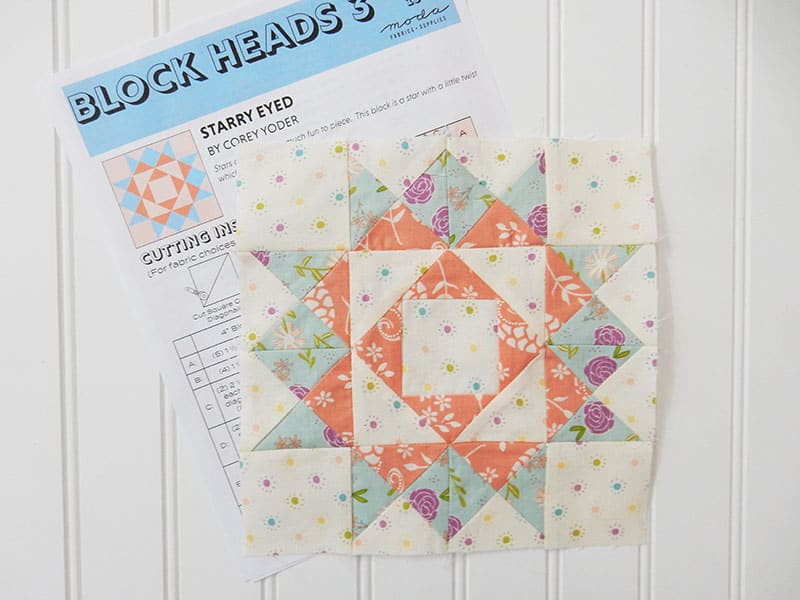 Block Heads 3 Block 15
I loved this week's block and enjoyed making another block with using our Balboa fabric collection. It was especially fun to use the multi-colored sun print for the background.
Block 15 Video
I did make a few changes to this week's block which I detail in the video above (or see it on my YouTube channel here) and also in the photos below. The changes I made make it easier to have accuracy while using fewer triangles in your piecing.
Block 15 Tips & Tricks
Use my tips below for ease in construction and block accuracy:
First, make the center section using the pattern directions (Cut A (background suns) and F (background suns) as directed; however, cut just one E (coral) square to be cut twice diagonally).
Don't cut any B squares, C, or D squares as directed.
In place of the B, C, D, and extra E squares cut the pieces listed below. The first size is for the 4″ block with 6″, 8″, and 12″ sizes following in parenthesis.
Additional Cutting
Cut (4) squares 2 ½″ x 2 ½″ (3″ x 3″), (3 ½″ x 3 ½″), (4 ½″ x 4 ½″) for B/D sections (aqua print in my block).
Cut (2) squares 2 ½″ x 2 ½″ (3″ x 3″), (3 ½″ x 3 ½″), (4 ½″ x 4 ½″) for C sections (multi-colored sun print in my block).
And cut (2) squares 2 ½″ x 2 ½″, (3″ x 3″), (3 ½″ x 3 ½″), (4 ½″ x 4 ½″) for outer E sections (coral in my block).
Block Construction Steps
Make (4) coral/aqua hsts using (2) coral squares and (2) aqua squares. Press to one side and do not trim.
Make (4) aqua background hsts using (2) aqua squares and (2) background squares. Press to the dark and do not trim.
Make (8) identical quarter-square triangles using this method and one of each type of hst. Trim to measure the same size as your A squares.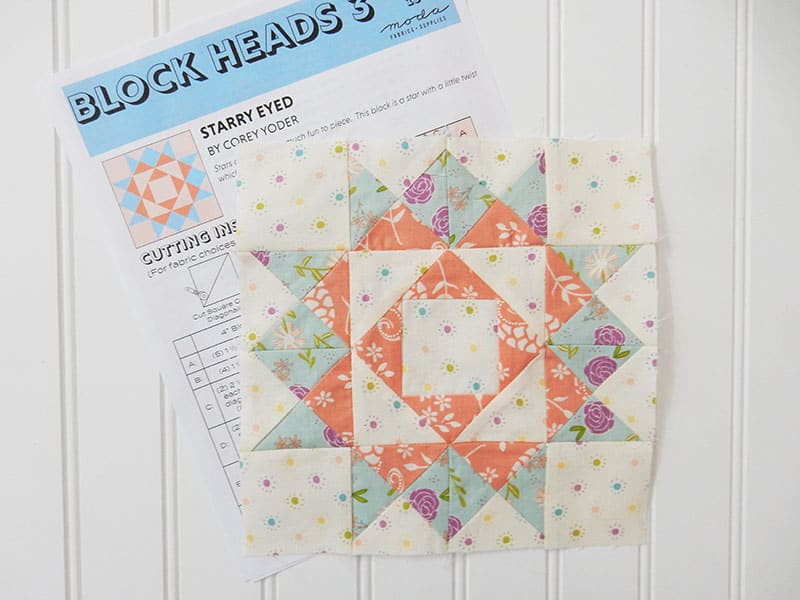 Block 15 Links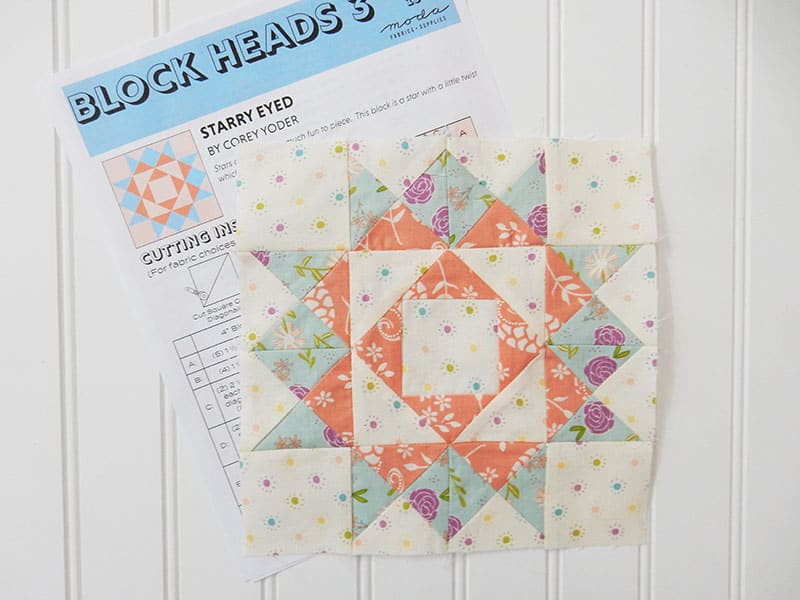 Moda Block Heads 3 Designers
Be sure to visit all of the other Moda Block Heads 3 designers this week to catch up with their progress and get their tips and tricks!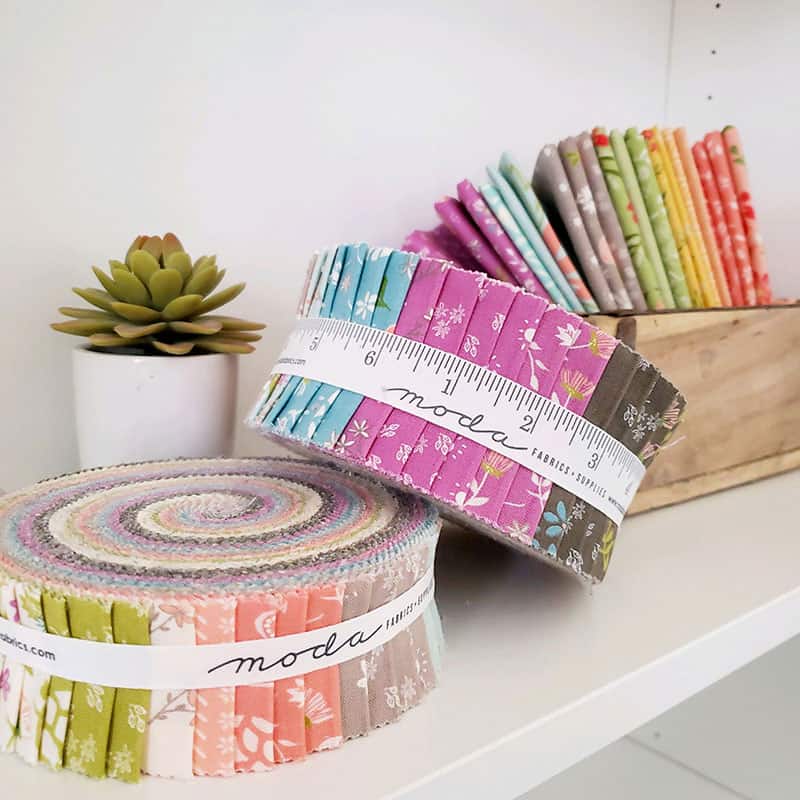 Just a Few More Things…
Earlier this week I released a new video talking about all things Works in Progress…you can watch it and read my Best Tips for Works in Progress post here.
I hope you're enjoying Moda Block Heads and that you'll have fun piecing Block Heads 3 Block 15. Tomorrow I'm sharing a new Balboa quilt…can't wait! And very soon I'll be sharing another Balboa quilt that I finished up last evening! Happy quilting, and thanks so much for stopping by.