Hello and happy Wednesday. I'm happy to share Moda Block Heads 2 Block 39 with you today. Block 39 is called "Bordered Granny," and is another fun block by Corey Yoder. This week's block actually takes a little bit of extra time, but I think it's the final time-consuming block in the quilt.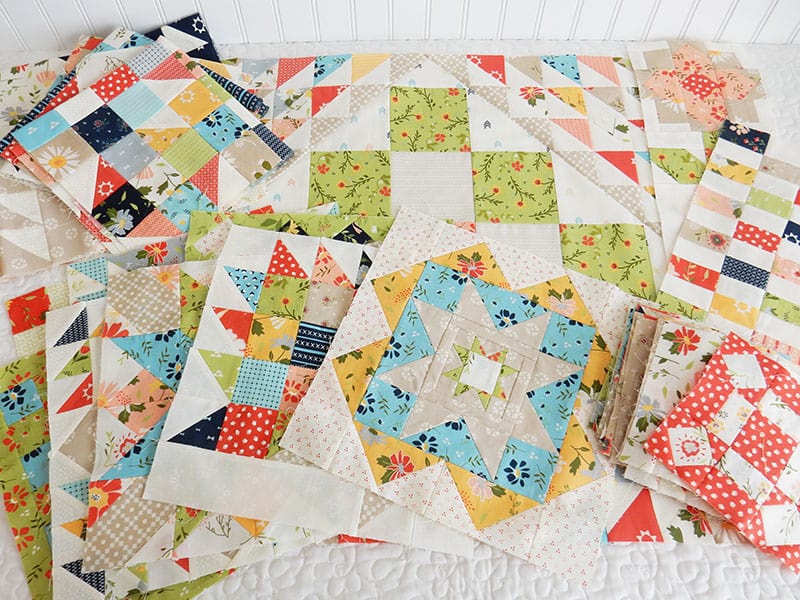 Yes, that's it…underneath all of the other blocks! This week's block finishes at 24″ x 24″ and has lots of half-square triangles. Luckily they are a standard size, and I was able to once again raid my half-square triangle bin for this block. But since the block uses 60 hst's, I did have to make some extras to get the color placement I wanted.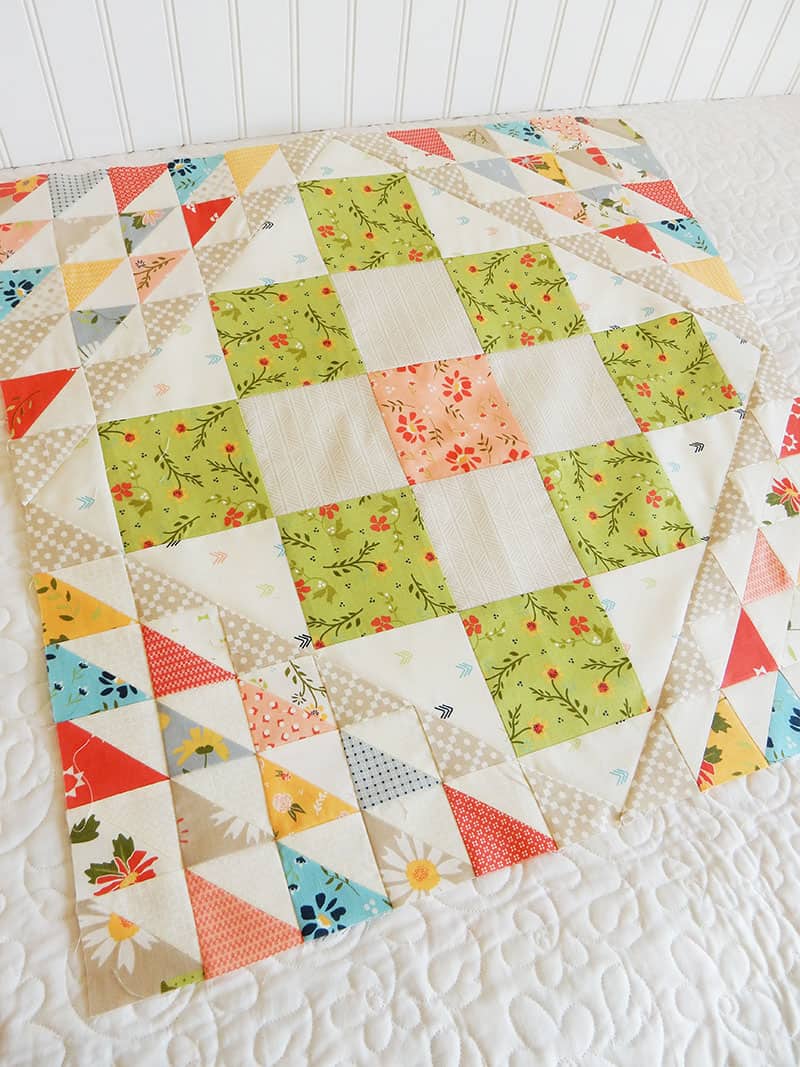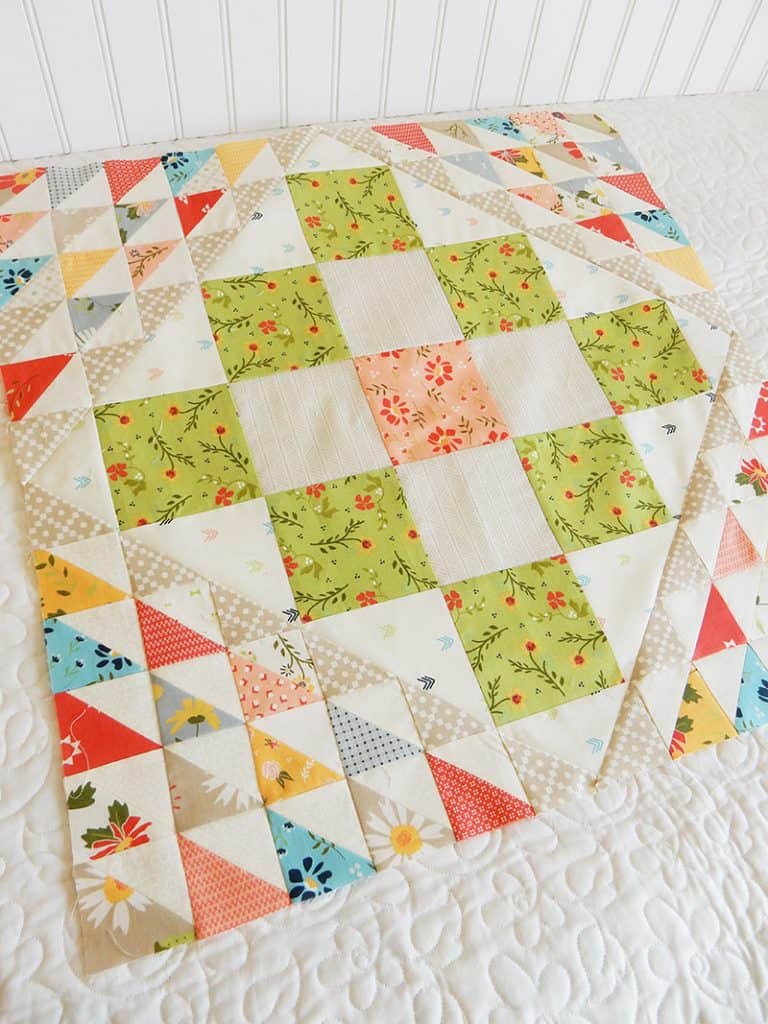 Probably the hardest part about this week's block, though, was figuring out which fabrics to use in such a large block. I knew I wanted plenty of lighter fabrics to give the eyes enough "resting space" in what I knew would be a busy block. I knew I wanted it scrappy, but I also wanted to tie the scrappiness together using some of our taupe prints.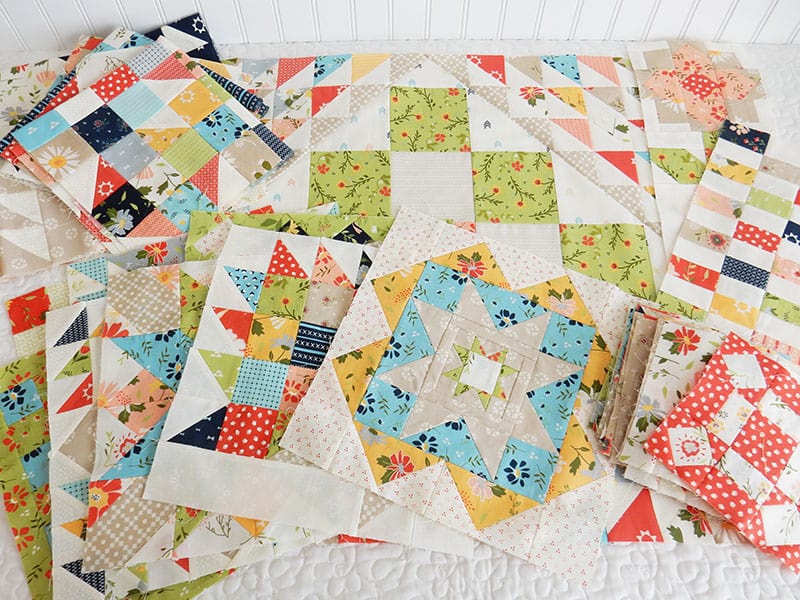 Tips for Moda Block Heads 2 Block 39
Consider fabric placement before you start cutting. The granny square center of the block is made up of squares that are quite large, so make sure you love your center square fabrics.
Consider making this block extra scrappy so that the large pieces don't overwhelm your quilt. I decided to border my busy green center squares with the taupe triangles to "quiet" it a little before adding all of the other bright half-square triangles.
If you have a scrap bin of half-square triangles, use some of them. This will save a lot of time.
The half-square triangles really need to be exact for this block to finish at the correct size. Cut squares for the half square triangles at 3″ x 3″ so you can trim them down to the perfect size. I have a post on this method you can read here.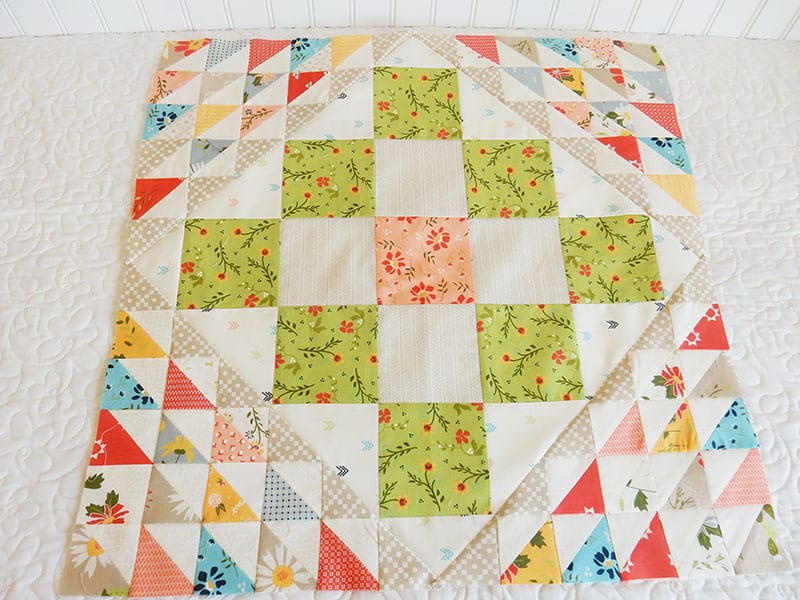 Moda Block Heads 2 Block 39 Links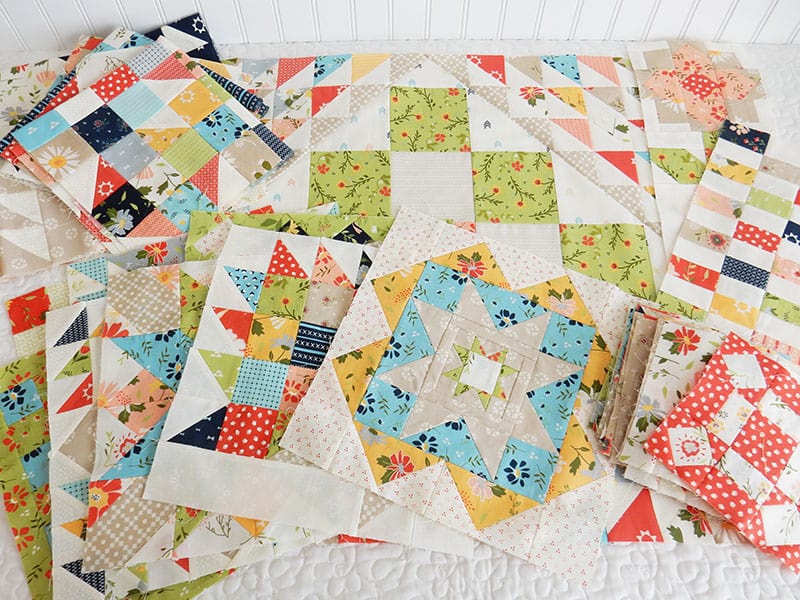 And Find the Other Block Heads Designers Here: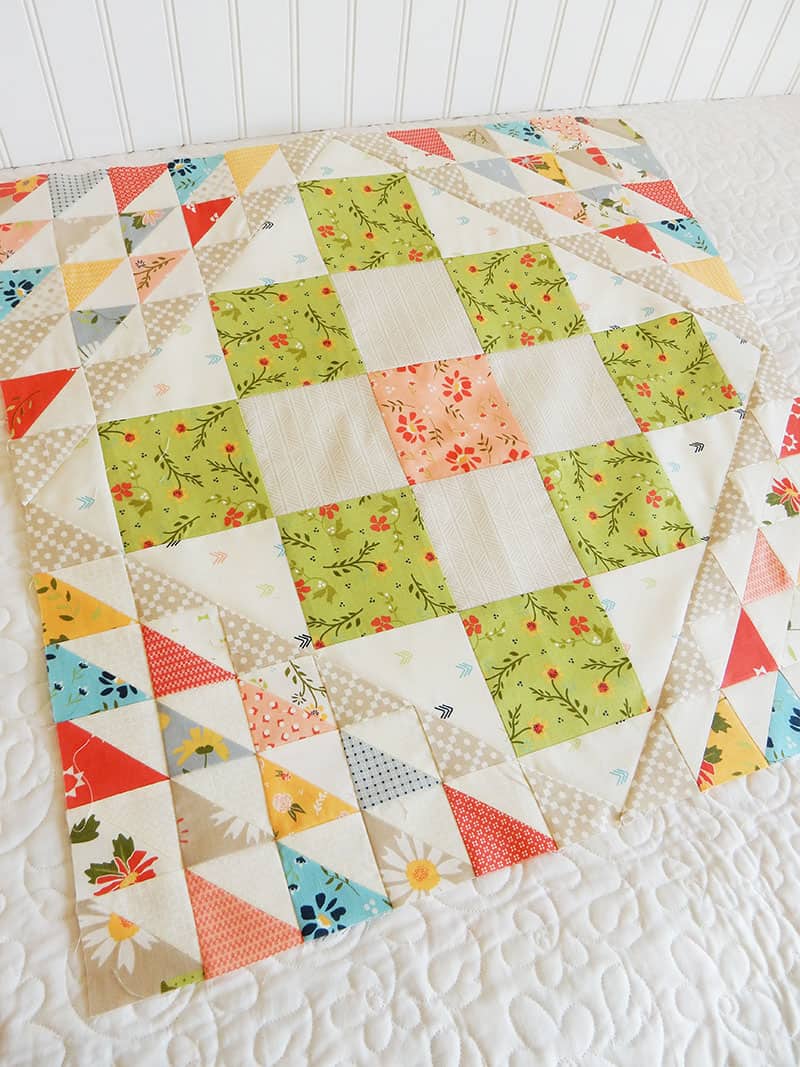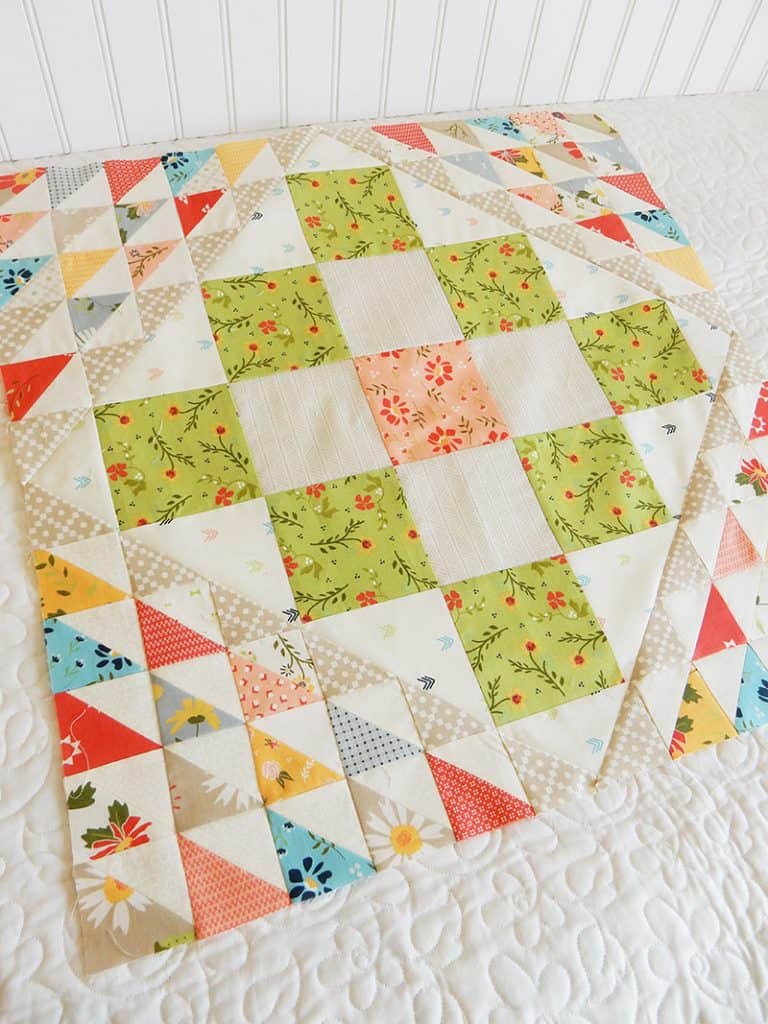 Happy sewing this week's Moda Block Heads 2 Block 39. The time spent on this one is really worth it…be sure to get yourself a treat when you finish 🙂
Just a Few More Things
If you just can't get enough of blocks with half-square triangles…on Monda I posted the first three blocks in my Mystery Block of the Month quilt along for 2019! Go here for all of the information.
And finally…last week I posted the first post in my Sew Your Stash Series for 2019. Read it here, and then come back on Friday for the second post!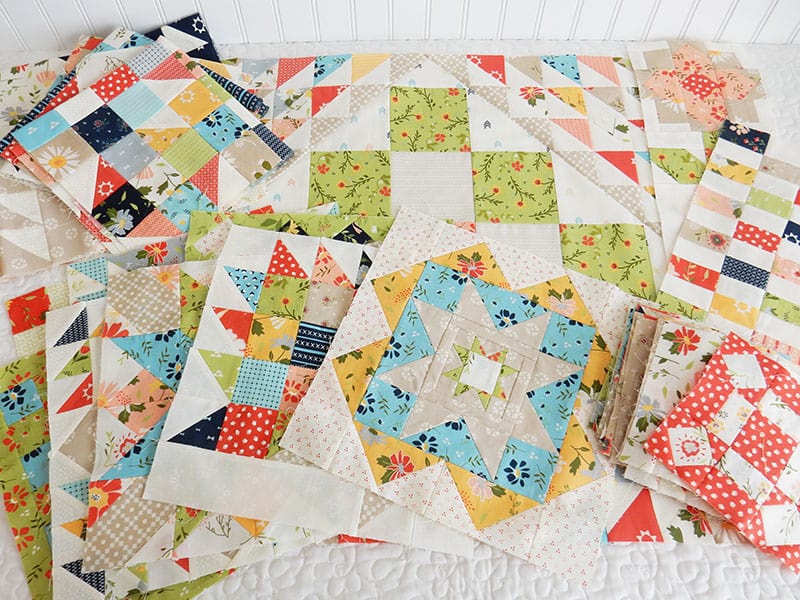 Thanks so much for stopping by!