Hello and happy Wednesday!  And welcome to the Moda Block Heads 2 Block 27 post.  As I mentioned last week, we are now half-way finished with our blocks for this quilt along.  And we made it through six weeks of at least two blocks per week–yay!  This week we are just making one block, but it is a big one finishing at 18″ x 18″.  And today's pattern is by Lynne Hagmeier of Kansas Troubles fame.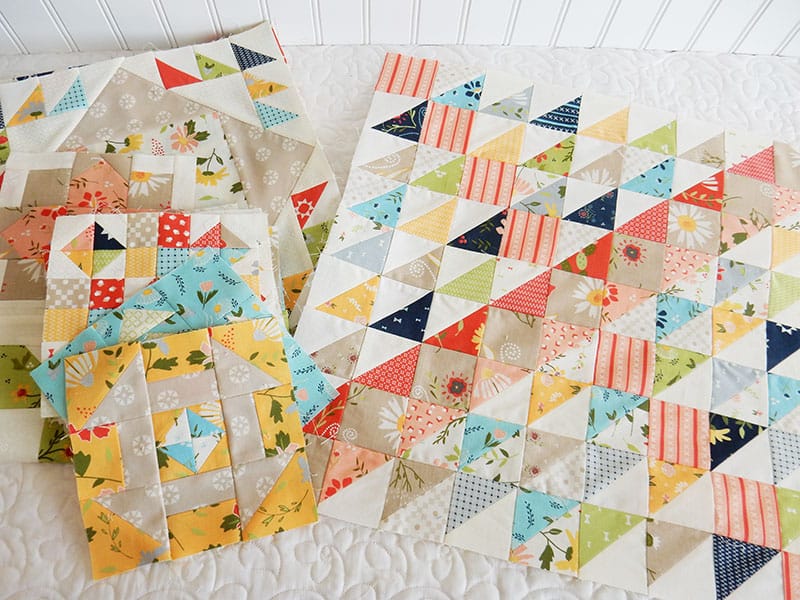 My Scrappy Block
I decided to make my block really scrappy–and for good reason!  You need 64 half-square triangles for this block, so I decided to raid my stash of already-sewn half-square triangles.  I used half-square triangles made with fabrics from our Clover Hollow and Walkabout collections, and cut the necessary square pieces from Walkabout.  By using half-square triangles that I'd already sewn and stored I was able to save a lot of time.  I used eight half-square triangles in each of eight different colors for the half-square triangles with a variety of prints being used in each color-way.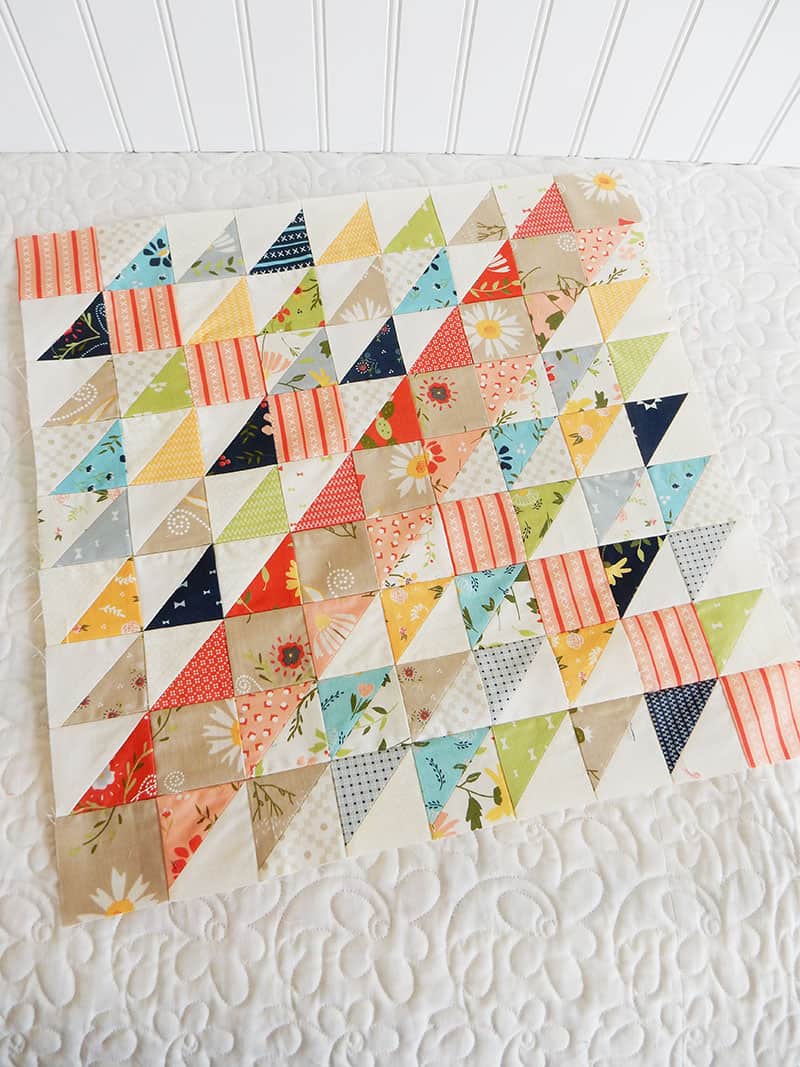 Fabric Choices
I decided to use the large taupe floral from Walkabout for the squares which run from the lower left corner of the block to the upper right corner.  And I used the Walkabout stripe in coral for the squares running the opposite direction.  To add more emphasis to the taupe blocks, I bordered all of the them with red half-square triangles on the left side of the squares and with soft coral half-square triangles on the right side of the squares.  The placement of all of my other half-square triangles is pretty random (although I did try to make sure I distributed the colors evenly).  You might also notice that some of my half-square triangles have plain backgrounds and others use light print backgrounds.  This was also random as I just used what I had on hand.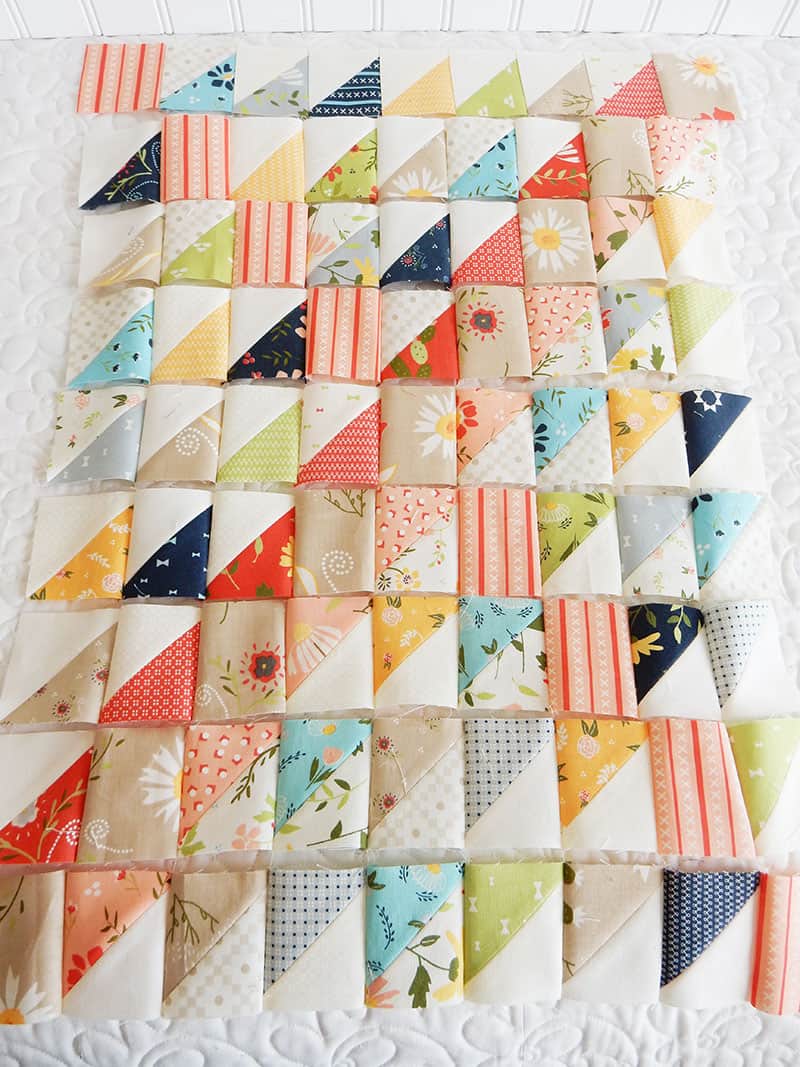 Block Construction and Pressing
I utilized chain-piecing for this block which helped a ton in keeping everything together.  After I had chain pieced blocks in each row, I clipped the threads one row at a time and pressed the seams between the units.  I also alternated directions so the rows would "nest" together when I went to sew the rows together.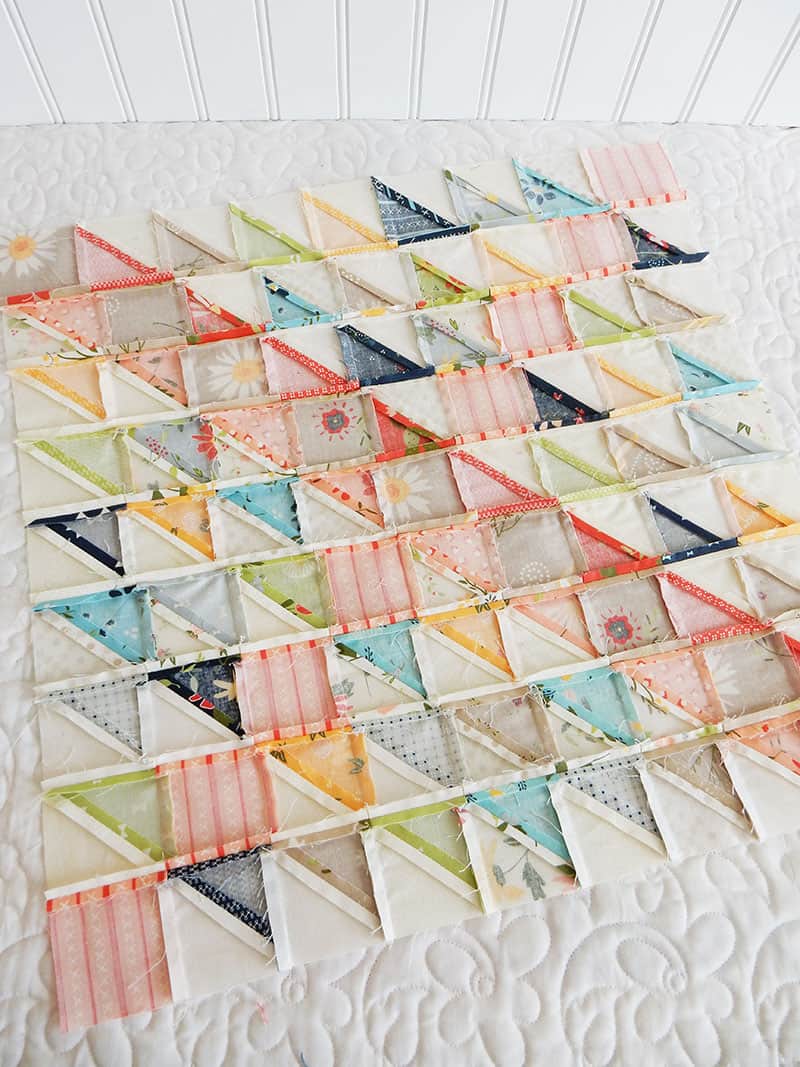 On the Back…
I'm pretty happy with how the back of the block looks, too!  It's always fun when the back is decent.  As you can see, the seams in all of my half-square triangles were pressed open which really helps cut down on bulk when sewing them together.  Seams between units in each row were pressed to alternating sides, and I pressed the seams between the rows open.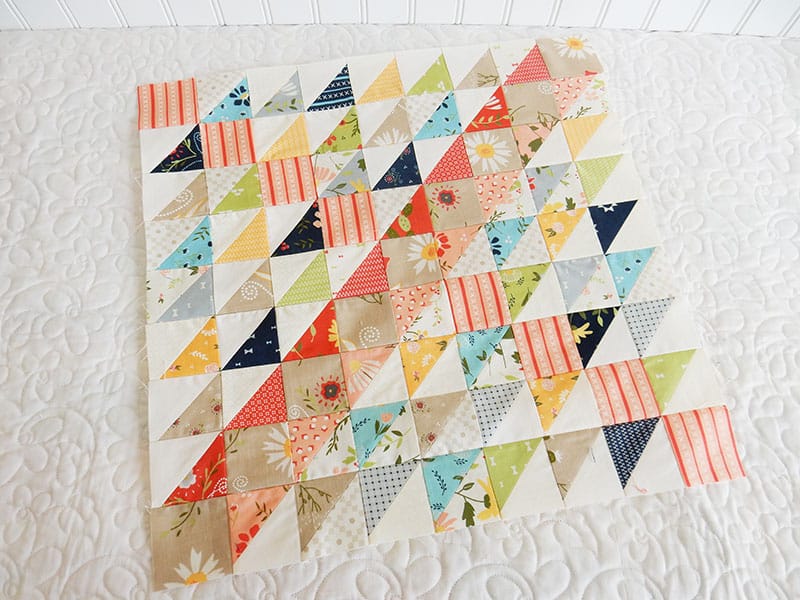 Links for Moda Block Heads 2 Block 27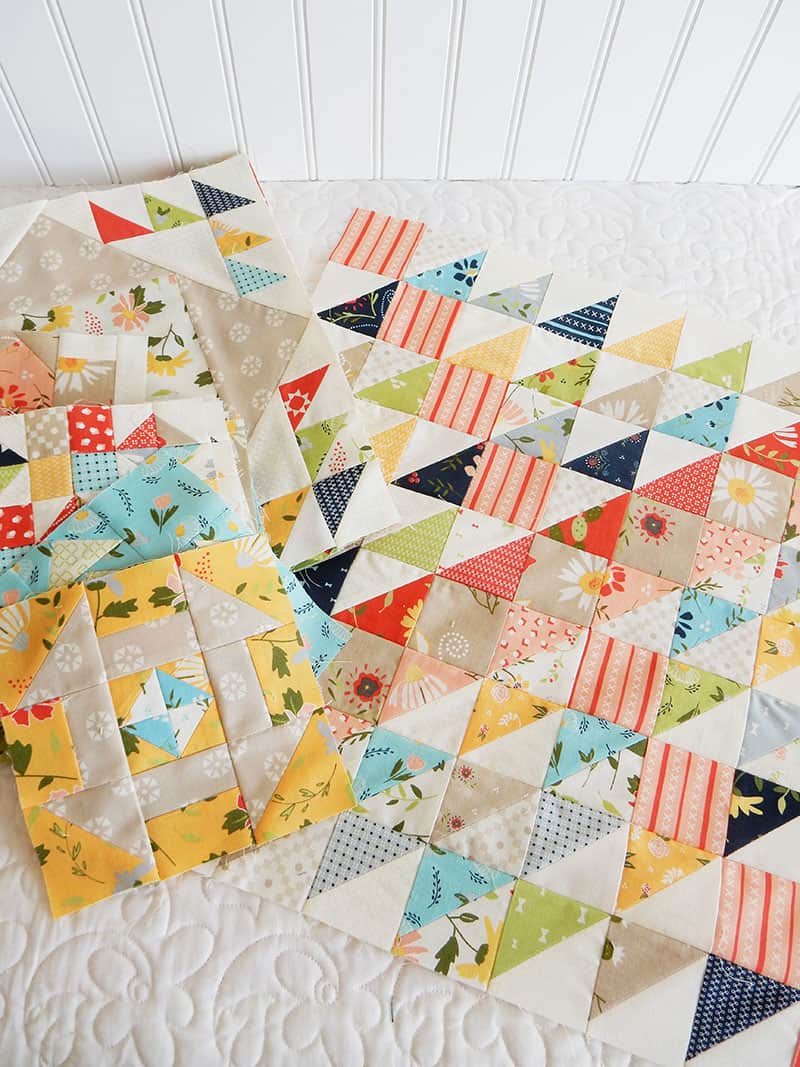 And Find the Other Moda Block Heads Here: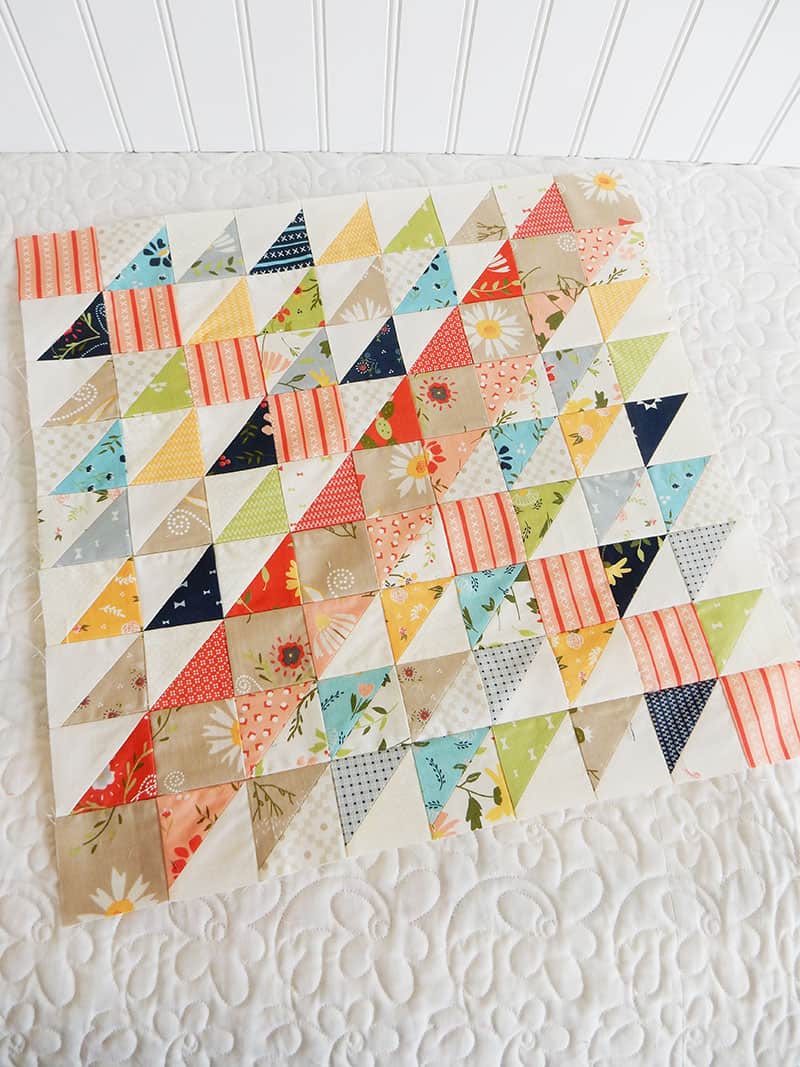 I hope you are enjoying making these fun blocks!  Thanks so much for stopping by!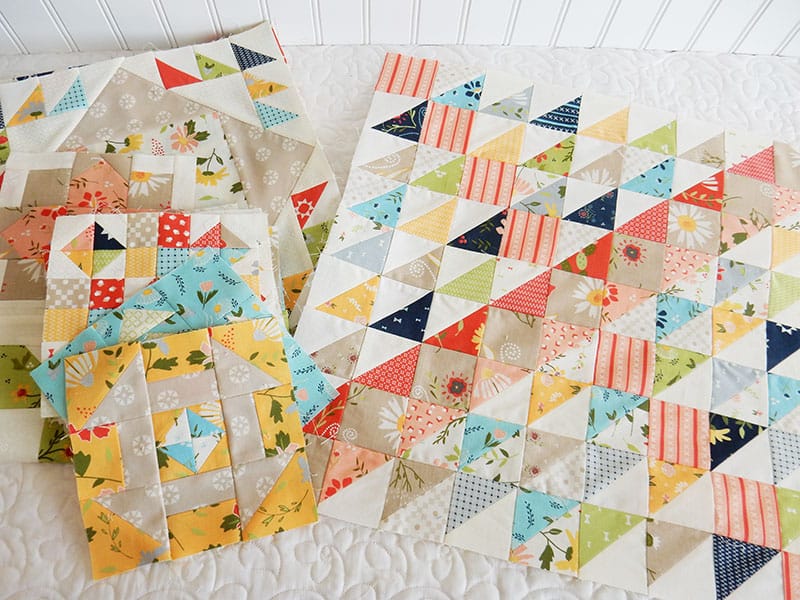 Happy quilting!