Hello and happy Friday!  I hope your week has gone well and that your weekend will soon be off to a terrific start!  Today I'm sharing some great gift ideas for retreats & quilting friends.  This is something I've struggled with over the years.  It seems I'm always trying to find the perfect gift for quilting friends, and sometimes they've just been hard to come by!  But this summer I was able to attend a retreat where I was able to get a lot of wonderful ideas for future retreats and gift exchanges!  I hope this list will give you some good ideas!
Zipper Bags and Cases
One gift I've always loved giving is a zippered bag or case.  This year I made 24 of these quick zip cases for my retreat gifts.  I posted about these earlier with all of the pattern information here. Another great idea along this line is to give a project bag.  I have a good friend who made a couple of dozen of these one year for a retreat!  Find all of the information on  easy project bags here.  And I also have a free tutorial for a smaller zipper pouch here.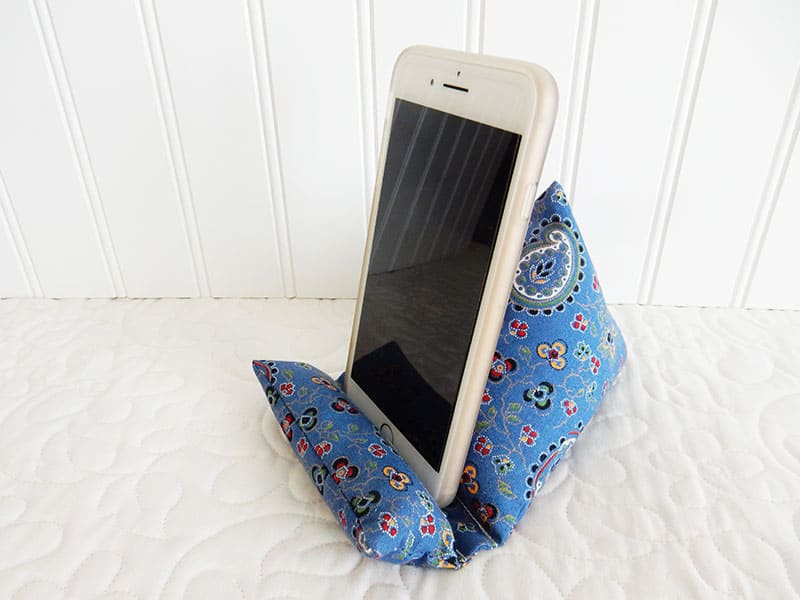 How About a Handmade Phone Stand?!
This wonderful cell phone stand is one of the best gift ideas I've seen in a while!  I absolutely love this and have been using it every day since I received it! Find the tutorial for this handmade phone stand here!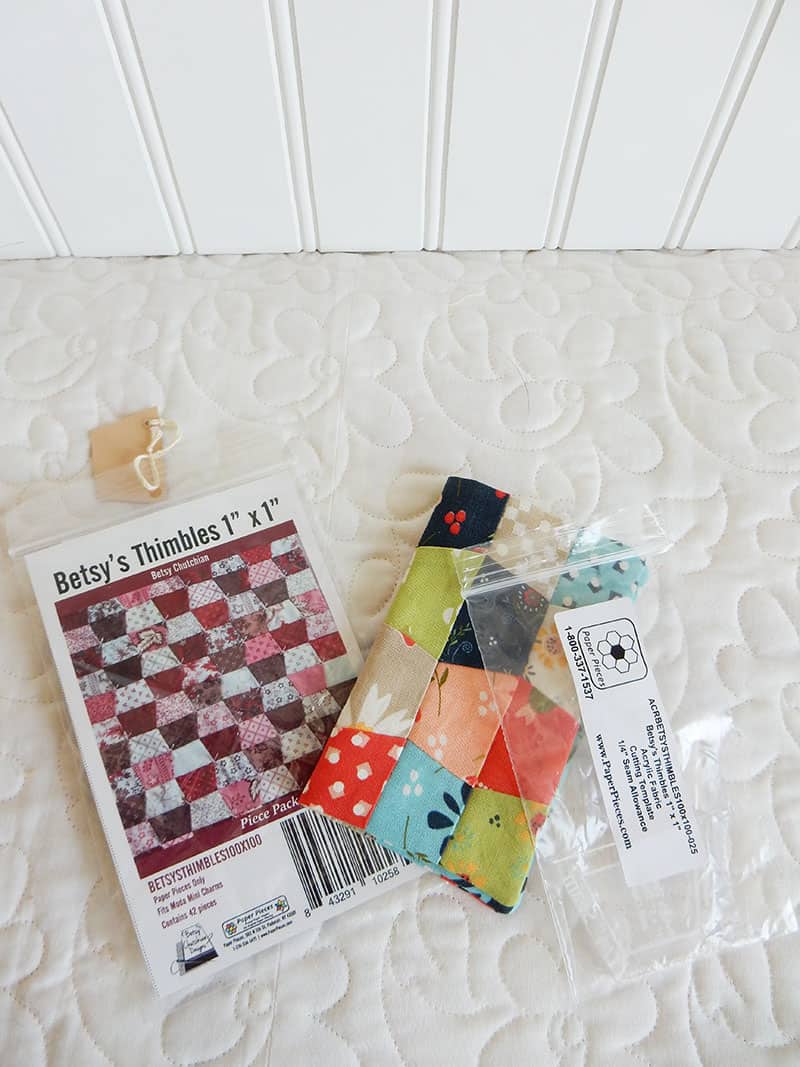 Small Patterns and Small Project Kits
A mini pattern is a terrific idea for a retreat gift.  This is an especially good idea if you are short on time!  I was so excited to receive this kit to make this darling needle-case!  I posted about it earlier with all of the pattern information here.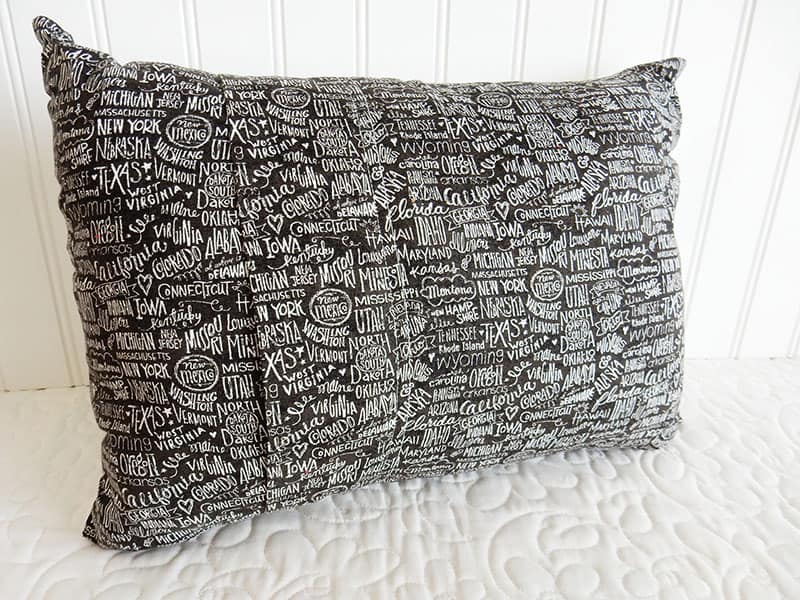 Travel Pillows
A travel pillow is also a wonderful gift idea!  The front of this darling pillow actually has the names of everyone who attended the retreat in beautiful calligraphy printed on fabric.  It's a wonderful remembrance of a wonderful time with amazing people!
Simple Storage Containers
This collapsible storage bin from Ikea is another wonderful great gift idea for retreats and quilting friends!  It came in handy at the retreat storing things and has also been great to have at home!  It's another terrific option for project storage, and you could even add a label to the top handle!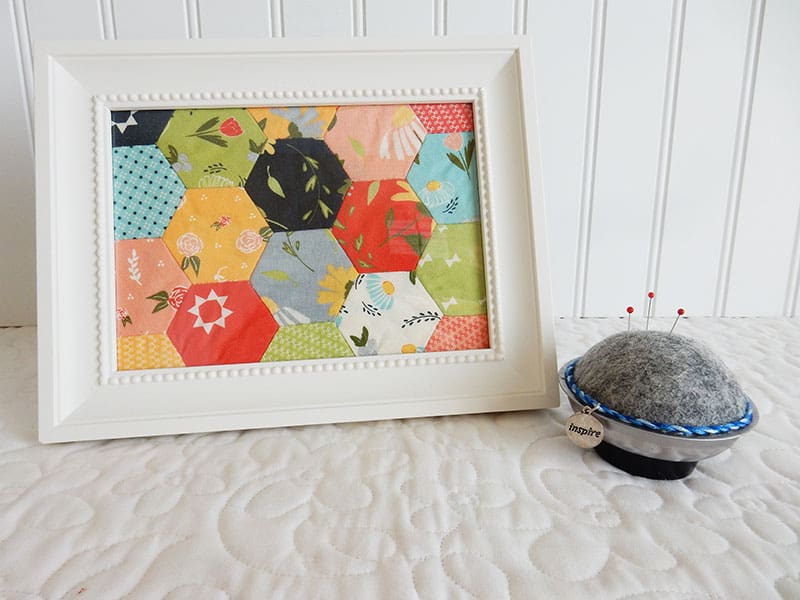 Patchwork Projects and Pincushions
A simple framed piece of patchwork is a terrific option…especially with the many inexpensive frames available!  (Find the tutorial for the framed hexagons here).  Pincushions are always a wonderful gift idea.  I have many that I love, but this clever pincushion made from a wool dryer ball cut in half and glued in a mini magnetic bowl is about the most genius idea for a pincushion I've ever seen.  We decorated them at the retreat with sweet charms and corded floss!  I also have a simple patchwork pincushion tutorial you can find here.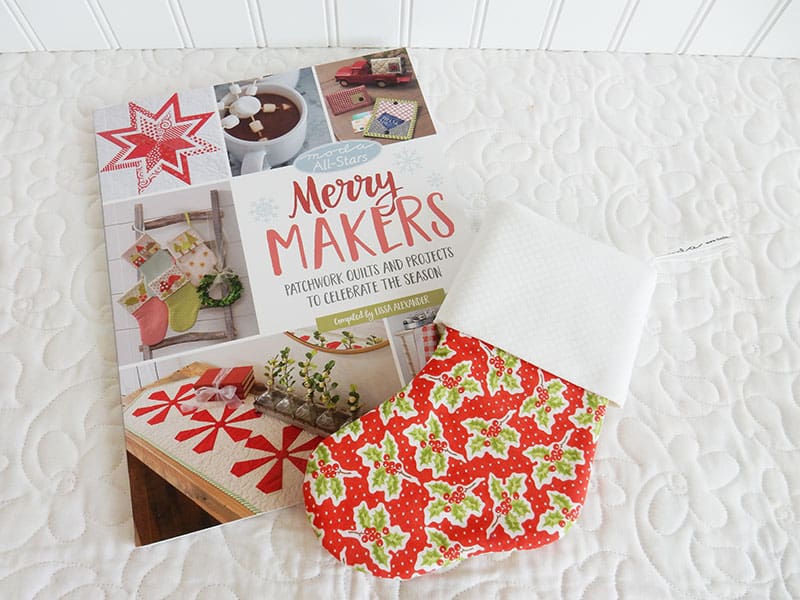 Christmas Stockings and Simple Christmas Decor
How about a Christmas Stocking as a retreat gift?!  I also thought this was an amazing idea…because we can always use more adorable stockings.  This one was made using the pattern in the Moda All-Stars Merry Makers Book (more on the book and other projects here)!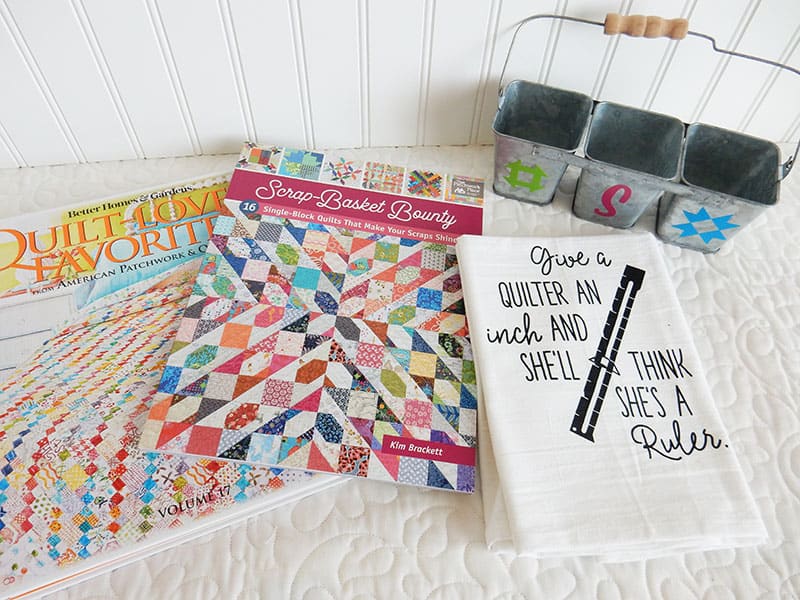 Books, Patterns, Quilt-Themed Dish Towels, and Containers
Here is a smorgasbord of fun gift ideas: How about a fun book, quilting calendar, quilt-themed dish-towel, or even an adorable decorated tin (this one had candy in all three bins, but of course the candy didn't make it home for the picture)!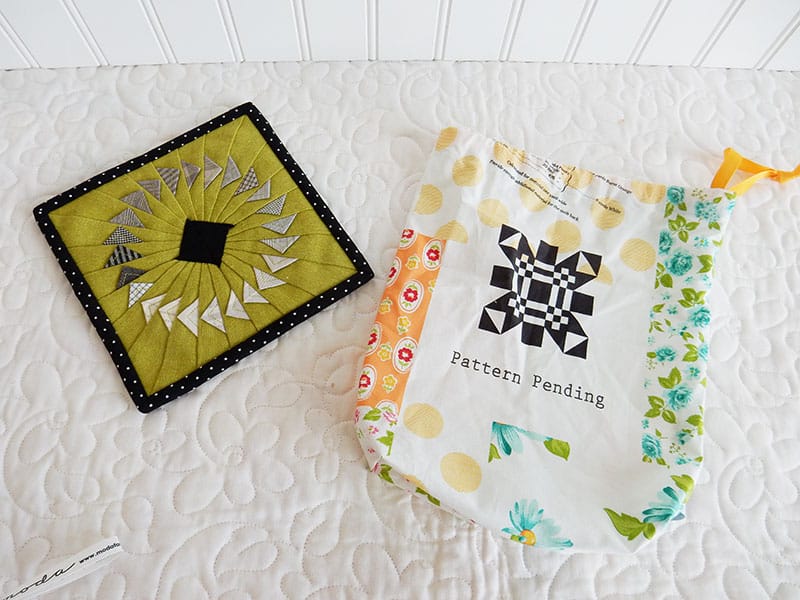 Coasters and Drawstring Bags
Two more fun ideas: a coaster and a drawstring bag!  Now this coaster is really not going to be used by a coaster by me!  The maker spent so much time making the darling prairie points and paper piecing this amazing piece, that I'm adding it to my mini wall.  It's simply beautiful!  And this drawstring bag in sewing-themed fabric was another wonderful idea!  I have a simple mini-charm patchwork bag tutorial you can find here.

More Great Gift Ideas for Retreats & Quilting Friends
Quilt-themed jewelry and charms ( I received the most darling tape measure bracelet this summer as well)!
Journals, notebooks, and pens–quilt-themed or not.
Candy and snacks
Seam rippers, pins, and other small notions you can always use
Retreat necessities: Lip Balm, Hand Lotion, Socks
Thread Catchers
Do you have more ideas?
If there is anything I'm missing, please leave a comment, and I'll update the post with more ideas!  I know I'm forgetting some fun things but plan to updated this as I remember more ideas!
Happy quilting, and thanks so much for stopping by!