Hello and happy Thursday!  And happy November as well (I really can't believe I just wrote that…fall is sure flying by)!  At home today I'm finishing up last minute things and packing for International Quilt Market in Houston, Texas later this week.  But first, I'm excited to share my Garden Stars Sampler Wall Hanging & Fall Mini Quilts from our November Minis and More parade! Last week I shared the lap-size quilt from my new Garden Stars Sampler pattern.  I wasn't sure if I'd be able to finish up the wall hanging size of this quilt in time to take it to Market.  Thanks to encouragement from my quilter, I got it pieced last Friday night, dropped it off to be quilted Saturday morning, and picked it up Monday afternoon.  On Tuesday I did the binding.  Whew…one more finish for our booth!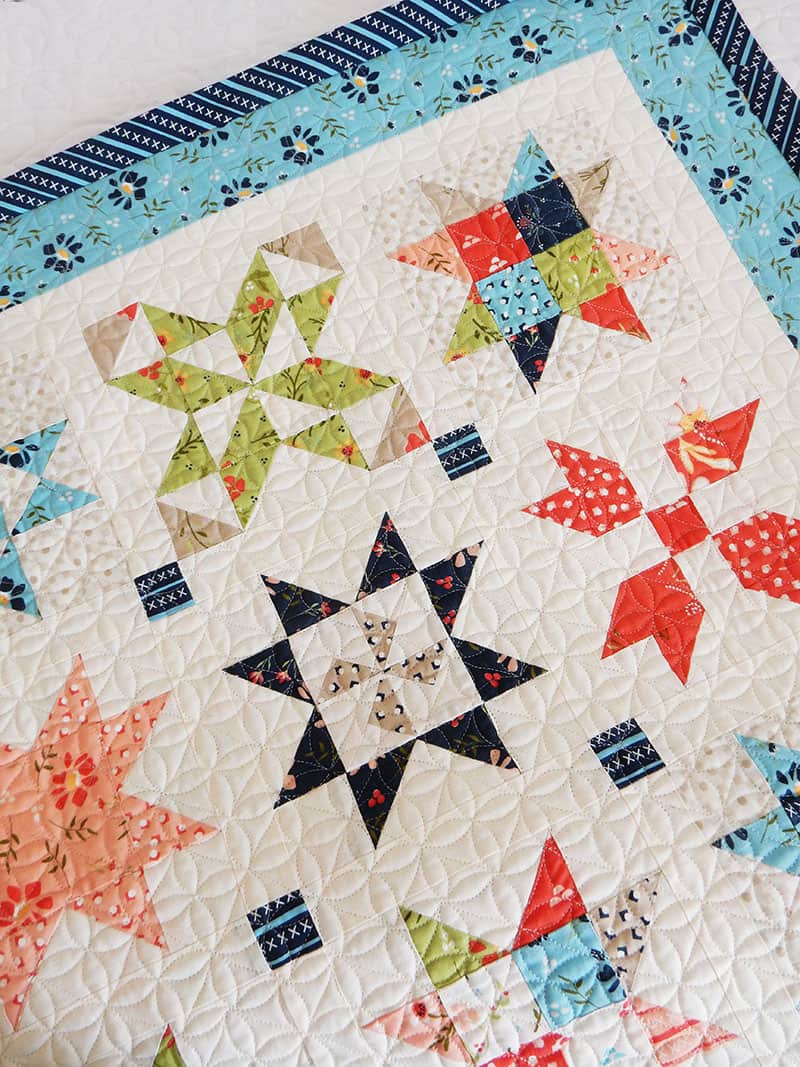 I really, really love how it turned out.  For the wall hanging size, I actually used most of the same fabric combinations I used in the lap-size version of this quilt (see the post on that quilt here), but I was able to use our tone on tone floral for the backgrounds that read as a solid.  While just a couple of blocks are a little different, for the most part the quilts are very similar (both sizes are included in the pattern).  And I love the bias stripe binding in navy.  Our Walkabout collection features our first true stripes, and I've really been enjoying using them as bindings–both straight and on the bias!  Get the Garden Stars Sampler quilt pattern here.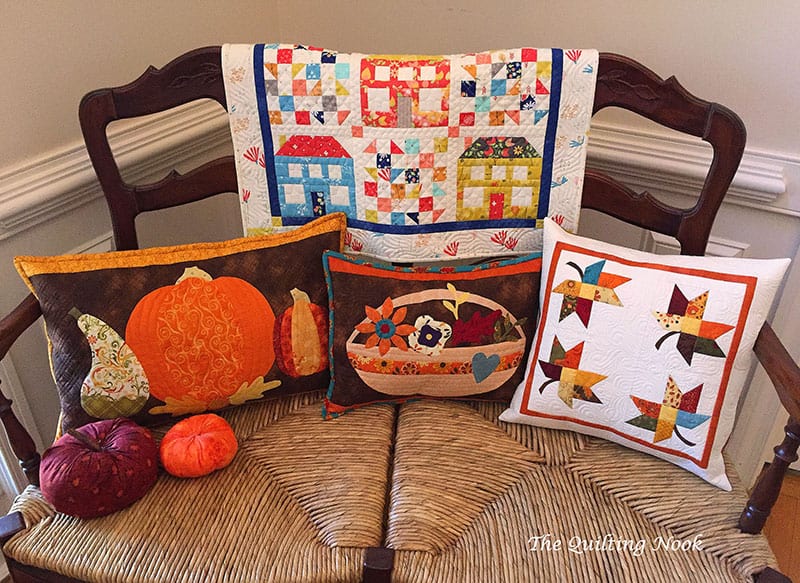 Fall Mini Quilts Parade
And now for some really fun fall inspiration for you!  Brenda's fall Minis and More project this month was her Twirl pillow in fall fabrics.  It's just beautiful!  And I love how she displayed it with some other fall pillows and her version of my Be My Neighbor quilt!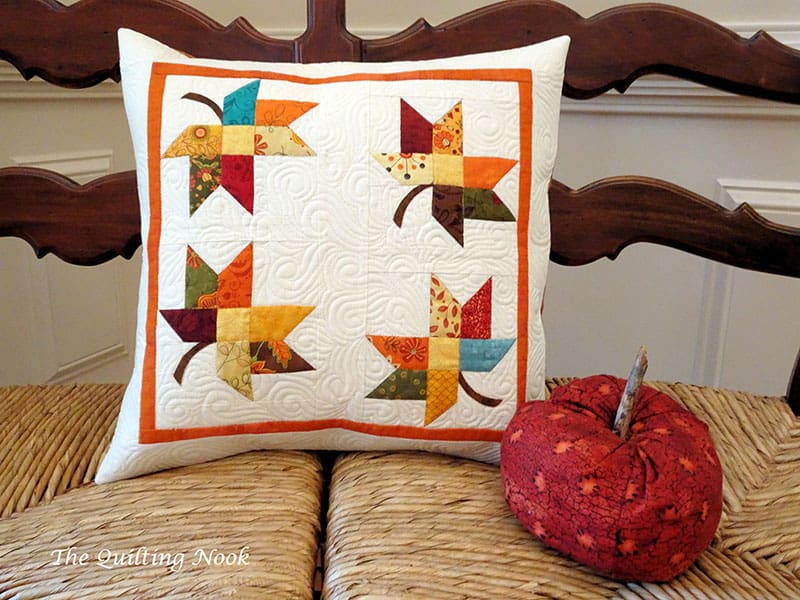 I'm glad Brenda also sent along a picture of her pillow by itself, too…it's just so beautiful!  You can find Brenda's fun blog, The Quilting Nook here.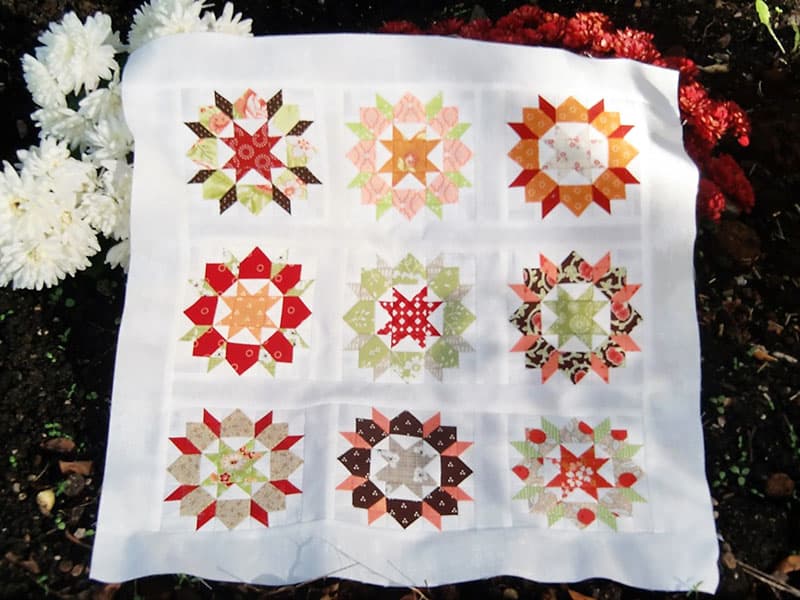 Hildy's fall project is absolutely incredible!  She made a fall version of the oh, so popular Swoon quilt–making 4″ Carpenter's Wheel blocks for her quilt!  Hildy mentioned this was very time-consuming, but is really happy she did it!  I know it's going to be a lot of work, but I really want to make this as well!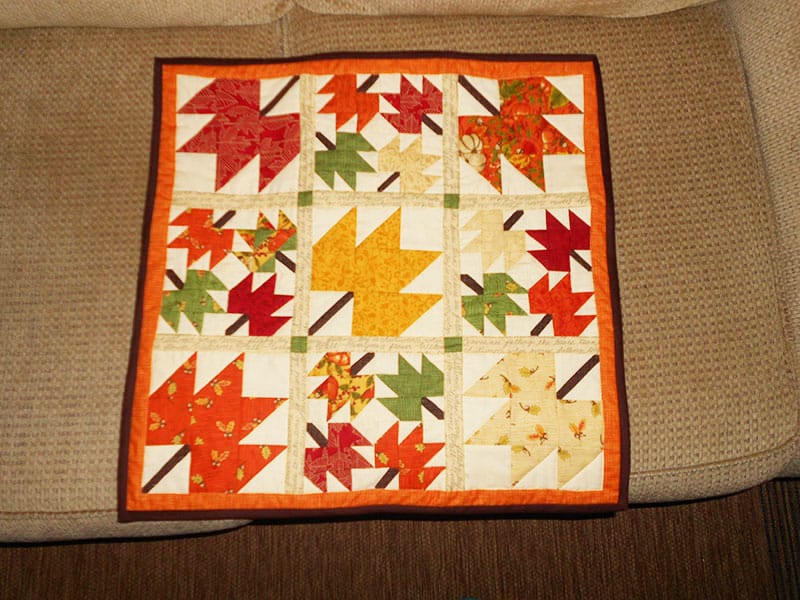 And Janice sent in this fun version of my Maple Sky Mini quilt!  I just love her bright and happy fall fabrics–thank you Janice! Be sure to stop by Michele's blog today to see some more fun fall quilt inspiration!   And speaking of Maple Sky…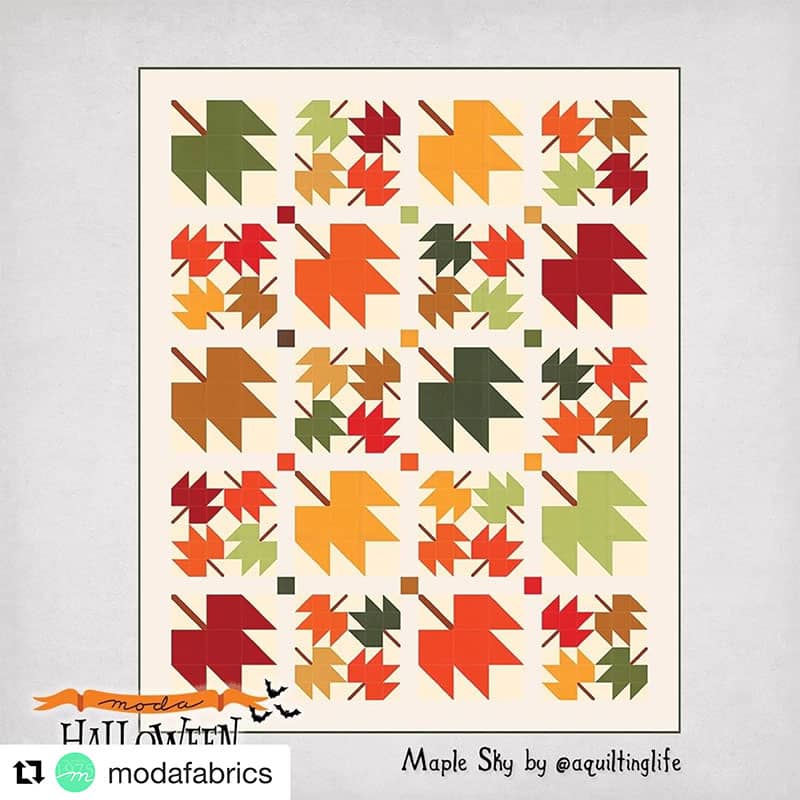 Maple Sky in Bella Solids
Moda has been featuring different quilt designs by Moda designers re-colored for fall and Halloween on their Instagram account during the month of October.  I re-colored my Maple Sky quilt in Bella solids for their feature and love how it turned out!  Here are the Bella Solids I used in my re-coloring above (you can find Bella solids here…and you can find my Maple Sky patterns here):
Golden Wheat 9900 103
Cheddar 9900 152
Amber 9900 292
Spice 9900 293
Tangerine 9900 255
Mango 9900 222
Cayenne 9900 256
Country Red 9900 17
Terrain Cactus 9900 175
Kansas Green 9900 149
Clover 9900 73
Earth 9900 106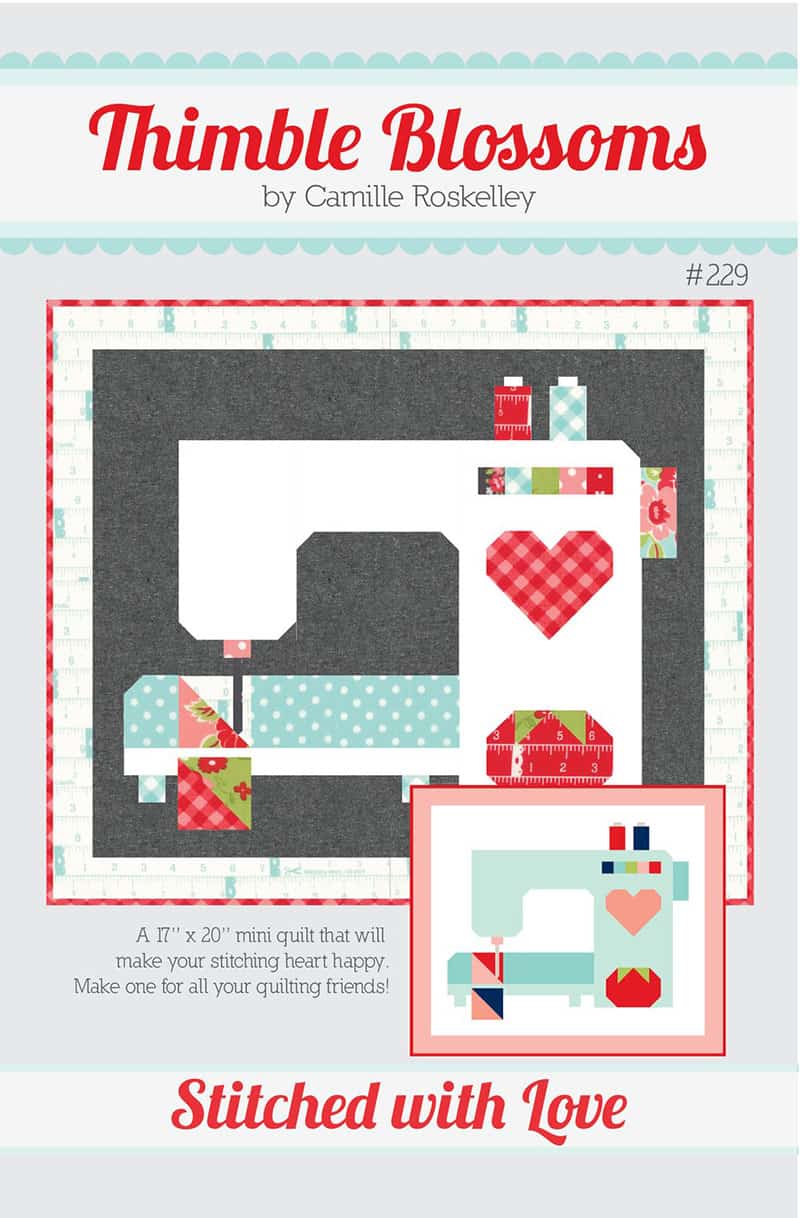 Next Month's Project
Finally…for next month's parade we've decided to make the Stitched with Love mini quilt by Camille Roskelley!  It finishes at 17″ x 20″ and would be really fun in so many different fabrics.  Just send your photos to me or to Michele by December 1st to be included in our parade the next week.  We hope you'll join in!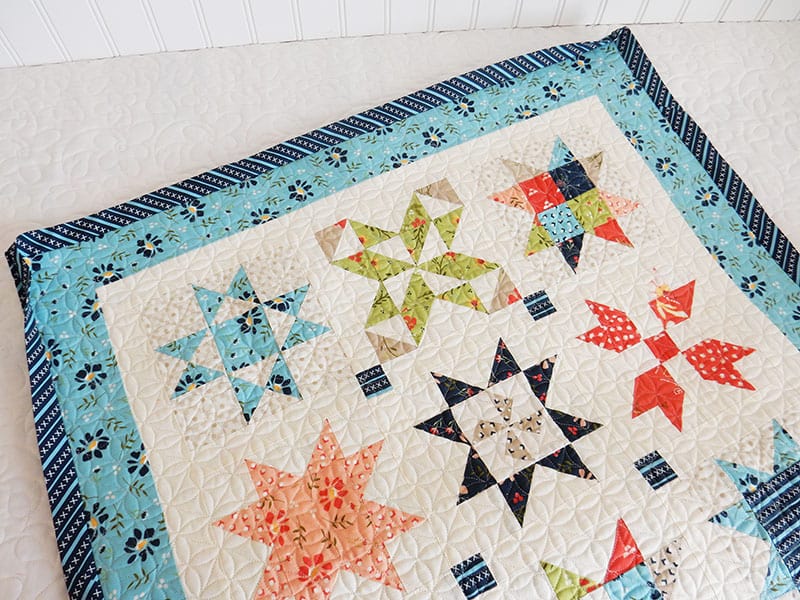 Happy quilting, and thanks so much for stopping by!