Hello and happy Monday!  It's taken me nearly a week, but today I'm going to start sharing the Fall 2018 International Quilt Market Moda booths.   Later this week I'll share the second half of the Moda booths and then will also write a third post to share some of the other gorgeous and inspiring booths from market.  This year, the Moda designer row area was broken up into two main sections of straight rows of designer booths.  Between those two rows were the sales rep table area and the United Notions section.  We really liked being in straight rows again and felt like that made it easier for shop owners to navigate and be sure they were able to visit with everyone!  I apologize that most of these photos don't have the designers in them.  Once the show opens it's really busy, and I wouldn't have been able to get good pictures of the booths with the people walking through.  So, other than a few designer pics here and there, I have booths and quilts to share!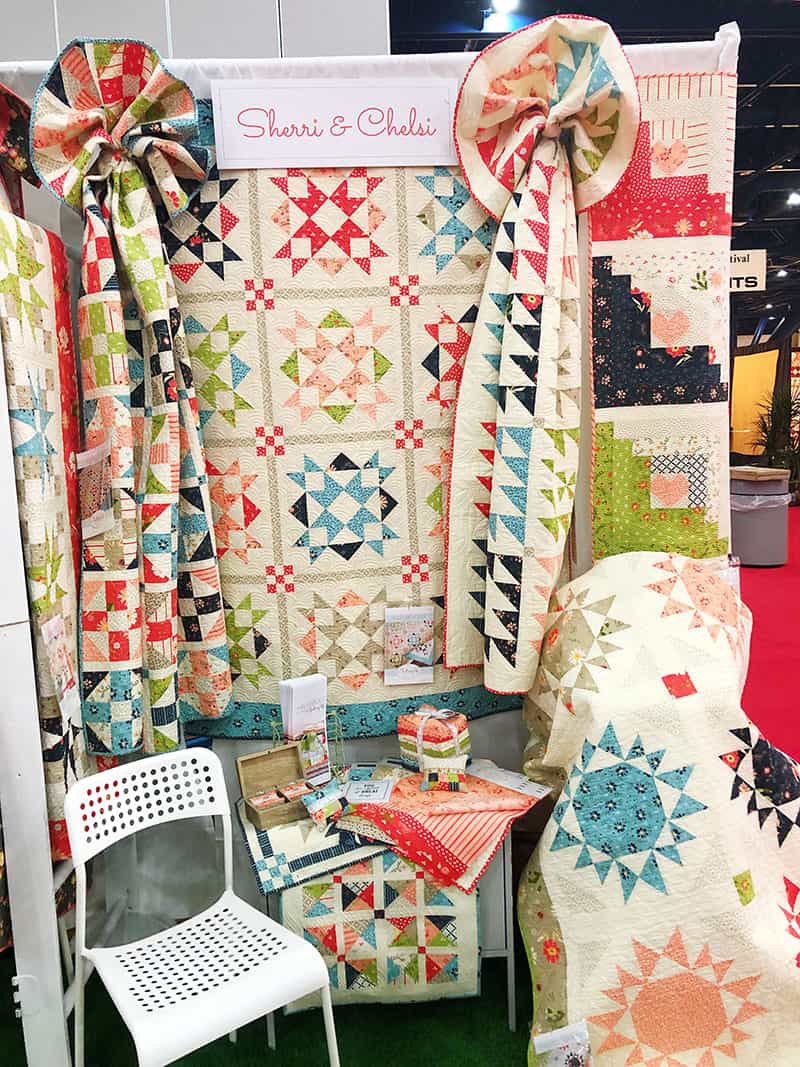 A Quilting Life
I shared our booth the other day, but I'll start with it again since we were on the end of the row, and I can work back along our row in the order of our booths.  Our Walkabout fabrics are some of our favorites, and we were happy to be on the aisle since we had so many quilts to display in our booth!  And we were near the Special Exhibit area, so it was also nice to be able to walk over to that several times to see the amazing quilts on display there.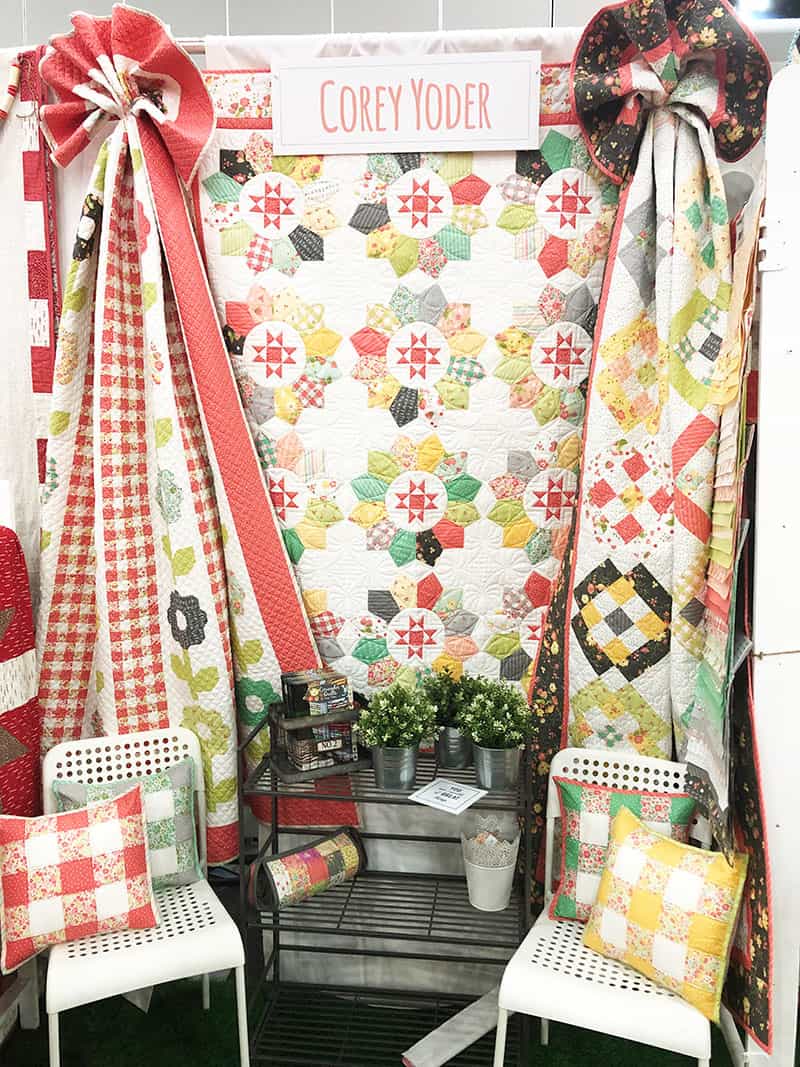 Coriander Quilts
Corey Yoder's fabulous booth highlighting her upcoming Strawberry Jam collection was next to ours.  She has several new quilt patterns that are just a lot of fun, including a couple of my favorites that were on a ladder at the front edge of her booth.  Her fabrics and ours were really complementary, so it was fun to be right next to each other.  Plus Corey was just so much fun to visit with!  Her sister came along as well and was also a delight to get to know.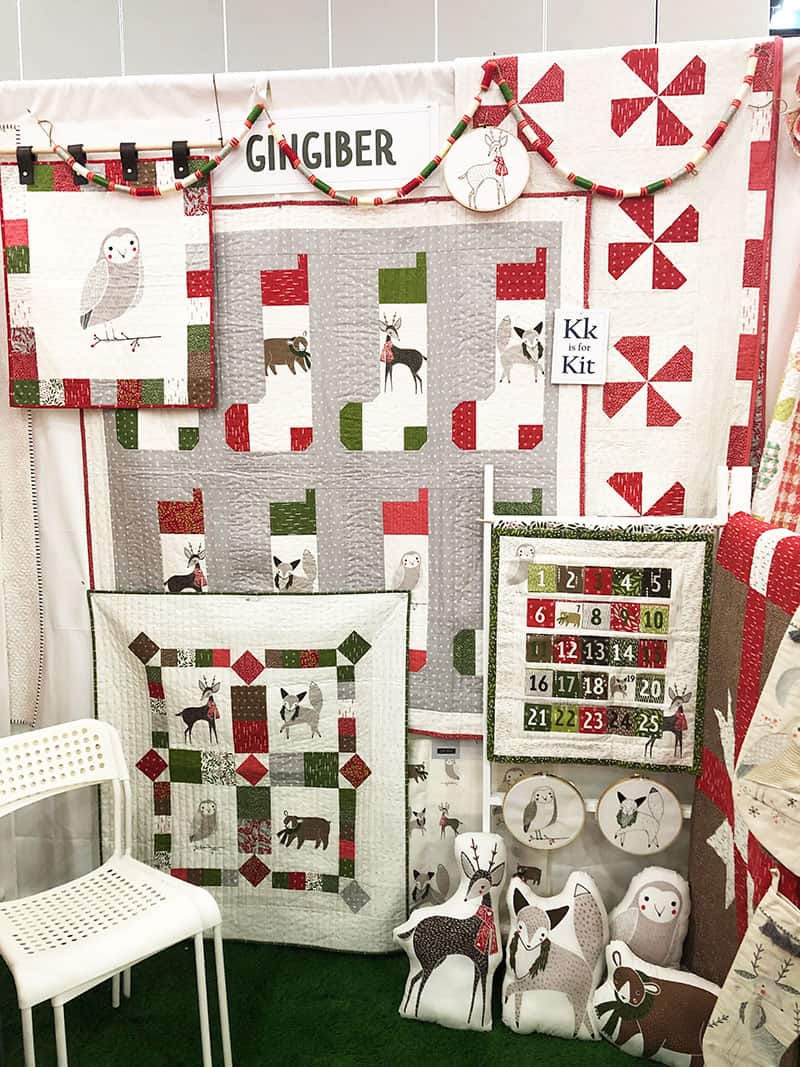 Gingiber
We had some fun holiday spirit on our side of the Designer row with the Gingiber booth by Stacie Bloomfeld!  Stacey's signature style mixed with traditional holiday colors make up her upcoming Merriment collection.  Stacey is a lot of fun to visit with, and I'm glad I had the chance to visit with her so much this market!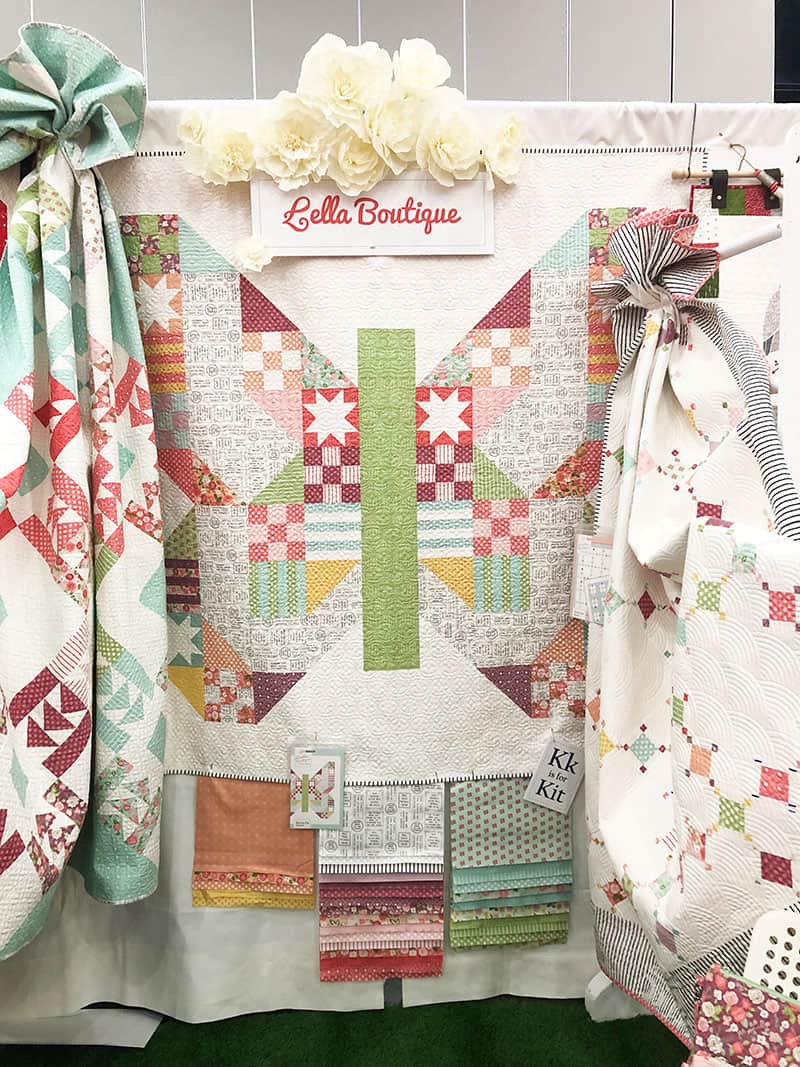 Lella Boutique
Just on the other side of Stacey was Vanessa.  Vanessa presented her upcoming Lollipop Garden collection of fabrics.  Her stunning patchwork butterfly quilt was one of the highlights of her booth, although everything was beautiful!  I love her text print fabric included with this collection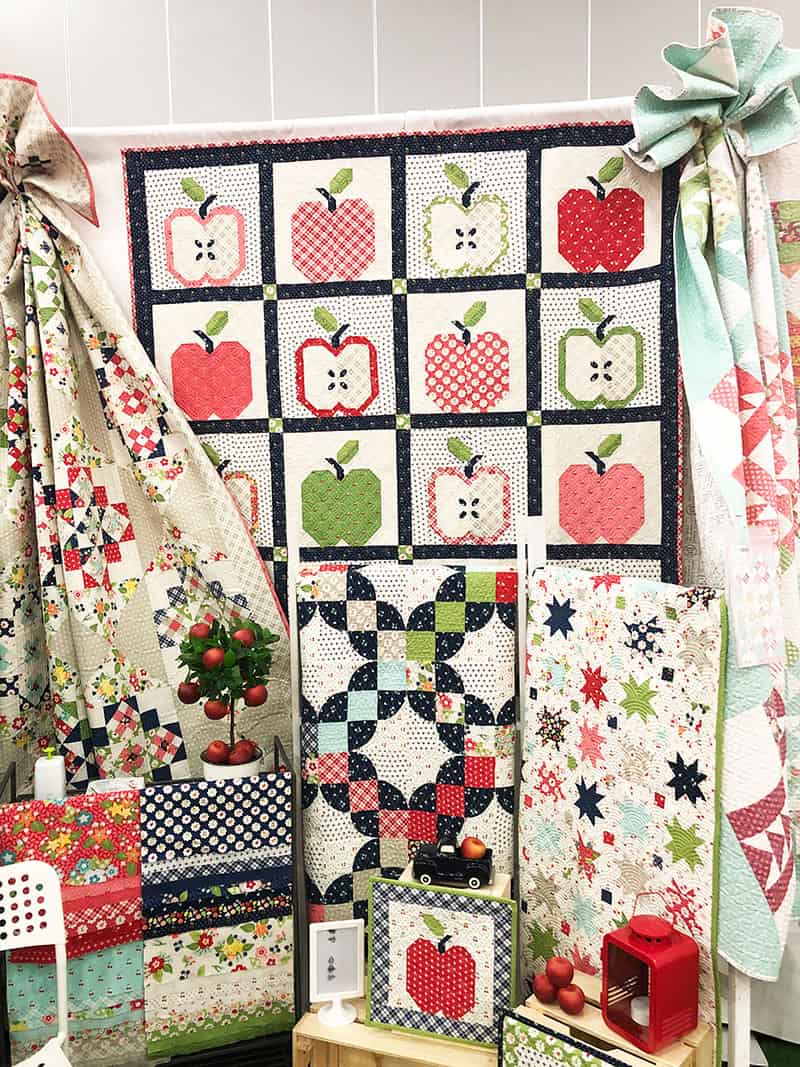 April Rosenthal Designs
And next to Vanessa was the Orchard booth presented by April Rosenthal. The Orchard collection is really beautiful, and April has some really fun patterns to go along with it!  April's fabric will be used for the 2019 Fat Quarter Shop Mystery Designer Block of the Month program (sign ups happening now here).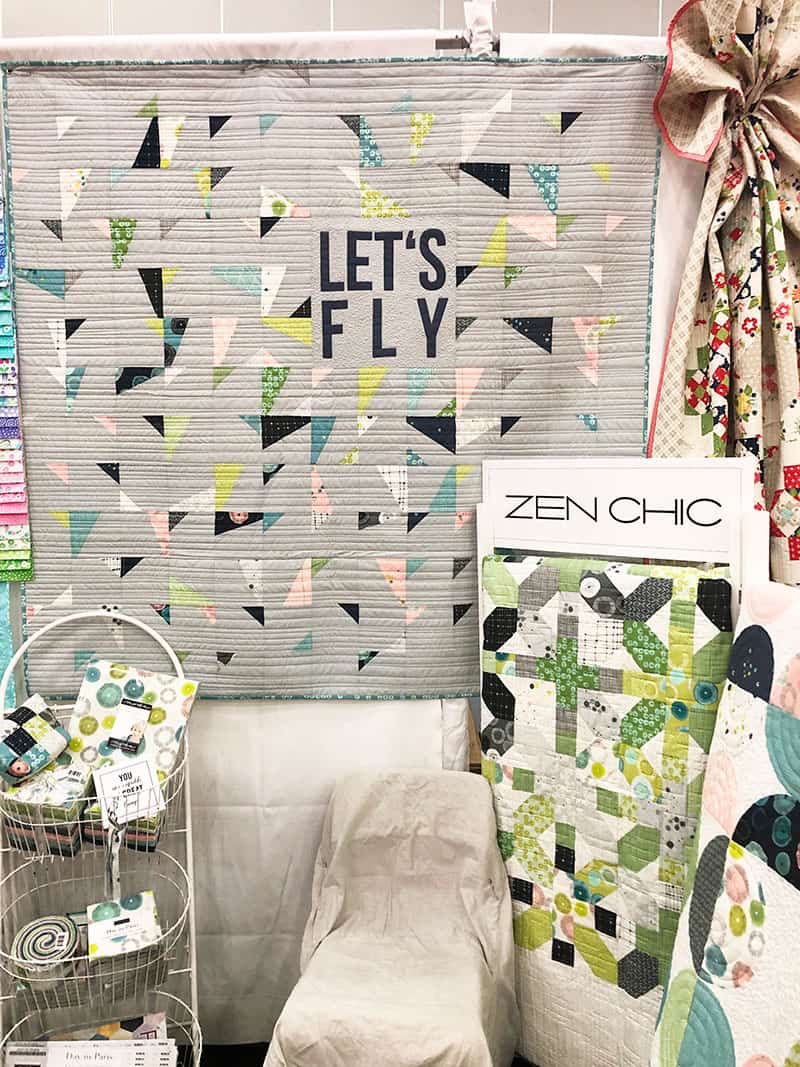 Zen Chic
Just on the other side of April was Brigitte Heitland's booth sharing her upcoming Day in Paris collection.  Brigitte travels to each market from Germany and is always a lot of fun to visit with!  This collection was dreamy…with lots of fun colors and designs.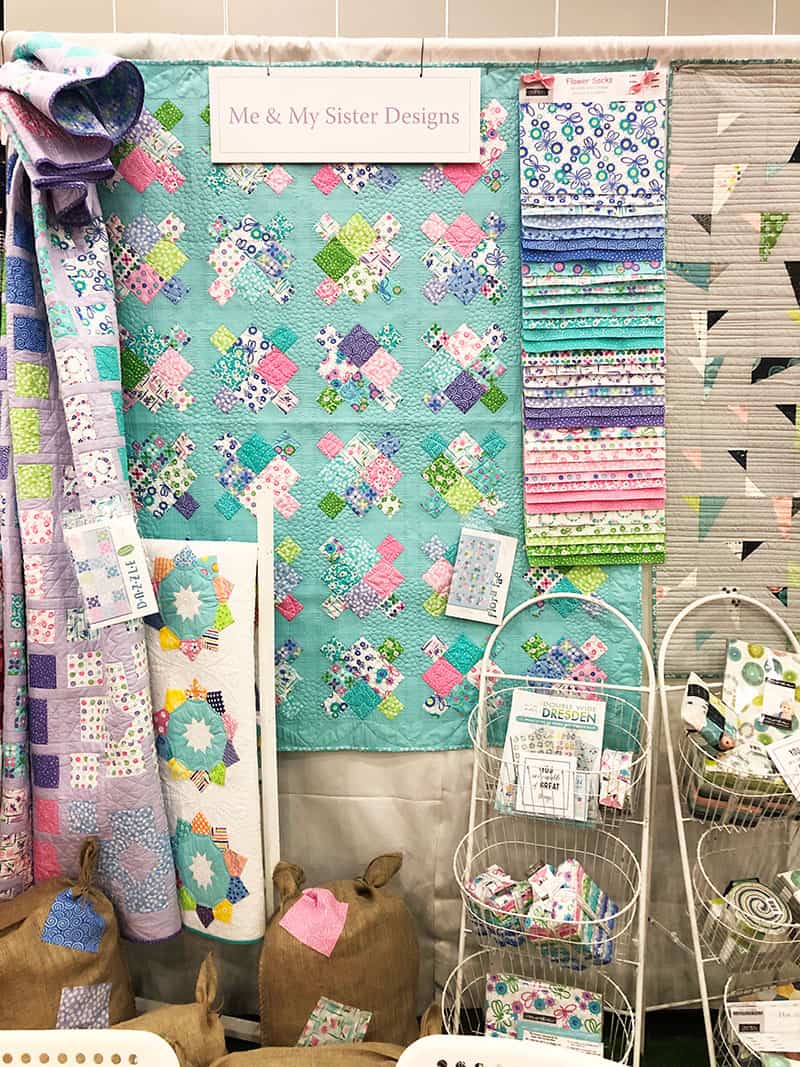 Me & My Sister
Next on our row were Barb & Mary of Me & My Sister Designs who debuted their Flower Sacks collection of bright happy fabrics.  I've really enjoyed getting to know Barb and Mary better over the last few months.  They are always a lot of fun to talk to!  I was actually sewing with them this summer while they were sewing their focal quilt pictured here!  It's always fun to see a quilt finished up that you saw in the beginning stages!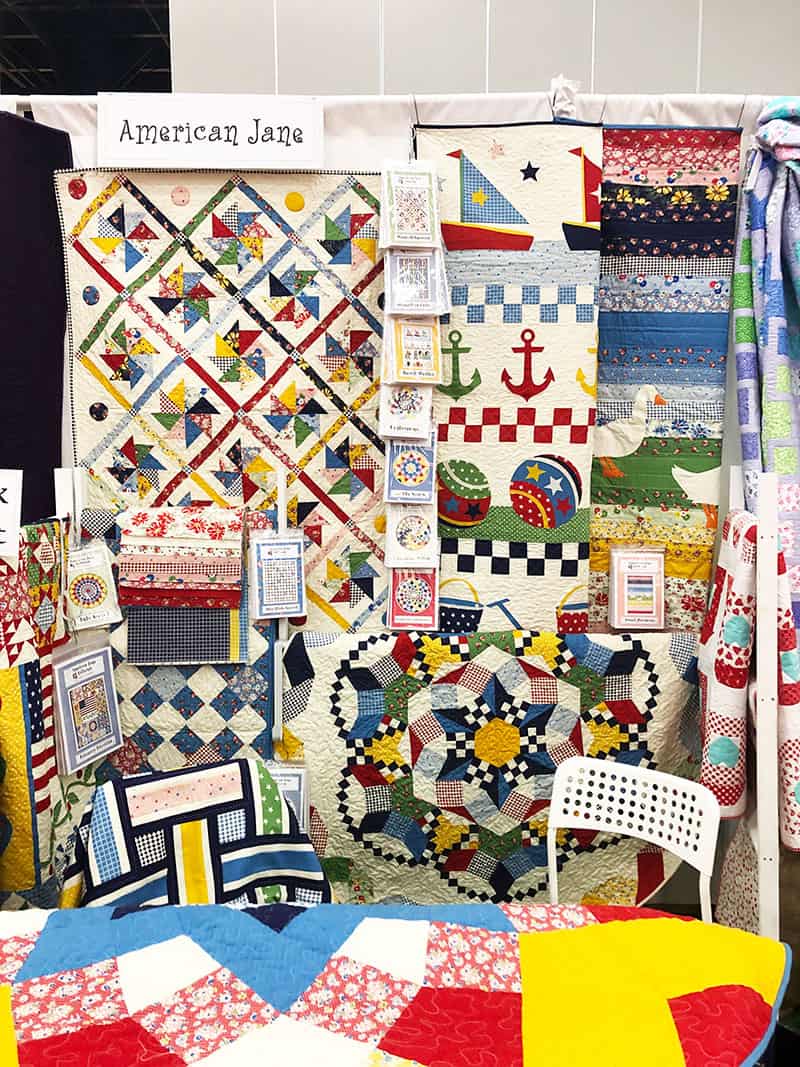 American Jane
Sandy Klop shared her upcoming Sweet Harmony collection at fall market.  This group is a delightful collection in the traditional Sandy Klop style.  I love the small print florals and pops of color in her designs!  It's always fun to visit with Sandy as well!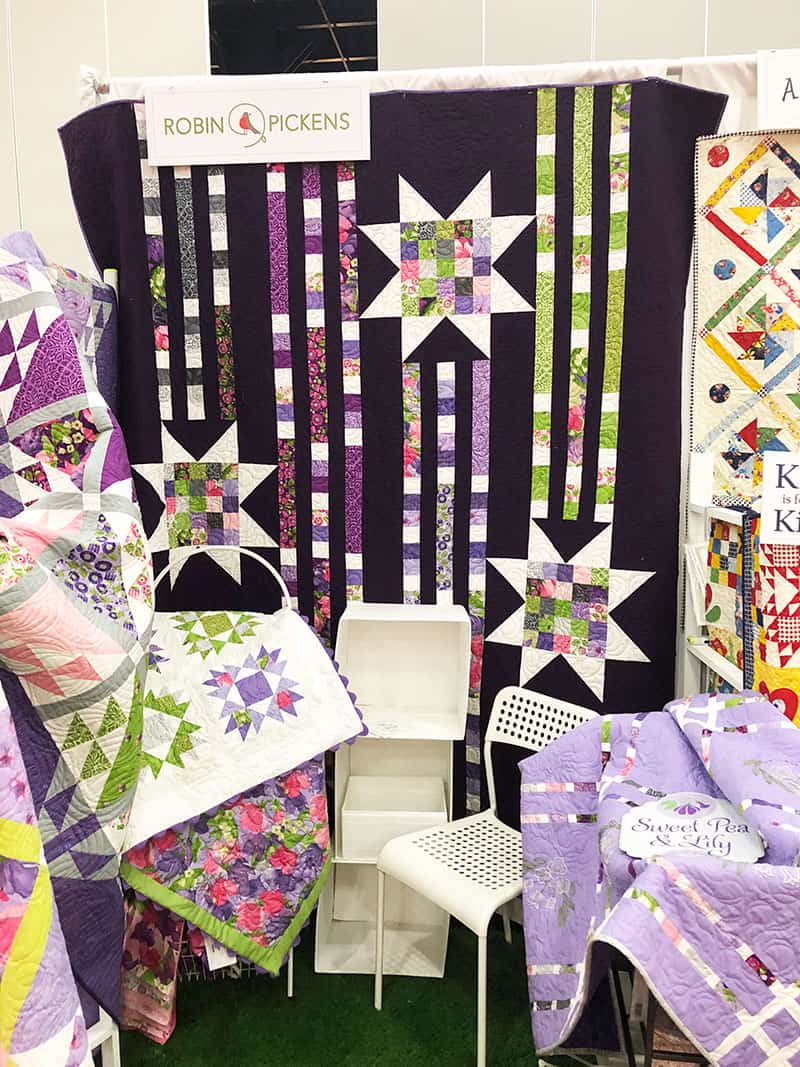 Robin Pickens Designs
Robin shared her beautiful Sweet Pea and Lily collection at market this fall.  Her collections feature large florals and vibrant colors with a modern feel. I also got to visit a bit with Robin at this market–it's always a delight to speak with her!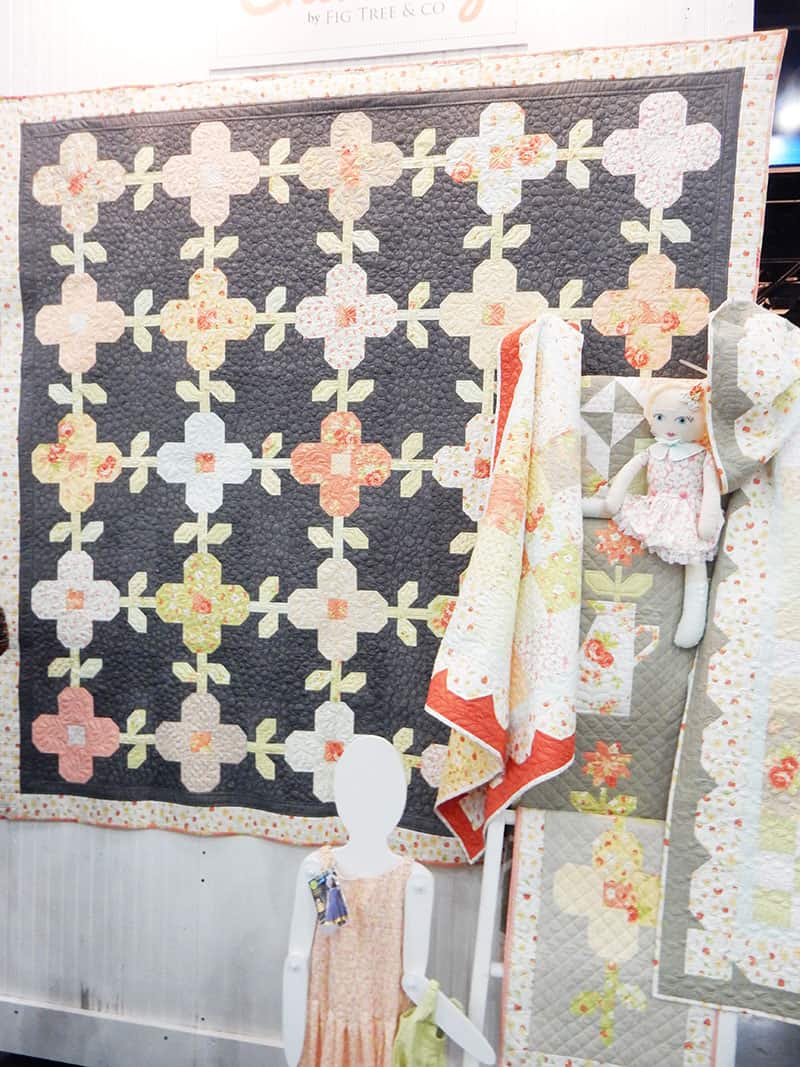 Fig Tree & Company
We really missed Joanna (and Eric) at market this fall.  They were unable to come due to some unforeseen circumstances.  But Joanna's new quilts and projects were on display in the sales area.  The lighting wasn't wonderful right here, so just know that this photo doesn't do her fabrics much justice.  Joanna's new Chantilly collection is delightfully feminine and soft with her signature lovely florals and small scale prints.  It really is a beautiful collection!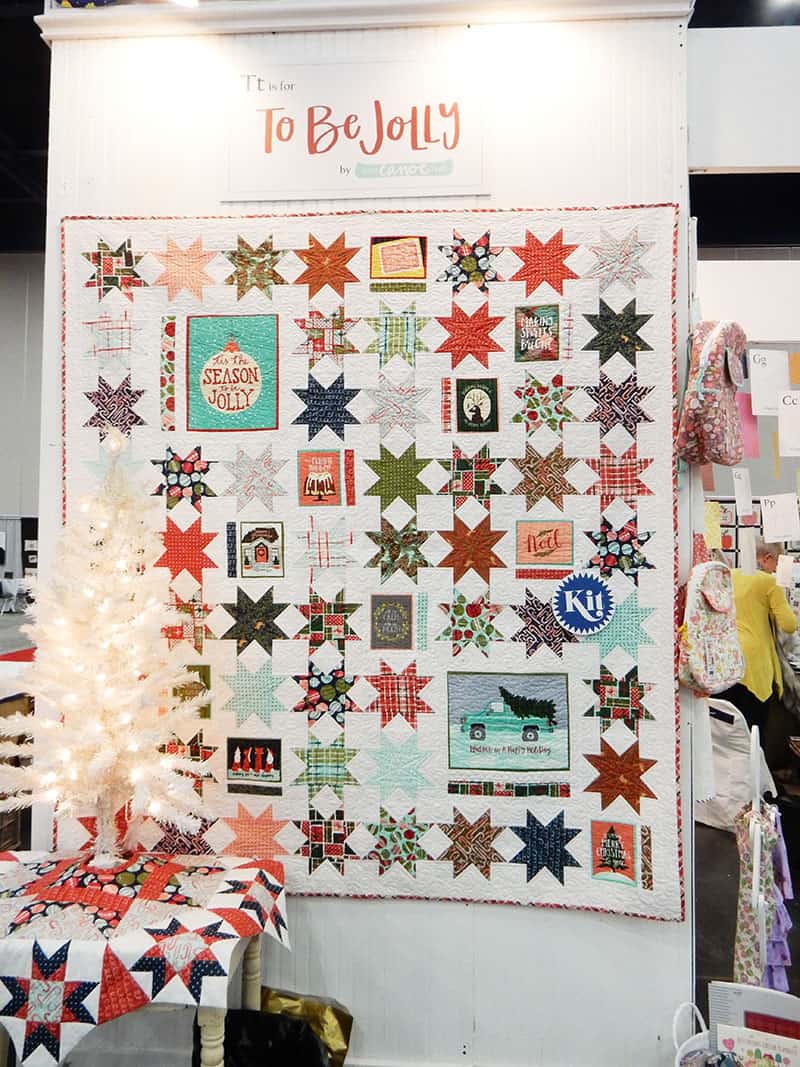 1 Canoe 2
Beth from 1 Canoe 2 wasn't able to attend market, but the beautiful quilt from her upcoming To Be Jolly collection was on display (pattern by Carrie Nelson of Miss Rosie's Quilt Company).  This was a really fun quilt and fabric group (again, the lighting was especially terrible on these sections of the Moda sales area).
More Moda Booth Pictures Coming!
This is just one half of the Moda Booth area (now you know why I couldn't share it all in one post)…I'll be back later this week to share the other half of the designer booths!  But first I'll stop by tomorrow to share my November Block of the Month pattern!  Happy quilting, and thanks so much for stopping by!