Hello, friends! I hope your are home, safe, and well. I'm super excited to share another new Balboa fabrics quilt with you today. My Blooms Grandmother's Flower Garden Pattern is finished, quilted, and bound. It's definitely one of my favorites.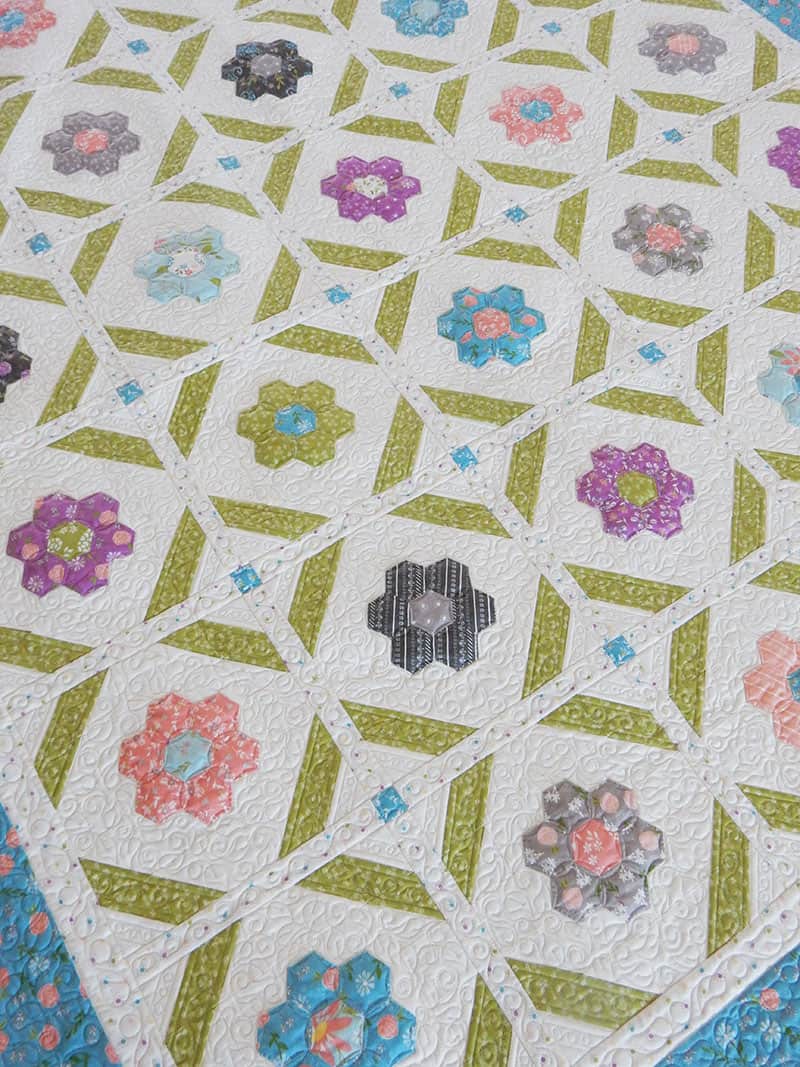 Blooms Grandmother's Flower Garden Quilt Pattern
I love hexagons and especially Grandmother's Flower Garden quilts. And while I also love making these classic hexagon flowers using traditional English Paper Piecing, I also love being able to set them in a pieced quilt design. Blooms combines the hand-pieced flowers with traditional pieced blocks that makes the quilt go together much more quickly than a life-time project. I put this one together in about a week. (Although, I've been home, and working on this quilt was my preferred social distancing activity last week).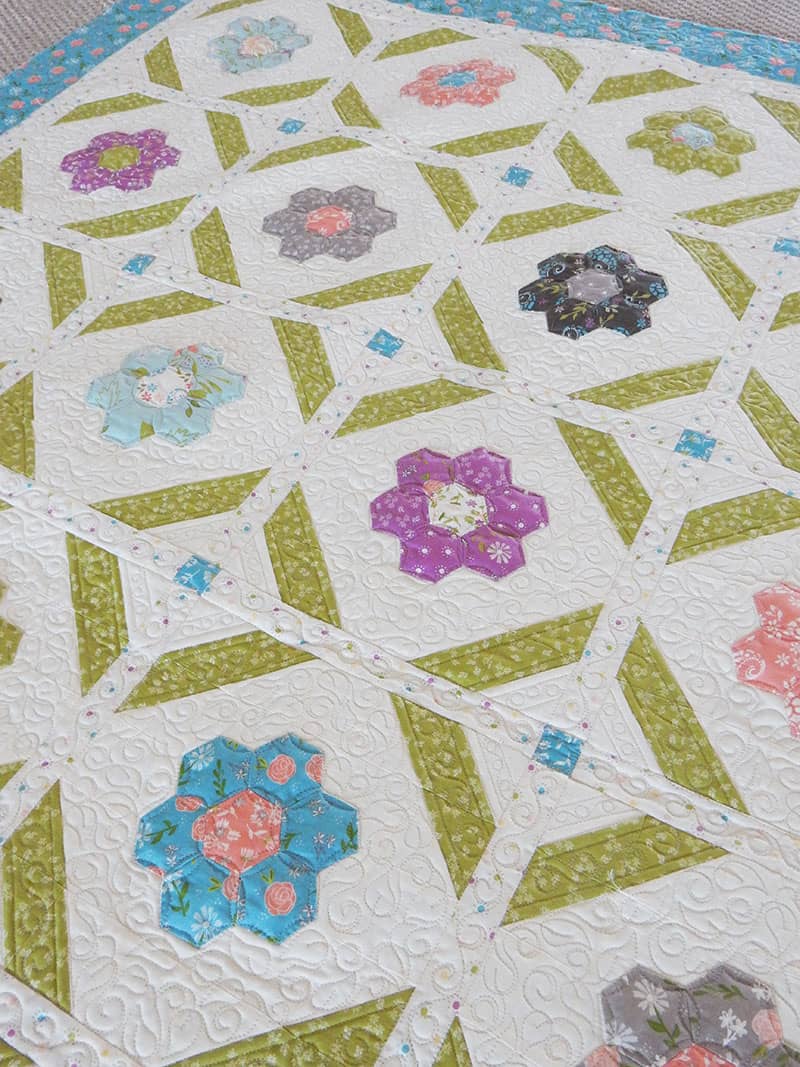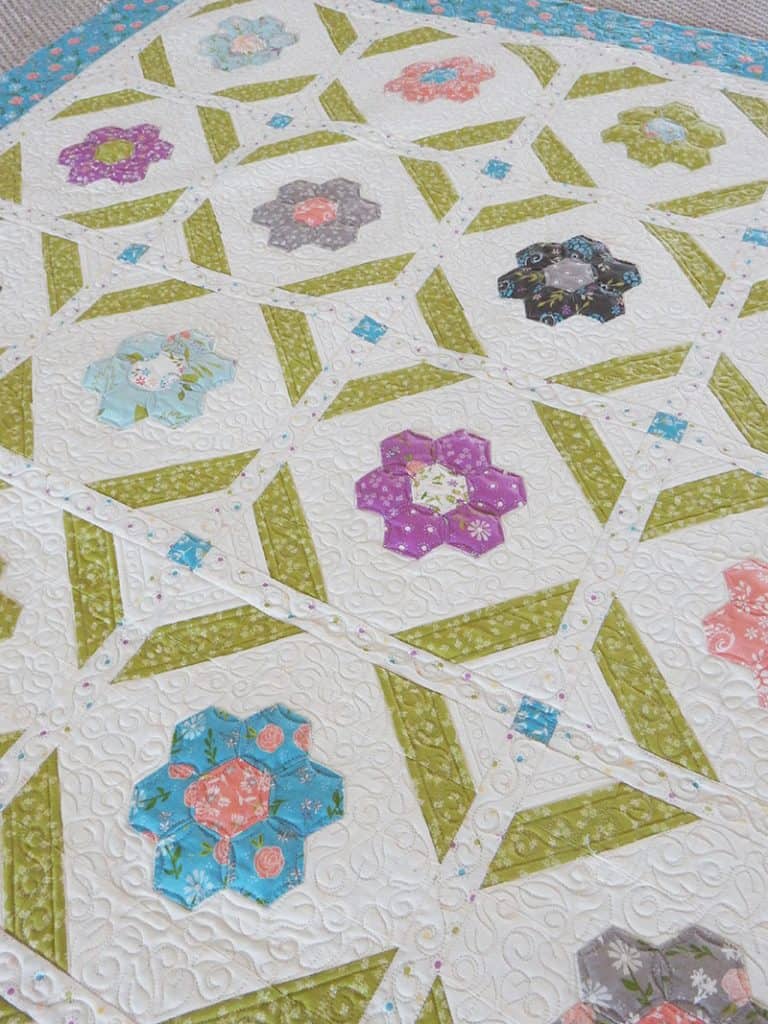 Blooms Quilt Pattern Details
The Blooms quilt finishes at 64 ½″ x 75 ½″ and could easily be made larger with the addition of another border. It would also make a sweet baby quilt with just 12 blocks. All of the fabrics are from our upcoming Balboa fabric collection. The absolutely gorgeous custom quilting was done by my friend Val Krueger who worked her magic in just a few days! I'm just in love!
Balboa Honeycomb Pre-Cut Hexagons
One thing that made this quilt construction much easier was that I was able to use our Balboa Honeycomb Pre-Cut Hexagons. These pre-cut hexagons are sized perfectly for use with ready made hexagon paper pieces with 1″ sides. It really saved me a lot of time to be able to use these. Shop orders are able to order now for a September delivery, so please let your favorite shop know if you're interested in them. I also have pre-orders available here.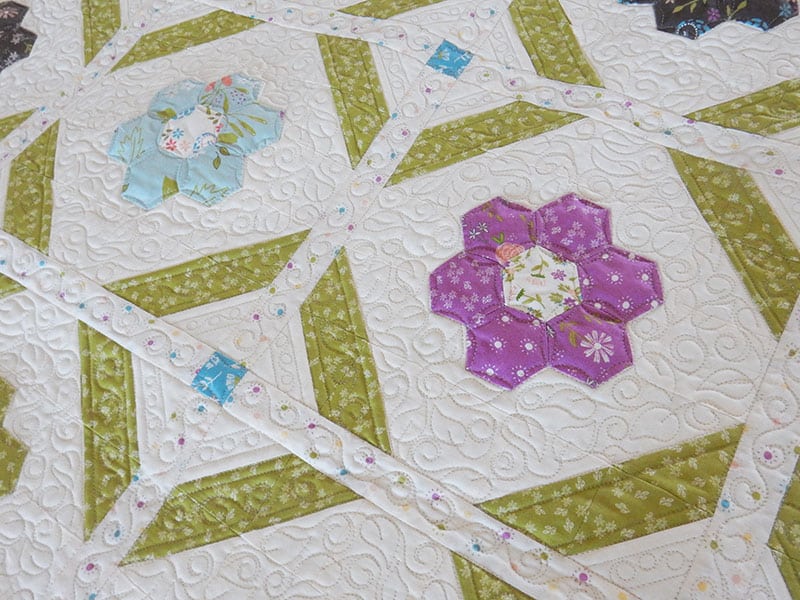 Blooms Quilt Introduction Video
Watch the short video above to find out about the Blooms quilt, or watch it on my YouTube channel. I also have a Grandmother's Flower Garden Quilt Block Tutorial on the YouTube channel that you can watch here.
Blooms Patterns
The Blooms pattern is available now. You can find it in my shop in paper and PDF versions here. This pattern would be so beautiful in any fabric collection and is also a perfect scrap quilt project. I'm thinking I might need to make a Christmas version of this one as well! I hope you'll enjoy this new pattern.
Blooms Quilt Pattern Fabric Details:
Above see the fabric swatches I used for Borders, sashing, binding and backing. I know I have been super happy with this combination. I used all of the colored print fabrics and most of the lighter ones for my Grandmother's Flower Garden Hexagon Flowers.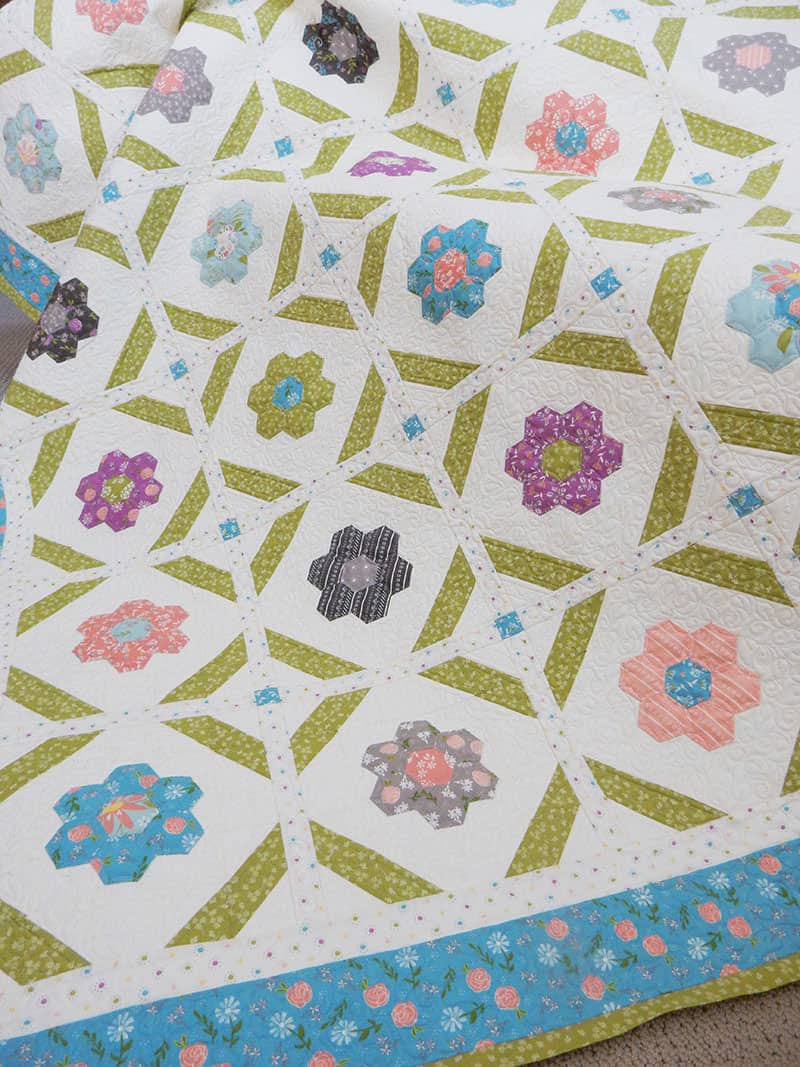 Happy quilting, and thanks so much for stopping by!