Hello and happy Monday! Today I'm sharing A Quilting Life at Home | Part 1: my new sewing room. I've mentioned our recent move here and there, but now that we're beginning work on our new home I'll start sharing some of the details here as they relate to quilting and sewing.
Last spring we decided to list our home of fourteen years. We truly loved that home, and it has special memories for me as a quilter because it was in that home that I began my blog and also decided to make my quilting hobby and passion a business as well. Our home sold rather quickly, and we were blessed to find a rental just a couple of miles away that worked for us during the house-hunting process. We first looked at the new home in November, made an offer shortly before Christmas, and closed the sale last week.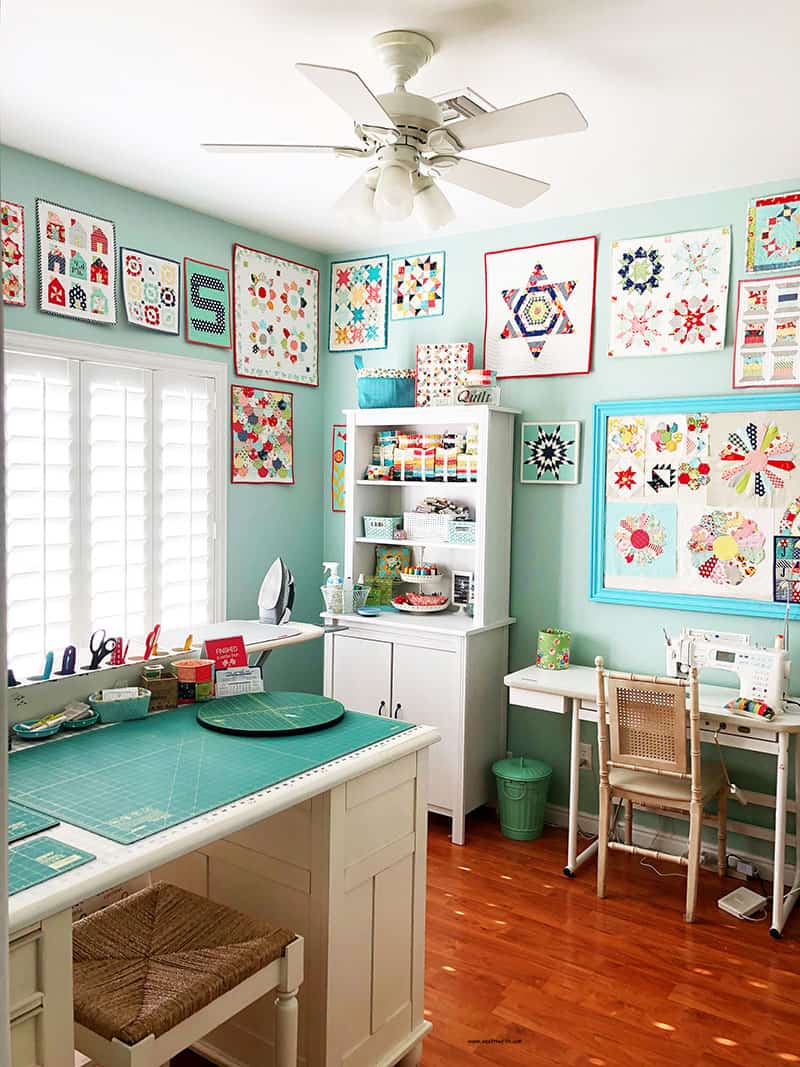 A Quilting Life at Home | Sewing Room
My sewing room in our previous home was truly one of my favorite rooms in the house. It was my older daughter's room when we first moved in, but when she went to college I was able to take it over and have a sewing studio. I loved this room primarily for the beautiful natural lighting. The room was small but very functional for me over the years. All of the quilts from our first fabric collection through our Summer Sweet group were sewn in this room.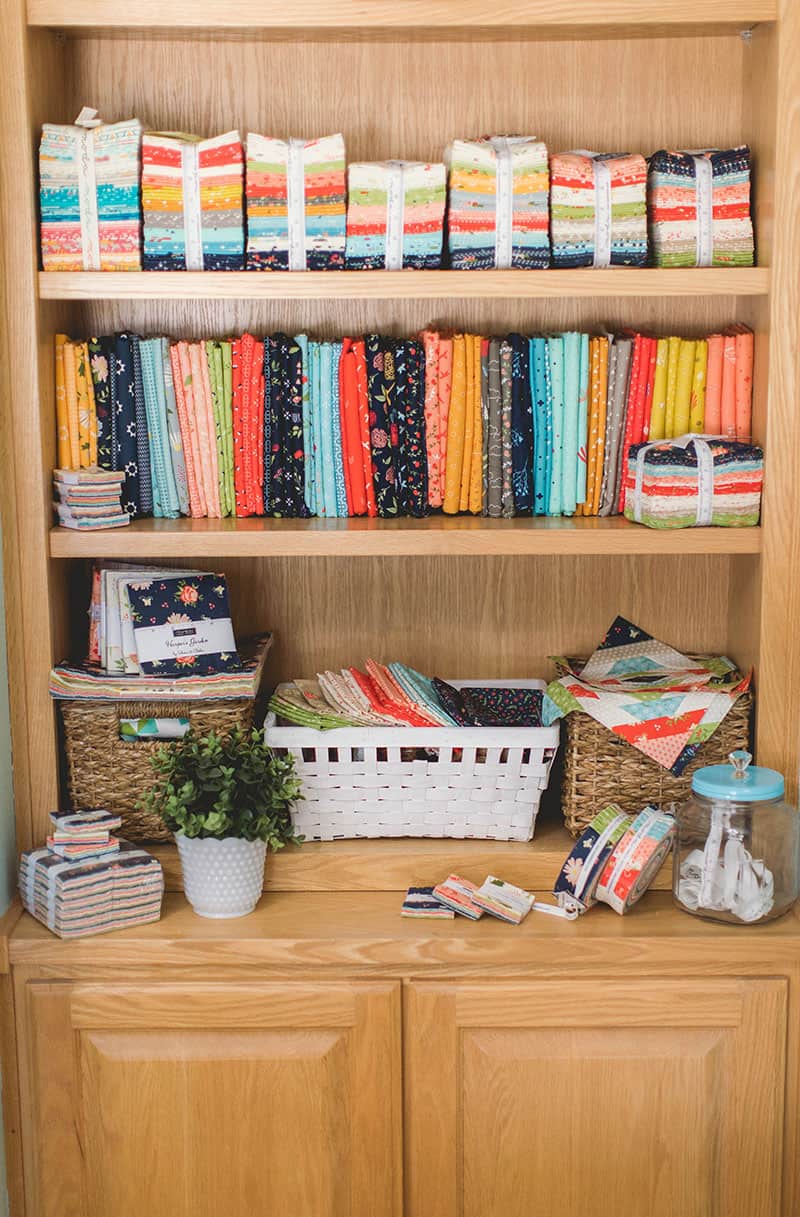 More on the Studio
I also loved the beautiful built-in that was made for my older daughter's book collection but which functioned perfectly for fabric storage. Over the years I was able to also add some very functional storage pieces which really helped me make the space work really well. You can see more pictures of my previous sewing studio here and also find tips on setting up a new sewing space here.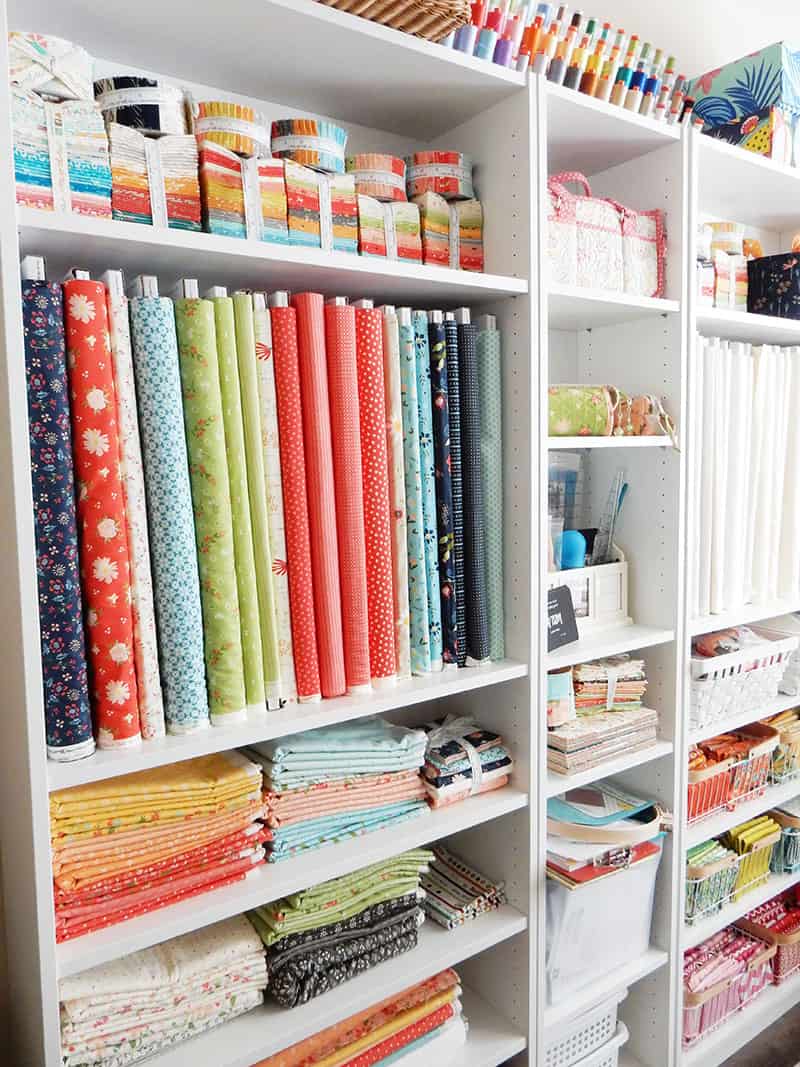 The Temporary Sewing Room
When we moved into our rental I was able to use the dining room area for my sewing room. The temporary sewing room also has great natural light, a hard surface floor, and had room for my sewing machine and cutting table. The one downfall to this room was that there wasn't a closet. But five Billy Bookcases from Ikea solved most of my storage problems (although I also have sewing room things stored in closets in two other rooms temporarily).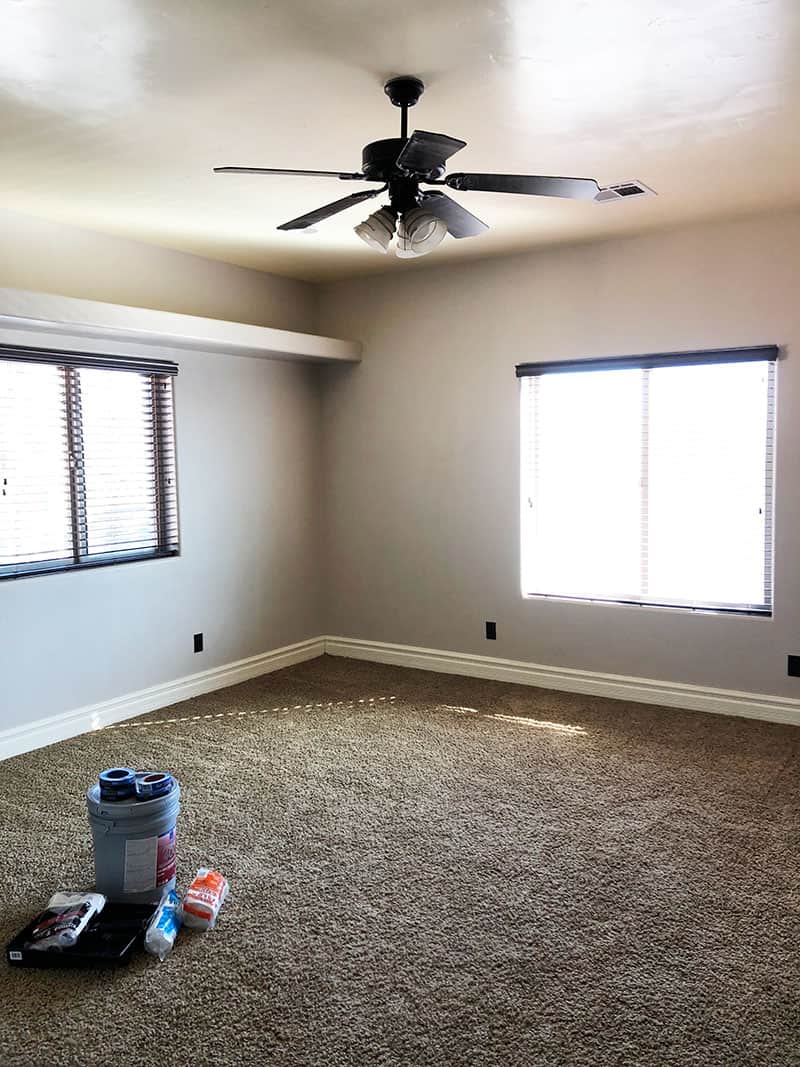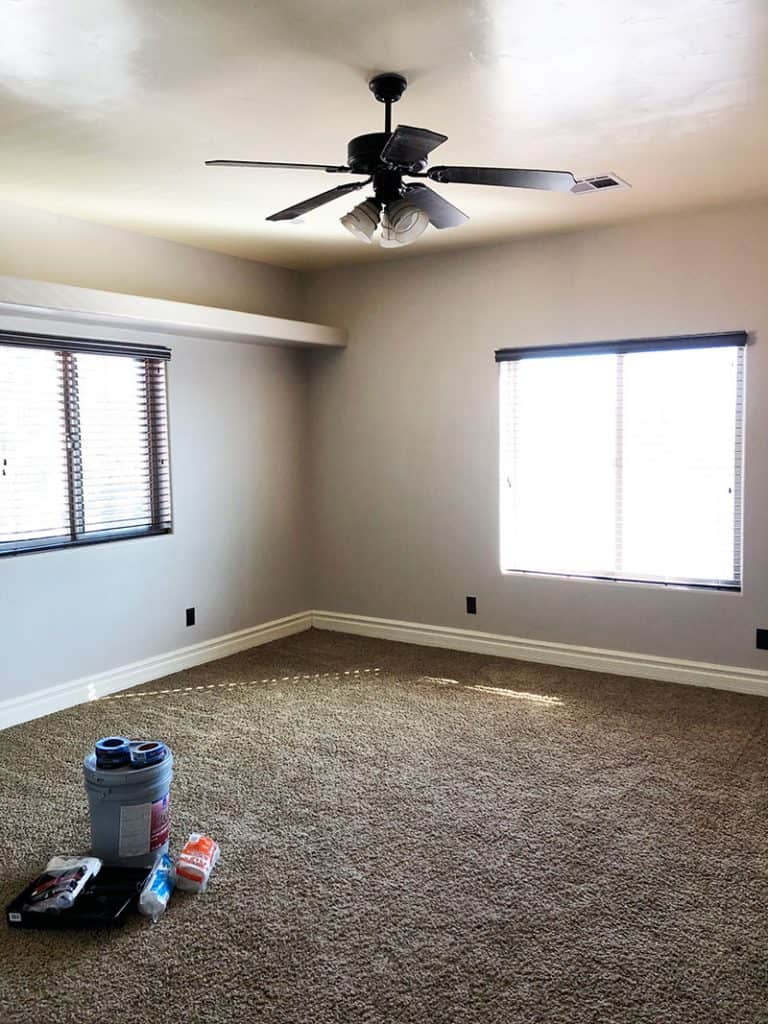 The New Sewing Room…Before
Last week we were finally able to get the keys and start making plans for the new sewing room. First up is a fresh coat of paint, new flooring, and white wood shutters for the windows. My goal is to really lighten things up; while I love the mahogany in our new home, I don't love all of the dark paint colors throughout. Right now I'm planning on an ironing station under the window on the left with my sewing machine in front of the window on the right.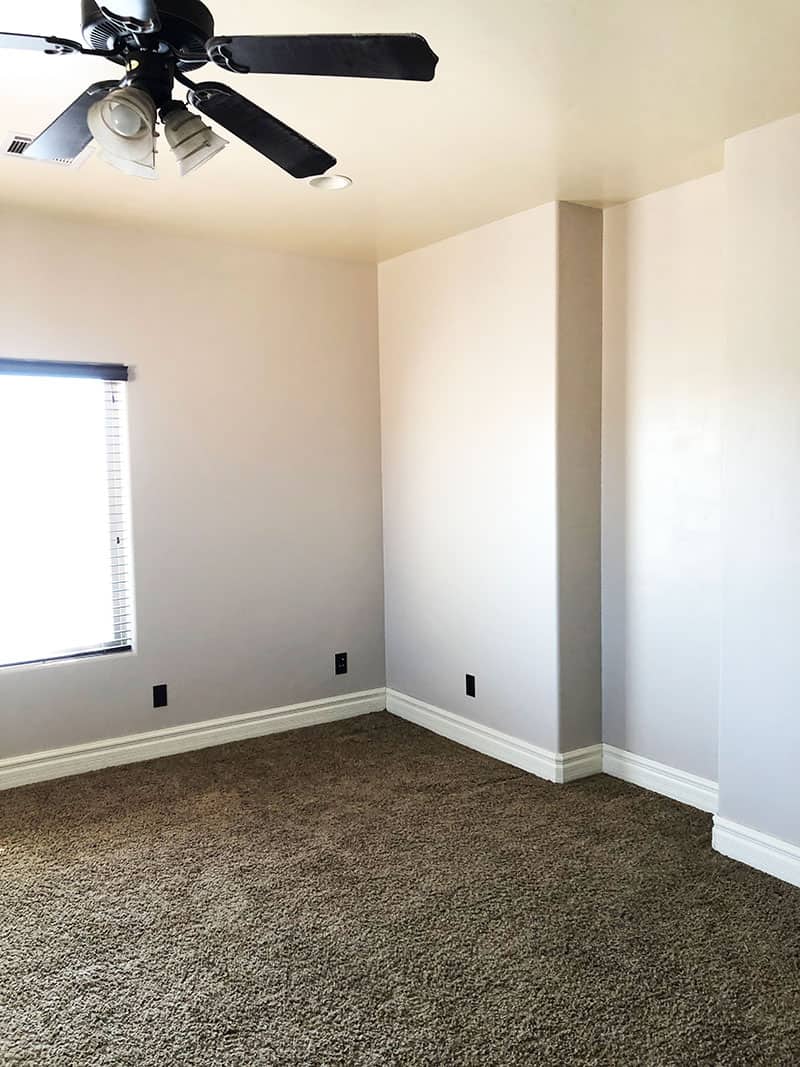 More about the New Sewing Room
The photo above shows the other corner of the sewing room to the right of where I'll put my machine. We will be adding a built-in cabinet in the little niche to the right. I'm super excited about it as it will be a base cabinet with doors for storage and three shelves sized perfectly to fit bolts of fabric above. This room has a nice closet, and I'm still trying to figure out how best to organize that space. We've actually nearly completed the painting in this room and will be removing the carpet very soon to prep for the new flooring.
Master Bedroom
Painting in the master bedroom is underway now as well. We are thinking if we can finish the sewing room and the master we can move in while all of the other work is taking place. So I'm really grateful that one of my son-in-laws is helping with the painting!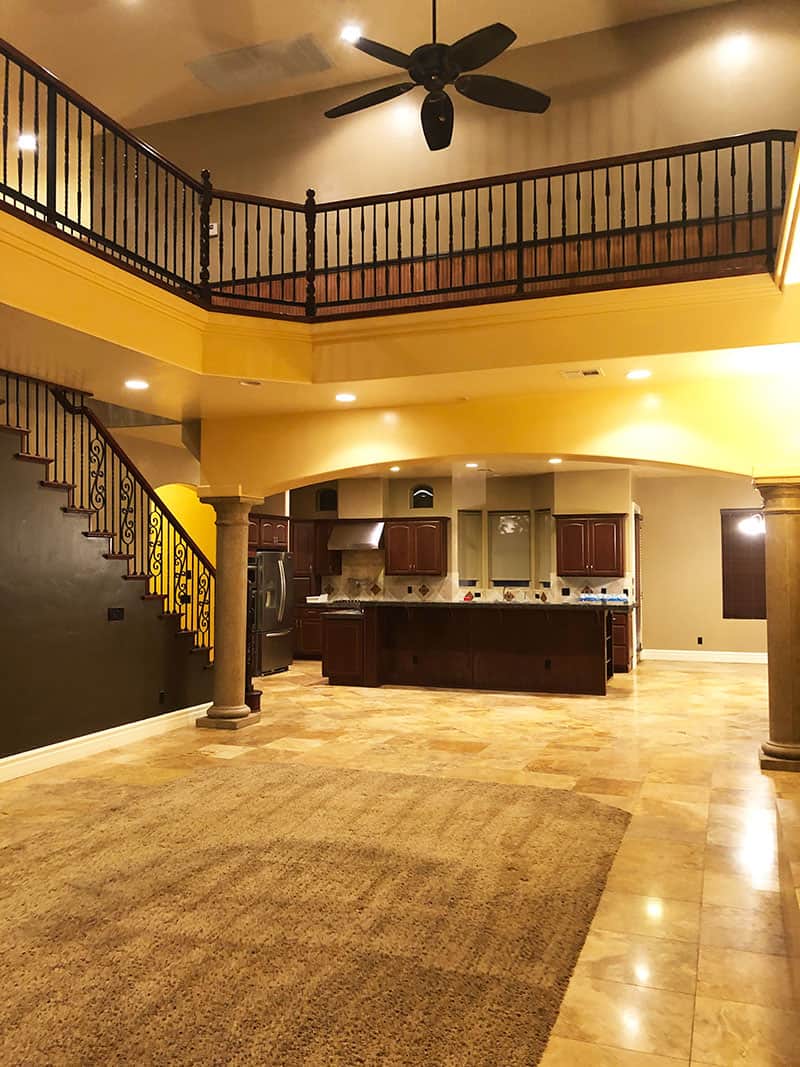 New Family Room and Kitchen
Probably the number one selling feature of this home for me, though, was the beautiful family room and kitchen area. I know we will love having such a nice open space to gather as a family and extended family. We have a lot of painting to do down here as well…the dark brown wall along the staircase is definitely not our style, and we are looking forward to getting it painted. On the landing above the kitchen we envision a library someday…but for now it will be a terrific place to hang quilts!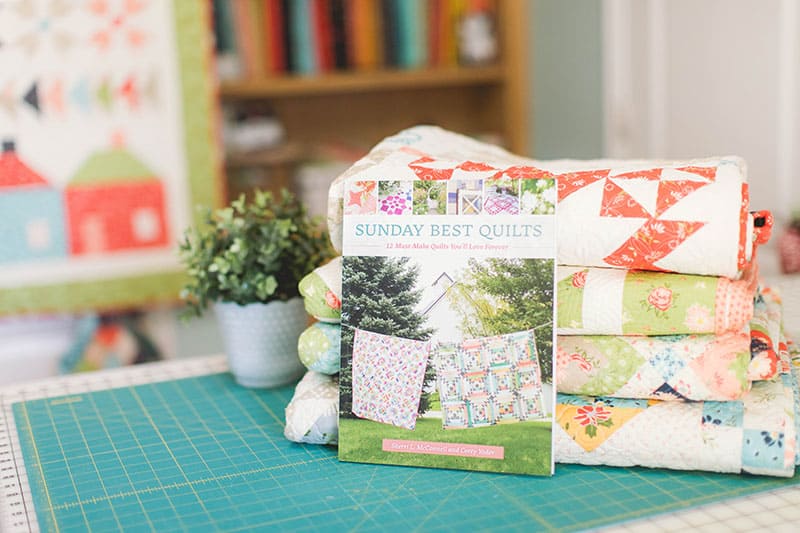 Thank you so much for stopping by to read this A Quilting Life at Home post. I'll do an update after painting and flooring in the sewing room are completed. I can also share some of the other updates if anyone is interested. (We're working on my office space right now as well).
Happy quilting, and thanks so much for stopping by!