Hello, friends! Today I'm sharing a little bit about How to Use Quilt Panels in Your Quilting & Sewing Projects. I've enjoyed making some quick to finish projects over the past couple of years using these panels and thought I'd share some of my ideas with you. Additionally, I frequently get questions on this topic, so I can put answers to those questions in this post. Additionally, I filmed a short video to share some of these ideas and more.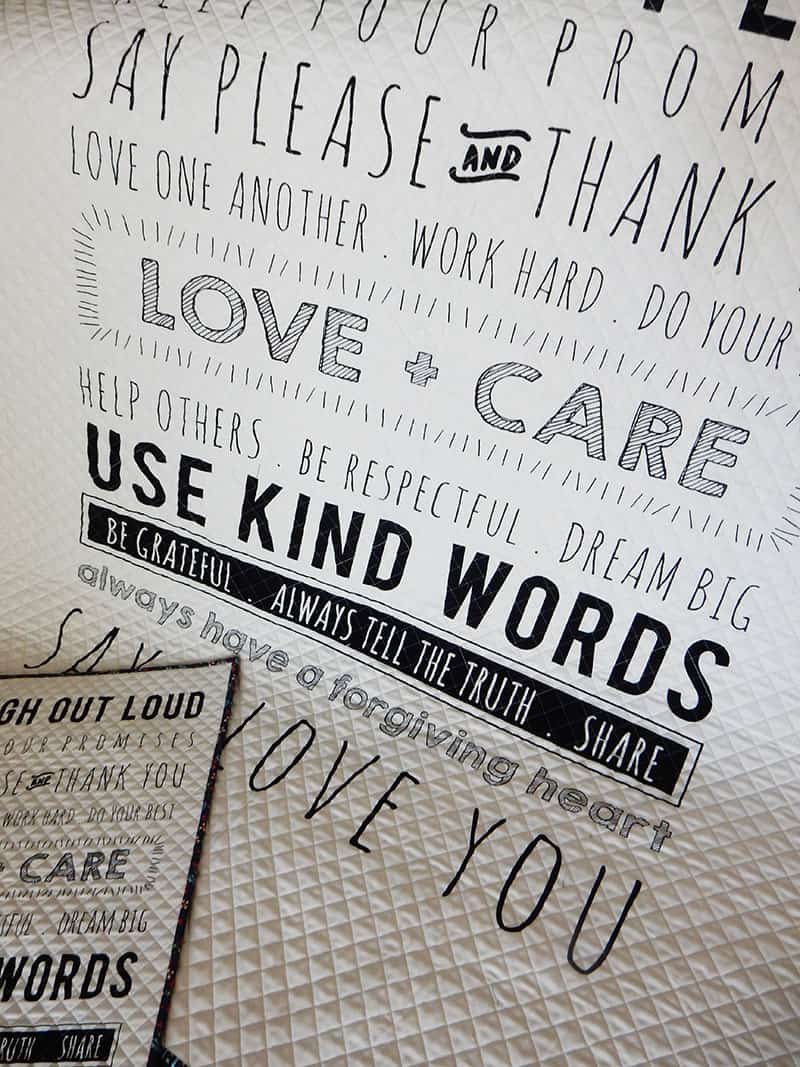 How to Use Quilt Panels in Your Quilting & Sewing Projects
Use Panels for Wall Hangings
I've enjoyed using some of the smaller quilt panels for fun wall hangings in my home. You can simply quilt and bind the panel, or you can add fabric borders and pieced blocks to the panel for more interest. I've done both and enjoy having a fast and fun finish with minimal work. Cross-hatch quilting is a great style of quilting to use if you are quilting a small panel yourself. You can find my quick tutorial on cross-hatch and straight line quilting here.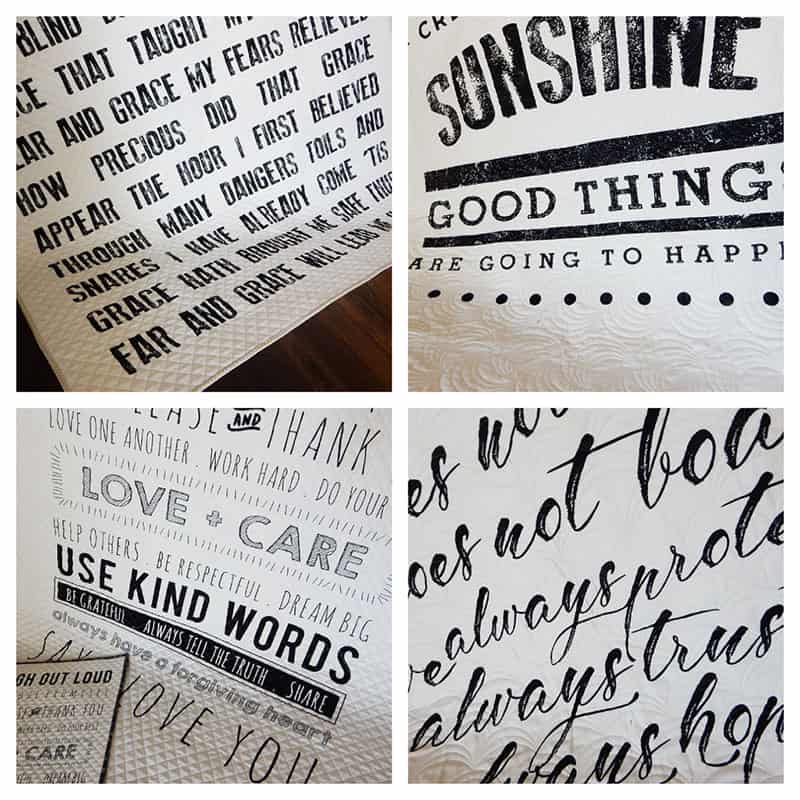 Use Larger Panels for Throw Quilts
The Moda pre-printed large panels also make terrific throw quilts. A couple of Christmases ago I had several of them quilted and simply had to bind them for a fun gift. I also used scrappy backings on them and used up a lot of odd-shaped pieces in my fabric stash.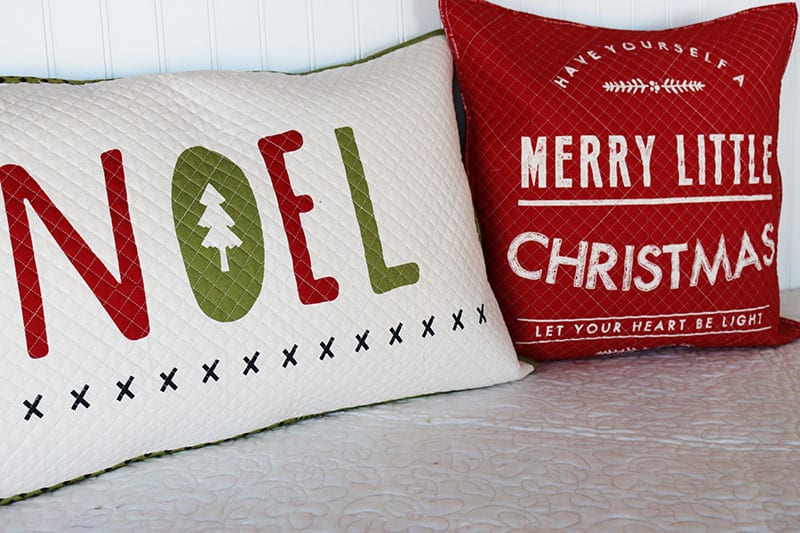 Pre-Printed Panels Make Great Décor Pillows + Table Runners + Bags
Last Christmas I made some fun throw pillows using some of the panels I had. I had the panels quilted without cutting and then measured the design area available. At this point I figured out which size pillow form would work best and trimmed the quilted panel according to that size. I've also seen other quilters make some table runners using smaller panels and fabric sashing and borders. Additionally, a small panel makes a great tote bag front or section for a larger bag.
Pre-Printed Panel Video
Watch my short video on using these fun pre-printeded panels above, or go here to watch it on my YouTube channel.
Tips for Sewing with Fabric Quilt Panels
You can easily mix coordinating fabrics with the Moda Fabric Quilt Panels.
Moda Fabric Panels wash easily, and in my experience haven't shrunk any differently than quilting cotton after being washed.
Be sure to leave fabric for a ¼″ seam allowance around all edges of the printed words or designs when cutting quilt panels to use in projects.
Quilt or have the panels quilted while they are full size. It's much easier to trim to your desired size after they've been quilted.
There are a wide variety of pre-printed panels available from Moda Fabrics. They are perfect for a quick project finish and make great gifts as well.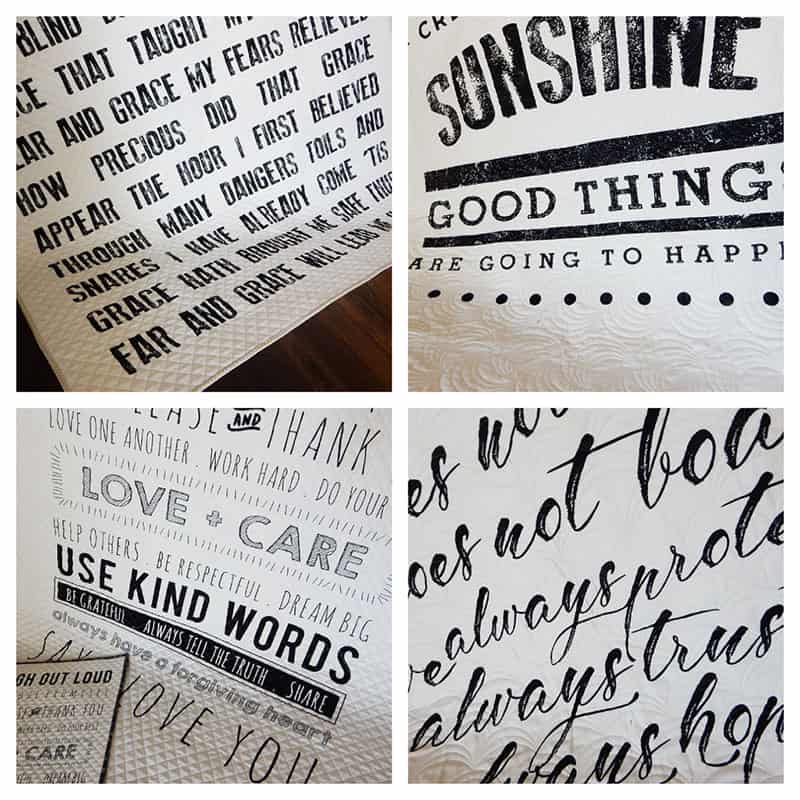 Thanks so much for stopping by to read the How to Use Quilt Panels in Your Quilting and Sewing Projects post–Happy Quilting!