Hello, friends! Happy Thanksgiving! Once the Thanksgiving dishes have been cleared away, I am looking forward to decorating for Christmas. So today I'm sharing some thoughts on Christmas Decorating and Christmas Panels along with a few tips I use each year. I always bring out my Christmas quilts, runners, and pillows before doing any other decorating, so last Saturday I took down all of my fall quilts and decor to get ready. Keep reading, and I'll share a bit more of my process.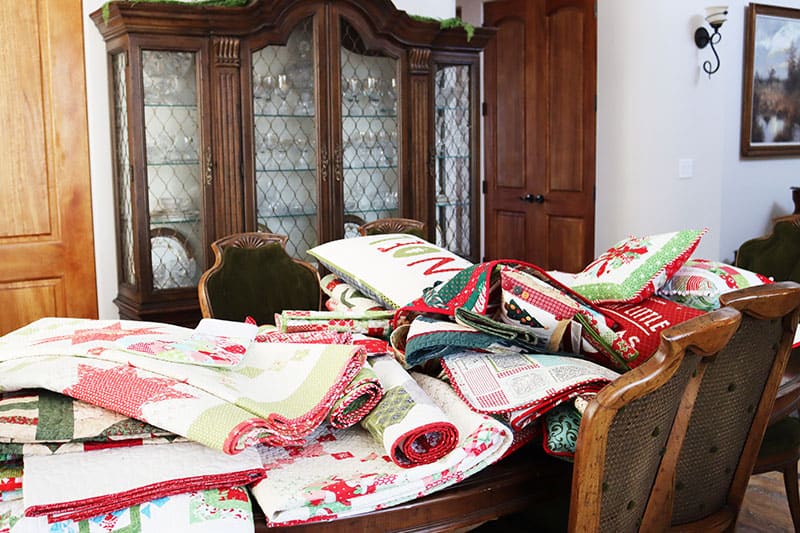 Christmas Decorating – Stacks on the Table
As soon as all of my fall quilts and decor items are picked up and folded, I bring out all of my Christmas decor quilts, runners, and pillows and put them on the dining room table. I didn't bring out the quilts I'll be using in our three bedrooms, but everything else got added to the stack. After a quick glance at the photos I took last year, I begin by setting out all of the table runners and pillows. I don't have any new pillows this year, but I did make a couple of new table runners so changed things up just a bit from last year. After placing the runners and pillows, I next start placing the quilts.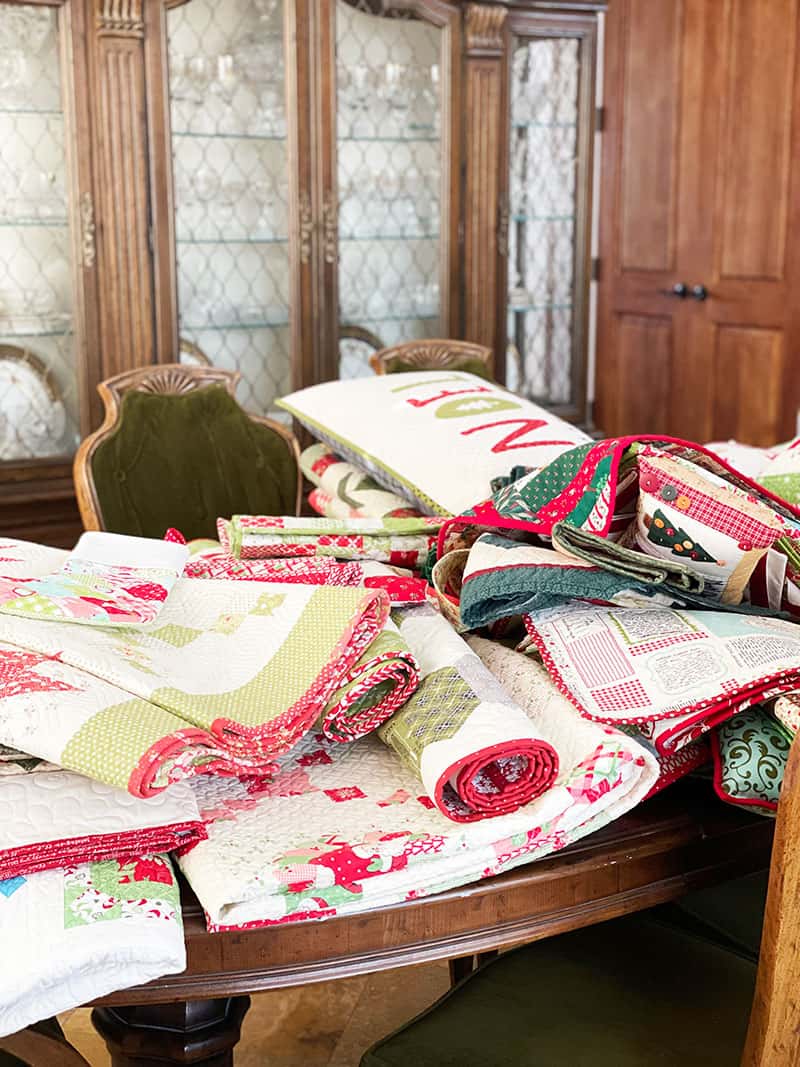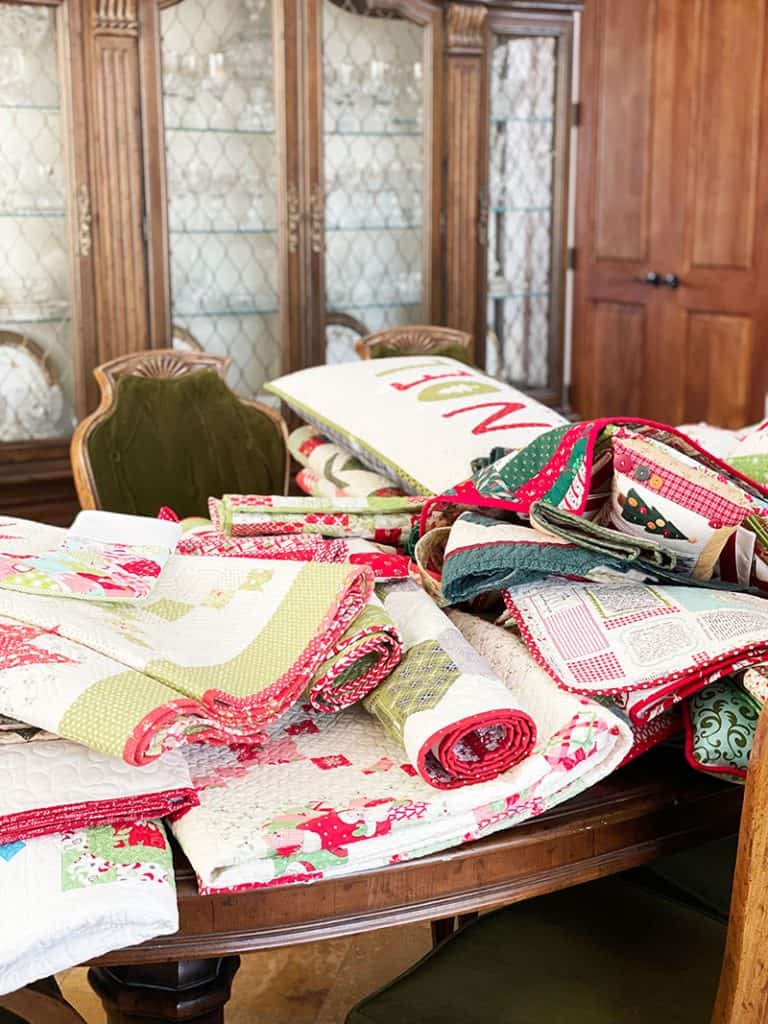 Wall Quilts
I have several areas where I'm able to hang large quilts on the wall using curtain rods and clip rings. Also, I have a wooden quilt holder and some wooden hangers for smaller quilts in a few areas. I have a couple new Christmas quilt this year that necessitated a few changes from last year's layout. After choosing the quilts I want for the larger quilt holders, I begin picking spots for the other quilts. I tried multiple quilts on the hanger in my kitchen eating area before settling on what I thought was the perfect one for the space. Needless to say, a few quilts were moved a few times before I decided where I want them this year. I also like to hang a quilt over the railing upstairs as it's visible from our family room. I'll add the rest of our decor and show you a few pictures soon. Find last year's Christmas Home Tour here.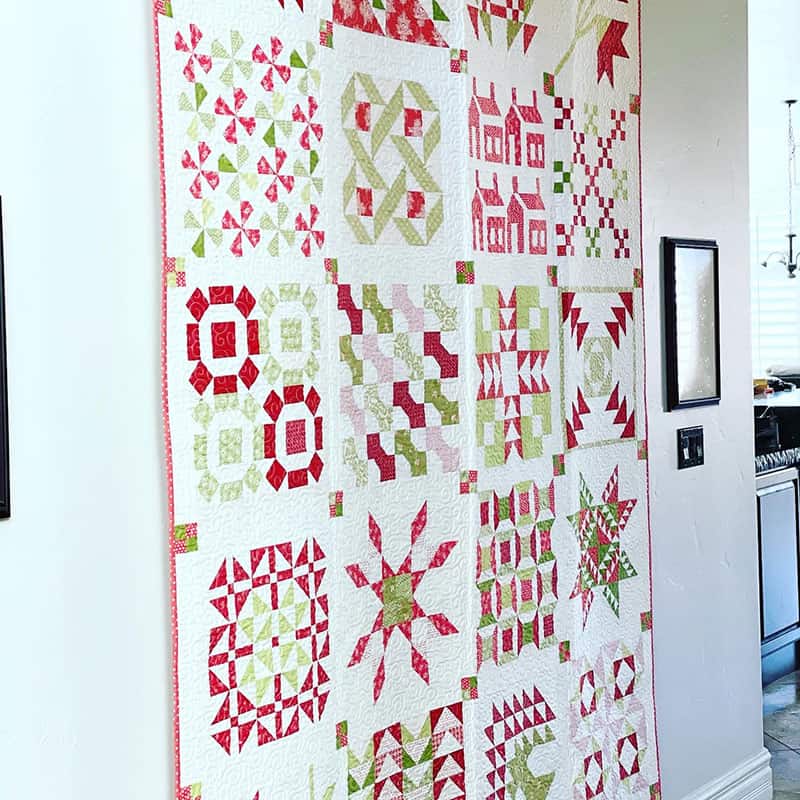 Tip: Take Notes
After placing your Christmas quilts and decor, take a minute to take some notes. This is the time when I often decide that there is a certain style or type of quilt or decor item that I need to make for the next year. Be sure to write it down so you won't forget (there are pages for tracking Christmas and other holiday decor/ideas in my Quilting Life Planner and Workbook). I actually made some notes about some project ideas this year that I'm excited to work on throughout 2022.
Christmas Panels
I recently had two Christmas panels quilted up, and they are so cute that they are both hanging on the wall. I was initially going to cut up the black panel for pillows, but just couldn't do it. The red version of this Sweetwater panel hangs in our front entryway. And the black panel is hanging in my office/podcast room.
Small Christmas Panels and a Tip
While cleaning out my sewing room closet, I found some small panels from last year that never got used. So I layed them all out on one piece of batting/backing to take to my friend Gail for quilting. It saves the quilter a lot of time when you're having small projects quilted to lay it out this way. She quilted them with a simple stipple. I'm going to finish them up as small pillows to tuck in small spots when I finish decorating. I'll used fun Christmas fabrics for binding on them.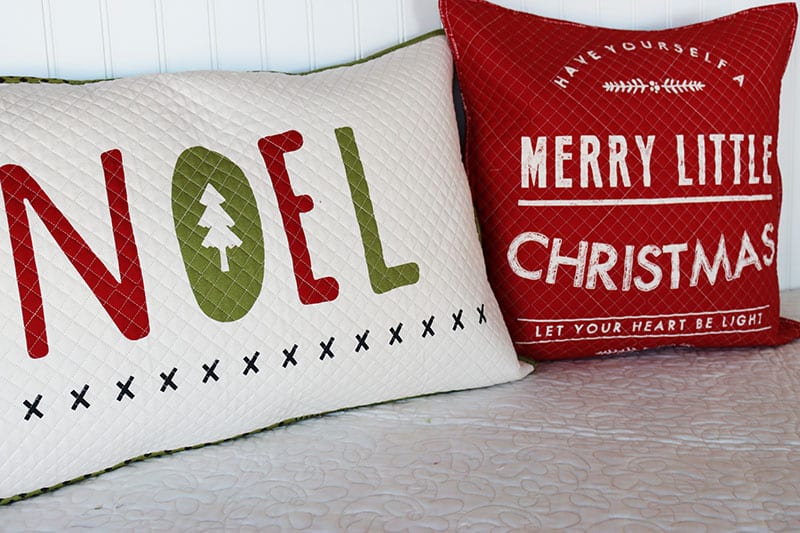 More on Quilted Panels
I hope you've enjoyed today's post on Christmas Decorating and Christmas Panels. Finished decor pictures will be coming next week!