Hello, friends! Happy first of April! And since the first of this month is on a Thursday, I'm sharing the April 2021 Quilt Block of the Month. This month's block is a fun flying geese variation. Using a contrast fabric for half of the units creates a fun pinwheel unit in the center. I love my 12″ and my 6″ finished blocks. Keep reading for details, tips and tricks, this month's video, and more.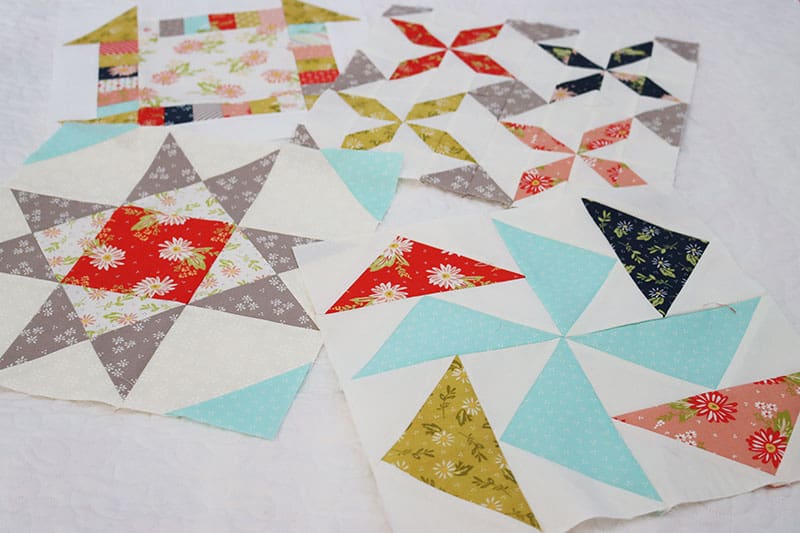 April 2021 Quilt Block of the Month
2021 Quilt Block of the Month Details
Below you'll find links to all of the basic information about this free block of the month (it's not too late to join in). Keep reading for the specific information for this month's block. Also, find additional information about the Happy Days fabrics at the end of this post.
First, this is a mystery block of the month. (No full-size pictures yet).
The quilt is a sampler with 12 different unique pieced blocks. No applique' or paper piecing required.
Patterns release monthly on the first Thursday of the month here on the blog.
Each month, a step-by-step video tutorial sharing how to make that month's block will be featured. Watch the video here on the blog or on the YouTube channel here.
Get the Fabric Requirements for the finishing of the quilt in a few months. For blocks, I suggest 12-15 fat quarters for the large blocks (fat eighths will work for the small blocks). You'll also need 2-½ yards of background for the larger blocks and 1-½ yards of background for the smaller blocks.
And go here to get the February Block pattern PDF and block details.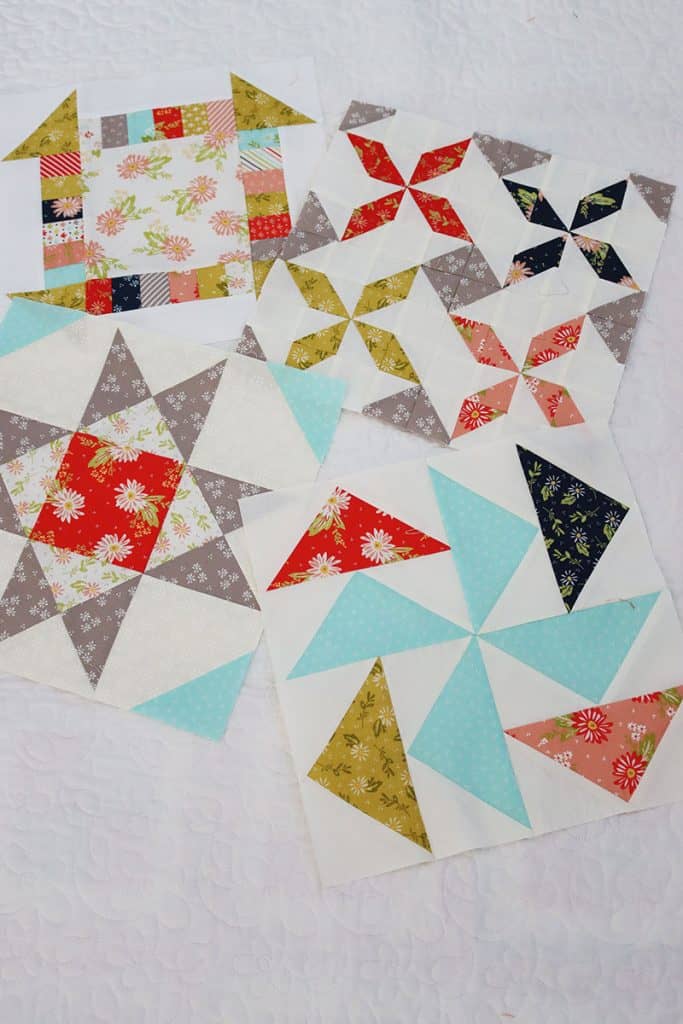 April Block Details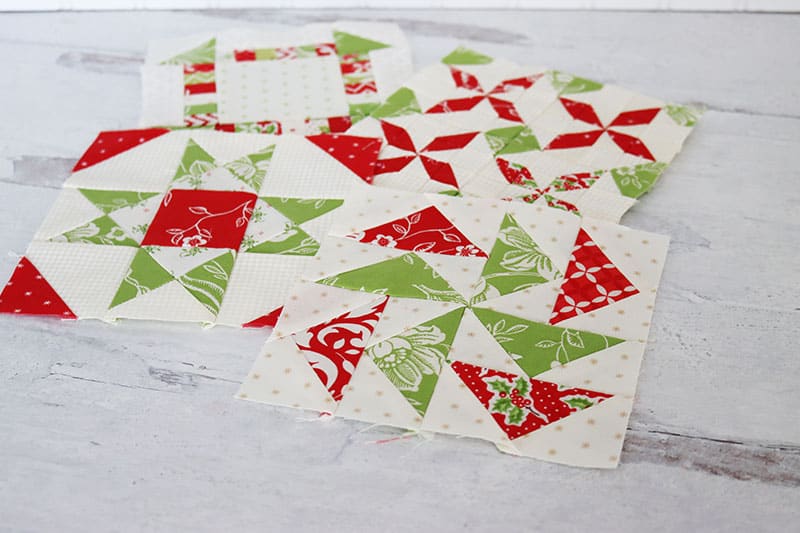 April Block Video
Watch the March Block Video above, or go here to watch it on my YouTube channel. In the video I share tips for putting this month's block together and walk you step by step through the assembly process.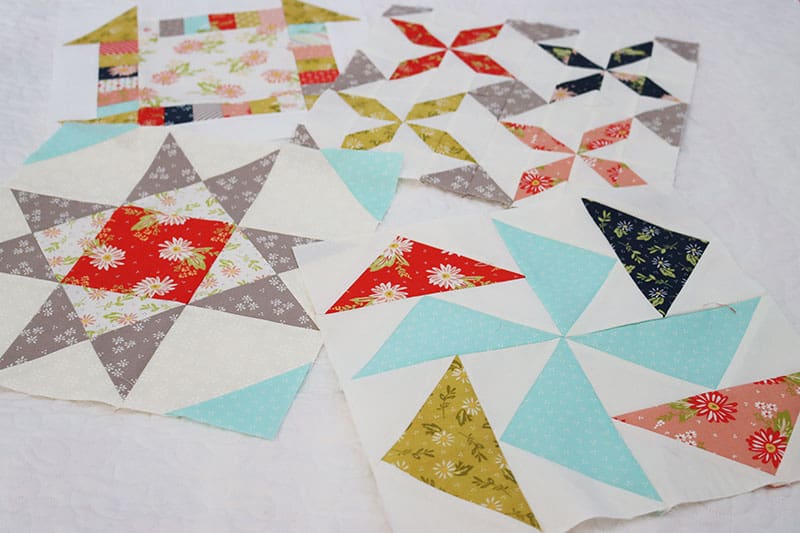 More Block of the Month Information
Find additional information below if you're sewing along with the Happy Days fabric kits.
Most kits shipped on Monday, March 29th. USPS is being quite slow still, though.
Kit fabrics might be just a little different than what is pictured in my block but include background, an aqua print for the four contrast flying geese, and four additional prints for the remaining flying geese.
Finally, the Happy Days fabric yardage should be shipping very soon, and then extra fabrics, backings, kits, and finishing kits will be available for purchase. Unfortunately, the pre-cuts are now shipping in May. So any kit or order with a pre-cut will not ship until those fabrics have arrived. Thank you so much for your patience.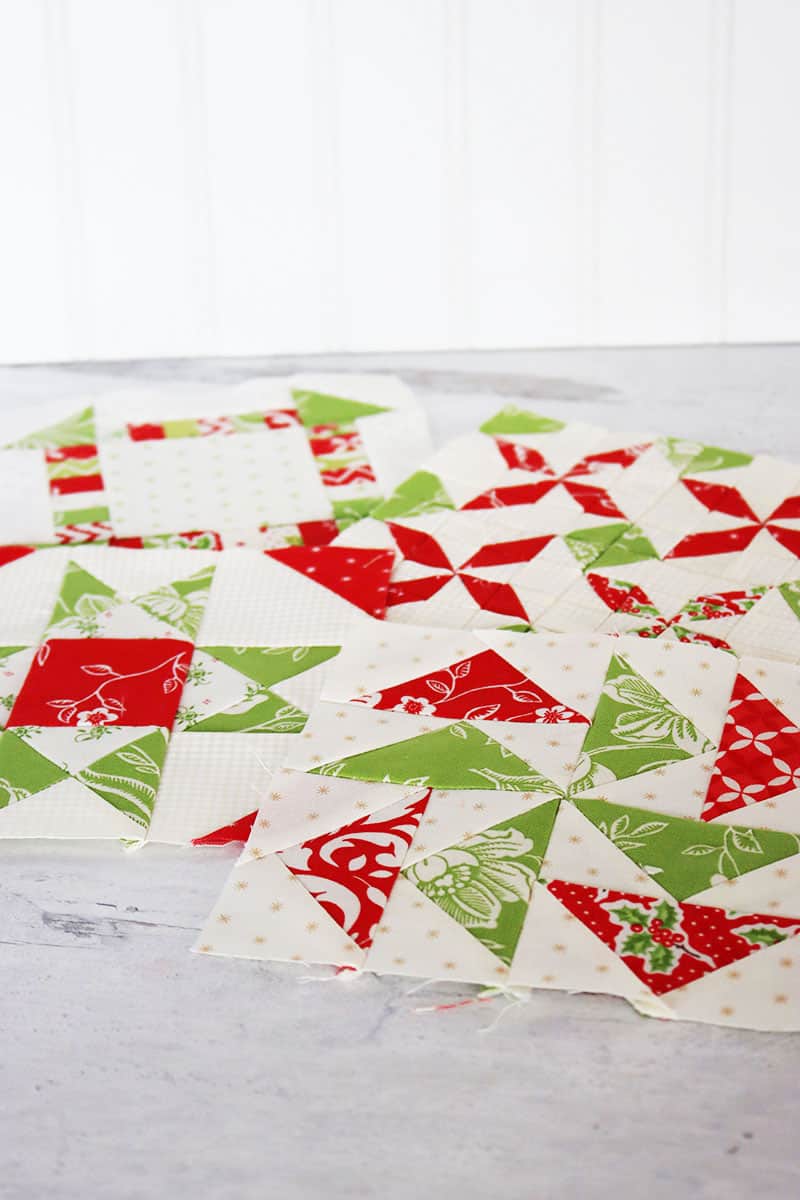 Happy quilting, and thanks so much for stopping by!